August brings me dreamlike memories of cicadas in the Taiwan countryside, hot evenings strolling into a shop with the parents for ice cones, the electric fan over the doorway flapping a ribbon, a trickle of sweet lemon down the chin. Later, dusks upon Canadian lakes, warm Toronto nights and streetcar rides. Later yet, my toddler son's patient hours with beach sand castles. August is ripe with scents, sounds, watermelon juices, rose sunsets, warm breezes in hair, and on skin.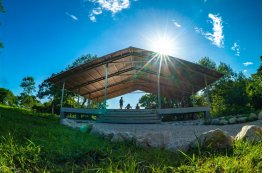 It is a delicious time and a poignant time, a luscious time and a nostalgia evoking time. It is a prism of summer splicing into fall.

A time when we want to linger until the very last sun ray, reading our summer reads, dreaming in our hammocks and treehouses, our dreams of adventures and wonder.

Even those of us not on a school calendar hold these rhythmic waves within us. And the body and soul both wisely lean, yearning to extend our dream time, our playtime, our creation time.

"They who dream by day are cognizant of many things which escape those who only dream by night." - Edgar Allen Poe

"There are more things in heaven and Earth, Horatio / Than are dreamt of in your philosophy." - W.Shakespeare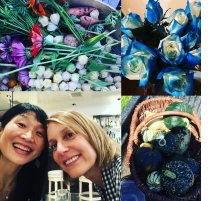 It is classic, from the mystics to the romantic poets to Yoga Nidra: it is when we are in the receptive mode, connected to our inner being, that our prolific creativity can most profoundly guide us and nourish us.

This summer's end, find some pauses in which to be not productive but instead "lazy" and daydreaming. Soaking and reveling in appreciation.

Of what, you say? ... Why... Sunsets. Watermelon. Ice. Fans. Warm breezes. Butterflies. Your own delicious face and laughter. Your own sweet roguish Self.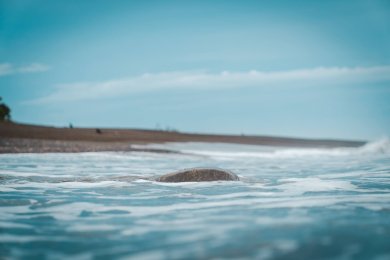 For Vissudha, throat chakra focus this week, I loved chanting "Ham" and"eee" with classes, sharing the color turquoise; and this poem:

"Let no one keep you from your journey,
no rabbi or priest, no mother who wants you to dig for treasures she misplaced, no father
who won't let one life be enough,
no lover who measures their worth by what you might give up,
no voice that tells you in the night it can't be done.

Let nothing dissuade you from seeing what you see
or feeling the winds that make you want to dance alone
or go where no one has yet to go.

You are the only explorer.
Your heart, the unreadable compass.
Your soul, the shore of a promise too great to be ignored."

~ Mark Nepo, "Breaking Surface"

Retreats, Trainings, Workshops, Immersions

9/13-9/15/19 Wagging Tail Yoga Fall Retreat ~ Bethel, NY
~ with Ora Ramat, retreat center owner, co-host, co-teacher
9/21/19 Pure Partner Yoga monthly, starting Sept. Alternating
monthly between West & East. This month: Pure West
10/23/19 Pure Partner Yoga monthly. This month: Pure East
11/23/19 Thanksgiving Restorative ~

Pure Yoga East

, NYC
* 2020 *
1/4-1/11/20 reSOULutions retreat ~ Costa Rica
2/15/20 Valentine Restorative ~

Pure Yoga East

, NYC
100-Hour Mother Mary Restorative Teacher Training
4 Weekends, 4 Levels:

March 7 - April 19, 2020

Pure Yoga
Level 1: Basics ~ March 7-8, 2020
Level 2: Intermediate ~ March 21-22, 2020
Level 3: Thai & Nidra in Restorative ~ April 4-5, 2020
Level 4: Thai, Nidra & Integration ~ April 18-19, 2020
5/2-5/3/20 25-Hour Yoga Nidra Teacher Training,

Pure Yoga
5/9/20 Mother's Day Restorative ~

Pure Yoga East
5/22-5/25/20 Therapeutic Lunar Immersion ~

Pure Yoga West
~ with Katie Capano: 30 CEUs Restorative Yoga, Thai, Fly
Weekly Classes in New York City

Pure Yoga New York Weekly Yoga:
Pure Yoga Eastside - 203 E.86th St. (3rd Ave)
Monday: 10:30-12:00 Slow Flow Meditation
Monday: 12:30-1:30 Yoga Nidra Meditation
Tuesday: 12:30-1:30 Restorative
Thursday: 12:30-1:30 Restorative
Pure Yoga Westside - 204 W.77th St. (Amsterdam Ave)
Friday: 12:15-1:30 Flow & Restore L1
Cosmic Fit Club Weekly AcroYoga - Court Square, L.I.C.
Friday: 6PM-7PM AcroYoga Basics
Friday: 7PM-8PM Thai Massage - All Levels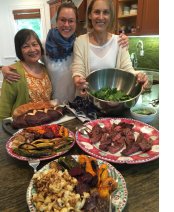 This issue, all photos (except Cosmic Fit Club) are for or from one of my two retreats upcoming.

1) Thanks to Ora Ramat and Wagging Tail Yoga for the harvest, foliage, and sweet alpaca shots!

2) For reSOULutions 2020, January 4-11, thanks for beach, waterfall, property photos to John Suhar!

3) For 2019 reSOULutions retreat video recap (view here) and photo galleries, thanks to: Grant Henry Media!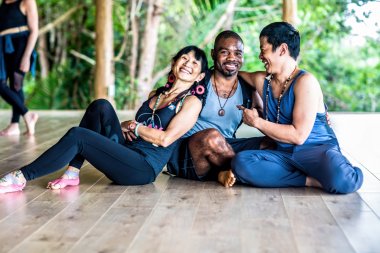 I value your privacy and never share lists. Please feel free any time to Reply, Forward, Subscribe or Unsubscribe.



OMMMMMMMary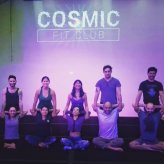 Friday nights are starry starry nights of sweet jazzy flight in my 6pm AcroYoga Basics class at Cosmic Fit Club, just over the pretty 59th Street Bridge at Court Square, LIC.

Then, 7pm, relax into your weekend with my Thai Massage class. Come solo or bring a friend.

First CFC class is free; then great new student 3-pack $33! All packs never expire and are transferable, for sharing the wealth. Meet me in LIC!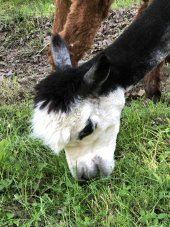 A favorite health and lifestyle writer, Kris Carr, author of

Crazy Sexy Cancer,

gives kudos to this special animal rescue organization, Second Chance Rescue. If you are grateful for those who run and support the rescue shelters, check them out.

Second Chance Rescue here

Dream, Act. And Repeat.

You and I need not agree on every issue - how else would we have freedom of thought? But we all can have open minds and strong minds. We all can listen and learn and dream; then act from strong clear hearts and minds.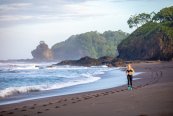 Make your caring matter. Whoever inspires

you

to care and make a difference ~ welcome the fire! 🔥

I'm inspired and excited about a candidate for the first time since Obama ran, and "they" also said it would not happen.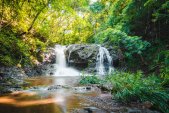 Excited for my third New Year's reSOULutions retreat collaboration with my soul brothers Juan Gamboa and Esco Wilson and our super talented SOUL Tribe!

Here is last year's video recap of the adventure! Click here

This year from January 4-11 we are in gorgeous Costa Rica, with jungle, beach, and town, all accessible and deluxe, smack in pristine beautiful nature.

Registration updates will be at: Juan's retreat page and on mine. Keep posted; and email me your questions and excitement!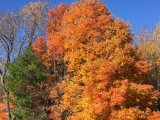 Meanwhile, this September, where this garden thrives: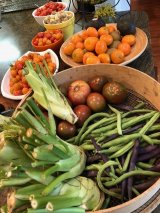 Fall Foliage Wagging Tail
Yoga retreat is Sept. 13-15.
Next retreat in Spring 2020, will likely be early June again!
This bucolic Catskills getaway just under two hours upstate on 100 acres of nature delightfully awaits you.