As a church, we continue to simmer in the waters of discernment and swimming we are. In the past week alone, I have noticed the first fruits of discernment — ideas!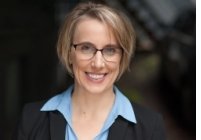 What might the future of Alki UCC look like? An organic garden. A historical preservation. A neighborhood center. These are a few of the possibilities that I have heard recently. I imagine there are many more out there and this is definitely the time to let the creative juices flow.
During the next six weeks of our "The Future Church" theme, there will be an opportunity to share your dreams for the church as we vision cast together. Let them be wild. Let them be far-fetched. In due time (later this winter) we will shift to the work of paring down and moving together, collectively and with one voice, into the future.
On a practical level, we are awaiting our congregational report from HOPE Partnership. I anticipate its arrival in late October. Once it does show up, the results will be available for the whole congregation. We will quickly move into House Groups to talk and digest the report in community.
House Group facilitators will be trained November 8-9, with the groups running November through early January. The goal is for every member of the church to join a group; ministry teams will scale back during this time to allow for full participation.
Feel free to contact me at pastorkelly@alkiucc.org with any questions or thoughts.
Onward,
Pastor Kelly
Note: Pastor Kelly will attend two out-of-state conferences this month: September 30-October 2 as part of the national board that oversees chaplains; and October 10-12 for a conference exploring religious experience and encounter.
Blessing of the Animals Returns to Alki UCC
This Sunday, September 29 at 10:00 am
Call for Volunteers on Sunday





8:30 am Meet at the church to help remove pew cushions


11:45 am Help replace cushions and remove pew items in preparation for KHN's Rosh Hashanah service Sunday night.



Thanks to Jeff Duckett and Vicky Smith for being our point people.



# # #



Bring your dog, cat, llama, guinea pig, chicken, honey bees, parakeet,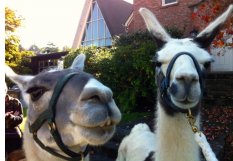 lizard (you get the idea) to worship this Sunday as we celebrate the goodness of God's creation in a special Blessing of the Animals service.
Important! All pets must be on a leash or in an appropriate carrier/cage.
Children of all ages are also welcome to bring their stuffed animals or photographs of a beloved pet for a blessing.
This custom is conducted in remembrance of Saint Francis of Assisi's love for all creatures. — Vicky Smith
Late breaking news flash! The llamas are coming ... The llamas are coming! Reports have it that Charley is bringing a couple of his beautiful, sweet creatures to be a part of the Sunday's blessing.

Please note: Due to potential pet dander allergies, we will be removing the pew cushions for this service. Feel free to bring your own cushion if you would like a softer seat.
Kol HaNeshamah (KHN) High Holy Days Services at Alki UCC/KHN
September 29 & 30/October 8 & 9
Jews around the world welcome in a New Year Sunday night. The Jewish year is determined by both the movement of the moon and the sun. The holiday of Rosh HaShanah begins as the sun sets, starting a 10-day period of intense reflection, introspection and teshuvah (atonement and forgiveness).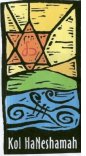 The period culminates at the conclusion of Yom Kippur when the sun sets on Tuesday evening, October 9. During this time, Jews reflect on their actions and interactions of the past year, taking a "fearless moral accounting"... asking forgiveness from those whom they may have hurt, and forgiving those who may have hurt them. Many Jews fast from sundown to sundown on Yom Kippur, wear white, and refrain from wearing leather or other "luxuries."
It is an intense and powerful period of renewal. The High Holy Days are then followed by two joyous holidays, Succot and Simchat Torah. During Succot, Jews build temporary huts in which to eat (and sometimes to sleep!), celebrating the bounty of our lives, as well as reminding ourselves of the fragility of life itself.
On Simchat Torah we complete the cycle of the reading of the Torah — finishing the last portion of the Book of Deuteronomy, and beginning all over again at the beginning of Genesis. The fall holy days are often referred to as "The Chagim," the holidays.
— Rabbi Zari Weiss
* * *
Kol HaNeshamah, Alki UCC's partner synagogue, holds its High Holy Days services at Alki UCC/KHN this year as follows:
Sunday September 29 at 7:00 pm
Erev Rosh Hashanah
Monday, September 30, 10:00 am (children's service 9:00 am)
Rosh Hashanah
Tuesday, October 8, 7:00 pm
Kol Nidre
Wednesday, October 9, 10:00 am (children's service at 9:00 am)
Yom Kippur
Services through 6:45 pm when congregants break their fast.
A tent is being set up in the courtyard outside the parlor to shelter guest registration.
In accordance with KHN's practice and the practice of many synagogues across the country, there will be an armed guard at the entrance to the churchagogue for the duration of the services.
If you see KHN Congregants and guests carrying food bags into KHN, it is because KHN is collecting nonperishable foods for donation to the Jewish Family Service Pollack Food Pantry.
Rabbi Zari notes: "KHN thanks Alki UCC for the opportu
nity to hold our High Holy Day services at home again this year and we appreciate the support of everyone at our partner church who is helping make this possible."
Friday & Saturday, October 18-19
Richland, Washington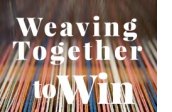 Weaving Together

to Win:

Progressing from Value Statements

to Concrete Action

We read and study, discuss and learn…but how do we create change? Join your regional UCC conference to explore this new way of weaving. We will listen, share, discern and leave with a plan for concrete change to address systemic problems in specific, actionable ways.
Register by September 30 for a $15 discount.
To register for childcare, e-mail pncucc@gmail.com by September 30.
Our Wider Community:


Getting Out and About



Earth Day 2020: 50 Years Later

Tuesday, October 1 at 7:00 pm
Our Lady of Guadalupe
7000 35th Ave SW
A panel discussion on the relevance and importance of Earth Day as we approach its 50th anniversary. Gene Duvernoy, leader of Earth Day Northwest 2020, will be joined by a panel of experts and policy leaders in a discussion of how individuals and organizations can, and must, incorporate into everyday life steps that help to preserve our planet, what Pope Francis refers to as "our common home."

Alfred S. Palmer Lecture




Tuesday, October 8 at 7:30 pm




Upper Gwinn Commons, SPU campus




"The Land as Kin: Renewing Our Imagination"




featuring Ellen F. Davis, PhD, Amos Ragan Kearns Professor of Bible and Practical Theology at Duke Divinity School.

This lecture is free, wheelchair accessible and open to the public.

Details here.

Centering Prayer
Fall 2019 Introductory Program
Contemplative Outreach Northwest
Phase 1 begins Saturday, October 12
St. Andrew's Episcopal Church, 111 NE 80th, Seattle 98115

Centering Prayer gives you a way to say a resounding "yes" to God's presence and action in your life! $75.00 includes all six sessions, a manual and other materials, along with refreshments. Details here.






Fa

ll

Fundraiser


Advocates for Immigrants in Detention (AIDNW)




Saturday, October 19




Bischel Hall at St.Leo's Parish




10 S 13th St, Tacoma


AIDNW is a volunteer a 501(c)(3) nonprofit dedicated to providing assistance to the immigrants housed in the ICE Detention facility in Tacoma, The Fall Fund Raiser will provide the financial resources necessary to support the services that AIDNW provides for immigrants. TICKETS available at Brown Paper Tickets.


Prayers of Joy and Celebration
Congratulations, blessings and warmest wishes for a happy, happy life together to Gretchen Hawley and Jeff Hallstrom, who celebrated their wedding on Sunday, September 22.

Gretchen notes: "Jeff and I were honored to have Marshan officiate and conduct our wonderful, spirt-filled choir. We hope to have Alki UCC as a central focus of our marriage for many years to come."

For those grieving the recent death of a loved one:


Larry Gill, the family and friends of Ruth Okada; family and friends of Shelley Webster, Kathy Herigstad and family, Amy Young and family, Lesa Henry



Recent hospitalization, illness and other concerns:


Don Peterson, Jeff Jolly, Jim & Bev Connor, John Kinsman, Dayle Banks, Lois Constantine, Kathy Herigstad's sister Jackie, Jan Cochran

For home bound members/friends of Alki UCC: Doris Colbert


Wider World:


Prayers for all those affected by Hurricane Dorian, especially those in the Bahamas who suffered incredible devastation; prayers for fewer guns, for all victims and those affected by gun violence; for all those affected by the increasingly cruel and inhumane US immigration policies imposed by the current administration; victims and survivors of extremist violence around the world; migrants seeking refuge around the world, and for those who are trying to help them. The rest of the missing schoolgirls kidnapped by Boko Haram, who remain in our hearts as long as they remain missing. The hungry and homeless, the ill and the addicted, the lost and the lonely; the unemployed.
Worship
This Sunday,
September 29
at 10:00 am

The 16th Sunday
after Pentecost
Scripture:
Jeremiah 4:11-12, 22-28
Color: Green
Liturgist: Jeff Duckett
Church Council & Ministry Teams
Church Council Meeting
Wednesday, October 16
6:30 pm
Church Council Workshop
Sunday, October 20
3:00 to 5:00 pm
(followed by all-church Potluck at 5:00 pm/see article below)
Ministry Teams:
• Check times below for accuracy
• Written updates due to Emily Hitchens (Council Moderator) and Church Office by October 9 for inclusion in October 16 Council paperwork.
Stewardship
This Sunday after worship in the Conference Room
Music & Worship
Sunday, October 13
after Worship
Worship & Logistics
Sunday, October 13
after Worship
Caring Community/ Fellowship
Monday, October 14
at 6:30 pm
Sandy Johnson Home
Faith Formation
Sunday, October 20
after Worship
Personnel
Sunday, October 20
after Worship
Stewardship
Sunday, October 27
after worship
Outreach
TBD
Building & Grounds
TBD
The priority in November-December will be our all-church House Groups. Ministry teams are free to consider condensing and/or altering their meeting schedule during this time.
All Church Potluck & Ministry Team Rondo
Sunday, Oct 20, 5:00 to 7:00 pm
Mark your calendars and join us for
a potluck sponsored by Caring Community & Fellowship, followed by a time for Ministry Team reports and a short presentation from Pastor Kelly called "How Churches Grow."
This event is designed for the whole congregation to receive an update about what the teams are up to, what to expect over the next few months and to ask any burning questions.
First fall meeting
Thursday, October 3
12:30 pm in the
Parlor
Join us for our signature project of assembling ingredient bags to make Mayflower soup, featuring 10 special kinds of beans from the Olympia Co-op.
It makes a tasty soup for cold days and excellent Christmas presents. We will be selling the soup in November.
If you have questions, call Emily 206-824-6816. Please come join us around the table. We bring our sack lunch and then get to work!
— Emily Hitchens
Making a Difference ...
Tiny Houses Impact Seattle Homelessness
Greetings tiny home builders and friends,

Project Homeless reported last Wednesday on the release of Seattle's latest exit numbers: 1,936 households moved from homelessness to housing since Jan. 1 and the end of June, a 6% increase over the same time frame last year.
"The data indicates some forms of shelter seem more efficient at getting people into permanent housing. The rate at which tiny house villages move households into permanent housing, for example, more than doubled between the first six months of 2018 and this year."
Everyone involved at Camp Second Chance building tiny houses- whether donating money, creating jigs, erecting walls, hanging doors, providing lunch or whatever- we all knew in our hearts that folks living in safe, warm and dry tiny houses would do better.
And now we have the data to prove it.
Good Day,
Tomasz Biernacki
Sound Foundations NW

Click on the big, blue donate button above to learn how to donate by check or a secure online credit card donation.