I want to invite the congregation to two events we have coming up.

The first is an All-Church Potluck and Ministry Team Festival this Sunday, Oct 20, from 5:00 to 7:00 pm. It will be a chance to learn what is afoot at Alki UCC and to hear Pastor Kelly speak about "How Churches Grow."
The second event in on Friday, November 8 at 6:00 pm. This is an important next step in our discernment process. Chuck Blaisdale from HOPE Partnership will be speaking with us about best practices in church discernment and presenting on critical religious trends happening in our region.
Please plan to attend both of these important events in the life of the congregation.
Onward,
Pastor Kelly
This Sunday at 5:00 pm:
All Ages / All Church Potluck
& Ministry Team Festival
This Sunday, October 20
5:00 to 7:00 pm in Anderson Hall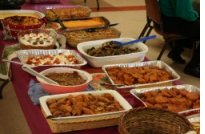 The Seahawks game will be over, and it will be a great chance to share a meal, enjoy fellowship and get some brief reports on the various church ministries ... a festive way for the 'right hand to find out what the left hand is doing' and to simply be together. Children are welcome to join us.
If you have not had the opportunity to join a ministry, this will be a chance to find out a little more about what each team is working on.
If you need a ride, contact Julia Peeler.
Bring a dish to share – no assignments – and join us!
—
Vicky Smith
Hope Partnership: New Beginnings
Essential Congregational Meeting

Friday, November 8 at 6:00 pm
Please make plans to attend this important gathering, moderated by our Hope Partnership consultant, who will explain how the House Meetings are designed to work and give an overview of the process moving forward … the all-important Why and How!
Sign Up for your Hope Partnership House Meeting
Five women from our congregation have graciously agreed to attend Leadership Training sessions on November 9 before facilitating discussion groups in their homes.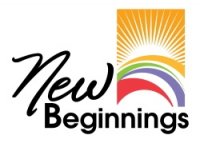 Please consult your calendar and choose the meeting that works best for you. It is hoped that each person will be able to commit to participate in the four meetings with the same group, facilitated by the same leader.
Signup sheets will be at church this Sunday for you indicate your top two (or more) preferences, as your schedule permits. Online signup available soon. — Vicky Smith
Shannon Peterson
Sundays, 3:00 pm (Burien)
November 17, December 8
January 12, January 26
Sandy Johnson
Wednesdays, 1:00 pm (Alki)
November 13, December 11
January 8, January 22
Jane Gunwaldsen
Thursdays, 1:00 pm (Admiral)
November 21, December 5,
January 9, January 23
Kathy Herigstad
Thursdays, 6:30 pm (Admiral)
November 21, December 5
January 9, January 23
Laura Petrie
Thursdays, 7:00 pm (Alaska Junction)
November 21, December 5,
January 2, January 16
Alki UCC & Hope Partnership: Recap
To make sure you're up to date on Hope Partnership's New
Beginnings program, here's a quick summary:
We're in a year of discernment for our congregation, in which we will define who we are and where we're going as a congregation.
These are the steps involved:
Pastor Kelly came on board as our transitional pastor, both as our spiritual leader and our guide through this process.

Hope Partnership, our consultant, met with church members and our leadership team in August. In November, we will receive their assessment report based on those meetings and on our finances, neighborhood demographics, church property and other factors.

As outlined above, discussion groups, called "house meetings," start in November. Participation is essential so that all our voices can be heard.

The congregation will make a decision and will be coached through whatever path we choose.
— Charlie Hinckley
NOTE:
Important information on the Hope Partnership process will be shared during a very brief Congregational Meeting as part of Worship on Sunday, November 24. Please mark your calendar and plan on joining us.
Our Wider Community:


Getting Out & About ... and Making a Difference!



Jim Wallis Free Book Event
Friday, October 25 at 7:00 pm
Elliott Bay Book Company
1521 10th Ave in Seattle
Join American theologian/writer/teacher and famed peace & justice activist Jim Wallis as he talks about his latest book, Christ in Crisis: Why We Need to Reclaim Jesus.
The founder/editor of Sojourners magazine will illuminate the ways in which the teachings of Jesus speak directly to our current political and spiritual crises.
More information here
Faith Action Network (FAN) 2019 Annual Dinner
Sunday, November 10, 4:30 to 8:00 pm
Renton Pavilion Event Center
233 Burnett Avenue South
Register now for FAN's Annual Dinner, Washington state's interfaith celebration of advocacy and community. Join us and make a difference!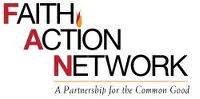 We look forward to celebrating all we've accomplished together in the past year and gathering inspiration and courage to Raise Our Voices for social change in 2020.
Travel guru Rick Steves will be with us again! We will present our annual awards to advocacy leaders and invite your financial support to keep FAN strong as we move forward together. Your partnership helps us keep fighting for inclusion, racial equity, and justice.
Information/Registration here.
Prayers for Kirstin Duckett's father, who suffered a recent stroke.
Continued prayers for Dayle Banks, still in the hospital but scheduled to move to Providence Mt. St. Vincent's in West Seattle either tomorrow or Saturday. In the meantime, she is still at Swedish/First Hill and can be reached through the main switchboard: 206-215-2222. She's on the 7th Floor, Room 14 under "Mary Banks."
For those grieving the recent death of a loved one:
Larry Gill, the family and friends of Ruth Okada; family and friends of Shelley Webster, Kathy Herigstad and family, Amy Young and family, Lesa Henry
Recent hospitalization, illness and other concerns:
Don Peters, Jeff Jolly, Jim & Bev Connor, John Kinsman, Lois Constantine, Kathy Herigstad's sister Jackie, Jan Cochran
For home bound members/friends of Alki UCC: Doris Colbert
Wider World: Prayers for the friends and family of Roylan Hernandez-Diaz, a 43-year-old Cuban man, who died in ICE custody this week; for the thousands of innocent people being displaced, persecuted and killed as a result of the administration's betrayal of our Kurdish allies in Syria; for all those affected by the increasingly cruel and inhumane US immigration policies imposed by the current administration;
prayers for fewer guns, for all victims and those affected by gun violence; victims and survivors of extremist violence around the world; migrants seeking refuge around the world, and for those who are trying to help them. The rest of the missing schoolgirls kidnapped by Boko Haram, who remain in our hearts as long as they remain missing. The hungry and homeless, the ill and the addicted, the lost and the lonely; the unemployed.
Worship
This Sunday,
October 20
at 10:00 am

The 19th Sunday
after Pentecost
Scripture:
Jeremiah 29: 1-2, 4-7,
11-13
Color: Green
Liturgist: Bonita Corliss
Faith Formation
Sunday after worship
Personnel
Sunday after worship
Worship Logistics
Sunday after worship
Church Council
Workshop
Sunday at 3
:00 pm
All Church Potluck
& Ministry Team
Festival
Sunday at 5:00 pm
All Souls Sunday
Worship
November 3
at
10:00 am

Join us for a special service to honor and celebrate members and friends of the Alki UCC faith community who passed away since last year: Jeanne Anderson, Eric Erickson and Ruth Okada.
We will also do a prayerful remembrance for all our deceased loved ones.
Note: Communion will be celebrated a week later during worship on Sunday, November 10.
We all want to take care of our planet ... here's a way to help that couldn't be easier!

There's a new and bigger Green Waste container in the Parlor. Please take extra care to use it properly!
Your Hospitality Hour coffee cups are compostable. All the disposable tableware is compostable. Other compostable items are listed on a nearby sign.
Every Monday we find plastics and other noncompostable items mixed in with the green waste. It's a small action but being mindful of what you toss where can have a big benefit. Thank you.
Urgent Action Needed:
Take Two Minutes to Support Housing Equality

Everyone deserves a home, no matter who you are, what you earn, or whether you have a disability. But soon, millions of people could be denied access to housing simply because of who they are.
The Department of Housing and Urban Development, led by Secretary Ben Carson, is cutting anti-discrimination protections that for decades have prohibited unfair treatment by banks and landlords toward people of color, people with disabilities, survivors of domestic violence, families with children, low-income communities, and others.
We have until TOMORROW (Friday, October 18), to tell HUD what we think about this new rule – so we need to act now.
Please take two minutes to click on this link, read the petition and sign on if you agree.
Thanks for raising your voice,

It's sock time at Operation Nightwatch!
Please bring your donations of new men's athletic socks to the donations bin in the Narthex.

Click on the big, blue donate button above to learn how to donate by check or a secure online credit card donation.