Merry Christmas!
It has been a wonderful Advent and Christmas season. In mid-December we hosted a rousing Christmas concert followed by a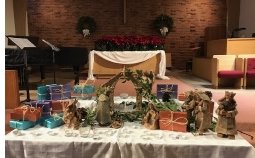 festive 5:00 pm service and a beautiful 10:00 pm service on Christmas Eve.
To cap it all off, our Sunday morning service this week is dedicated to singing our beloved Christmas hymns during a Neighborhood Carol Sing.
From December 25 through January 4, I am taking my first vacation since I arrived in July to be your pastor. I'll be fully unplugged from the tech world! The church office is open on a flexible schedule weekdays (except New Year's Day) through next Friday, January 3.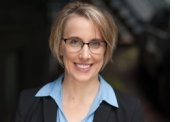 Looking forward — I am excited for our 2020 Guest Preacher Series this January. Four engaging and dynamic preachers from the Puget Sound area are coming to Alki UCC to share their stories of revitalization and to explore with us how spirituality and power mutually inform one another. How we choose to navigate influence and privilege are questions of faith and they tie in deeply to our understanding of God. This will be a great opportunity to hear new perspectives on the work of the Spirit in our times.
I wish you each a very Merry Christmas as we celebrate the coming of the Christ Child into our world and into our lives.
Onward,
Pastor Kelly
The Risk of Birth
by Madeleine L'Engle

This is no time for a child to be born,
With the earth betrayed by war and hate
And a comet slashing the sky to warn
That time runs out and the sun burns late.
That was no time for a child to be born,
In a land in the crushing grip of Rome;
Honor and truth were trampled to scorn —
Yet here did the Savior make His home.
When is the time for love to be born?
The inn is full on the planet earth,
And by a comet the sky is torn —
Yet Love still takes the risk of birth.
Liturgists/Coffee Hour Hosts/3rd Hymn-ers
Needed for January and Beyond!
Alki UCC Choir Open Call for All!
Winter Workshop Saturday, January 11

Come and sing with us! The 2020 singing season starts for the Alki UCC Choir at our workshop on Saturday, January 11, from 9:00 am to 3:00 pm. We sing plenty of new music, eat potluck lunch and connect, refreshed, for our new season.
If you've felt the pull to sing with the choir, this January workshop is the time to start ... we welcome new members until February 3 when Easter rehearsals begin.
RSVP for the January 11 workshop by Thursday, January 9 through the church office. — Jane Gunwaldsen
Explore the communion of science and faith in

"Painting the Stars."




Community Adult Ed. series begins January 30.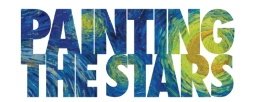 Where is Christianity headed in the 21st century? Join the conversation!
"Painting the Stars: Science, Religion and an Evolving Faith" offers provocative ideas on how our faith interacts with the world of expanding scientific knowledge. The seven-session evening program features video presentations followed by small group discussions, led by moderators Bob Jackson and Russ Thornock.
Check out the series trailer here.
Thursdays, 7:00 to 8:30 pm
January 30 – March 12
Alki UCC parlor
Registration deadline Friday, January 24
Suggested donation to cover materials: $15.00
Contact Bob or Russ with questions. Register through the church office.
"When I have a terrible need of — dare I say, 'religion' —

then I go outside at night and paint the stars."

— Vincent Van Gogh

Dear friends at Alki UCC,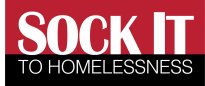 Thank you for the socks! Your support will improve life for our homeless neighbors. It brings joy and hopefulness to people when we provide a new pair of warm socks.
You are making this a better community for all of us.
May God grant joy during this holiday season.
— Rev. Rick Reynolds
Executive Director, Operation Nightwatch
Note: You also got a thank you email from the folks at the White Center Food Bank.
And while we're thanking people, thanks to all of you amazing elves who made Advent and Christmas such a special and lovely time ... not to mention all of you who keep the building functional and support our community with your treasure, time and talent in so many ways. You know who you are!
Our Wider Community:


Of Interest Online .

..

Getting Out & About ...




Making a Difference!



January Marches:
Seattle Anti-War Coalition monthly anti-war protest at the Federal Building in downtown Seattle, 915 2nd Ave
Women's March
Saturday, January 18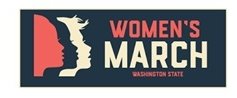 Mark your calendars to come out in solidarity for this year's anniversary march. More information coming soon.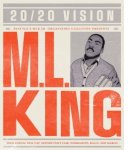 2020 MLK Day

Join us for our community's largest tribute to the legacy of Dr. Martin Luther King, Jr.

"20/20 Vision" reflects the clarity of Dr. King's dream and the power YOU have in 2020 to reclaim and re-envision it. Activities are free to all, including workshops, a job fair, rallies, a march and community meal.

For those grieving the recent death of a loved one:
Kirstin Duckett and family, the family of Nancy Van Wyk, Julia Peeler's sister; Larry Gill; the family and friends of Ruth Okada; family and friends of Shelley Webster; Kathy Herigstad and family; Amy Young and family
Recent hospitalization, illness and other concerns:
Jeff Duckett, Dayle Banks, Kirstin Duckett's father, Don Peterson, Jeff Jolly, Jim & Bev Connor, John Kinsman, Lois Constantine, Kathy Herigstad's sister Jackie, Jan Cochran
For homebound members/friends of Alki UCC: Doris Colbert
Wider World: Prayers for the thousands of innocent people being displaced, persecuted and killed as a result of the administration's betrayal of our Kurdish allies in Syria; for all those affected by the increasingly cruel and inhumane US immigration policies imposed by the current administration;
prayers for fewer guns, for all victims and those affected by gun violence; victims and survivors of extremist violence around the world; migrants seeking refuge around the world, and for those who are trying to help them. The rest of the missing schoolgirls kidnapped by Boko Haram, who remain in our hearts as long as they remain missing. The hungry and homeless, the ill and the addicted, the lost and the lonely; the unemployed.
Worship
This Sunday,
December 29
10:00 am
The First Sunday

after Christmas


Scripture:
Matthew 2:13-23
Color: White/Gold
Liturgist: Joe Mitter
Neighborhood Christmas Carol Sing!
to belt out your favorites.
Vacations/
Holiday Office Hours
Pastor Kelly is on vacation through January 4.
Marshan Goodwin-Moultry is on vacation through January 7.

The church office is open weekdays (except for New Year's Day) through January 3 on a flexible schedule.
Voicemail and email are regularly monitored; call or email ahead of time to confirm or arrange for building access.
Spirituality & Power
Alki UCC January Guest Preaching Series
Sunday, January 5, 12, 19 & 26 at 10:00 am
Influence. Privilege. Power. How we navigate these dynamics of life together is critical to our understanding of who we are as soulful and intentional people.

We kick off the New Year with an exciting guest preaching series, an opportunity to hear from four dynamic leaders in the Pacific Northwest and learn how they are using their influence for the greater good.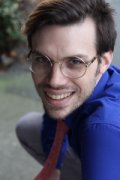 Dustin Wilsor
, our Guest Preacher on January 5,
is a seminary student at the United Theological Seminary of the Twin Cities and serves as a church elder and Ministry Intern at Woodland Park Presbyterian Church in Seattle's Greenwood neighborhood.
Dustin is active in Seattle's arts and culture community, having worked at the 5th Avenue Theater for two years. He enjoys urban life in the Central District with his husband.
This week, several people from our community reported receiving emails that appeared to have come from Pastor Kelly … The first email was very innocuous, just asking for a "favor." When the member replied, the follow-up email requested that the member buy a gift card or complete some other transaction involving money.
On scrutiny, the return address that showed for Kelly was actually a fake gmail account.
Please contact the church office if you get any suspicious messages that aren't from the real church email account: alkiucc.org.
Seattle/King County Medical Clinic
February 13–16
The clinic will offer free medical, dental and vision care to anyone who struggles to access or afford healthcare. All are welcome regardless of income, insurance, housing or immigration status. Patients will not be asked for documentation of any type. Patients do not need to reside in King County or Washington State to receive services.
Interpreters, medical professionals, and other volunteers are also welcome. More information here.

Click on the big blue donate button to learn how to donate by check or a secure online credit card donation.