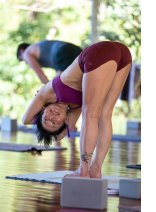 One of the things I love about "sleepaway yoga camp" which is how retreats feel to me, or even a weekend training or a 4-day intensive can feel that way, is how exterior trappings peel away.

We begin to feel safe and relaxed enough to show up as who we are, without pretense, without pretext.
With less makeup, or no makeup! With less defense or justification. Less armor, and more freedom.

Something beautiful and innocent begins to emerge. The organic being we once were: a child, a bud, a seedling, a cub.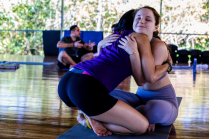 I love seeing that in the old, the young, the in-between; in the women and the men, as they become youthful girls and boys, gleeful glints in their eyes, eternal spirits shining through, knowing who they are: something pre-conditioning, pre-acculturation. S
omething wild, something pure, something true.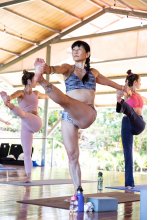 Extreme climate helps with simplicity. In Costa Rica, we schvitz non-stop anyway. So just rinse your top/shorts out, hang to dry, take a shower and head to the next class or event! And done!

"Come as you are" is a motto I've loved wherever I've found it, in groups that make me feel safe enough to feel belonging, whatever the condition of bed hair, morning mood, pillow face, or creaky joints!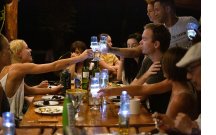 Something about being in nature, and a commitment to helping one another feel and find their own nature, blends communion with the potent brew of community.
Truth seeking=together.
Community is a nectar that social scientists are discovering as the treasured constant in those so-called blue zones, areas of the world where healthy longevity is the norm.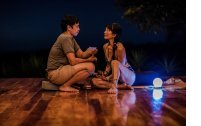 Can we learn to cultivate our communal, tribal nectar?
One hive at a time? One little nest at a time?
And see the ripple effect?
When have you helped your people to feel that they are safe to show up "just as they are"?
When do you feel it?

Abraham-Hicks say our most important love relationship is with our Inner Being, the part of us connected to and flowing from Source. Our Inner Being always loves us, knows us, always guides us.

Sound familiar? Jesus said, "The kingdom of God is within you." Whatever your understanding of Source or Love is, there is some spark within you that loves you, adores you, that always says "come as you are." Even if it's the faintest whisper.

We nurture this relationship every day, in many ways: music, meditation, prayer, journaling, nature. Sharing love with other living beings. We water the gardens of our soul in many ways. And Valentine's weekend, we can take speical care of our selves, too.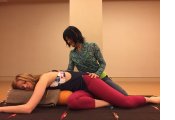 Valentine Restorative: On Sat. Feb. 15 at Pure East, relax in gentle, totally supported yoga poses on bolsters and blankets, with healing touch, soft music, and aromatherapy.
My restorative assistants and I will deeply calm, rest, and retore your body and soul. All are welcome, no experience necessary.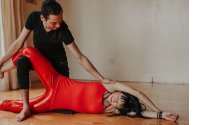 Both my Valen-THAI workshops, Friday Feb.14 and Sunday Feb.16, are co-led with my Thai yoga magician pal Bassam Kubba.

Bassam and I guide students to give/receive a flowing sequence of Thai bodywork that will educate, energize and ease. Then, we all revive with some wine and chocolate!

Sunday Feb 16, 2:30-4:30 at Om Factory Union Square: students need to register as pairs.
Friday Feb 14, 7:30-9:30PM at Cosmic Fit Club: students may register as individuals or in pairs.
No experience needed, but you should be comfortable kneeling and sitting on the floor for the giving portion of the workshop experience.

2020 Mother Mary Teacher Trainings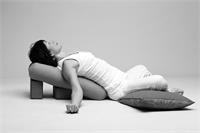 My signature Mother Mary Restorative Teacher Training for 2020 is in four levels over four weekends, in March and April.

The levels take you from Basic to Intermediate to Integration of Thai and Nidra techniques as merged into Restorative Yoga, and include Business of Restorative Yoga sections. YACEP hours apply. Parents, trainers, teachers and practitioners are welcome as well as yoga teachers. See more here.

My May and October Yoga Nidra Teacher Trainings are standalone, 2-day weekend trainings of the classic Sri Satyananda Saraswati format.

We structure clearly with depth, understanding, and practice, so that you can confidently lead yourself and others through a deep, rich journey, whether short or long, simple or advanced, in your own unique voice. More information: here.

Weekly Classes NYC



Pure Yoga Eastside - 203 E.86th St. (3rd Ave)
Mon: 10:30-12:00 Slow Flow Meditation
Mon: 12:30-1:30 Yoga Nidra Meditation
Tues: 12:30-1:30 Restorative
Thurs: 12:30-1:30 Restorative
Pure Yoga Westside - 204 W.77th St. (Amsterdam Ave)
Fri: 12:15-1:30 Flow & Restore L1

Cosmic Fit Club - Court Square, LIC - First Class FREE
Fri: 6:30-7:30PM AcroYoga Basics *no partner needed
Fri: 7:30-8:30PM Intro to Thai Massage *no partner needed



Workshops, Retreats, Trainings, Immersions





Feb 14: ValenTHAI 7:30-9:30PM, Cosmic Fit Club
Feb 15: Valentine Restorative 3-5PM, Pure Yoga East, NYC
Feb 16: ValenTHAI for pairs 2:30-4:30, Om Factory

March-April: 100-Hour Restorative Teacher Training
4 Levels over 4 Weekend modules, Pure Yoga West, NYC:
L1: Basics March 7-8: Teaching basic Restorative poses
L2: Intermediate March 21-22: Multiply depth & variations
L3: Thai & Nidra in Restorative April 4-5: Add Touch & Trance
L4: Thai, Nidra & Integration April 18-19: Full Integration

May 2-3: Spring Yoga Nidra Teacher Training, Pure West

May 9: Mother's Day Restorative Pure Yoga East, NYC

May 22-25: Lunar Therapeutic Immersion Pure West, NYC
w/Katie Capano: 30 YACEP hours Restorative Yoga, Thai, Fly

June 12-14: Wagging Tail Spring Yoga Retreat Bethel, NY
with Ora Ramat, retreat center owner, co-host, co-teacher

Aug 7-9: New York AcroFest Chelsea Piers, NYC

Oct 17-18: Fall Yoga Nidra Teacher Training, Pure West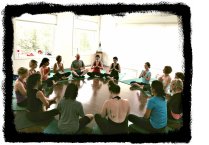 June 12-14 Friday to Sunday marks the #15 Wagging Tail Yoga Weekend Retreat that I joyfully co-host with my yoga sister Ora Ramat at her beautiful 100-acre farm and retreat center in Bethel, in the Catskills
m
ountains.

We typic
ally sell out
well before Early Bir
d, which is May 12th this year.
Space is limited, so first come, first served!
We have wonderful food and company, beautiful grounds, a spectacular yoga studio, and a tennis court and swimming pool.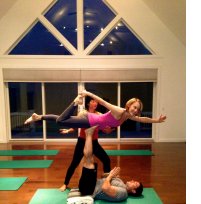 Four yoga styles, classes each morning and evening, are offered, all tailored to the level and experience of our students.
See more details here.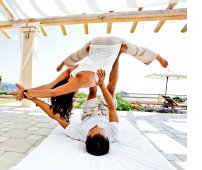 What is a Lunar Immersion, you may ask?
It is a 4-day, 30-hour exploration, May 22-25, of Restorative AcroYoga, in the form of
group yoga, restorati
ve yoga, Thai bodywork, and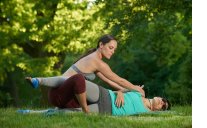 therapeutic flying, wh
ere the flyer's body receives release through anti-gravity, and through Thai bodywork in the
air.
This Immersion is suitable for beginners, and for yoga teachers, fitness trainers, and h
ealers of all kinds.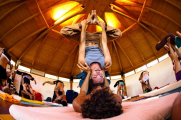 Also for athletes or acrobats seeking to le
arn to heal themselves and others, with yoga Thai bodywork.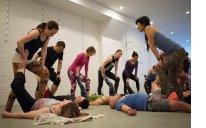 Physical needs can and will be accomodated; contact us with specifics.
Register for all 4 days, 1 day, or 1 session!

The New York Yoga Passbook is a great way to sample offerings at 280 yoga, dance, and pilates studios for $95 for the year.

A calendar year format means the beginning of the year is an excellent time to buy one, including sharing or splitting one with a friend.
The year I bought one, I gave away many passes I didn't use. I also discovered great studios that I have since taken classes & workshops at, and and taught classes & workshops at!

http://health-fitness.org/newyork_yoga

Photo thanks this issue to:

*Grant Henry and David Sauerhoff for ReSOULutions Retreats photos
*Derek Pashupa Goodwin for Katie and Mary Thai photo
*AcroYoga and Kadri Kurgan for Lunar Flying pics
*Jeni Rogers for Bassam and Mary Valentine Thai pics

*Pure Yoga for black & white Restorative pics
I honor and value your privacy and never share email lists. Please feel free any time to Reply, Forward, Subscribe or Unsubscribe.
You can always find my Schedule at my website!
OMMMMMMmary