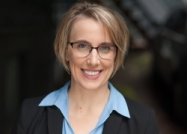 Alki UCC demonstrated twice this past week in support of Black Lives Matter. The first was the West Seattle march down California Ave on Saturday, June 6 and the second was 'Take a Knee for Justice' on Monday, June 8 on the church's front lawn.
Black Lives Matter (Seattle-King County) has called for a General Strike on Friday, June 12. (More information here ).
The UCC continues to stand with those working for economic justice, racial equality and nonviolent solutions to our civic problems. Covid-19 highlighted our inadequate health care system while the recent murders of civilians at the hands of law enforcement has highlighted our wide tolerance for state sanctioned violence. Here is a link to a 1963 important discussion about race and economics in our country.
Blessed are the peacemakers and blessed are the ones who will tackle these questions around the table.
In peace,
Pastor Kelly
We Came ... We Marched ... We Took a Knee ...

Alki UCC was well represented at West Seattle's peaceful March for Racial Justice on Saturday ...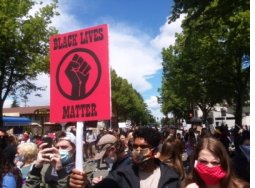 Julia Peeler writes: "Yay!! To us for a wonderful event with so many WS citizens working for change. Thanks to my friends Judy and Judy, Pastor Kelly and her family, Kim and Bob, Cinda, Anne Van Dyne, Shirlee, Bonita, Kathy H, Charlie, Joe, Leelee, John and Lois, Russ and Kristen ... the student from Boren K-8, and Dow Constantine, who gave such a rousing speech. Such an amazing day ... I can see a change in the air.
Blessings to you all. Love and Peace."
Joe Mitter notes that "The entire march was a very moving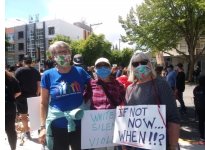 experience for me, but the most meaningful was kneeling while Aaron Jones played the Star Spangled Banner on the guitar, Jimi Hendrix style. While I have always intellectually been supportive of the sports kneeling protests, it meant a lot to be asked to do the same, and to have it feel like a very strong, positive statement."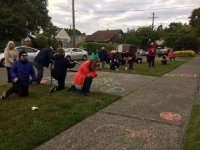 Our impromptu "Take a Knee" vigil for George Floyd outside the church on Monday night drew a group of folks from surrounding neighborhoods who joined our faith community to pay their respects.
Julia P. reports that neighbors Colleen and Steve McClure were witness to the call for mercy and radical change.
Cinda adds: "And now the tough work begins, to examine our own prejudices and confront our participation in systemic racism. Let's keep the faith and trust that we can and will do the work!"
... Now What?
Here are some ideas on how you can follow-up:
This Daily Kos article has some excellent suggestions on how you can educate yourself through adult books/children's books, movies/TV shows and podcasts.
Also included is a roundup of causes and organizations and how to continue your advocacy long-term.
Anti-Racist Giving Zoom Workshop
June 23, 5:30 to 8:30 pm
How do we decide when, where and how much to give? How do our social and racial identities shape our relationships with money and giving? This cross-class workshop is open to all participants but has been designed specifically for folks who have benefited from the history of white wealth accumulation in our country and community. As a group, we will discuss topics of race, whiteness, reparations, and the concept of fund-shifting.
Register here.
At our May 20 meeting, we took time to give a gift of special words and a poem to Andrea Saunders, honoring the imminent arrival of baby Ira — who was born just a few days later, on May 24.
At every council meeting, we have updates from all the ministry teams and some of the committees as well. Julia Peeler gave a report from the Nominating Committee; the group is still looking for an "at large" member who will represent those who are not involved in any ministry team or committee. Kristin Michael reported on the progress of the CARES Act and the $17,000 we received. Both the Mission and the Radical Redevelopment teams reported their work and homework.
One of the goals we have established this year is that every idea should have a home — a place where it can be explored. So, if one of you has an idea that you think is deserving of exploration, find the ministry team or committee that makes sense. We have Worship and Music, Worship Logistics, Faith Formation, Outreach/Social Justice, Stewardship, Caring Community and Fellowship, at large, and a Communications committee.
We have asked that there be a sub-group of the Radical Redevelopment Team that would vet future potential community groups as we clarify our mission and purpose of our faith community.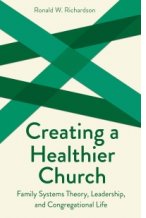 In addition to our regular monthly business meeting, we are now meeting on the first Wednesday of the month for a "process session." As a guide, we're using the book Creating a Healthier Church: Family Systems Theory, Leadership and Congregational Life, by Ronald W. Richardson.
Our goal is to become more aware of our culture system and our decision-making process, accountability and authority. We want to address problems that come up, so we can resolve them before they get out of hand. The book is interesting and helpful; it was suggested to us by Beverley Shrumm, executive director of the Samaritan Center of Puget Sound. — Emily Hitchens, Council Moderator
If you'd like to know more about connecting with a team, here are some contacts. They'd love to hear from you!
Caring Community & Fellowship: Kim Becklund, kimbecklund_seattle@yahoo.com
Alki UCC ReOpening Phase 1.5
The Worship Logistics team is spearheading our re-opening efforts and exploring the possibility of limited church gatherings starting in mid-July. There are many factors to consider including King County health guidelines, new church protocols and the technology needed to continue streaming from the sanctuary.
Led by Jeff Duckett, the team, provides ongoing recommendations on how to keep everyone as safe as possible.
In the meantime, join us each Sunday morning at 10:00 am for our live worship service. — Pastor Kelly

Keeping Our Building Safe

We need assistance from all of you: staff, volunteers, friends of Alki UCC. The more we work together on this, the sooner we can be together again.
Since more and more folks are in and out of the building, our first step is to observe these basic disinfecting protocols:

Attention All Building Users

Please disinfect/wipe down all common-use areas when you arrive AND as you're leaving the building: computer keypads, keyboards, copier keypad, door handles, light switches, chair handles, table tops, faucets, toilet handles, stair railings, etc

Wear gloves if you're sensitive to cleaning solvents.

Masks are required for groups of two or more.

Please follow social distancing as best as you can.

Note: Wipes are meant for objects ONLY.
There are plenty of supplies (wipes, paper towels, disinfectant spray, etc.) on the lamp table as you enter the building, in the Parlor, on the office level lobby outside the copier room and in the church office. Please let us know if we've missed a spot!
When we re-open the sanctuary for services, we will need volunteers to help with tasks before and after the service. If you are interested in being part of this, please contact me.
Note: Hand sanitizer has still been elusive to find either online or in a store. Please contact the church office if you can suggest a source.
Tuesday Bible Study Spotlights
"Paul's Letter to the Romans"
Join Bible Study Tuesdays at Two
Your Faith Formation team invites you to join in our study of Paul's Letter to the Romans, the longest letter written in 58 AD by the apostle to the Christians of ancient Rome. Much of our faith beginnings were written by Paul to help Christians, then and now, know who we are and why we believe what we do.
The eight-session class features DVD viewing followed by discussions led by led by Pastor and lay participants ... YOU!! Let us know if you would like to join us so we can order class materials.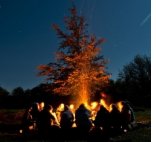 Romans is an incredibly rich and thought-provoking letter in the New Testament. Bible study complements Summer Sunday Worship, which revisits our Christian stories of origin to unearth the ways these inspirational events might guide the church into a vibrant Third Act.
Scheduled through July 28, Tuesdays at Two is open to all. So come check it out each Tuesday at 2:00 pm. On Zoom of course for now. — Julia Peeler
Zoom login here:
Join URL: https://us02web.zoom.us/j/86345838616?pwd=a21GRmUzczRNWXJqcVFiVU4zcDBxUT09
Meeting ID: 863 4583 8616
Password: 301975
Dial: +1 253 215 8782 US
Special prayers for the family and friends of George Floyd, Dreasjon (Sean) Reed, Breonna Taylor, Ahmaud Arbery and the heart-breaking list of African-Americans and other people of color murdered by police or self-declared vigilantes in our nation over many decades. We mourn with you and we stand for justice and healing.
Special prayers for all those on the front lines of working to protect us, keep us healthy, sane, grounded, informed, fed and comfortable during the current COVID 19 outbreak: our faith leaders, front-line health care workers, EMTs, police, firefighters, educators, transit bus and rail drivers, farmers, therapists, social workers, shelter operators, engineers, grocery/drug store personnel, caregivers, childcare specialists, pharmacists, custodians, organizations caring for the most vulnerable, sanitation workers, dispatchers and others keeping our supply chains operational, truth-telling journalists and all the many public servants who are so vital to our community.
For those grieving the recent death of a loved one:
Patty Magnuson, family and friends of Bob Jackson, family and friends of Jim Connor, family and friends of Barbara T. Shadel Madden Andersen, Kirstin Duckett and family, the family of Nancy Van Wyk, Julia Peeler's sister; Larry Gill; the family and friends of Ruth Okada; family and friends of Shelley Webster; Amy Young and family
Recent hospitalization, illness and other concerns:
Jane Gunwaldsen, new moms Gina Erickson and Ashleigh Johnson, Imy Peterson, Sandy Johnson, Dayle Banks, Kirstin Duckett's father, Don Peterson, Jeff Jolly, Bev Connor, John Kinsman, Jan Cochran

For homebound members/friends of Alki UCC: Doris Colbert
Wider World: Prayers for all those affected by the corona virus outbreak; all those suffering from PTSD in the military and around the world; for all those affected by the increasingly cruel and inhumane US immigration policies imposed by the current administration; prayers for fewer guns, for all victims and those affected by gun violence; victims and survivors of extremist violence around the world; migrants seeking refuge around the world, and for those who are trying to help them. The rest of the missing schoolgirls kidnapped by Boko Haram, who remain in our hearts as long as they remain missing. The hungry and homeless, the ill and the addicted, the lost and the lonely; the unemployed.
Summertime Stories: Grounded in our Origins
Worship this Sunday

Throughout Summer 2020, we are visiting our Christian stories of origin to unearth the ways these inspirational events might guide the church into a vibrant Third Act. .

Our scripture this Sunday is from The Message: Romans 5:1-8.
Theme:
Hope and Endurance
Liturgist:
Jeff Duckett
Tech Deacon:
Bob Conder
Accompanist:
Betsy Stelzer
Guest Musician:
Dave Dolengewic
Click here for the Order of Worship, including Sunday's scripture reading.
Worship and Music Meeting this Sunday after Worship
Contact Joe Mitter for more info and Zoom login,
Pastor Kelly
Summer Break
Pastor Kelly will be out of the office from Monday, June 15 through Saturday, June 27. Please contact Larisa, our Office Manager or Betsy, our Music Coordinator during that time.
Zoom Info for Online Sunday Worship
Meeting ID: 536 604 506 #

From your smartphone, tablet or Computer use this link: https://zoom.us/j/536604506.

To manually Dial in from a land line, dial +1 253 215 8782 followed by 536 604 506# when prompted.

Annual Congregational Meeting June 28
Join us!
Sunday, June 28
at 10:00 am
Worship and Annual Congregational Meeting (Zoom)



Summary of King County Re-Opening Plans
King County Executive Dow Constantine, in consultation with Public Health – Seattle & King County leaders, announced that, pending state approval, King County will begin to re-open some business activity with limited or modified openings for a number of sectors.
Read about it here.
Huge thanks to all who have already pledged.
If you haven't yet, please mail in your Pledge Form this week. Or best yet, use the really easy online form you'll find here.
Your 2020/21 Stewardship Team: Gary Gesellchen, Julia Chase, Charley Rosenberry & Laura Petrie

How to Pledge
Either fill out and return the pledge card you received in the mail OR make your pledge online at this handy online link.
Then, you can:
— Set up payments through your bank or credit union's automatic Bill Pay system.
— Mail checks made out to "Alki UCC" to 6115 SW Hinds, Seattle, WA 98116
— Make secure, online donations via the donate button at alkiucc.org
— Write "alkiucc" in the message of a text and address to 44321. You will receive a return text with a secure contributions link.
Pastoral Care Available Via Zoom
If you would like to speak with Pastor Kelly via Zoom.us, contact her to set up a time at pastorkelly@alkiucc.org.

If you're new to the technology, and would like a general overview, please contact the church office.

Saturday Food Giveaway for Westside Region this Saturday, June 13
A major food give-away is underway for our westside area with thousands of food boxes given away weekly to those in need on a first-come-first served basis:
Saturdays,
June 13, 20 & 27
10:00 am to noon
Holy Family Church parking lot
SW Roxbury and 19 Ave SW
Distribution is managed by local nonprofits in cooperation with the federal government; shipments are transported to the distribution site via refrigerated truck.
It will be evaluated that morning how much each recipient will receive, based on the amount allocated to this event and the number of people waiting in line. No ID or personal information is required.
Please pass on this information to any person, family or any group of people whom you feel could benefit from this resource. This is a HUGE project being pulled together in very short time. Prayers! Cinda

Check for church news and calendar updates at www.alkiucc.org.
Sunday Zoom Services Posted on YouTube

Here's the link to our official page: Alki UCC - Alki United Church of Christ. Or just do a search for "Alki UCC' on the YouTube site.

While you're in Social Media mode, visit the Alki UCC FaceBook page
Thanks to all the fine folks working on our social media presence.

Click on the blue donate button to learn how to donate by check or a secure online credit card donation.