We're in Lent now! We kicked off this sacred season last Sunday with a festive Mardi Gras service and luncheon, the feast before the fast.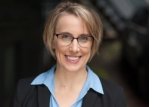 Then on Wednesday, February 26, we donned ashes on our foreheads, meditated to beautiful music, and walked the labyrinth — by candlelight! Lent is an annual Christian season where, for the six weeks prior to Easter, we purposefully enter into the space of penitence.
It is our annual practice of clearing our spirits through honest acknowledgement and brave confession. It is one of the more solemn seasons in the Christian year and shares some parallels with Advent, which is another stretch of intentional time before a joyous celebration.
There are a number of concrete ways to embody confession this month and I encourage you to commit to one or more of them. The Outreach/Social Justice team is hosting an important Anti-Semitism workshop on Sunday, March 15 at 11:30 am, as well as attending the March 20 Poor People's Campaign Rally with national leaders Rev. Leroy Barber and Rev. Liz Theoharis.
The Faith Formation team is sponsoring a New Members class on March 29 with complimentary lunch and books to welcome all who might be considering new levels of engagement with this faith community.
Ever onward,
Pastor Kelly
I have climbed up to the highest that is in me, and see,
the Word is far, far above.
I have plumbed my own depths,
and the Word was far deeper than that.
I have looked outward, I saw the Word far beyond.
I looked inward, the Word was further in still.
And now I know what I have read is true:
that in this One we live and move and have our being
But blessed is the one in whom [s]he has Divine being, who lives for God and is moved by God
— Bernard of Clairvaux, Sermon 74, Song of Songs
... and the Good Times Rolled!


Last Sunday's Mardi Gras celebration delivered on uplifting worship, rousing music and a festive buffet in true New Orleans style. With the help of twenty (20!) people who planned, shopped, baked, frosted, moved tables and chairs, set tables, decorated, washed, chopped, sliced, buttered, sautéed and cooked, a delicious Gumbo lunch for about sixty (60!) people was served.
Four and a half (4 ½!) pots of Gumbo were gobbled up right down to
the last scraped pot. Pancakes were also consumed at a fast clip. Then many folks pitched in to clear tables, wash dishes, distribute food, clean up the kitchen and un-decorate.

A special shout-out to Julia Peeler, who supplied and managed the Mask Decorating station, and to Russ Thornock, who survived being volunteered to assemble and manage the Selfie Station with his usual good humor.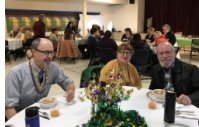 Thank you to all who lent a hand to make the party such a success!
— Dave and Vicky Smith
A Church of Extravagant Welcome 2.0


New Members Class




Set for Sunday, March 29 after Worship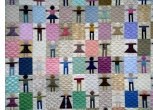 Extending an Extravagant Welcome is one of the UCC's foundational tenets. Anyone can worship with us, get involved in church life and support our community projects.
Your voice is heard, but on
members can serve in leadership positions or vote, a critical function in our congregational tradition.
For those ready for a deeper commitment to the collective, to the Meta, join us on
Sunday, March 29 at 11:30 am. Lunch is provided during the 2 1/2 hour session at Alki UCC. Childcare is available with at least a week's advance reservation.
RSVP with the church office.
Help eliminate food waste!
An accepted (and unacceptable) estimate is that 30 to 40% of all food produced in the United States goes uneaten. We can do better.

If you would like to make an impact, Imperfect Produce is an option you may wish to consider. Launched in 2015, and now in 43 states, the company's mission is to "eliminate food waste and build a better food system for everyone" ... by offering home delivery of edible food that cannot be sold to stores or restaurants.
Their premise is that 'ugly' produce (scarred, over or under sized - even surplus - etc.) can still be consumed instead of going to a landfill. Many organic options are offered, as well as grocery items beyond produce, including meat substitutes, canned foods, spices, etc. Processed foods may be 'short coded', i.e. nearing their expiration date.
Prices are reasonable, and ordering is convenient. Choose to receive

a box every week, every other week, or skip a week when you need to. Deliveries are made to West Seattle on Wednesdays. You can find
their website at imperfectfoods.com.
A bonus is their blog, focused on educating and encouraging mindfulness about food consumption. Check out this linked video on You Tube titled "Just Eat It" — a real eye opener that "illuminates our systemic obsession with expiry dates, perfect produce and portion sizes, revealing the core of this seemingly insignificant issue in a cinematic story that is both deliciously entertaining and truly shocking." — Vicky Smith
Our Wider Community:


Of Interest Online .

..

Getting Out & About ...




Making a Difference!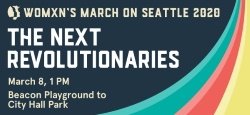 Womxn's March on Seattle
Sunday, March 8. 1:00 to 4:00 pm
Meet at Cal Anderson Park
1635 11th Avenue in Seattle
Come out in solidarity for this year's anniversary march, focused on amplifying the voices of womxn, femme, non-gender conforming people pushed to the margins of society and supporting youth leaders. More info here.
NOTE: We are coordinating with Admiral and Fauntleroy UCC churches. Admiral UCC will host a sign-making session open to all of West Seattle on Sunday, March 1 from 1:00 to 3:00 pm. Contact: Cinda Stenger
The Center at St. Andrew's and Contemplative Outreach Northwest
present
Living a Surrendered Life®
with Rabbi Rami Shapiro
March 10-12
St. Andrew's Episcopal Church
111 NE 80th in Seattle
Based on Rabbi Ramis book Surrendered, the sacred art, and drawing upon the Perennial Wisdom and contemplative practices of a number of religious, spiritual, and philosophical traditions including The Big Book of Alcoholics Anonymous, Living a Surrendered Life® instructs you in the Twelve Steps of Surrendered Living® and the wisdom, serenity and joy they contain. Information and registration through Brown Paper Tickets.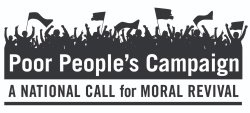 Poor People's Campaign National Rally in Seattle
Friday, March 20
5:30 pm March
Gather at Seattle Public Library Central
1000 4th Ave in Seattle
6:30 pm Mass Meeting
Plymouth Congregational Church
1217 6th Ave in Seattle
More info here on volunteering and event details.
Contact: Cinda Stenger
Parenting Forward Presents: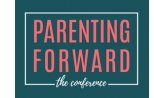 An Online Conference for the Intersection of Parenting and Progressive Faith
April 20-22, 2020
More info here.
Faith Action Network offers a very handy overview of how to make sure everyone is counted in the 2020 Census. Check it out here.
The Centers for Disease Control and Prevention (CDC) offers a clear-eyed overview of the steps you can take to prepare for the possible spread of the COVID-19 virus and help keep your household healthy. Online PDF here.
Wanda Dray would like to thank all those who signed her get well card. She says:
"I am continuing to improve after my fall and hope to be back in church before too much longer. Thank you."
For those grieving the recent death of a loved one:
Family and friends of Bob Jackson, family and friends of Jim Connor, family and friends of

Barbara T. Shadel Madden Andersen,

Kirstin Duckett and family, the family of Nancy Van Wyk, Julia Peeler's sister; Larry Gill; the family and friends of Ruth Okada; family and friends of Shelley Webster; Kathy Herigstad and family; Amy Young and family
Recent hospitalization, illness and other concerns:
Jane Gunwaldsen, new moms Gina Erickson and Ashleigh Johnson, Imy Peterson, Sandy Johnson, Dayle Banks, Kirstin Duckett's father, Don Peterson, Jeff Jolly, Bev Connor, John Kinsman, Kathy Herigstad's sister Jackie, Jan Cochran

For homebound members/friends of Alki UCC: Doris Colbert
Wider World: Prayers for all those affected by the corona virus outbreak; prayers for the earth and for all those affected by the devastating bushfires in Australia and the earthquakes in Puerto Rico; for all those affected by the increasingly cruel and inhumane US immigration policies imposed by the current administration; prayers for fewer guns, for all victims and those affected by gun violence; victims and survivors of extremist violence around the world; migrants seeking refuge around the world, and for those who are trying to help them. The rest of the missing schoolgirls kidnapped by Boko Haram, who remain in our hearts as long as they remain missing. The hungry and homeless, the ill and the addicted, the lost and the lonely; the unemployed.
Worship
This Sunday,
March 1,
10:00 am
Town Hall/ Celebration Sunday during
March 8 Worship
Our House Meeting leaders will give a verbal report on their work.

Join us for an update and a look forward in our Year of Discernment.
"Bread for the World" Table Tents Offer Lenten Prayers for an End to Hunger
The Bread for the World table tents in the sanctuary and narthex are part of the organization's continuing effort to encourage ongoing prayers for an end to hunger.

Pick one up! They feature a different prayer for every day in Lent.
"As you rededicate yourself to prayer and action on behalf of those in need, may you find strength and joy in God's steadfast love."
Building & Grounds
Sunday, Mar 1, 11:30 am
Stewardship:
Sunday, Mar 8, 8:30 am
Worship & Music:
Sunday, Mar 8, 11:30 am
Worship Logistics:
Sunday, Mar 8, 11:30 am
Faith Formation:
Sunday, Mar 15, 11:30 am
Outreach/Social Justice
Thurs, Mar 19, 6:30 pm
(place TBD)
Caring Community/ Fellowship:
Sunday, Mar 22, 11:30 am
Minute for Ministry
during Worship
Stewardship
March 1
Faith Formation
March 8
Worship & Music
March 15
Worship Logistics
March 22
Social Justice-Outreach
March 29
The Sanctuary Task Force is getting ready to install new carpet in the sanctuary, parlor and narthex during the week of March 22-29. Stay tuned for more details.
Lent/Easter Calendar Highlights
"Clearing our house, clearing our spirit" is our spiritual community's focus this Lent. The theme reflects the ancient practice of contemplation and action as two sides of the same coin.
Let us enter into this season of confession and repentance through the lens of clearing away the layers which keep us embroiled in a mess and far from God.
— Pastor Kelly
Worship Themes during Lent
Sundays at 10:00 am
March 1:
Poverty
March 8: Health care
March 15 Anti-Semitism
March 22: Gender-
based
violence
March 29: Tyranny
Related Action Opportunities
Sunday, March 15
at 11:30 am
Anti-Semitism Training, co-led by KHN's Rabbi Zari Weiss and Pastor Kelly
Poor People's Campaign National Rally in Seattle
Friday, March 20
Plymouth UCC hosts nationally acclaimed activists Rev. Barber and Rev. Theoharis for a day of inspiration and action.
Alki UCC/KHN Building Cleanup Day
Sunday, March 29
Noon to 3:00 pm
Palm Sunday Worship
Sunday, April 5
at 10:00 am
Good Friday Worship
Friday, April 10
at 7:00 pm

Easter Sunday April 12
6:00 am:
Community worship
on Alki Beach
10:00 am:
Sanctuary Service
Celebrate the resurrection!
11:00 am:
Community Easter Brunch & Easter Egg Hunt
Want Better Balance? Check out Tai Ji Quan!
Tai Ji Quan: Moving for Better Balance® (TJQMBB) is a research-based balance training regimen designed for older adults at risk of falling and people with balance disorders.
Check out their website with information about the Spring Instructor Training Workshop March 21 and 2 at the Covenant Shores Retirement Community on Mercer Island.
Course details, scholarship applications and registration are at betterbalance.net.
Free Tax Prep Services
Offered by United Way of King County
Through April 18, households making less than $66,000 can have their taxes prepared by a certified tax preparer and get connected to other community resources and public benefits.
Online
,
file for free with United Way's 'My Free Taxes' tool.
In-Person
at one of 33 locations throughout King County. V
isit United Way's website or call 2-1-1.

Click on the big blue donate button to learn how to donate by check or a secure online credit card donation.