The 2020-21 Stewardship Drive is underway!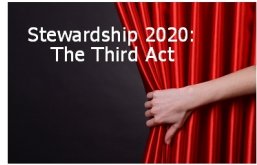 This year's Stewardship theme is "The Third Act" (thanks to Kim Becklund for the great suggestion!). Alki UCC's First Act started as a Sunday School on Alki point 110 years ago, followed by migrating to our current location, constructing the original Sanctuary, and surviving the challenges of The Great Depression and World War II. Quite an opening Act!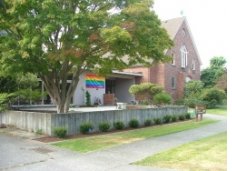 Not to be outdone, our immediate forebearers launched the Second Act by building our newer Sanctuary, then filling it with families, Sunday Schools and classes. In their spare time they founded the First Avenue Service Center, fought against war, helped resettle refugee families, and opened the doors to a progressive Synagogue that now shares our space as

Kol HaNeshamah. We have a pretty impressive history and a lot to be proud of as members of Alki United Church of Christ!
We all know that churches are struggling across the US, and indeed throughout the world. Alki is caught in these same currents of change, and the future is a bit uncertain. This must have been what it felt like when the Great Depression hit just a couple of years after our original Sanctuary was completed. Or when all of our young men went off to war. Or when "The Last Person to Leave Seattle" was kindly asked to turn out the lights.
The immediate future is always uncertain. What is certain is that God has called us together, and has promised to be with us.
In calling us together God has asked us to set aside our fears and follow his lead. To be his hands and voice in this world. To extend his glorious welcome to all people. To care for all creation as the singular expression of God's love. This why we are called together, and why we've always been called together. Extending this call to a new generation of seekers and doers is the challenge of our times. It is the opening scene of our church's Third Act.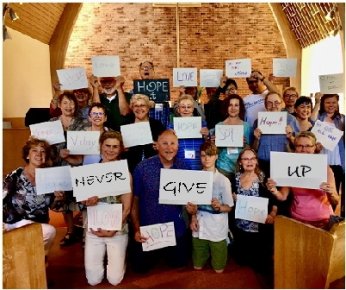 The in-depth House Meeting Groups arrived at a few unanimous conclusions: we are important to each other, we find spiritual uplift through worship and music, the world and our immediate neighborhood is made better by Alki UCC, and we're not done yet!
In response to these conclusions we formed Mission and Redevelopment teams to help define our path forward. To lead us into
our Third Act, which a generation or two from now may inspire our descendants to look back with pride as they address the question, "What are we now called to do?"
Stewardship asks that you prayerfully consider what you can do to help lead Alki UCC into the future. Your hands and voice are needed. And frankly, a measure of your wealth and good fortune are needed as well.
You should be receiving your 2020-21 Pledge Card by snailmail in the coming week. We ask that you complete and mail it back by Monday, June 1. Please give generously to support this special place we share as our spiritual home.
Your 2020 Stewardship Team:
Gary Gesellchen, Julia Chase, Charley Rosenberry & Laura Petrie
How to Pledge
After you complete and send your Pledge Card, you can
Set up payments through your bank or credit union's automatic Bill Pay system.

Mail checks made out to "Alki UCC" to 6115 SW Hinds, Seattle, WA 98116

Make secure, online donations via the donate button at alkiucc.org

Write "alkiucc" in the message of a text and address to 44321. You will receive a return text with a secure contributions link.
A Shout-Out to Alki UCC Nursery Attendants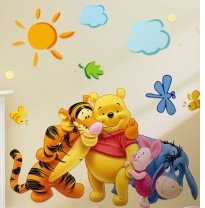 We're so grateful to Catherine Brown, Samantha Faherty and Erica Ijeoma for providing such loving and dedicated service every Sunday during worship and for events throughout the year. They have been a joy to work with.
A special Huzzah!! to Erica, who is graduating from West Seattle High School and going on to UW in the fall. Congratulations, Erica!
We wish all our grads the very, very best. They're dealing with a worldwide pandemic on the top of all the normal challenges young people face as they go out into the world. We hold you in our hearts.
Do you know any graduating seniors you would like to recognize? Contact the church office to give them a shout-out in next week's newsletter.
A huge thank you to Andrea for your leadership this year on the Church Council as the representative from the Faith Formation Team. As a kind and generous member of the team she kept moving forward on Adult Education and Children's Ministry. With the pending arrival of a son, she and Todd will be busy, and we wish them much joy.
— Julia Peeler
"Weekly Seeds" Community Bible Study
Continues Every Tuesday Through June 16

It's Tuesdays at Two! Join Pastor Kelly to explore "Weekly Seeds" a free, email summary of UCC's popular resource for lectionary-based Bible study.
Weekly Seeds teachings spotlight a Sunday Bible reading, brief meditation and reflections from ancient or contemporary sources.
Your reading assignment for May 26 is
Acts 1:6-14
Tuesday at Two sessions run through June 16.
Sign up today to receive a weekly teaching right in your inbox.
Zoom login here:
Meeting ID: 863 4583 8616
Password: 301975
Sunday Zoom Services Posted
on YouTube

Here's the link to our official page: Alki UCC - Alki United Church of Christ. Or just do a search for "Alki UCC' on the YouTube site.

While you're in Social Media mode, visit the Alki UCC FaceBook page Shannon Peterson has been busy keeping it updated and refreshed to show the vibrancy of our community.
Thanks to all the fine folks working on our social media presence.
Special prayers for all those on the front lines of working to protect us, keep us healthy, sane, grounded, informed, fed and comfortable during the current COVID 19 outbreak: our faith leaders, front-line health care workers, EMTs, police, firefighters, educators, farmers, therapists, social workers, shelter operators, engineers, grocery/drug store personnel, caregivers, childcare specialists, pharmacists, custodians, organizations caring for the most vulnerable, sanitation workers, dispatchers and others keeping our supply chains operational, truth-telling journalists and all the many public servants who are so vital to our community.
For those grieving the recent death of a loved one:
Patty Magnuson, family and friends of Bob Jackson, family and friends of Jim Connor, family and friends of

Barbara T. Shadel Madden Andersen,

Kirstin Duckett and family, the family of Nancy Van Wyk, Julia Peeler's sister; Larry Gill; the family and friends of Ruth Okada; family and friends of Shelley Webster; Amy Young and family
Recent hospitalization, illness and other concerns:
Jane Gunwaldsen, new moms Gina Erickson and Ashleigh Johnson, Imy Peterson, Sandy Johnson, Dayle Banks, Kirstin Duckett's father, Don Peterson, Jeff Jolly, Bev Connor, John Kinsman, Jan Cochran

For homebound members/friends of Alki UCC: Doris Colbert
Wider World: Prayers for all those affected by the corona virus outbreak; all those suffering from PTSD in the military and around the world; for all those affected by the increasingly cruel and inhumane US immigration policies imposed by the current administration; prayers for fewer guns, for all victims and those affected by gun violence; victims and survivors of extremist violence around the world; migrants seeking refuge around the world, and for those who are trying to help them. The rest of the missing schoolgirls kidnapped by Boko Haram, who remain in our hearts as long as they remain missing. The hungry and homeless, the ill and the addicted, the lost and the lonely; the unemployed.
Online Worship
This Sunday,
May 24
at 10:00 am

Through May 31 (Pentecost), Alki UCC is wading into the wild and unpredictable world of the Early Church and following its endeavors with the help of contemporary music and modern song.
Each week features a different theme with tunes both familiar and new. Come join us. All ages welcome.
Liturgist:
Cinda Stenger
Tech Deacon:
Shannon Peterson
Accompanist:
Betsy Stelzer
Guest Musician:
Dave Dolengewic
Click here for the Order of Worship, including Sunday's scripture reading.
Please read ACTS 15 for this Sunday.
Zoom Info for Online Sunday Worship
The following login info is the same for this Sunday and every online Sunday worship until further notice.
If you're joining us via your smartphone, please download the Zoom.US app before joining the meeting.
Meeting ID: 536 604 506 #
From your smartphone, tablet or Computer use this link: https://zoom.us/j/536604506.
To List on your mobile, click this link: +16699009128,,8806331101# US
To manually Dial in from a land line, dial +1 (301) 715 8592 followed by 536 604 506# when prompted.
Pastoral Care Available via
Zoom
If you w
ould like to speak with Pastor Kelly via Zoom.us, contact her to set
up a time at
pastorkelly@alkiucc.org
.
If you're new to the technology, and would like a general overview, please contact the church office.
In-Person Food Drive this Sunday, May 24
10 am to 4 pm
Thanks to our community's generosity, we will once again be accepting donations outside our building for an In-Person, Socially-Distanced Food Drive at 6115 SW Hinds.

Contributions of non-perishable food and other items will be distributed via the White Center Food Bank; top requests include Canned Meat/Soup/Fruit (pop‐top cans preferred), Rice, Noodles, Peanut Butter, Oats, Toilet Paper, Diapers, Similac Formula, Cleaning Supplies, Hand Sanitizer and Baby Wipes.
The drive benefits our vulnerable neighbors in need, those who have been disproportionately impacted by COVID 19.
Stop by and tell your friends!
Download Zoom Security Upgrade by May 30
Zoom advises us that all users need to upgrade their devices to a security-enhanced update. If you're not prompted to do the download next time you log into Zoom, please take a few minutes to use this link to make the download:
After May 30, Zoom will automatically download the upgrade next time you log into a meeting.
Note: For phone and digital apps, you should update through your app store.
Contact the church office if you have any questions.
Staying Conncted
Gatting Involved
Call for Tech Deacons and Liturgists
Both roles are integral to worship!

Zoom is a user-friendly platform to manage worship and meetings, and we need more people to help keep our online events running smoothly.
Contact the church office with questions or to sign up as a Tech Deacon or Liturgist.

The US Census is hiring.
Conduct 5-10 minute door-to-door household interviews in your own neighborhood. This vital demographic information for the US Census is used to allocate US Congressional representation and $800 billion dollars in federal funding over the next 10 years.
Flexible hours/Weekly pay
$23/hr + $.58/mile d

Click on the big blue donate button to learn how to donate by check or a secure online credit card donation.