Juneteenth (Friday, June 19) marks the anniversary of the end of slavery in the United States in 1865 and the date when the last
enslaved people received news of the Emancipation Proclamation. Ever since, black Americans have been subjected to poverty, violence, discrimination and hate.
Given the current, hard-fought momentum of the Black Lives Matter movement, tomorrow's activities are vitally important and more potentially impactful than ever. Pick where you want to be, wear a mask and try to social distance. Most importantly, show up!
— Cinda Stenger
West Seattle Juneteenth #SayTheir Names Vigil
Friday, June 19 at 5:30 pm
Pedestrian overpass across Delridge Way SW
(access from Delridge Community Center parking lots or Youngstown Cultural Arts Center)
Join your neighbors! You are invited to come with a sign displaying one name of a person of color who has been a victim of institutional violence. Here are just of a few of the most recent names on the heartbreaking list: Rayshard Brooks, Manuel Ellis, George Floyd, Dreasjon (Sean) Reed, Breonna Taylor, Ahmaud Arbery, Che Taylor, Charleena Lyles, John T. Williams and Antonio Zambrano-Montes.
Seattle Protests and Marches
Juneteenth March & People's Assembly
Sponsored by Africatown Central District and other local organizations
23rd and Union (Central District)
Juneteenth Port Shutdown - Rally & March
The International Longshore and Warehouse Union will shut down all West Coast Ports on the anniversary of the end of legal slavery in the US to protest racist violence.
3440 E Marginal Way S (West Seattle)
The Next Steps Rally! A Not This Time Event
Local nonprofit Not This Time — whose mission is focused on "reducing fatal police shootings, changing the laws that govern the use of force, and rebuilding trust between our communities and the police who are sworn to protect and serve us — will lead this protest and march for communities of color who have been impacted by police violence. Judkins Park (Central District)
UCC Juneteenth Tribute ... And Still We Rise
Join the webinar:
Friday, June 19, 9:00 to 10:30 am
Information and registration here.
Juneteenth marks the official end of slavery in the US (June 19, 1865) and the recognition of African-American history and heritage. Join the United Church of Christ for moments of remembrance, education, celebration and calls to action.
In this moment we are witnessing public lynchings and state sanctioned violence against black bodies. Together we must stop the murders of African descendant people. Ahmaud Arbery, Breonna Taylor, George Floyd and Rayshard Brooke are the latest victims of state sanctioned militarism, and white racists invoking the "Stand Your Ground" law in order to justify lethal gun violence against African Americans.
"We Are Not OK." These are more than words. "We are not OK" is a deeply-felt response to the ongoing racism and injustices impacting communities of African descent. There is an urgency to dismantle systems and institutions perpetuating and supporting racists and racism.
Mass Poor People's Assembly
and Moral March on Washington June 20 & 21
The 2.5 hour program will be broadcast here on Saturday, June 20 at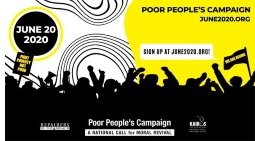 10:00 am and 6:00 pm EST, and on Sunday June 21 at 6:00 pm.
The Poor People's Campaign is a movement of tens of thousands of people across the country who are organizing to end the interlocking injustices of systemic racism, poverty, militarism and the war economy, ecological devastation, and the distorted moral narrative of religious nationalism.
Racial Justice = Environmental Justice

Like many in our community, the Outreach/Social Justice Ministry Team is prayerfully processing the protest phenomenon that has swept our country in the aftermath of George Floyd's tragic murder.
We are overwhelmed. We are full of rage and emotion at our complicity in systemic racism. We are finally "waking up," after looking away for so long, to the realities that our brothers and sisters of color have endured for hundreds of years.
We look away no longer, because now we understand that silence = complicity = violence. Instead we look toward those who have been doing the work long before us. We listen. And we act.
I frequently turn to Earth Ministry, a local non-profit that has been a national leader in engaging faith communities in environmental stewardship and advocacy. Alki UCC's Outreach/Social Justice team is deeply interested in the intersection of global climate change and racism; indeed, environmental justice is deeply interwoven with social and racial justice. Our faith teaches us that all beings deserve a healthy environment, we must strive to preserve our planet for generations to come. The violence of white supremacy strikes at the heart of this vision, as it cruelly undermines our work for a sustainable planet.
Earth Ministry offers a range of fantastic resources, activities and opportunities for advocacy. Here are just a few; check out the Earth Ministry website for more.
Act:
Learn:
Earth Strategy

Saturday, June 20 at 4:15 pm (online)

Learn about the history of racial oppression in America and how oppression is intertwined with the climate crisis. Explore strategies for keeping the racial justice movement going forward and engaging in active allyship with the black community. This class is part of a series focusing on equity. Register here.
Advocate:
COVID19 State/Federal Advocacy Opportunities
Your voice must be heard!
1) Urge lawmakers to prevent cuts to critical affordable housing, homelessness and public benefit programs. The Washington state budget reflects a budget shortfall of at least $7 billion over the next three years. Our lawmakers are required to balance the budget based on these projections, but they must not repeat the mistakes of the past by cutting core services. This petition urges them to raise revenue through progressive measures & to protect programs that support health, safety and housing. Email your Washington state lawmakers
2) Urge our U.S. Senators to ensure housing stability during & after the COVID-19 pandemic. Your voice is powerful, so use it. It will only take a few minutes for you to read the petition & fill in a few blanks to help save lives.

Donate:
Peace, Cinda
Tuesday Bible Study Spotlights
"Paul's Letter to the Romans"
Join Bible Study Tuesdays at Two
Your Faith Formation team invites you to join in our study of Paul's Letter to the Romans, the longest letter written in 58 AD by the apostle to the Christians of ancient Rome. Much of our faith beginnings were written by Paul to help Christians, then and now, know who we are and why we believe what we do.
The eight-session class features DVD viewing followed by discussions led by led by Pastor and lay participants ... YOU!! Let us know if you would like to join us so we can order class materials.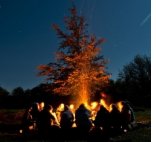 Romans is an incredibly rich and thought-provoking letter in the New Testament. Bible study complements Summer Sunday Worship, which revisits our Christian stories of origin to unearth the ways these inspirational events might guide the church into a vibrant Third Act.
Scheduled through July 28, Tuesdays at Two is open to all. So come check it out each Tuesday at 2:00 pm. On Zoom of course for now. — Julia Peeler
Zoom login here:
Join URL: https://us02web.zoom.us/j/86345838616?pwd=a21GRmUzczRNWXJqcVFiVU4zcDBxUT09
Meeting ID: 863 4583 8616
Password: 301975
Dial: +1 253 215 8782 US
Alki UCC ReOpening Phase 1.5:
Keeping Our Building Safe

Attention All Building Users
Since more and more folks are in and out of the building, our first step is to observe these basic disinfecting protocols:
Please disinfect/wipe down all common-use areas when you arrive AND as you're leaving the building: computer keypads, keyboards, copier keypad, door handles, light switches, chair handles, table tops, faucets, toilet handles, stair railings, etc.
Wear gloves if you're sensitive to cleaning solvents.

Masks are required for groups of two or more.

Please follow social distancing as best as you can.

Note: Wipes are meant for objects ONLY.
There are plenty of supplies (wipes, paper towels, disinfectant spray, etc.) on the lamp table as you enter the building, in the Parlor, on the office level lobby outside the copier room and in the church office. Please let us know if we've missed a spot!
When we re-open the sanctuary for services, we will need volunteers to help with tasks before and after the service. If you are interested in being part of this, please contact me.
Special prayers for the family and friends of Rayshard Brooks, Manuel Elllis, George Floyd, Dreasjon (Sean) Reed, Breonna Taylor, Ahmaud Arbery and the heart-breaking list of African-Americans and other people of color murdered by police or self-declared vigilantes in our nation over many decades. We mourn with you and we stand for justice and healing.
Special prayers for all those on the front lines of working to protect us, keep us healthy, sane, grounded, informed, fed and comfortable during the current COVID 19 outbreak: our faith leaders, front-line health care workers, EMTs, police, firefighters, educators, transit bus and rail drivers, farmers, therapists, social workers, shelter operators, engineers, grocery/drug store personnel, caregivers, childcare specialists, pharmacists, custodians, organizations caring for the most vulnerable, sanitation workers, dispatchers and others keeping our supply chains operational, truth-telling journalists and all the many public servants who are so vital to our community.
For those grieving the recent death of a loved one:
Patty Magnuson, family and friends of Bob Jackson, family and friends of Jim Connor, family and friends of Barbara T. Shadel Madden Andersen, Kirstin Duckett and family, the family of Nancy Van Wyk, Julia Peeler's sister; Larry Gill; the family and friends of Ruth Okada; family and friends of Shelley Webster; Amy Young and family
Recent hospitalization, illness and other concerns:
Jane Gunwaldsen, new moms Gina Erickson and Ashleigh Johnson, Imy Peterson, Sandy Johnson, Dayle Banks, Kirstin Duckett's father, Don Peterson, Jeff Jolly, Bev Connor, John Kinsman, Jan Cochran

For homebound members/friends of Alki UCC: Doris Colbert
Wider World: Prayers for all those affected by the corona virus outbreak; all those suffering from PTSD in the military and around the world; for all those affected by the increasingly cruel and inhumane US immigration policies imposed by the current administration; prayers for fewer guns, for all victims and those affected by gun violence; victims and survivors of extremist violence around the world; migrants seeking refuge around the world, and for those who are trying to help them. The rest of the missing schoolgirls kidnapped by Boko Haram, who remain in our hearts as long as they remain missing. The hungry and homeless, the ill and the addicted, the lost and the lonely; the unemployed.
Summertime Stories: Grounded in our Origins
Worship this Sunday

Throughout Summer 2020, we are visiting our Christian stories of origin to unearth the ways these inspirational events might guide the church into a vibrant Third Act. .

Our scripture this Sunday is from The Message: Romans 6:1b-11
Theme:
Newness and Life
Lay Leader:
Joe Mitter:
Liturgist:
Vicky Smith
Tech Deacon:
Shannon Peterson
Accompanist:
Betsy Stelzer
Click here for the Order of Worship, including Sunday's scripture reading.
Zoom Info for Online Sunday Worship
Meeting ID: 536 604 506 #

From your smartphone, tablet or computer use this link: https://zoom.us/j/536604506.

To manually call in from a land line, dial +1 253 215 8782 followed by 536 604 506# when prompted.

Pastor Kelly
Summer Break
Annual Congregational Meeting June 28
Join us!
Sunday, June 28
at 10:00 am
Worship and Annual Congregational Meeting (Same Zoom login as for Sunday worship)



Liturgists play a key role in our faith community. Thanks to all who have read scripture and other prayers during Sunday worship. If you haven't served in a while, or if you've never been a liturgist, please consider adding your unique voice.

We're looking for folks who are relatively comfortable with Zoom and available for a brief Zoom rehearsal prior to worship, most often on Fridays.
Contact the church office with questions or to sign up. We hope to hear from you.
Huge thanks to all who have already pledged.
If you haven't yet, please mail in your Pledge Form this week. Or best yet, use the really easy online form you'll find here.
Your 2020/21 Stewardship Team: Gary Gesellchen, Julia Chase, Charley Rosenberry & Laura Petrie

How to Pledge
Either fill out and return the pledge card you received in the mail OR make your pledge online at this handy online link.
Then, you can:
— Set up payments through your bank or credit union's automatic Bill Pay system.
— Mail checks made out to "Alki UCC" to 6115 SW Hinds, Seattle, WA 98116
— Make secure, online donations via the donate button at alkiucc.org
— Write "alkiucc" in the message of a text and address to 44321. You will receive a return text with a secure contributions link.
In-Person Alki UCC Food Drive this Sunday,
June 21
Thanks to our community's generosity, our In-Person Food Donations Drives continue this Sunday, June 21 from 10:00 am to 4:00 pm. Donations are accepted outside our building at 6115 SW Hinds.



Contributions of non-perishable food and other items are distributed via the White Center Food Bank; top requests include Canned Meat/Soup/Fruit (pop‐top cans preferred), Rice, Noodles, Peanut Butter, Oats, Toilet Paper, Diapers, Similac Formula, Cleaning Supplies, Hand Sanitizer and Baby Wipes.

The drives benefit our vulnerable neighbors in need, those who have been disproportionately impacted by COVID 19

COVID19: Update on Testing and Resources
Expanded Testing
Info on free and low cost testing locations here.
There are two new free drive-thru testing centers established for those who have been exposed to crowds, even if they are asymptomatic.
12040 Aurora Ave North
3820 6th Ave South
Monday through Saturday
10:00 am to 3:30 pm
Book ahead through the website. .

Guidance and Social Support
Washington State is starting a Crisis Counseling Program called "Washington Listens," providing non-clinical psycho-education based support to anyone in Washington experiencing elevated stress due to COVID-19.It is anonymous and no identifying information is maintained.


Check for church news and calendar updates at www.alkiucc.org.
Sunday Zoom Services Posted on YouTube

Here's the link to our official page: Alki UCC - Alki United Church of Christ. Or just do a search for "Alki UCC' on the YouTube site.

While you're in Social Media mode, visit the Alki UCC FaceBook page
Thanks to all the fine folks working on our social media presence.

Click on the blue donate button to learn how to donate by check or a secure online credit card donation.