Alki UCC Summer Outdoor Concert
this Sunday, July 12 from Noon to 1:00 pm
Food Drive
10:00 am to 3:00 pm

Music from the church with Betsy Stelzer
this Sunday from Noon to 1:00 pm
Alki UCC Hinds Street Patio and Lawn
Bring a brown bag lunch or just stop by to enjoy some sweet Sunday tunes … Keepin' it light, takin' it easy.
Face masks are required and social distancing observed; free-will donations welcome. Bring your own lawn chair or ground covering.
Sunday's concert coincides with our ongoing outdoor Summer Food Donations Drives.
Sunday, July 12 and 26 from 10:00 am to 3:00 pm
Feeding hungry kids is our focus this summer. In addition to regular contributions of non-perishable food and other items, special requests include Fruit Cups and Rollups, Gogurt, Peanut Butter and Jelly, Protein

Bars, Mac and Cheese, Cereal, Ramen Noodles and Pasta/Sauce. Toilet Paper, Diapers (all sizes), Similac Formula, Cleaning Supplies, Hand Sanitizer and Baby Wipes are always welcome.
A huge shout-out to our generous community, who has donated more than $10,000 worth of food and other supplies to the White Center Food Bank through our ongoing in-person Food Drives. Your contributions benefit our vulnerable neighbors in need, those who have been disproportionately impacted by COVID 19.
Food for Our Neighbors ... Music for the Soul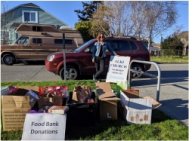 Alki UCC Food Drives Featured in UCC News
Check out this terrific story UCC News is running in their current issue about food collection at two UCC churches. Cinda Stenger and Pastor Kelly were interviewed for the article. Click link below.
Love thy neighbor: Food collection, distribution ministries pick up as pandemic surges
Church Office Summer Hours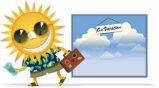 Larisa is taking her two-week summer break from July 11 through July 26.
Who to contact for:
Email Blasts
The newsletter will be on hiatus for the next two week. Pastor Kelly will send out email blasts on Thursday, July 16 and 23 to keep you up to date on church news.
Send your announcements to Charlie Hinckley by each Tuesday afternoon. Charlie will also be the point person for website updates and sending announcements to the West Seattle Blog and NextDoor.
Scheduling a Zoom Meeting
Contact Joe Mitter or Cinda Stenger if you need to set up a church meeting. Email them with the meeting title, date/time and duration, and they will send you the login information to forward to your participants. Shannon Peterson and Pastor Kelly are backup contacts.
Signing up to be a Sunday Liturgist
Contact: Sandy Johnson
Open summer dates are: July 19, 26, August 9, 16 and 23. Let Sandy know if you have any questions.
Big thanks to all and to Shannon Peterson for creating the weekly Zoom worship slides and for downloading the worship video; and to Kristin Michael for keeping an eye on the actual office, processing the mail and monitoring office voicemail.
I'm available through tomorrow in case you need anything or have a special request.
Have a happy, healthy and joyous couplaweeks! Be well and be good to each other. xxxla
Telling the Truth about Race:
Selected Documentaries for Thoughtful Engagement
Monday Night Film Series begins July 13 at 8:00 pm
July 13, 20, 27 and August 3
Hosted by Admiral Church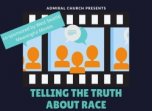 Join us for this two-part outdoor/two-part online film series to engage our community in deep thinking about issues of race consciousness. The screenings build on one another, moving us from individual experience to structural consideration of the consequences of racism in American society. We hope that considering these issues in this way will lead us to meaningful participation in work for justice and mercy.
July 13:
Black Girl in Suburbia
Outdoor screening at 4320 SW Hill St (masks/distancing required)
July 20: 13th (via YouTube)
n-depth discussion on Zoom begins at 8:00 pm
July 27: White Like Me, outdoor screening at 4320 SW Hill St (masks/distancing required)
August 3: Ferguson: A Report from Occupied Territory (via YouTube)
in-depth discussion on Zoom begins at 8:00 pm
Information on the Admiral UCC website.
Tuesday Bible Study Spotlights "Paul's Letter to the Romans" through July 28
Join Bible Study Tuesdays at Two
Your Faith Formation team invites you to join in our study of Paul's Letter to the Romans, the longest letter written in 58 AD by the apostle to the Christians of ancient Rome. Much of our faith beginnings were written by Paul to help Christians, then and now, know who we are and why we believe what we do.
The class features DVD viewing followed by discussions led by Pastor Kelly and lay participants ... YOU!! Let us know if you would like to join us so we can get you class materials.

Scheduled through July 28, Tuesdays at Two is open to all. So come check it out each Tuesday at 2:00 pm. On Zoom of course for now. — Julia Peeler
Zoom login here:
Join URL: https://us02web.zoom.us/j/86345838616?pwd=a21GRmUzczRNWXJqcVFiVU4zcDBxUT09
Meeting ID: 863 4583 8616
Password: 301975
Dial: +1 253 215 8782 US
Alki UCC ReOpening Phase 1.5
Attention All Building Users
Please disinfect/wipe down all common-use areas when you arrive AND as you're leaving the building: computer keypads, keyboards, copier keypad, door handles, light switches, chair handles, table tops, faucets, toilet handles, stair railings, etc.
When we re-open the sanctuary for services, we will need volunteers to help with tasks before and after the service. If you are interested in being part of this, please contact me.
Special prayers
Prayers for a speedy recovery for Claire Foster, who is recovering at home after a recent surgery.
For Dayle Banks as she anticipates an upcoming scheduled surgery.
Prayers of support for Bonita Corliss.
# # #

Special prayers for the family and friends of Rayshard Brooks, Manuel Elllis, George Floyd, Elijah McClain, Dreasjon (Sean) Reed, Breonna Taylor, Ahmaud Arbery and the heart-breaking list of African-Americans and other people of color murdered by police or self-declared vigilantes in our nation over many decades. We mourn with you and we stand for justice and healing.
Special prayers for all those on the front lines of working to protect us, keep us healthy, sane, grounded, informed, fed and comfortable during the current COVID 19 outbreak: our faith leaders, front-line health care workers, EMTs, police, firefighters, educators, transit bus and rail drivers, farmers, therapists, social workers, shelter operators, engineers, grocery/drug store personnel, caregivers, childcare specialists, pharmacists, custodians, organizations caring for the most vulnerable, sanitation workers, dispatchers and others keeping our supply chains operational, truth-telling journalists and all the many public servants who are so vital to our community.
For those grieving the recent death of a loved one:
Patty Magnuson, family and friends of Bob Jackson, family and friends of Jim Connor, family and friends of Barbara T. Shadel Madden Andersen, Kirstin Duckett and family, the family of Nancy Van Wyk, Julia Peeler's sister; Larry Gill; the family and friends of Ruth Okada; family and friends of Shelley Webster; Amy Young and family
Recent hospitalization, illness and other concerns:
Gina Erickson and Ashleigh Johnson, Imy Peterson, Sandy Johnson, Kirstin Duckett's father, Don Peterson, Jeff Jolly, Bev Connor, John Kinsman, Jan Cochran

For homebound members/friends of Alki UCC: Doris Colbert
Wider World: Prayers for all those affected by the corona virus outbreak; all those suffering from PTSD in the military and around the world; for all those affected by the increasingly cruel and inhumane US immigration policies imposed by the current administration; prayers for fewer guns, for all victims and those affected by gun violence; victims and survivors of extremist violence around the world; migrants seeking refuge around the world, and for those who are trying to help them. The rest of the missing schoolgirls kidnapped by Boko Haram, who remain in our hearts as long as they remain missing. The hungry and homeless, the ill and the addicted, the lost and the lonely; the unemployed.
Sunday Zoom Services Posted on YouTube

Here's the link to our official page: Alki UCC - Alki United Church of Christ. Or just do a search for "Alki UCC' on the YouTube site.

While you're in Social Media mode, visit the Alki UCC FaceBook page
Thanks to all the fine folks working on our social media presence.
This Sunday
Worship
July 12, 10:00 am
Summertime Stories: Grounded in our Origins
Throughout Summer 2020, we are visiting our Christian stories of origin to unearth the ways these inspirational events might guide the church into a vibrant Third Act.

Liturgist:
Vicky Smith
Tech Deacon:
Shannon Peterson
Accompanist:
Betsy Stelzer
Click here for the Order of Worship, including Sunday's scripture reading, Romans 8:1-11, a passage which inspired J.S. Bach to compose his beautiful cantata Jesu, Meine Freude. Come hear Betsy offer this piece during the Offertory and sing it in German!
Music Coordinator Betsy Stelzer has also provided YouTube links to performances of some of Sunday's music selections, so you can sing along ahead of time. Check them out!
Opening Song:
This Is The Day That The Lord Has Made
Written by Les Garrett
Scripture Reference: Psalm 118:24
YouTube Link
Offering Music:
Jesu, Meine Freude
Choral Cantata, BWV 227
Johann Sebastien Bach
You Tube Link
Zoom Login Same as Previous Sundays:
Meeting ID: 536 604 506 #
From your smartphone, tablet or computer use this link: https://zoom.us/j/536604506.
To manually call in from a land line, dial +1 253 215 8782 followed by 536 604 506# when prompted.
New Members
Monday, July 13, 6:00 pm
Open to anyone who might be visiting, exploring or not yet a member of Alki UCC.
Come learn the history of Alki UCC and what membership entails with Pastor Kelly and the Faith Formation team.
Sunday, August 9
Liturgist Workshop.
Civil Rights Icon Rep. John Lewis featured in new documentary
Supported by UCC justice ministries, John Lewis: Good Trouble features interviews and rare archival footage, to tell a powerful and inspiring story of Lewis' 60-plus years of social activism and legislative action on civil rights, voting rights, gun control, health-care reform and immigration.




Tickets through UCC are $12 to view the movie; $5.00 of the ticket price goes to UCC justice work.

Once you register here and purchase your ticket you'll receive a confirmation email with the link to the movie.

2020/2021
Alki UCC Council Full Roster
Officers
Moderator:
Emily Hitchens
Vice Moderator:
Joe Mitter
Clerk:
Charlie Hinckley
Treasurer:
Shannon Peterson

Ministry Team Representatives
Worship and Music:
Joe Mitter
Worship Logistics:
Jeff Duckett
Faith Formation:
Julia Peeler and
Russ Thornock
Social Justice/Outreach:
Cinda Stenger
Caring Community
and Fellowship:
Sandy Johnson
Stewardship:
Gary Gesellchen
At Large: TBA

Ex Officio:
Operations Manager:
Kristin Michael
Pastor:
Rev. Kelly Wadsworth

Huge thanks to all who have already pledged.

How to Pledge
Either fill out and return the pledge card you received in the mail OR make your pledge online at this handy online link.
Then, you can:
— Set up payments through your bank or credit union's automatic Bill Pay system.
— Mail checks made out to "Alki UCC" to 6115 SW Hinds, Seattle, WA 98116
— Make secure, online donations via the donate button at alkiucc.org
— Write "alkiucc" in the message of a text and address to 44321. You will receive a return text with a secure contributions link.

Check for church news and calendar updates at www.alkiucc.org.

Click on the blue donate button to learn how to donate by check or a secure online credit card donation.