From the Alki UCC Council
Our Alki UCC Church Council held our monthly meeting on Wednesday night.
Highlights and decisions include:
Our Zoom worship services need better technical support, including audio. Council approved funds for an Internet service upgrade and some new hardware, which will be purchased soon.

The Outreach/Social Justice Team will be adding new content to our website, including a statement supporting Black Lives Matter. This enhances our current message, "together, we grow a just and peaceful world." Council approved both language and content for this addition.

We are researching software that will help us create a more seamless operations system for church business. The goal is to be more efficient, more connected and more coordinated
— Charlie Hinckley, Council Clerk
GOTV! GOTV!
... and can I get a GOTV!!??!!
Here's a really easy, REALLY quick way to encourage potential voters in under-represented demographics to exercise their constitutional right to VOTE.
The folks at the non-partisan, non-profit Vote Forward
organization offer a way to advocate for our democracy that checks ALL the boxes:
1. Can everyone participate no matter where they live?
2. Is it socially distanced, so you can even do it during a pandemic? ✔ Check.

3. Can you avoid talking with anyone at all, making it the perfect activity for introverts? ✔ Check.

4. Can you work as much or as little as you like, on your own schedule, from the comfort of your home? ✔ Check.

5. Is it statistically proven to be effective? ✔ Check.

Just to show you how easy it is, here's a sample letter. The only part you fill in is (your reason) and your signature.

I am writing today to urge you to vote and to share my story with you. I vote in every election because (your reason).

There's a critically important election coming up on Tuesday, November 3, 2020.
Will you join me as a voter?
I'm not asking you to support specific candidates, only to vote, so our representatives are accountable to us all.
your name

After you fill in your part, you'll generate a document to print and sign. Then, just address the envelope, add a stamp and send it off.
Help get out the vote right from your own home!
Help encourage others across the nation to vote! Do your part, it's easy!
— Cinda Stenger
For Our times ...
UCC Offers Diverse Webinar Series
Tuesdays for Nurture
Previous recordings are linked here. If
you sign up, you will get notice of when recordings are available so you can either watch "live" or at your convenience.
Thursdays for the Soul
3:30 pm (EST)
A webinar series to care for the whole church. Topics are wide ranging and are focused on the spirituality and care of people. Prayer, worship, music, psalm readings, or compassionate teaching are included in the one-hour session.
Information here.

Our Faith Our Vote 2020
Your vote is your voice – don't give it up!
The problems in our world often seem too big to confront. We see injustice every day and feel that change can't or won't happen. But our faith is infused with hope and built on a foundation of action. By serving the vulnerable, feeding the hungry, and standing in solidarity with the oppressed, we serve as God's hands.
Voting is a natural extension of faithful action.
Information here.
9:00 am Monday Morning Cleanups of Alki Beach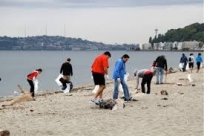 Per the West Seattle Blog, there's a call for folks to grab their favorite cleanup tools and head over to the Alki Beach Bathhouse to meet some of your like-minded neighbors for weekly Monday morning cleanups at 9:00 am.
The Bathhouse is at 60th & Alki SW.
Mandi is the cleanup organizer. You can just show up or email her if you have any questions. Bring your own supplies (bag, grabber) if you can!
Alki UCC ReOpening Phase 1.5
Attention All Building Users
Please disinfect/wipe down all common-use areas when you arrive AND as you're leaving the building: computer keypads, keyboards, copier keypad, door handles, light switches, chair handles, table tops, faucets, toilet handles, stair railings, etc.
When we re-open the sanctuary for services, we will need volunteers to help with tasks before and after the service. If you are interested in being part of this, please contact me.
Thank you!
Special prayers of condolence for Todd Saunders and family on the death of Todd's mother on Wednesday night after a long battle with ALS. Andrea reports the family had been visiting her in southern California to introduce her to Ira, her first biological grandson, and to say their Good-byes. "We are lucky to have had this week with her."
# # #

Special prayers for the family and friends of Rayshard Brooks, Manuel Elllis, George Floyd, Elijah McClain, Dreasjon (Sean) Reed, Breonna Taylor, Ahmaud Arbery and the heart-breaking list of African-Americans and other people of color murdered by police or self-declared vigilantes in our nation over many decades. We mourn with you and we stand for justice and healing.
Special prayers for all those on the front lines of working to protect us, keep us healthy, sane, grounded, informed, fed and comfortable during the current COVID 19 outbreak: our faith leaders, front-line health care workers, EMTs, police, firefighters, educators, transit bus and rail drivers, farmers, therapists, social workers, shelter operators, engineers, grocery/drug store personnel, caregivers, childcare specialists, pharmacists, custodians, organizations caring for the most vulnerable, sanitation workers, dispatchers and others keeping our supply chains operational, truth-telling journalists and all the many public servants who are so vital to our community.
For those grieving the recent death of a loved one:
Patty Magnuson, family and friends of Bob Jackson, family and friends of Jim Connor, family and friends of Barbara T. Shadel Madden Andersen, Kirstin Duckett and family, the family of Nancy Van Wyk, Julia Peeler's sister; Larry Gill; the family and friends of Ruth Okada; family and friends of Shelley Webster; Amy Young and family
Recent hospitalization, illness and other concerns:
Sue Backs' husband Dick, Bonita Corliss, Claire Foster, Dayle Banks, Gina Erickson and Ashleigh Johnson, Imy Peterson, Sandy Johnson, Kirstin Duckett's father, Don Peterson, Jeff Jolly, Bev Connor, John Kinsman, Jan Cochran

For homebound members/friends of Alki UCC: Doris Colbert
Wider World: Prayers for all those affected by the corona virus outbreak; all those suffering from PTSD in the military and around the world; for all those affected by the increasingly cruel and inhumane US immigration policies imposed by the current administration; prayers for fewer guns, for all victims and those affected by gun violence; victims and survivors of extremist violence around the world; migrants seeking refuge around the world, and for those who are trying to help them. The rest of the missing schoolgirls kidnapped by Boko Haram, who remain in our hearts as long as they remain missing. The hungry and homeless, the ill and the addicted, the lost and the lonely; the unemployed.
Worship
This Sunday
August 23, 10:00 am

In Pastor Kelly's absence, Sunday's sermon-time is a special video presentation from UCC's "Our Faith/Our Vote" series, featuring voting rights activist Stacey Abrams.



It's an engaging conversation about electoral politics and the role the church is called to play to ensure every voice is heard.





Liturgist:

Penny Matthews

Tech Deacon:

Shannon Peterson

Accompanist:

Betsy Stelzer


Click here for Sunday's Order of Worship, including our scripture reading from Psalm 124.

Note:


Pastor Kelly is taking some time off and will be back in the office on September 3.



Please contact the Office Manager or Music Coordinator with any questions.

Zoom Login Same as Previous Sundays:





Meeting ID: 536 604 506 #





From your smartphone, tablet or computer use this link: https://zoom.us/j/536604506.





To manually call in from a land line, dial +1 253 215 8782 followed by 536 604 506# when prompted.



Worship & Music
Sun, Sept 6, 11:15 am
Personnel
Tues, Sept 8, 9:00 am
Alki UCC Council Retreat
Wed, Sept 9, Time TBD


Fall Kick-Off & Congregational Meeting
Sunday, September 13
10:00 am
Details to come.

Weekly Newsletter Deadline
Newsletter submissions are due by Tuesdays at 6:00 pm for Thursday publication.

Earlier works, too! Bullet points are fine; you will receive a first draft for review. Contact the church office with questions.

Alki UCC Council
2020-2021
Moderator: Emily Hitchens
Vice Moderator:
Joe Mitter
Clerk: Charlie Hinckley
Treasurer:
Shannon Peterson
Worship and Music:
Joe Mitter
Worship Logistics:
Jeff Duckett
Faith Formation:
Julia Peeler and
Russ Thornock
Social Justice/Outreach:
Cinda Stenger
Caring Community and Fellowship:
Sandy Johnson
Stewardship:
Gary Gesellchen
At Large: Kirstin Duckett
ExOfficio:
Operations Manager:
Kristin Michael
Pastor:
Rev. Kelly Wadsworth
Sunday Zoom Services Posted on YouTube

Here's the link to our official page: Alki UCC - Alki United Church of Christ. Or just do a search for "Alki UCC' on the YouTube site.

While you're in Social Media mode, visit the Alki UCC FaceBook page
Thanks to all the fine folks working on our social media presence.

Check for church news and calendar updates at www.alkiucc.org.

Click on the blue donate button to learn how to donate by check or a secure online credit card donation.