My given name is YiJun (IChun), which can be translated "Easeful Spirit." My father, Civil Engineer/philosopher-poet, chose for his daughter a spiritually aspirational name over the more traditionally decorative, floral, feminine ones.
No "Spring Flower" or "Elegant Phoenix"; I was to be a "Peaceful Prince."

I always felt ruefully underachieving both spiritually and decoratively. But today I love it, the wish that man had for me, his only daughter, that I'd be a "Harmonious Ruler" of my life. It is not exactly easy, and maybe he knew that, the moment my scrunched, anxious little face mewled up at him. And he blessed me with his wish that I'd navigate the changes with ease. With peace and harmony. With elegance and grace. And I welcome now all he wished for me. I welcome it for all of us.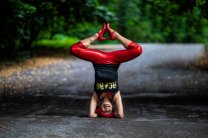 We are all gifted with Change, to see the brilliant gem 💎 Impermanence, and never more so than in this leading edge Now.

Just this week, I bike through city streets, weeping in my mask over new waves of loss, far and near. The summer rains weep with me, shining the streets slick under the city lights.

"We" ~ Consciousness, our souls that desire, create, inspire and love ~ if our Souls are the one thing we know is here, and real, in the midst of changes and losses ~ does that free us in an awesome, Present way? How light and free, how easy can we be? Riding the tides of change? do you feel it?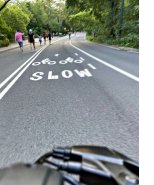 One simple trick I learned from my Compassion Course is to just ~

S - L - O - W
I - T
D - O - W - N

My wish for you is to find your Easeful Spirit. Because we all do meet there when we find it, I do believe. Yours, mine, my father's: the same place.

Our easeful spirits reside as peaceful princes, in a world of change.
Navigating every breath with grace.

Beautiful Central Park ...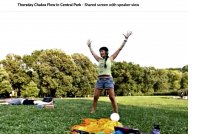 Two beautiful summer weeks already I've been teaching my Chakra Vinyasa Flows in Central Park: Thursday at 6PM and Saturdays at 4PM.

Public parks being what they are, with live musicians, ball games, picnics, and sunlight, we easily navigate as need, between "Studio A" behind ball field 1, to "Studio B" Turtle Pond, to "Studio C" with gorgeous leafy shade, all within the same area.

With grace, we clear acorns and twigs, we marvel at our view of skies and trees and one another, masked and distanced, smiling breathing moving so free, enjoying our humanness, our smiles and laughter. We welcome in our Zoom classmates, loving our skies and trees from their homes far away. And we flow.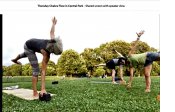 Meet us at the Great Lawn Southwest, behind Ball Field 1. When you email me to pre-register you get details and my cell #.

We live with changes in seasons as well as everything else; if you can join, live or via ZOOM, do it now! Carpe diem. We live in history-making times. Every day. Flow it!

Mother Mary Teacher Trainings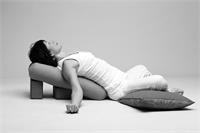 Mother Mary Teacher Trainings are going online. The 2020 Restorative Teacher Training, Levels 2 to 4 were put on hold in March. For months I've resisted, because of the intimacy of the practice, the abundance of props and touch and scent we benefit from, in Restorative Yoga, especially with Thai touch elements.

Taking my colleague Kate Kuss's Yin Teacher Training online and then tasting Ajeet Khalsa's Svaroopa (blend of yin/restorative) online have revolutionized my thinking. We can make this a Yes + And.

We can learn how to not only use standard bolsters, blocks, blankets, but home pillows, cushions, towels. Not only walls and folding chairs, but what hassocks and stools and sofas do we have at home? What "props" for yin and restorative, nidra and Thai, might we avail ourselves of, in "our" home studios, and our future and current students' and clients' homes and offices?


Pure Yoga will honor the 100-Hour Advanced accreditation of my 100-Hour Mother Mary Restorative Training, that was paused mid-March. If you are a RYT pursuing Yoga Alliance CEU hours (25 per Level) or 100-Hours, email me to discuss. And if you are interested in just enriching your practice, you may apply also. Dates are TBD.

Tuesday 10:30-12:00 Slow Flow Meditation
Sunday 8:30-9:30PM Yoga Nidra

Watch for future adds or changes as the weather shifts, and as New York State guidelines on yoga studios and health clubs shift. Schedules are always updated at: www.maryaranas.com
And now, always updated on my Instagram, so please follow!

Photo Thanks; Email Privacy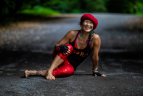 Thanks for my glittery red sparkle tights to Kat Schamens of Katasana, and for my sparkly park photos and my St. Bartholomew's Church headstand photo to Grant Henry Media.

I value your privacy and do not share email lists. Thank you for the cyber-sangha, this virtual family of kindred souls. Please feel free any time to Reply, Forward, Subscribe, Unsubscribe.

Please keep safe, and find light-heartedness and joy as you let the weather and the seasons live, and thrive in your life, too.



OMMMMMMmary
Change is hard, and the heart chakra's particular demon is grief. We remove its constriction in nada yoga (yoga of sound) by gently intoning "aay" (like "hay") to ourselves, like peeling a tight wrap from around our heart.

Rabbi Leonard Schoolman years ago at an interfaith prayer circle at St. Bart's Church in NYC:

"The reason God says in Scripture 'Lay My words across your hearts' is because when our hearts break, His words fall in."

Aaaay. Aaay. A thousand times Aay.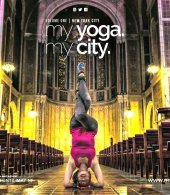 Grief-stricken, heartbroken, feeling the feels. Perhaps let them flow through you. Then you know you are alive. And when you are alive, anything is possible.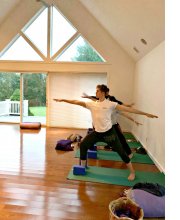 Compassionate Relating figures in my teacher training, yoga therapy, meditation, coaching and retreats now more than ever before.

Needs-Based Consciousness have been in my teacher trainings for 3+ years. Now, I am fashioning more compassion games and play into my weekend retreats.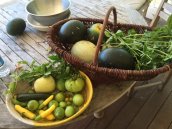 Next dates for Wagging Tail Yoga Weekend Retreat in Bethel, Catskills, with my wonderful retreat partner and co-teacher Ora Ramat: June 2021. Exact dates TBD.

These beautifully rolling meadows and woods on Chuck and Ora Ramat's 100-acre retreat center are calling out lovingly to me! Are they calling out to you? The healing of nature, space, beauty, quiet, yoga, delicious food, learning about compassion along with yoga, and wonderful, fun, playful, and respecting community?

Pre-reg now via email!

* Yoga Asana
* Yoga Therapy
* Meditation
* Slackline Yoga 101
* Byron Katie The Work Inquiry
* Compassion & NVC inquiry
* Self-Connection Goal Setting
* Reiki I or II
* Thai Yoga




These are among the private client offerings I customize to your needs, remotely or with safety protocols for us both in live settings.