What Are Our Marching Orders?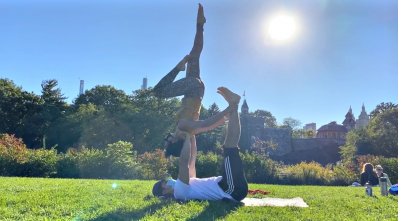 Stardate October 2020 ~ Captain's Log
We breath Election uncertainty, democracy uncertainty, pandemic escalation, civil and racial unrest, wildfires, climate warming, and economic uncertainties.

What next, we might wonder. How long, some cry out. My son heard our next-door neighbors as they passed outside say loudly, "When will this END?!" ~ and in typical young person fashion he thought at first she meant something he was doing ~ but I think we all now agree with the united cry like the prophet Job. How long, o Lord? And what is expected of us?

As yogis, or simply as humans ~ what are our marching orders? How are we to be, in this moment? How do we keep sane and not strangle ourselves or each other?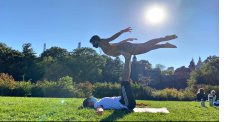 First, know that emotional turbulence is normal. Mood swings? Maybe you're human. Find some structure and routine to ground you. Reach out and connect as much as you can.
F
ind sense-soothers for all 5 senses (touch, taste, scent, sight, sound) plus 2 other senses I hadn't thought of, but found on a crisis-counselor's list: vestibular (motion) and propioceptive (weight on our body). Think rocking chair, dance, yoga; think weighted blanket or pillow.
I have found a daily morning minimum of 15 minutes' sacred time in a sacred spot essential. Meditate, pray, send distant Reiki, journal, chant, or practice mudras, during this time. Connect to your Inner Being, before your day (and email + all stimuli) begins. If it extends to 40 minutes or an hour and 40, of if it follows your morning movement meditations on your mat, more power to you.
At right column are two versions of the Reiki Principles, which I find very centering and calming, as "marching orders" to start the day.
Mother Mary Restorative Trainings with Reiki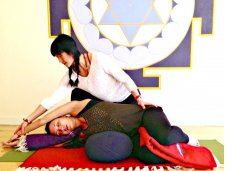 I am excited for Mother Mary Restorative Teacher Trainings to take on a new virtual life, with Reiki, in January 2021.
My 100-hour, 4-module Restorative TT was interrupted in March 2020, and I've confirmed it to begin again January 15th, with Reiki.
Those with Level 1 completed will have their packages honored to resume L2-4, or any portion of the track they choose. Reach out to arrange packages with me, please!
Pure Yoga West is the RYS for the 300-hour Advanced Teacher Training credits with Yoga Alliance, even though we will do the training virtually. This means those on a Pure 500-hour track still get those Pure Advanced TT hours, and those just logging YACEP study hours have those, as well.
Anyone doing the 100-hours have a bundle price for savings; ditto if you add in the Nidra Teacher Training weekend in March.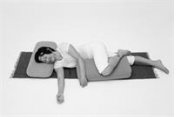 I totally get today's budget issues and want to work with you on payment plans and packages; reach out to me! I don't want you to miss out!
Biggest add to 2021 MM TT: Reiki I module on Saturday of Level 3, which attunes and trains you for self-Reiki and hands-on Reiki for others.
Reiki II is given in Level 4 on Saturday, to empower you for remote and time-spanning Reiki care for yourself and others. This is spectacular in a virtual care age, and for the balancing of past (and future) challenges and/or trauma. It also dovetails powerfully with Yoga Nidra.
DATES/HOURS:
Fri+Mon 5-8PM// Sat 1-6PM// Sun 2-7PM
Friday-Monday 4-day Weekends of 25-hours:
16 + 2 hours ZOOM, many of them recorded.
And: self-practice, reading, & journaling in logs.
Level 1 Basics: January 15 - 18
Level 2 intermediate: Jan 29 – Feb 1
Level 3 Reiki I + Nidra Taste: February 19 - 22
Level 4 Reiki II + Restore: March 5 – 8
Yoga Nidra TT: March 19-22

Included: two weeks complimentary access to Zoom classes with me, for extra practice and to fulfill your class observation/report homework needs.
Past Mother Mary grads may request to take just the 1-day Reiki I and 1-day Reiki II modules in levels 3 and 4 as standalone training options.
Speak to me directly!!!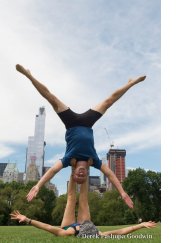 Zoom Classes &
Pre-Registration Links:

Monday 10-11:30AM
Slow Flow Meditation

Friday 3-4:15PM
YinFusions 4-week cycle each month:
YinYang/ YinRestore/ YinNidra/ Yin

Sunday 8:30-9:30PM
Yoga Nidra Dream Journey

Email for Partner/Pod AcroYoga semi-privates, safely distanced by appointment.

Possible future adds: Recording subscriptions, Zoom Restorative.

Equinox Clubs classes 3x/week are still on hold, pending government approval of indoor group fitness classes.



OMMMmary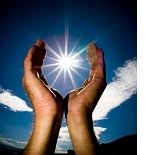 Five Reiki principles plus their positive wording version, as morning mantras:
Just for today, I will not worry.
Just for today, I will not anger.
Just for today, I will do my work honestly.
Just for today, I will give thanks for my many blessings.
Just for today, I will be kind to my neighbor and to all living things.
Positively worded ...
For all of today, I will trust.
For all of today, I will love.
For all of today, I will be true to myself and others.
For all of today, I give thanks for my many blessings.
For all of today, I will be kind to my neighbor and all living things.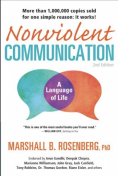 Strategies to help meet our needs for balance, peace-of-mind, self-connection:
Read NVC books by Marshall Rosenberg or join an intro workshop at NYCNVC.
Watch free clips by CNVC coach Marianne van Djik, at Cup of Empathy or on YouTube, like this one about speaking compassionately when you are triggered, in the heat of the moment.


Shift to Needs Consciousness from Judgment
Consciousness.
Feel a shift in your world view, and your compassion for yourself and others, that can bring more creativity and harmony into your world. Who can't use that? Sign me up! I can.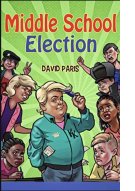 Middle School Election

and

Middle School President

are hilariously illustrated satires written for a middle school and adult readership, about a fictional middle school in a fictional country, with parallels to make us wince, laugh, pause, think, quite a bit!

Amply documented Endnotes make these great discussion tools for classrooms.

Dave Paris is a Non-Violent Communications trainer, middle school teacher, and acrobatic dance teacher and performer. He is the author of two previous hilarious illustrated books.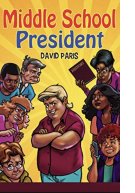 Presently, these two books are available on Amazon, and the Kindle version is free!
Read the ebook and review it, to help support it! And purchase some copies of the paperback for timely stocking stuffers for your woke or awakening friends, for convo starters! Oh yeah, PS ~ my pal Dave beat Covid-19 after 88 days in hospital.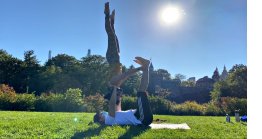 Thanks for photos to:
iPhone and Prisma for my artsy Turtle Pond cover pic; Michelle Velasquez, Restorative model; Walter Beltran, Adam Rinder, Brian McRae Davis of Boundless Yoga as AcroYoga models, Deborah Dunn for Pune India rooftop; Cup of Empathy for their video graphics; Dave Paris, Om Factory NYC, Pure Yoga NYC.
I honor your email privacy and do not share lists. Please Reply, Forward, Subscribe or Unsubscribe at any time!

Happy All Hallows' Eve, & All Souls' Day!
May all your frights be fun!
May all souls breathe in awareness of oneness!