Worship this Sunday,
January 3
at 10:00 am
This Sunday we welcome Guest Pastor Rev. Steve Davis to kick-off our January Guest Speaker Series and Year One of our Future Story.




Rev. Steve's sermon spotlights "

Christian Considerations in Multi-Faith Spaces" and "God's Bounty and Gathering for New Life." Our scripture readings are

Jeremiah 31:7-14

and

John 1:1-9


Click here for Sunday's Order of Worship.

Sunday's Liturgist is Julia P. The Moment of Ministry features a message from Cinda and our Outreach/Social Justice team. Music selections include We Three Kings; Lord Speak to Me; Joyful, Joyful; All Things Bright and Beautiful and This Little Light of Mine.

Coffee Hour features a facilitated discussion with Rev. Davis to help us lay the foundation for our Future Story as a multi-faith center.



Steven "Steve" Davis was raised in El Paso, TX, and came to faith early in childhood. At age 13, Steve came to embrace the gift of faith in Christ for himself, and the next year heard and embraced the call to ordained pastoral ministry as his own.

Rev. Steve Davis came to Seattle's Plymouth Church UCC in 2016 and served in co-leadership as the Executive Minister. He is now in Texas seeking God's next place for life and ministry. Rev. Davis has been serving in ministry for 36 years, starting as a student/pastor at the age of 19 while going to undergraduate school at McMurry College in Abilene, Texas, with a double major in Religion and Psychology, earning a Bachelor degree in 1987, and a Master of Divinity from Emory University, Candler School of Theology, in Atlanta, Georgia in 1990.


End of Year Message
from Your Stewardship Team
It's that time of year when we take stock of our situation. 2020 has

been as tough a year as most of us have ever experienced. A polarizing political landscape, the beginnings of a long overdue racial reckoning, and a pandemic that has ravaged our health and left millions in economic ruin. Not a year that many will miss.
The good news is that most of us are still standing. We, as Alki UCC, have forged ahead during this difficult year to lay out a plan for our future. We, as Alki UCC, have not "circled the wagons," but instead have thrown our arms open and invited the world in to share the blessings we have found through one another and grace we have found through Jesus Christ. A remarkable response to a difficult situation.
Alki UCC also had a pretty successful Stewardship Campaign in the middle of the year. While we are still running an unstainable budget deficit, the congregation pulled together to give us time to begin putting our Future Story into action.
One place where the pandemic/Zoom services has left us a little short is in "loose collections" gathered as part of Sunday offerings. Many of us throw something in the pot each week, and we haven't had that same opportunity this year.
If you have managed to weather this most unusual of years and are looking at your year-end giving plans, please consider an additional gift to Alki UCC. Any gifts will be put to good use, helping us all to live into the beauty of the Future Story we have crafted together.
— Stewardship
Thank you from Pastor Kelly
A big thank you to everyone who provided sweet treats, kind gifts, and hearty food for us on Christmas Eve. It is much appreciated and we feel very loved.

Sincerely,
Pastor Kelly and family

PS: Individual dishes (clean) are on the bench near the church office, ready to be returned to their owners.


Heartiest thank you and deepest appreciation to all who shopped, bundled and wrapped gifts for our Christmas family. They were overjoyed with the bounty from this community.
With such generosity, we had an overflow of gift cards, so we were able to help out another family, a single dad with 10 kids. Your overwhelming support allowed us to support and bring joy to two families this season.
We also created 10+ gift bags for people experiencing homelessness, packed full of toiletries, snacks and warm blankets, socks, gloves and scarves. And lovely masks made by Shirlee Baluyot!
Lastly, many of you joined some of our West Seattle friends to deliver a hot Christmas breakfast to Camp Second Chance. Joe Aprile donated artwork for their tiny homes! Thank you one and all for such generosity in all of our endeavors this Christmas season. What a difference you all made! — Cinda
After dodging a torrential rain storm on Solstice Monday, we gathered around the Solstice fire pit on Tuesday evening, the air chilly and clear and full of spunk. We burned our Lamentations and General Complaints Against the Universe in the Lamentation 2020 Solstice Fire, releasing the year's foul grip on us.

Neighbors joined in as we attempted to socially distance as a community united to see in a brighter new season. Donations of food to the White Center Food Bank were received, and, last minute coats came in for one of our Christmas families. Thank you Nancy and Peter for providing your delightful fire pit! — Cinda

# # #

Julia and Joe would like to share images of Carolers Extraordinaire Vicky and Dave and a picture taken of our memorable Solstice.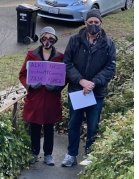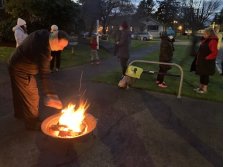 New for 2021: Small Group Ministries

This isn't about tasks, or to-do lists or calls to action. It's about nesting in and joining a few others from our community in cozier home-group settings.

We'll be working with the Ministry Teams to form our new groups. Relax, restore, explore … Onward together!

Special Prayers for Charlie's father Harris Hinckley, who is in hospice care.
Special Prayers for the family and friends of Walter Wallace,
Jonathan Price, Jacob Blake, Rayshard Brooks, Manuel Elllis, George Floyd, Elijah McClain, Dreasjon (Sean) Reed, Breonna Taylor, Ahmaud Arbery and the heart-breaking list of African-Americans and other people of color murdered or wounded by police or self-declared vigilantes in our nation over many decades. We mourn with you and we stand for justice and healing.
Special Prayers for all those on the front lines of working to protect us, keep us healthy, sane, grounded, informed, fed and comfortable during the current COVID 19 outbreak: our faith leaders, front-line health care workers, EMTs, police, firefighters, educators, transit bus and rail drivers, farmers, therapists, social workers, shelter operators, engineers, grocery/drug store personnel, caregivers, childcare specialists, pharmacists, custodians, organizations caring for the most vulnerable, sanitation workers, dispatchers and others keeping our supply chains operational, truth-telling journalists and all the many public servants who are so vital to our community.
For those grieving the recent death of a loved one:
Candace G and family; Ed B and family; Jeff D's cousin Jerry Elder and his wife Tami Elder; Todd S and family; Patty M, family and friends of Bob J, family and friends of Jim C, Kirstin and family; Larry G
Recent hospitalization, illness and other concerns:
Sandy and Jim's friend Al, his mom, Sue and friend Kay; Penny M; Sue B's friend Sonia; Kirstin D; Shannon P's father, Rev. Dr. Bill; Verona's younger brother Eric; Julia C's long-time friend Megan; Bonita C; Claire F; Dayle B; Gina E and Ashleigh J; Imy P; Kirstin D's father; Don P; Jeff J; Bev C; John K;
Jan C
For homebound members/friends of Alki UCC: Doris C
Wider World: Prayers for all those affected by the corona virus outbreak; all those suffering from PTSD in the military and around the world; for all those affected by the increasingly cruel and inhumane US immigration policies imposed by the current administration; prayers for fewer guns, for all victims and those affected by gun violence; victims and survivors of extremist violence around the world; migrants seeking refuge around the world, and for those who are trying to help them. The rest of the missing schoolgirls kidnapped by Boko Haram, who remain in our hearts as long as they remain missing. The hungry and homeless, the ill and the addicted, the lost and the lonely; the unemployed.
January Guest Speaker Series
for Sunday Worship
As we kick-off Year One of our Future Story, we need to lay the groundwork for understanding and visualizing what it means to be a multi-faith center.




During January Sunday worship, we'll meet and greet different faith leaders from our neighborhood and the greater region, including (on January 3) Rev. Steve Davis, formerly with Plymouth UCC, who has direct experience working in a multi-faith building; and Connie Burk, Executive Director of our partner synagogue, Kol HaNeshamah. Speakers from the Duwamish tribe and our Buddhist community have also been invited.

What should we focus on during Year One? We'll start the conversation during facilitated Coffee Hour discussions after worship on January 3, 10, 17, 24 and 31. Stay tuned.


Click on the blue donate button to make a secure, online credit card donation and an overview of other ways to donate.

Church Office Closed Friday
Happy New Year!



Pastor Kelly in on break through January 4, 2021.
Larisa is off on Monday/ Tuesday, January 4 and 5.

For worship-related questions or issues during Pastor Kelly's VaCa, contact music coordinator Betsy Stelzer. During Larisa's holiday days, contact Kristin Michael for admin/office questions.

Zoom Registration Link for Sunday Worship

You only need to register once for Sunday worship.
You will receive a confirmation email with your own unique link to join Sunday worship.
For additional assistance, phone or text Tech Deacon Shannon Peterson.
The Alki Church Permanent Trust Fund was funded with $14,000 in 1980. Over the years the fund has received another $76,000 in contributions. As of today, this $90,000 has grown to be worth $216,000, and has earned income of $168,000 that has been paid over to our church. The income distribution this year was $7,528.

Pete Jansen, who has been on our trust committee almost since the beginning, recently expressed his desire to step down. His long service and investment wisdom have greatly contributed to the successful performance we have had. Basically, it has been pretty simple – investing in well run companies paying and increasing dividends, with emphasis being on value and income production, and keeping risk to a minimum.

The church council has appointed Cinda to replace Pete. So now, the trust committee is made up of Cinda S, Lowell P and Jim J. — Lowell

PNCUCC Winter Conference UCNews Now Online
Check it out here for information on the following stories and much more:
• The September Virtual Global Ministries Peace Pilgrimage to Colombia
• Kelsey Petersen Beebe's outreach through Dancing Pastor Ministries
• Fox Island UCC member carves a backyard totem with spirit animals of her grandchildren

Check for church news and calendar updates at www.alkiucc.org.