Dear Alki UCC,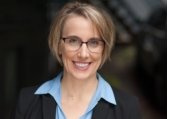 The pastoral reflection this week covers a number of events in our collective life together. Here we go!
1) Yesterday, the Washington DC Capitol building was overrun during the congressional election certification and it was a disturbing and yet sadly predictable scene. The events were mimicked in a number of state capitals as well, including ours.
As we digest and pray about this reality, I am ever mindful of the important practice of referring to one another as one big "us" rather than "us-vs-them." Us-versus-them is a divisive mentality. Us is a peace mentality. I offer to you a piece of wisdom that has guided my thinking over the past few years about matters such as these.

In war, truth is the first casualty. — Aeschylus (525-456 BC)

99% of the time, in order to engage in a mob, an insurrection, or a dangerous public act we must believe something that is not true. We are all susceptible to this and at different times in our lives have supported violence, intentionally or inadvertently, by absorbing a falsehood. So let us boldly condone yesterday's events. Let us bravely stand against mob rule. But let us not stop there. Let us be a people who dig down and wrestle with truth and falsehood in our culture and how it affects us all.
2) On Wednesday, an email letter went out from the church Council letting the Alki congregation know that I have been extended a pastoral position in Oregon. If that church votes to approve the call later this month, I plan to accept. (If you did not receive the letter, please see the website or contact the office for a copy). The Council has already met with our Pacific Northwest Conference Minister, Rev. Mike Denton, and begun mapping out a solid plan for Alki UCC's next pastor. Additional details, Q&A, and a timeline are being finalized so look for more information in the coming weeks.
On a more personal note, it has been a joy and an honor to serve as your Transitional Pastor. I have come to deeply love this congregation and value each of you in all your wonderful gifts and talents. The future story prioritizes two things. First, a renewed vibrancy for mission work in the UCC tradition. Second, a clear calling to redevelop the property in such a way as to lighten the burden on the congregation (so that more mission work can be done).
This is an exceptionally clear and compelling way forward and I am eager to see how Alki UCC blossoms in her next chapter.
3) January is Mission Kick-Off month with a look at the multi-faith relationships right in our own backyard. I hope you enjoyed our guest preacher last Sunday, Rev. Steve Davis. If you missed him, you can catch the recording on our YouTube channel. This week we welcome Kol HaNeshemah's Executive Director Connie Burke to our worship service to share about the Jewish tradition practiced at KHN.
As a congregation, I hope we are able to think mindfully about what kind of posture we take when entering into relationships with people of other faiths. Is it simply trendy? Is it part of the progressive playbook? Or is it a deeper call to sit at the table of mutuality and to learn from one another with wisdom shared back and forth?
It does lead to the question — What does our Christian tradition bring to the table? What are our theological practices that might enrich the multi-faith space? I am really looking forward to this conversation with Connie and hope everyone can be there.
With hope for our world.
Onward,
Pastor Kelly
Worship this Sunday,
January 10
at 10:00 am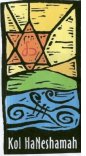 This Sunday we welcome Guest Speaker Connie Burk, Executive Director of Kol HaNeshamah, our partner synagogue.




Connie is the second speaker in our January Sunday series to kick-off Year One of our Future Story. Connie will

share about the Jewish tradition practiced at KHN.


Pastor Kelly asks: "As a congregation, I hope we are able to think mindfully about what kind of posture we take when entering into relationships with people of other faiths. Is it simply trendy? Is it part of the progressive playbook? Or is it a deeper call to sit at the table of mutuality and to learn from one another with wisdom shared back and forth?"





Connie Burk and her family are long-time members of Kol HaNeshamah. Connie served on the Board of Trustees as both Senior V-P and Treasurer, and chaired the Rabbinic Search Committee. In 2010, she received KHN's inaugural Deborah Award for Visionary Leadership.


An experienced executive leader and community organizer, Connie continues her antiviolence work as a program developer for Mother Nation, a by-and-for Native American antiviolence organization bringing credentialed cultural-based healing to Indigenous survivors of violence from across the lifecourse. Previously, she directed the NW Network, an anti-violence program that served the Pacific NW and the nation.





At the NW Network, she founded the National LGBTQ Institute on Intimate Partner Violence, the National LGBTQ TTA Institute and the annual Q&A Summit. She authored numerous articles and publications including the book, Trauma Stewardship: An Everyday Guide to Caring for Self While Caring for Others.



Connie believes congregations are emerging as the most vital social institution of our time, "Congregations are uniquely poised to call us in, affirm what is good and kind, and reconnect our capacity for authentic relationship in real time."


Liturgist: Joe M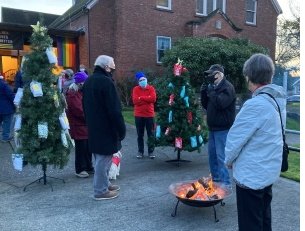 Alki UCC's Christmas Eve Community Walk-By. I bet that fire felt good.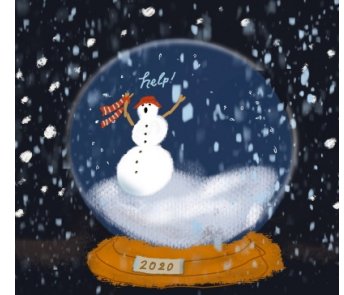 Here's Vicki J's artistic take on 2020. I think we can all relate!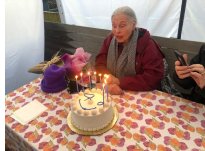 A special shout-out to longtime member Lois C, who celebrated her 90th birthday on December 27. Here she is with sons Blair and Dow, and husband John.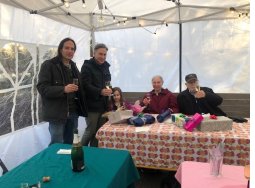 Special Prayers for Charlie H and her family on the recent passing of her father, Harris.
Special Prayers for the family and friends of Walter Wallace,
Jonathan Price, Jacob Blake, Rayshard Brooks, Manuel Elllis, George Floyd, Elijah McClain, Dreasjon (Sean) Reed, Breonna Taylor, Ahmaud Arbery and the heart-breaking list of African-Americans and other people of color murdered or wounded by police or self-declared vigilantes in our nation over many decades. We mourn with you and we stand for justice and healing.
Special Prayers for all those on the front lines of working to protect us, keep us healthy, sane, grounded, informed, fed and comfortable during the current COVID 19 outbreak: our faith leaders, front-line health care workers, EMTs, police, firefighters, educators, transit bus and rail drivers, farmers, therapists, social workers, shelter operators, engineers, grocery/drug store personnel, caregivers, childcare specialists, pharmacists, custodians, organizations caring for the most vulnerable, sanitation workers, dispatchers and others keeping our supply chains operational, truth-telling journalists and all the many public servants who are so vital to our community.
For those grieving the recent death of a loved one:
Candace G and family; Ed B and family; Jeff D's cousin Jerry Elder and his wife Tami Elder; Todd S and family; Patty M, family and friends of Bob J, family and friends of Jim C, Kirstin and family; Larry G
Recent hospitalization, illness and other concerns:
Sandy and Jim's friend Al, his mom, Sue and friend Kay; Penny M; Sue B's friend Sonia; Kirstin D; Shannon P's father, Rev. Dr. Bill; Verona's younger brother Eric; Julia C's long-time friend Megan; Bonita C; Claire F; Dayle B; Gina E and Ashleigh J; Imy P; Kirstin D's father; Don P; Jeff J; Bev C; John K;
Jan C
For homebound members/friends of Alki UCC: Doris C
Wider World: Prayers for all those affected by the corona virus outbreak; all those suffering from PTSD in the military and around the world; for all those affected by the increasingly cruel and inhumane US immigration policies imposed by the current administration; prayers for fewer guns, for all victims and those affected by gun violence; victims and survivors of extremist violence around the world; migrants seeking refuge around the world, and for those who are trying to help them. The rest of the missing schoolgirls kidnapped by Boko Haram, who remain in our hearts as long as they remain missing. The hungry and homeless, the ill and the addicted, the lost and the lonely; the unemployed.
January Guest Speaker Series
for Sunday Worship
As we kick-off Year One of our Future Story, we need to lay the groundwork for understanding and visualizing what it means to be a multi-faith center.




During January Sunday worship, we're meeting and greeting different faith leaders from our neighborhood and the greater region, including (on January 10) Connie Burk, Executive Director of our partner synagogue, Kol HaNeshamah (KHN). We have also invited a representative from the Buddhist community and other faith leaders.

The series was launched last Sunday with Rev. Steve Davis, formerly with Plymouth UCC, who spoke about his direct experience working in a multi-faith building.

What should we focus on during Year One? We'll continue the conversation during facilitated Coffee Hour discussions after worship on January 10, 17, 24 and 31. Stay tuned.

New for 2021: Small Group Ministries

This isn't about tasks, or to-do lists or calls to action. It's about nesting in and joining a few others from our community in cozier home-group settings.

We'll be working with the Ministry Teams to form our new groups. Relax, restore, explore … Onward together!

Seattle's 2021 MLK Celebration
There are a host of powerful and free community workshops online in conjunction with Seattle's 39th annual MLK Celebration.

From Tuesday, January 12 through Saturday, January 16, you're encouraged to challenge yourself to attend at least two of the ten currently listed (more are coming) events to learn about white supremacy and the important work of being an anti-racist. It's a great line-up: you can see the workshops as they come online here and register at the same link.
Highlights of the weekend celebration include a Youth Event on Sunday, January 17, which will be live-streamed between 2:00 and 4:00 pm on Rainier Avenue Radio on their Facebook page. High school age students will tell us about their activism and world views!
The weekend culminates on MLK Day, Monday, January 18, with the 2021 March and Rally, based on the front parking lot of Garfield High School, 400 23 Avenue in Seattle. The rally is at 11:00 am; the march starts at noon.
— Your Outreach/Social Justice Ministry Team
Zoom Registration Link for Sunday Worship

You only need to register once for Sunday worship.
You will receive a confirmation email with your own unique link to join Sunday worship.
For additional assistance, phone or text Tech Deacon Shannon Peterson.
Save the Date:
PNCUCC Webinar
Introduction to Conflict Resolution Webinar
Rev. Sophie Morse, facilitator
Thursday, February 18
10 – 11 am
No cost | Registration required
Sponsored by the PNC-UCC Committee on Ministry (COM)
Registration information and materials pending

Click on the blue donate button to make a secure, online credit card donation and an overview of other ways to donate.


Check for church news and calendar updates at www.alkiucc.org.