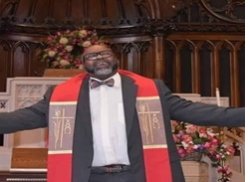 Greetings and Happy Women's History Month!
I've gotten to meet some of your virtually, in meetings and our worship together! I'm looking forward to the time when we can greet each other in person!

I want to invite y'all to reach out and introduce yourselves via email, if you're able. I'm reachable at pastorlouis@alkiucc.org. Tell me about yourself and what moves to you worship in this church. What are your gifts? What challenges you? What do you believe about Divine Source?

I have found that we often assume that we share beliefs about things, without investigating whether or not this is true. As we move forward through the year, I want to know you and for you to know me. All change is about relationship! As your Bridge Pastor, this is kind of like clergy speed dating!

In this week's worship, we'll explore the ways that God creates purpose out of our lives — the good stuff and the not so good. We'll also participate in One Great Hour of Sharing. The United Church of Christ uses these offerings to be the hand of support and fellowship domestically and globally.

Worship, prayer, study, service … together. Being God's people, bringing the good news, for such times as these! Glad to be on the journey with you.

May the grace of God surround and infuse us as we go!





Blessings,




Rev. Louis



Pastoral Search Committee
We had a successful nomination process and the Council thanks all of you for it. There were 26 persons nominated and from that number, there were some 'no's, maybe's, or if neededs' and six yes's.
The 'yes's' are: Vicky S, Russ T, Julia P, Bob C, Cinda S, Lisa D and Emily H as scribe. This group will have a training session with Rev. Mike Denton, Conference Executive, and be commissioned. After that they will write the Local Church Profile based upon our Future Story, defining the skills set for the future pastor. The Profile will be reviewed and approved by the Conference, and finally the committee will begin reviewing and interviewing potential candidates for the pastor. Thank you again for your participation in the nomination process.
— Emily H
One Great Hour Of Sharing 2021
UCC Special Offering This Sunday, March 14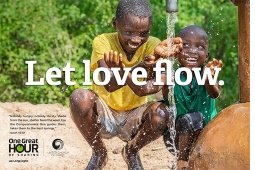 When a disaster strikes or people are displaced or made refugees by violence or extreme poverty, you can be part of the immediate response and long-term recovery through UCC's One Great Hour of Sharing (OGHS) special mission offering.
Your contribution to OGHS puts you in the right place at the right time for the relief and recovery of some of the most vulnerable people around the world.
We'll be taking the OGHS Special Offering this Sunday, March 14. You can donate any time:
Via the PayPal link on our website
After you enter your donation amount, click on "Add Special Instructions" on the next screen and write One Great Hour.
By Check:
Mail your check made out to Alki UCC with One Great Hour in the memo line. The address is Alki UCC, 6115 SW Hinds, Seattle WA 98116.
Alki UCC Food/Men's Work Clothing/Socks Drive Sunday, March 21
11 am to 3 pm/
Front Courtyard
Note new start time
Help requested!
Cinda says she can always use an extra pair of hands at any time, but especially around 3:00 pm ish to help bring the donations inside.

Requested items:
Non-perishable food donations for distribution through the White Center Food Bank
Essential Supplies: Toilet Paper, Diapers/Similac Formula/Baby Wipes, Can Openers, Personal hygiene items

Donations of Men's Casual/Work Clothes and NEW socks -- the clothing item most requested by our neighbors experiencing homelessness.
Order Form: St. Patrick's Day Takeout Lamb Stew Dinner from the Alki UCC Kitchens

Sure and Begorra we're thinking about St. Patty's Day and our Irish dinners of the past. So we asked ourselves, we did it for Mardi Gras, why not another dinner in a jar? With soda bread and cookies to go with it?

Coming your way on March 17 will be a jar of Traditional Irish Lamb Stew, Irish Soda biscuits and home baked cookies. But ye'll need to order by the Ides of March (the 15th) to reserve your dinner.

Your handy order form is linked here. Questions: Dave and Vicky S

# # #

Single Serving: $10/Double Serving: $20
We welcome your donation either by check (made out to Alki UCC) or exact cash amount upon delivery.

Pick up and pay for your pre-ordered dinners either in front of the church on Wednesday, March 17 between 3:00 and 5:00 pm, or by special arrangement.

Faith Formation Survey Results
Six-Week Book Discussion Group Begins Week of March 28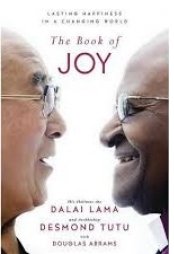 And the winner is ...
The Book of Joy: Lasting Happiness in a Changing World, the New York Times bestseller by Nobel Peace Prize Laureates His Holiness the Dalai Lama and Archbishop Desmond Tutu.

In April 2015, Archbishop Tutu traveled to the Dalai Lama's home in Dharamsala, India, to celebrate His Holiness's eightieth birthday and to create what they hoped would be a gift for others. They looked back on their long lives to answer a single burning question: How do we find joy in the face of life's inevitable suffering?

By the end of a week filled with laughter and punctuated with tears, these two global heroes had stared into the abyss and despair of our time and revealed how to live a life brimming with joy.

Join the Faith Formation Team for a six-week discussion group beginning the week of March 28 on either: Sundays at 2:00 pm, Sundays at 5:00 pm or Tuesdays at 2:00 pm. Email Russ or Julia with your preferred time. Zoom links to follow.

Please get your own copy of the Book of Joy and begin reading. It is available used and new in paperback, hardcover, audiobook and kindle. Check out your local library, thriftbooks.com; goodreads.com; abebooks.com and litlovers.com for additional background on the book and its authors.

We welcome church and community folks to join us on our search for JOY. — Julia Peeler.

PNCUCC Lenten Devotionals
Sign up for your daily message
Rooted In Love: Stories for Lent
For forty days our spiritual discipline is to read and write personal stories. We will reflect and share, be vulnerable and practice listening.
We are a community that believes in the power of story. We have seen its transformative power, again and again.
Come, join this storytelling community. Subscribe below and together, Rooted in Love, we will practice and we grow.
Sign up for your daily Lenten devotional here.
Prayers of Healing for Dan K, who writes: "Turns out I have something called hemolytic anemia and will probably be undergoing treatment for a while including a bone marrow biopsy next week."
Prayers of Healing for Cinda's sister-in-law, Cindy, who is fighting pancreatic cancer,
Special Prayers for the family and
friends of
Walter Wallace
,
Jonathan Price, Jacob Blake, Rayshard Brooks, Manuel Elllis, George Floyd, Elijah McClain, Dreasjon (Sean) Reed, Breonna Taylor, Ahmaud Arbery and the heart-breaking list of African-Americans and other people of color murdered or wounded by police or self-declared vigilantes in our nation over many decades. We mourn with you and we stand for justice and healing.
Special Prayers for all those on the front lines of working to protect us, keep us healthy, sane, grounded, informed, fed and comfortable during the current COVID 19 outbreak: our faith leaders, front-line health care workers, EMTs, police, firefighters, educators, transit bus and rail drivers, farmers, therapists, social workers, shelter operators, engineers, grocery/drug store personnel, caregivers, childcare specialists, pharmacists, custodians, organizations caring for the most vulnerable, sanitation workers, dispatchers and others keeping our supply chains operational, truth-telling journalists and all the many public servants who are so vital to our community.
For those grieving the recent death of a loved one:
Friends and family of Bev C; friends and family of Sue B's friend Toni, Charlie H and family; Candace G and family; Ed B and family; Jeff D's cousin Jerry Elder and his wife Tami Elder; Todd S and family; Patty M, family and friends of Bob J, family and friends of Jim C, Kirstin and family; Larry G
Recent hospitalization, illness and other concerns:
Julia P, Jeff and Kirstin's sister-in-law Sue, Sandy and Jim's friend Al, his mom, Sue and friend Kay; Penny M; Kirstin D; Shannon P's father, Rev. Dr. Bill; Verona's younger brother Eric; Julia C's long-time friend Megan; Bonita C; Claire F; Dayle B; Imy P; Kirstin D's father; Don P; Jeff J; Bev C; John K;
Jan C
For homebound members/friends of Alki UCC: Doris C
Wider World: Prayers for all those affected by the corona virus outbreak; all those suffering from PTSD in the military and around the world; for all those affected by the increasingly cruel and inhumane US immigration policies imposed by the current administration; prayers for fewer guns, for all victims and those affected by gun violence; victims and survivors of extremist violence around the world; migrants seeking refuge around the world, and for those who are trying to help them. The rest of the missing schoolgirls kidnapped by Boko Haram, who remain in our hearts as long as they remain missing. The hungry and homeless, the ill and the addicted, the lost and the lonely; the unemployed.
Spring Forward this Weekend

Don't forget to set your clocks forward one hour when you go to bed Saturday night so you wake up in time for worship!

Worship this Sunday,
March 14
at 10:00 am
The Fourth

Sunday in Lent


Lent 2021: Laying Down Our Assumptions
For the six weeks of Lent, we are called to recognize any assumptions we may hold that hinder the work of the gospel in our lives. May we fully embrace being an inclusive people of God's love.

"God's Recycling"
Scripture Readings:
Numbers 21:4-9

John 3:14-21

Contemporary Voice:

Alice Walker, "Healing begins where the wound was made."

Liturgist:
Charlie H
Moment of Ministry:
Outreach/Social Justice
Julia C
Music
A New Hallelujah
Michael W & Debbie Smith, Paul Baloche
YouTube Link Here
Be Thou My Vision Traditional Irish Melody
Turn, Turn, Turn
Pete Seeger
The Bitter and the Sweet
Introduced by Sue B
YouTube Link Here
Sunday's Order of Worship, including the scripture text, is linked here.


Our own Joe Aprile invites you to check out his "science site" for a video presentation he created to give better understanding of the biology of a virus.
Here's how to find it:

Visit the website here.
1) Click on "What is a Virus" at the center of the banner menu at the top of the Home Page

2) Click on the image and then on the "Video Presentation" folder on the next page

To access the resource document Joe used in creating the video, check out the "Class Documents" folder on the same page. The "Images" folder also has many items of possible interest.

Have a look!

PNCUCC March Packet Now Online
Click here for information on our regional conference's

Annual Meeting
April 30-May 2
"Rooted in Love"
plus:
Mike Denton's blog
Links to Conference
Online Meetings
March Celebrations
and more!
Zoom Registration Link for Sunday Worship

You only need to register once for Sunday worship.
You will receive a confirmation email with your own un ique link to join Sunday worship.
For additional assistance, phone or text Tech Deacon Shannon P.
March is Women's History Month

Click on the blue donate button to make a secure, online credit card donation and an overview of other ways to donate.

Sunday Worship Videos Posted
on YouTube

Check for church news and calendar updates at www.alkiucc.org.