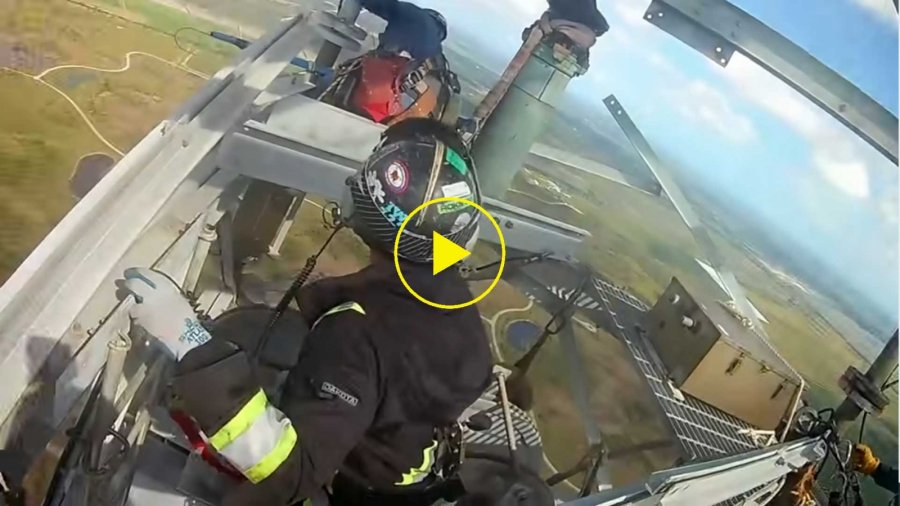 For over 17 years our newsletter has gone to more than 50,000 Firearms
Collectors,
Enthusiasts, Historians and Professionals Worldwide. We now reprint o
ver 6500 Vintage Gun Catalogs, Books and Manuals from the 1840s to the 2000s
Back issues: you can view the newsletter on our website. For a downloadable copy of our catalog of reprints or manuals this will take you there. Also, we have Interesting downloads at our website. Please forward this letter to your friends.





Most Internet Browsers – Firefox, Edge, Opera etc – have decided to truncate, or cut off, the bottoms of long emails. There is a tiny note at the bottom allowing you to retrieve the rest of the email. Rob and Abby

************************************************

Alistair Taylor and his wife raise sheep on a modest leasehold on the Isle of Mull just off the west coast of Scotland. They tend 130 ewes, mostly Cheviot and Cheviot-Shetland crosses, hardy breeds for the tough Scottish winters, along with two horses and nine dogs.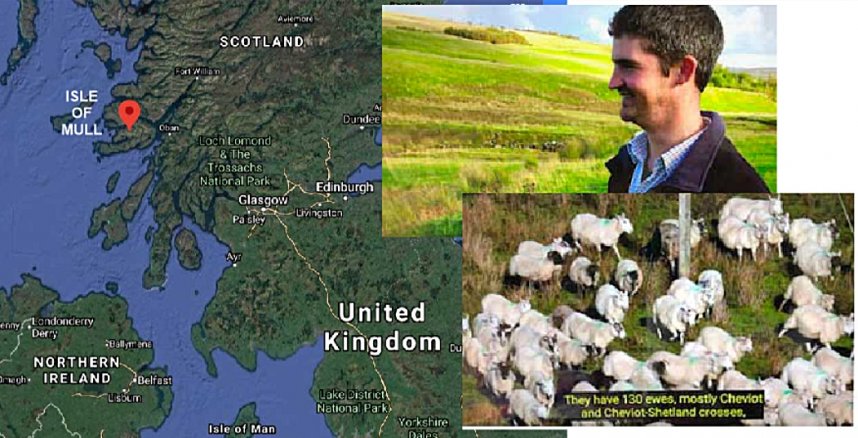 This Farming Life, a BBC show, brings their story and that of other Scottish farmers to life over four seasons. The show is a view of these tough men and women, their way of life, and sacrifices to bring meat to the British public, all set in some of the most beautiful scenery you can imagine (you might want to use subtitles).
In season two Alistair must supplement his family income as he builds his herd of sheep. He hopes to pass his deer-stalking exam so he can become a sharpshooter reducing the number of red deer that are ravaging three nearby estates, ruining crops needed to support the owners. Alistair hopes to earn as much as nine thousand pounds a year with his new pursuit by selling the venison. But first he must go through some field training: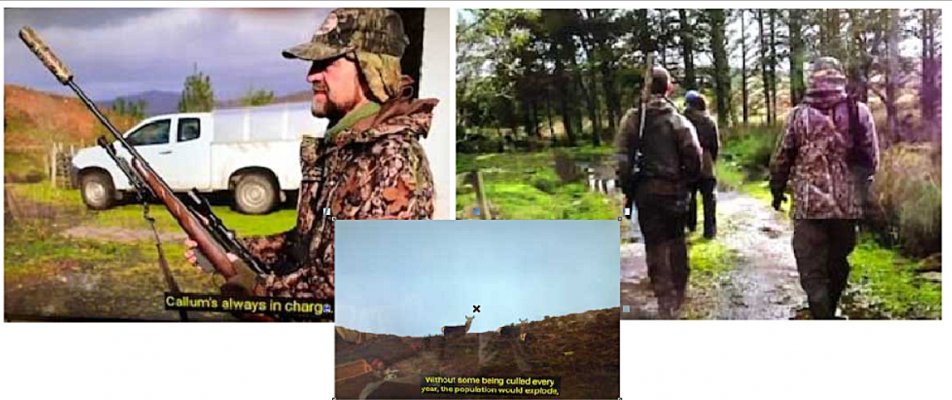 The deer-stalking exam is in two parts, a written exam and a shooting test. The shooting test is first a bullseye challenge, three shots inside a 4" target at 100 yards followed by six shots at a deer target. Alistair fails the first time, an expensive error after traveling for five days, accommodations and the ferry trips. But, he passes the next time around.
Finally on his own, Alistair stalks his first hind. It is rough terrain littered with deadwood and sticks making deer spotting difficult, but as nightfall approaches he is on his game.
We watched This Farming Life on Britbox through our Amazon Prime account.
____________________________________
UNSEEN ENEMIES- British mathematician Kit Yates calculated that the 2 quintillion very tiny coronavirus particles in the world would fit inside a Coke can.



Tessica Brown, the woman who used Gorilla Glue apray to keep her hair in place has sued the company because Gorilla Glue's labeling warms only against getting the product "in eyes, on skin or on clothing."


Two-thirds of Americans who are eligible to vote - 66.7 percent - pulled the lever in the November election. It was the highest turnout since 1900.


During the last 16 years, 1800 newspapers across the U.S. - most of them weeklies - have shut down, with the losses growing during the pandemic. Research shows that when the lone provider of local news in a community is lost, voter participation sinks and taxes rise.

A long distance runner who put the slogan "Jesus Saves" on his race bib had his life saved by an man named Jesus. Tyler Moon was competing at a ten mile event in Minnesota when he suffered a cardiac arrhythmia. Nurse Jesus Bueno was running behind him and was able to perform CPR until paramedics arrived.


A 12 year old Colorado boy was suspended from school and visited by police after a
teacher spotted a toy gun in his home during an online class. Isaiah Elliott's plastic gun is neon green but his teacher reported him to the principal who suspended him and called police. "He was in tears when the cops came," said the boy's father Curtis Elliott. "We were all scared."


University of Cambridge scientists have discovered an inverse correlation between the size of a howler monkey's testicles and the loudness of his howls. After monkeys develop a larger set of vocal cords, researcher theorize, there is simply not enough energy left to invest in testes.


National Park Service Missing People...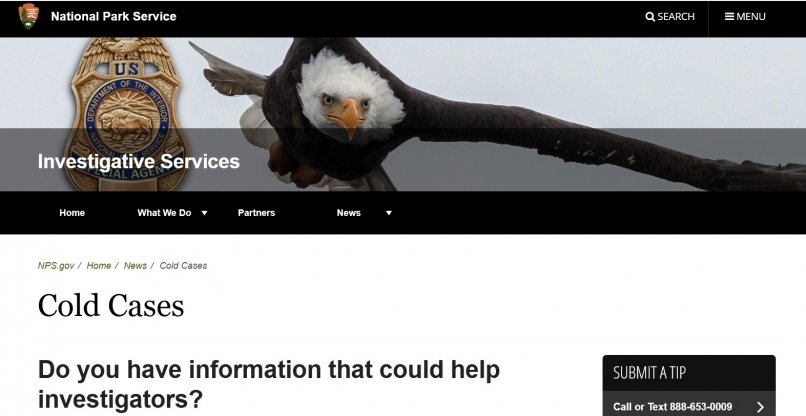 _______________________________

I Read it in the Papers...


Česká Zbrojovka Group SE indicated plans to pay $220 million in cash and 1.1 million shares of its stock for Colt Holding Company LLC, with possible additional shares depending on Colt's future profitability. The combined company would have $500 million in annual revenue and "presents a real small arms powerhouse," in the words of CZG's chairman Lubomír Kovařík in a company press release.



The deal would be subject to U.S. regulators.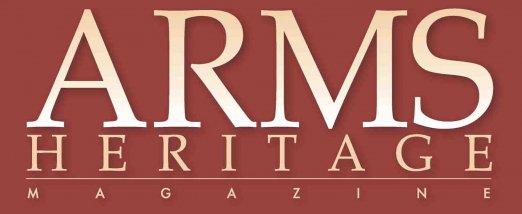 It's here, the 2020 Arms Heritage Compendium!

Marston Breech Loading Percussion Pistols by Staff
Selmar Eggers – From Harpoons to Darts by Larry Hannusch
A Unique Confederate Naval Cutlass by Commander Gerald C. Roxbury U.S. Navy (Retired)
Volume 10 - Number 2
Naval Cannon Ignition Locks by Staff
What Are The Chances by Charles Pate
Ruger's Old Army Pistols by Jimmie Campbell
William, Samuel and Charles Smith by Matthew Schneiderman
Volume 10 - Number 3
Marston Derringers By Fred Clough
Mont Storm Conversions by Edward Hull
Cartridge Technology Parts 1, 2 and 3 by Dick Salzer
A Journey Through Gun Collecting by Jimmie Campbell
Volume 10 - Number 4
Josiah Meigs' Breechloaders by Ed Hull
Gibbs Breech Loading Rifle by Dick Salzer (Vince Rausch Collection)
Fulminate Propulsion – Part 1 by Matthew Schneiderman and T.E. Bradstreet
A Model 1917 Sporte by Charles Pate
The Ivory Carver Sheffield England
19th century Bowie Knives by Jason Baldwin
Evolving Cartridge Technology Part 4 Dick Salzer
Volume 10 - Number 5
Spiller and Burr – Part 1 by John Sexton
The Whitney Colt Navy by Charles Pate
Loughton Conroy's Rifles by Edward Hull
Joshua Gray's Breech Loader by Edward Hull
Fulminate Propulsion – Part 2 by Matthew Schneiderman and T.E. Bradstreet
Colts, Winchesters & Remingtons, Oh My: Indian & Rail Road Guns,
Dakota Territories, 1880's. History revealed. By Jason Baldwin
Volume 10 - Number 6
Van Choate Conversions by Edward Hull
Berdan Copnversions by Edward Hull
Spiller and Burr – Part 2 by John Sexton
OSS H&R Model 35 Premier by Charles Pate
Fulminate Propulsion – Part 3 by Matthew Schneiderman and T.E. Bradstreet
BSA .303 Long Lee Rifle by Jeff Edman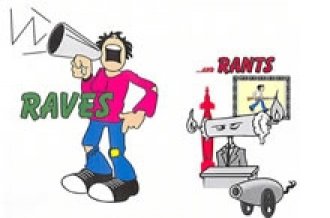 I'm not sure these are rants but the do admirably illustrate the kind of questions we get every day. Rob
Why does my manual have white border around the color parts? Kevin
20 years ago when we began our printers could not print to the edge of the paper so there is a .25" border around the outside of the publications. We don't feel it is worth the time to change 12,000 files (counting the cover and insides files). Also, some companies were antsy about our project and demanded out reprints differed from the originals. We think this demand came before they realized we were reprinting their advertising for free to them! Rob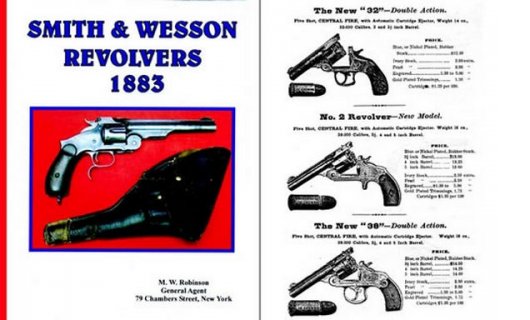 The picture on the cover shows a well worn holster for the SW Russian. Was it from the Indian Wars why did they use a worn gun for the cover? Steve S.
Uh, well, actually, there was no cover on the original, as is often the case with very old donor catalogs, so we made that cover and used a revolver image of one advertised inside the catalog. We thought the worn items would make it clear the cover was not part of the original catalog. Rob
Lyman 1969 1st ed Shotshell Handbook The original was comb bound and this has some cloth binding not the same as the original. If I send it back can you have it bound with the comb? Steve L.
Uh, no, we use heat activated cloth binding strong enough to support the book with one page. The book can also be opened to lay flat by folding it on the page being used. We don't offer comb binding. Rob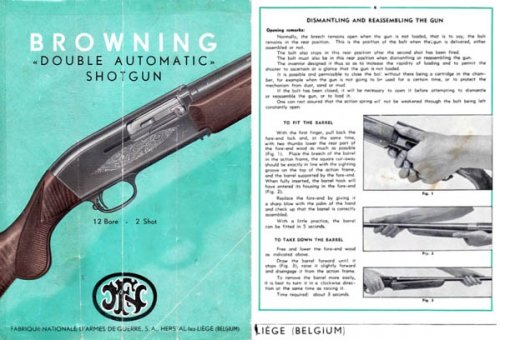 Browning 1955 (circa) Automatic Double Manual Why is there a crease down the middle of my book? It looks like it is in the ink not that the book was folded. I'd like to return it for an unfolded copy. Fracon23
The original was folded at some time during the last hundred years and that fold was reproduced when we scanned the cover page. We don't have a copy with no fold. Rob
I bought two manuals one was printed on heavier paper than the other. Can you send me another with the heavier paper. Carter S.
No, we use 24# paper for most color reproduction because it handles color ink better. Black and white is printed on 20# paper to save on postage which is, in many cases, based on weight. We don't advertise the 24# paper, we state 20# for all reprints we offer. Rob
I just bought a Von Frantzius, P c1928 Gun and Sport Catalog- Chicago, Ill.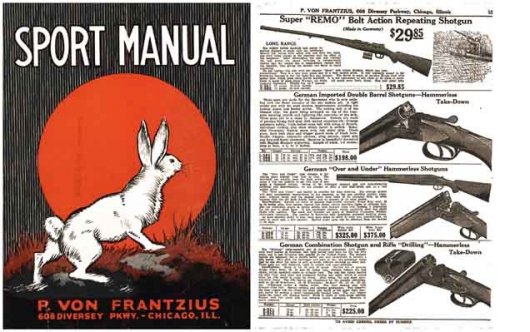 catalog. It is printed in black ink, I want color. Can you send me a color copy? Hal H.
No, the original is printed in black and white. Rob

Can I have a colorized copy, many pictures are redone in color today.
No, we wouldn't and couldn't do that. Rob
You don't have to be such a wire a**.
Yes I do. Rob
**********************************************************

Here are some feedbacks Abby got at Gunbroker. Not one of these dumbos contacted Abby to let her fix the problem. Abby got so sick of this sort of nonsense she had me pull our listings at Gunbroker. For the time being you will have to man up and buy from our website, Got a problem, tell us and we'll fix it.
Winchester 1941 June Wholesale Gun Catalog ,
Not happy with the product. Cover page is not square with the booklet and has a small tear. And 2 weeks to ship a booklet? Not a repeat customer here, "D". Regan Springs, Seguin, TX
If it arrives broken, torn, dented, ripped, wrought asunder or otherwise damaged, we'll fix it, don't just whine!
Handgun Trade Brands, U.S. Mfrs & Dist. 1865-1930
Didn't realize it was literally a packet of computer paper that may as well have been stapled together...definitely not worth $15 plus shipping. My fault I guess, not the sellers, "D". Eric Strassner, Twin Falls, ID.
Oh geez. Nothing we send is a "handful of papers" and like all our larger publications, it was bound with cover-stock front and back.
BSA c1918 SMLE MK III- Lee Enfield Rifle
Here it is 2/23/21 and still no item for the bid on 1/25/21. Description states 10-15 days after ordering, now a month and still no item. filed a complaint with Gun Broker, disputed Credit Card charge
, "F". Henry Karp J,

Lawrenceville

,

GA
He claimed he never got the first one we sent so we sent another on Feb 16, it was delivered Feb 25th.
Some Reasons Mail is Slow...

We have suffered endless complaints about the slowness of mail delivery since last summer, and it has only got worse. A USA editorial did a story in support of what we have been feeling and I'll give you the numbers here.

Starting last summer there were a series of untested "cost cutting strategies" imposed at the same time the USPS workforce was depleted by the covid infections. The result was that just 64% of first-class mail was delivered on time during the Christmas season. Of

non-local first-class mail

, only 38% was delivered on time, with many letters and periodicals arriving weeks after being mailed. (The Christmas card our daughter in Connecticut sent us on December 6, 2020 in Michigan arrived February 27, 2021 and I just today got two monthly gun magazines, one December and one January.)

Several factors caused this slowdown. Notably, there is a cash crunch the PO has had for over a decade. It all started with an Act of Congress in 2006 that required the PO to fully fund its retiree health benefits fully 50 years into the future, something no other business or government entity has to do. Then last year came the reductions of overtime, the dismantling of over 700 sorting machines and, of course the pandemic to name a few. This perfect storm really smashed the PO and that is why, even months after the Christmas rush, our mail deliveries are just plain not up to snuff. We are sorry but there just isn't a lot we can do about it.

Some sharp folks have snidely said to us that all we have to do is switch over to UPS or Fedex. Well, that sounded great until we began to look at the numbers and time. Neither UPS nor Fedex can handle letters, the majority of our mail, for anywhere near the cost of what the USPS does, Package rates are sometimes less, sometimes more. So, for us to involve those services we would have to use all three with their unique packaging materials, addressing techniques and drop-off destinations. Therefore, nope, won't work for what we charge so no more griping! :-}

************************************************


Hi, The manual arrived today. Glad to get it and good job as always. Thanks again, John
************************************************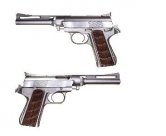 Hello, I am very happy with my first order from your shop. Now my new question to you : Can you also offer a manual for the Wildey Hunter .45 Win Mag, Charles Bronson had in his movie "Death Wish 3" from 1985 ? Sincerely. Ralf Albus
************************************************
Winchester 1962 Firearms Catalog - Texas (or Arizona) Rangers It's the Arizona Rangers, I have a copy of the original maj.havox



We mention Arizona only because many people insist on Arizona... despite the Texas Ranger obituary and family history we included with the piece stating Texas. You can't please all the people all the time! Cheers, Rob


************************************************
Just a note to let you know how I look forward to your newsletter. I do have several very old guns and at times I wonder if I collect them merely to justify receiving your newsletter. Keep it up, Paul Roberts,
************************************************
Abby, A few weeks ago I received my reprinted copy of the Colt 1936 Firearms Catalog- A Century of AchievementIt is FANTASTIC !!! Thank you for a wonderful look into yesteryear. Your reprints are always delightful. Sorry I didn't write earlier, it's taken this long to stop drooling over the way things were. Sincerely, Rog Schendel
************************************************
Abby & Rob, re: loose gravel. I think this happened 2 springs ago. it is in Idaho, just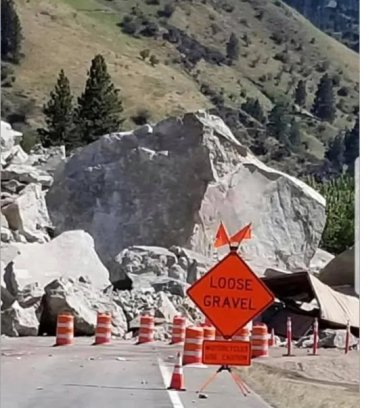 north of Boise on US95. I drive it getting to Sandpoint (I migrate from CA to ID), the river is maybe 50' right of the pic. The "road" that is on the other side of the river (narrows down to 1 dirt lane) has bridges something like 5 miles up/down river, 30 mph with a guide car, only had to do it once. Just to the right of the big rock is 2 tractor/trailers without the tractors completely crushed. They put the trailers there block the rocks after the 1st small slide and the road was going around the slide but then MORE broke loose ... I've been by it the last 3 or 4 times I've been up/down. Last time they had guys hanging off ropes 200-300 ft up on the cliff and they had big rock drills also hanging off ropes. Thought you would find it interesting, Keith
************************************************
Hello, I received my order today. Looks GREAT! I'm sure I will be ordering more in the near future. Thank you! David
************************************************
Good morning ms abby... question, its early bare with me... do you have any books on birmingham firearms ? i got my book on forehand arms, that was awesome. it had a lot of info on a gun i have,,, just need to figure out which one i have. im waiting on it to come back from the gunsmith... my crazy uncle handed it to me in a plastic peanut jar in pieces and the owners manuel. i was like, are you serious ?? so it was, off to the gunsmith it went. the reason why i said birmingham, i have this old black powder rifle he also gave me, and im going by the proof mark symbols under the barrel . and need to look basically at pictures to figure it out.. the internet doesnt tell you much. im not sure if its even a birmingham firearm Michael

Michael, identifying your gun with the information you have given me would be a real shot in the dark. Unless it is a beautifully engraved gun obviously worth a lot of money, I doubt it would be worth the investment in publications to find out what it is. Also, a really good gun would have the name on the barrels somewhere. We do have publications that decode identification and proof marks so that might be useful. Here is one that should help: Gun Barrel and Receiver Codes, Markings and Proof Marks Best, Abby
************************************************
Hello - is there a catalog available with pics or illustrations about this HR single shotgun from I guess 1913 to 1930. Thank you, Jeff H, Smithtown, NY

Jeff, I'm not sure what you are looking for. We sell catalogs and parts books with flat plan views during that era. H&R made several single guns in the early 1900s. The H&R 1923 component parts book had parts for all three. Hope this helps, Rob

Hi and thank you. I know that you are busy. I was looking to see if there was a catalog I could purchase that has my actual shotgun in the catalog or when my gun first appeared. The H&R single barrel model 1908 'A' serial number. How can I find that or do you know which catalog might have it?



Jeff, The 1908 catalog we carry has the M1908 shot gun featured. Cheers, Rob


************************************************
I have received the replacement booklet. Thank you. I now have a little problem. The problem is how do I now go back to change my feedback? I am an old man that is not computer smart to any degree. Could you please advise me what I have to do to change myfeedback? Thank you. George Sease



George, I'll ask Abby how to send you a feedback revision request, I think she knows how. Once you get it, it should be self-explanatory. If this happens again, would you please just contact us to let us know there is a problem so we can fix it without going through all this? Thanks for changing for us. Rob for cornellpubs


************************************************
J Curtis Earl's Machine Guns 1986 - Big Investments! Very interesting to see this for sale. J Curtis Earl is my grandpa.
************************************************
Pflueger 1969 Fishing Tackle Hello, Is this a copy of the catalog or actual 1969 catalog? Original 1969 Pflueger catalog...... Jim W.



"Pflueger 1969 Fishing Tackle 33 pages, about 11" x 8", glossy soft-cover in full color. New COLOR re-print restored and digitally enhanced from a nice original. Printed on high quality 20# 97 bright acid free paper. Fully Illustrated." Rob


************************************************
I don't do PayPal. Can I send you a check and hold catalog until check clears. Hubert (ebay)



Hubert, Ebay has its own payment system, not Paypal, and they accept any credit card. We encourage everyone to use that method because checks are not the best way to pay with us. Aside from dealing with ebay and their fees, we rarely go to the post box and only go to the bank once a month or so to cash checks. So, the best way is just to buy the item and let us send it to you. Rob


************************************************
Marksman M1010 & M1010X Owner's Manual Is this an original or "reprint"? How many pages is it? Does it have a year printed? Thanks! Dmjp (ebay)



"Marksman M1010 & M1010X Owner's Manual. 2 pages, about 11" x 8"- 8 panel foldout, glossy soft-cover in full color. New re-print restored and digitally enhanced from a nice original. Printed on high quality 20# 97 bright acid free paper. Fully Illustrated." Rob


************************************************
Stevens 1931 Component Parts Catalog tenmen0071 (ebay) Are you selling an actual real authentic paper catalog from 1937 or is it just a bunch of papers that you copied pages. Out of a catalog or is this a digital transfer catalog?



I'm not sure how to answer your question other than to say none of your suggestions. As our ad says, we reprint old firearms catalogs and manuals. This is a bound reprint of the described publication. For more information please see the ad (I'll copy it here for you), Abby:





"Stevens 1931 Component Parts Catalog 22 pages, about 11" x 8", glossy soft-cover in full color. New re-print restored and digitally enhanced from a nice original. Printed on high quality 20# 97 bright acid free paper. Fully Illustrated."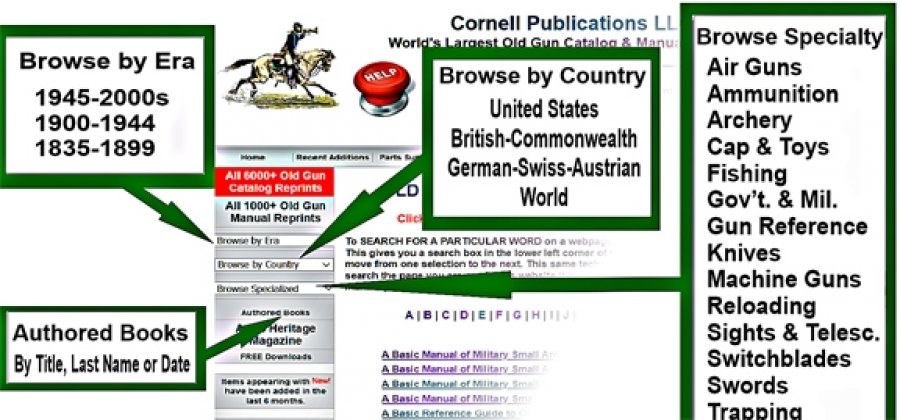 Cheers,
Rob and Abby
The End.