Greetings!
This week's sermon title is "A Love Supreme," a theme inspired by an amazing piece of music by John Coltrane.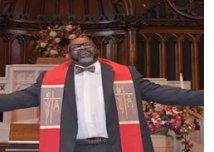 "A Love Supreme" is a through-composed suite with four parts: "Acknowledgement"
(which includes the oral chant that gives the album its name), "Resolution," "Pursuance" and "Psalm." Coltrane plays tenor saxophone on all parts.
One critic has written that the album was intended to represent a struggle for purity, an expression of gratitude and an acknowledgement that the musician's talent comes from a higher power. Another influence may have been Ahmadiyya Islam." (
Wikipedia
)
For many, if not most of us, music plays a huge part in our formal and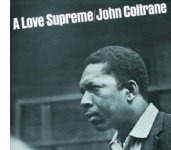 informal worship moments. I thank God for music! It is often in those places of hearing, singing, feeling music that we feel closest to Divine Energy!
I invite you all to join me in mining for those songs that touch your spirit. Spend some time this week dwelling in those places of refuge!
In this week's worship, we'll explore the ways those places – those identified as secular and those identified as sacred, where we find inspiration, identification and the touch of God!
Praying with you as we move forward in creating lives of practice, purpose and praise!
May the grace of God surround and infuse us as we go!
Blessings,
Rev. Louis
Alki UCC Food/Men's Work Clothing/Socks Drive Sunday, March 21
11:00 am to 3:00 pm/
Front Courtyard
Note new start time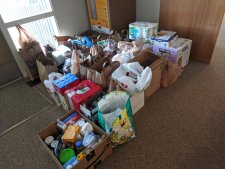 Last month we had another terrific response from our West Seattle neighbors, who brought bags and boxes and cases of food, toilet paper, men's clothing and socks!

One gentleman brought multiple bags of donations (about $200 worth from Costco). He shared with us that he and his wife just did their taxes, felt they were "flush with cash" since both were employed, and decided to demonstrate their gratitude by giving to others." They saw our posting in the WS Blog and went shopping just to donate to our food drive.

We make it easy for our neighbors to contribute for the benefit of others. What a joy we have in this simple act! — Cinda



Help requested!




Cinda says she can always use an extra pair of hands at any time, but especially around 3:00 pm ish to help bring the donations inside.





Requested items:
Non-perishable food donations for distribution through the White Center Food Bank
Essential Supplies: Toilet Paper, Diapers/Similac Formula/Baby Wipes, Can Openers, Personal hygiene items

Donations of Men's Casual/Work Clothes and NEW socks -- the clothing item most requested by our neighbors experiencing homelessness.
Maundy Thursday and Good Friday Worship added to Holy Week Schedule
Admiral Church invites us to join them for Maundy Thursday worship on April 1 at 8:00 pm. This Taize-infused worship experience will invite the gathered body to reflect on the meaning of service and the reality of betrayal. Information here.

The Spiritual Travelers are featured in a Good Friday service from the Alki UCC Sanctuary on April 2 at 7:00 pm.
Admiral UCC and Normandy Park UCC will join us for Good Friday: An Eyewitness Account. Special Zoom registration here.

Alki UCC Easter Sunday service on April 4 at 10:00 am. Use your regular Sunday Zoom login. Celebrate the Resurrection!

The Book of Joy Six-Week Discussion Group Begins Week of March 28
Vote for your Preferred Session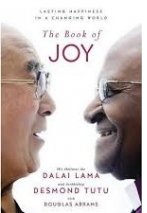 Please fill out a one-question survey to help us choose the schedule for our six-week discussion group, beginning the week of March 28



Click here to rank your scheduling preference.



Options are:


Sundays at 2:00 pm


(March 28 through May 2)


Sundays at 5:00 pm


(March 28 through May 2)


Tuesdays at 2:00 pm


(March 30 through May 4)





Thank you.



# # #

The Book of Joy: Lasting Happiness in a Changing World, the New York Times bestseller by Nobel Peace Prize Laureates His Holiness the Dalai Lama and Archbishop Desmond Tutu.

In April 2015, Archbishop Tutu traveled to the Dalai Lama's home in Dharamsala, India, to celebrate His Holiness's eightieth birthday and to create what they hoped would be a gift for others. By the end of a week filled with laughter and punctuated with tears, these two global heroes had stared into the abyss and despair of our time and revealed how to live a life brimming with joy.

Please get your own copy of the Book of Joy and begin reading. We welcome church and community folks to join us on our search for JOY. — Julia Peeler.

COVID19 Vaccine Resources
Find a COVID Shot WA
Rev. Louis would like you to know about a Facebook Group that has been extremely helpful in the search for available vaccines.

Click here to access Find A COVID Shot WA

It's a private group, so you'll have to do an easy sign up for access ... it's worth it!

# # #

Sign Up for Vaccine Availability Notifications
Claire F wrote to let us know that Gov. Inslee recently announced that several hundred thousand new people are now eligible to get the COVID19 vaccine. If you or anyone you know qualifies, and lives or works in King County, you can sign up to be notified when vaccines are available at any of the City's three fixed vaccination sites.


Currently Eligible (Phase 1A and 1B/Tier 1)
• Health care workers, including in-home caregivers (paid and unpaid)• High-risk first responders• Long-term care facility residents
• People 65 years old or older• People 50 years old or older who live with and care for kinship.• People 50 years old or older unable to live independently• Pre-kindergarten through 12th grade educators or school staff members • Child care workers • Family members of licensed family home child care providers

Phase 1B – Tier 2: Eligible as of March 17
• High-risk critical workers who work in certain congregate settings in the following industries: Agriculture; fishing vessel crews; food processing; grocery stores; corrections; prisons, jails or detention centers; public transit; remaining first responders o Excludes employees who can telework• People 16 and older who are pregnant• People 16 and older with a disability that puts them at a high-risk

Special prayers for the victims, their family and friends and all those affected by the tragic and horrific shootings in the Atlanta metro area.
Special Prayers for the family and
friends of
Walter Wallace
,
Jonathan Price, Jacob Blake, Rayshard Brooks, Manuel Elllis, George Floyd, Elijah McClain, Dreasjon (Sean) Reed, Breonna Taylor, Ahmaud Arbery and the heart-breaking list of African-Americans and other people of color murdered or wounded by police or self-declared vigilantes in our nation over many decades. We mourn with you and we stand for justice and healing.
Special Prayers for all those on the front lines of working to protect us, keep us healthy, sane, grounded, informed, fed and comfortable during the current COVID 19 outbreak: our faith leaders, front-line health care workers, EMTs, police, firefighters, educators, transit bus and rail drivers, farmers, therapists, social workers, shelter operators, engineers, grocery/drug store personnel, caregivers, childcare specialists, pharmacists, custodians, organizations caring for the most vulnerable, sanitation workers, dispatchers and others keeping our supply chains operational, truth-telling journalists and all the many public servants who are so vital to our community.
For those grieving the recent death of a loved one:
Friends and family of Bev C; friends and family of Sue B's friend Toni, Charlie H and family; Candace G and family; Ed B and family; Jeff D's cousin Jerry Elder and his wife Tami Elder; Todd S and family; Patty M, family and friends of Bob J, family and friends of Jim C, Kirstin and family; Larry G
Recent hospitalization, illness and other concerns:
Dan K, Cinda's sister-in-law, Cindy, Julia P, Jeff and Kirstin's sister-in-law Sue, Sandy and Jim's friend Al, his mom, Sue and friend Kay; Penny M; Kirstin D; Shannon P's father, Rev. Dr. Bill; Verona's younger brother Eric; Julia C's long-time friend Megan; Bonita C; Claire F; Dayle B; Imy P; Kirstin D's father; Don P

For homebound members/friends of Alki UCC: Doris C
Wider World: Prayers for all those affected by the corona virus outbreak; all those suffering from PTSD in the military and around the world; for all those affected by the increasingly cruel and inhumane US immigration policies imposed by the current administration; prayers for fewer guns, for all victims and those affected by gun violence; victims and survivors of extremist violence around the world; migrants seeking refuge around the world, and for those who are trying to help them. The rest of the missing schoolgirls kidnapped by Boko Haram, who remain in our hearts as long as they remain missing. The hungry and homeless, the ill and the addicted, the lost and the lonely; the unemployed.
Informal Meet and Greet with Rev. Louis This Sunday After Worship
Rev. Louis will be outside the church in our Hinds Street courtyard this Sunday, March 21 from Noon to 2:00 pm.
Stop by to say Hello and pick up your palm strips for at-home Palm Sunday worship next week on March 28.

Our March Food/Men's Clothing Drive will also be going on, so please bring a donation or two while you're at it!
All Alki UCC events are socially-distanced.
Worship this Sunday,
March 21
at 10:00 am
The Fifth

Sunday in Lent





Lent 2021: Laying Down Our Assumptions




For the six weeks of Lent, we are called to recognize any assumptions we may hold that hinder the work of the gospel in our lives. May we fully embrace being an inclusive people of God's love.





"A Love Supreme"

Scripture Readings:

Psalms


51:1-12


John 12:27-33


Contemporary Voice:


Gloria Allred, "There is no change without sacrifice."


Liturgist:


Jeff D


Moment of Ministry:


Stewardship


Music
Blessed Assurance
Fanny Crosby and
Phoebe Nash
What Wondrous
Love Is This
Christian Folk ymn
Jesus, Keep Me
Near The Cross
Franny Crosby

Sunday's Order of Worship, including the scripture text, is linked here.

West Seattle Free Recycling-Shredding Event this Sunday
PNCUCC Annual Meeting
April 30 - May 2

PNCUCC Annual Meeting
April 30-May 2
Our theme, "Rooted in Love," is the same as this year's national UCC General Synod.
We will have time to explore the ways we're rooted in love, and how that can ground and inspire us as we continue to live into all that God has in store for us.

Online registration will be available here.


Our own Joe Aprile invites you to check out his "science site" for a video presentation he created to give better understanding of the biology of a virus.
Here's how to find it:

Visit the website here.
1) Click on "What is a Virus" at the center of the banner menu at the top of the Home Page.
2) Click on the image and then on the "Video Presentation" folder on the next page. Have a look!

Zoom Registration Link for Sunday Worship

You only need to register once for Sunday worship.
You will receive a confirmation email with your own un ique link to join Sunday worship.
For additional assistance, phone or text Tech Deacon Shannon P.

Click on the blue donate button to make a secure, online credit card donation and an overview of other ways to donate.

Sunday Worship Videos Posted
on YouTube

Check for church news and calendar updates at www.alkiucc.org.