B-C's Special Distance Learning Page with Complimentary Materials

In response to school closures due to COVID-19, Bolchazy-Carducci Publishers is making a variety of materials available to the classics community in order to ease the transition to distance learning. Please see our new Distance Learning page to freely access downloadable packets of fair use excerpts from our books as well as some fun mythology-related activities.

William Sanders Scarborough

Learn the story of the origin of Caesar salad from the March 2021 issue of American Way.
---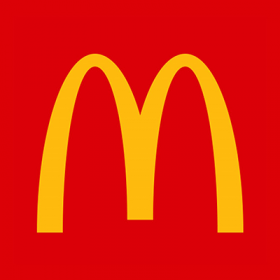 ---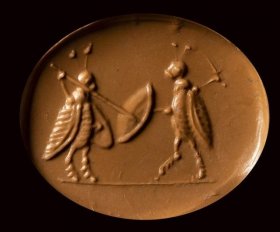 Thanks to Emine Buket Diler of Balıkesir University, who posted this on Facebook. "It's nice seeing things like these that show the sense of humour people had 2000 years ago - makes them more relatable. Roman republican carnelian intaglio showing two cicadas fighting as gladiators, 1st century BCE." For more information.
---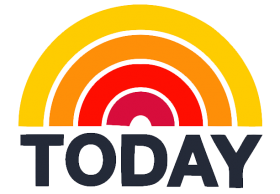 "Cheese the Day!"A variation on the familiar carpe diem heard on NBC's TODAY: 3rd Hour, March 5, 2021.

---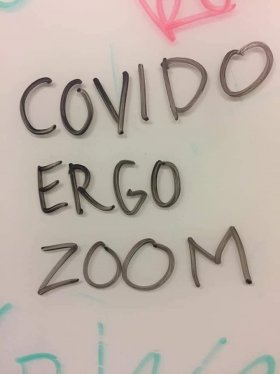 Thanks to Claudia Monsalvez Clark who posted this clever rephrasing on Facebook's Latin Teacher Idea Exchange. NB: Auctor Incognitus.
---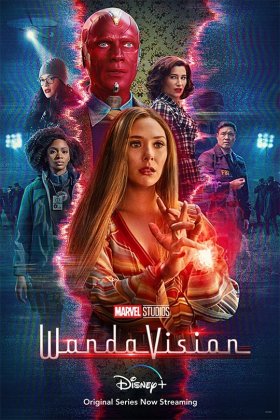 ---

A delightful rendition of ABBA's "Gimme Gimme Gimme" cover in Attic Greek! (Public Domain logo image courtesy of Wikimedia Commons.)
---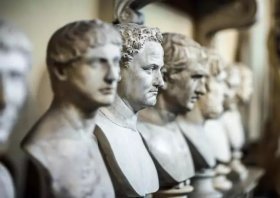 La Sapienza University ranked #1 for classics.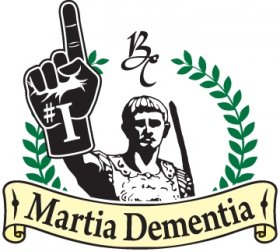 Don't forget to check the BCPublishers Blog for the link to vote on the Martia Dementia "contestants." Voting starts March 17!
Bolchazy-Carducci Publishers is pleased to provide complimentary webinars on a variety of subjects, especially pedagogical, of interest to classicists. Some webinars are geared to the Latin for the New Millennium program and to topics generated by the AP* Latin curriculum.
Read eLitterae or follow us on Facebook and Twitter for the announcement of our winter/spring
series of free webinars.
Please note:
The Bolchazy-Carducci Publishers Webinar Program is intended to be a live interactive endeavor in which presenter and attendees ask questions, make comments, seek clarification, share examples, etc. Thus, by design and in order to protect the presenter's intellectual property, B-C does not make recordings available to non-attendees. B-C encourages those interested in a given topic or presenter to plan to attend the live webinar.
If you have suggestions for webinars, please contact Don Sprague.
---
What Equipment Do I Need for B-C Webinars?
To participate in Bolchazy-Carducci Publishers sponsored webinars you will need high-speed internet access, computer speakers/headphones, current web browser, and the link to the webinar virtual meeting space, which is provided in your webinar invitation.
Webinars Make for User-Friendly Professional Development
Participation is free. All webinars provide opportunity for participants to ask questions. Learn lots—attend as many presentations as you can. Bolchazy-Carducci Publishers provides documentation for your participation. You can share this with your supervisors. Many webinar presenters provide handouts, etc.
Bolchazy-Carducci Publishers provides eTextbooks on a variety of eBook platforms. Bolchazy-Carducci textbooks are available through VitalSource,

GooglePlay

,

Chegg

, RedShelf, Adams Book, Follett,

MBSDirect Digital

, and ESCO. Each eBook platform offers a variety of tools to enhance the learning process. eBooks have the same content as our traditional books in print.
You can read eBooks on a Mac, PC, iPhone, iPad, Android, or a variety of eReaders. Review the eBook providers specifications.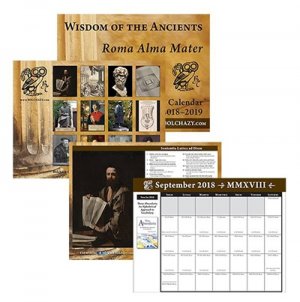 The 2020–2021 Roman Calendar has been mailed. If you did not put yourself on the mailing list or would like to download a printable PDF, we have the full file posted on our website!
The 2020–2021 Roman Calendar follows the travels of Aeneas, with each month focusing on a representative image corresponding to each of Aeneas's stops. We'll be posting JPEG images of each month of the calendar—feel free to use these calendar resources in your LMS or online classroom!
March's image showcases a fragment of a Gnathian bell krater with an image of a woman, possibly one of the muses. She appears seated, holding a lyre. The detail of the painting is particularly fine: she wears a delicately wrought bracelet, necklace, earrings, and headband.
A muse is an appropriate artistic subject matter to illustrate the travels of Aeneas—after all, the epic's proem invokes the muses as goddesses of poetry. This Gnathian vase, a product of Apulia, Italy, also represents Aeneas' visit to the Temple of Minerva—his first stop in Hesperia!—as he made his way to Sicily from Greece.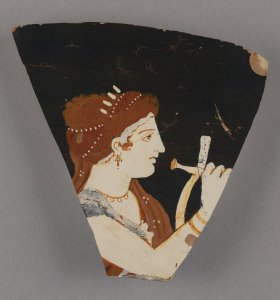 Watch Facebook for monthly postings.
Preview Bolchazy-Carducci Titles

Preview Bolchazy-Carducci titles before you purchase using Google Preview.
---

Downloadable Products
iPodius - Bolchazy-Carducci Publishers online shop for: audio, software, video, and a treasure trove of teacher-created materials in the Agora.
---
B-C Facebook Fan Page
Become a FAN of Bolchazy-Carducci Publishers, visit our Facebook Fan page for the latest news from B-C.
---
B-C Blog
Visit the BCPublishers Blog for B-C news and information.
The most recent addition to the blog includes tips on incorporating 3-D printing projects, including Latin inscription cookies, into the Latin classroom.
---
BCPublishers on Twitter
Follow us on Twitter
---
AP® is a trademark registered and/or owned by the College Board, which was not involved in the production of, and does not endorse, this site.
These products have been developed independently from and are not endorsed by the International Baccalaureate (IB).
Dear Colleagues and Friends,



Happy St. Patrick's Day! Did you know that the Irish were the

first

to translate Vergil's

Aeneid

into a vernacular language—Irish Gaelic?




Of many visits to the land of my ancestors (three of my grandparents), one that I recall especially fondly took place in 1984 when I brought my mother and her twin, my godmother, for their first visit. We visited with O'Connell relatives in County Cork and with Flynns and Kelihers in County Kerry. Sitting at the bar in a distant cousin's pub in Castlegregory on the Dingle Peninsula, the gentleman beside me, a farmer with his muddied "wellies," struck up a chat with me. When he learned that I was a teacher of Latin and Greek, he explained how computers and other subjects were replacing Latin and Greek in the schools. He ruefully exclaimed "And now what will they do with their leisure time?!"





As we celebrate Women's History Month, I remember fondly these two women who were proud of their studies at the parish high school, the long now shuttered St. Columbkille's in Brighton, MA, where they recalled their four years of Latin and French. I recall my mom readily reciting the opening lines to the Canterbury Tales in Middle English when I had been assigned to likewise for my high school British literature class. I honor these two "grand ladies," as the Irish are wont to say, whose hard work as waitresses helped pay my tuition, ensured a new pair of Stride Rite shoes each year and a Sunday outfit from the long defunct Best & Co., and gave me a marvelous example of the value of all work and reinforced the lesson that the first goal of our studies is to enrich our lives.





All of us at Bolchazy-Carducci Publishers honor your exemplary work as you enrich the lives of your students.



We join you in celebrating the arrival of spring.



Stay safe. Stay healthy.



All best,



Don Sprague
Executive Editor
editordon@yahoo.com

PS

My age has finally earned me vaccination appointments! Woo hoo!

Bolchazy-Carducci Publishers celebrates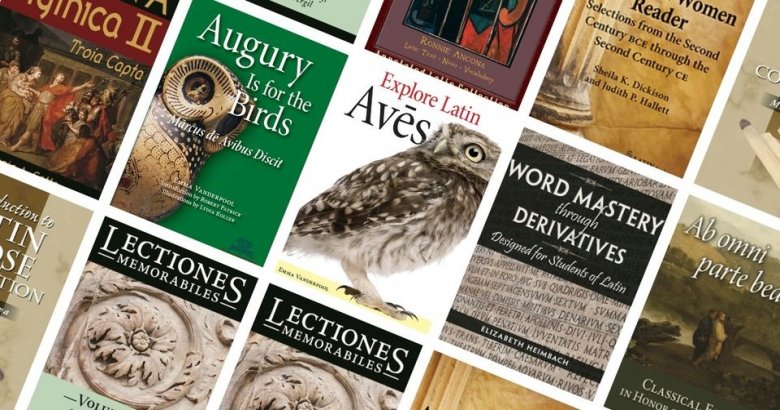 Over the last few months, when I've talked with teachers about what is working well in remote and hybrid classrooms, video regularly comes up. There are so many great tools that both teachers and students can use to create videos ranging from the simple to the highly sophisticated. Prezi Video is a video creation platform that is simple to use but has some of the features of more sophisticated software that make it appealing to both teachers and students. In a Prezi video, we can toggle the view between the speaker, the content, or a dynamic combination of the two. The result is an engaging video that prioritize the elements in the way that is most impactful.
Prezi walks the user through the process of creating the video step by step. The platform provides a number of templates to select from to start the process. After selecting the template, the user adds the visual content one frame at a time. The visual content can be text or image. When the user has created all the frames, the next step is recording the video. During the recording, the user can change between having the visual content full screen, the speaker full screen, or a fun combination of the two. The final step is sharing the video via a link so that everyone can view it. A Prezi video is a great choice for introducing students to a new concept, author, theme, or historical period. It's an equally effective way for students to share their learning with their teacher and classmates. Students can use Prezi to create videos on a grammatical concept, an important historical figure, or a passage explication. Check it out at
prezi.com
and click on Prezi Video.
Teachers & Students Love B-C Novella Series

Designed to engage and delight novice and intermediate learners, these Latin readers use limited, high-frequency vocabulary and copious images to support comprehension. The debut titles in the
Explore Latin
and
Encounter Latin
series focus on the world of Roman augury—entirely in Latin!
The nonfiction text
Explore Latin: Avēs
offers an immersive introduction to the significance of birds in Roman culture and religion. This "pre-reader" pairs perfectly with the
Encounter Latin
novella,
Augury Is for the Birds
, which delves deeper into the ins and outs of augury and its role in ancient Rome.
Great gifts for the young Latin learner in your life!

Marvelous reading resources for your Latin 1 classroom!

Editor's Note: We are pleased to call your attention to materials, including lesson plans, added to the digital content for
Augury Is for the Birds: Marcus de Avibus Discit.
We are pleased to share the following webinars for this semester. We are in the process of finalizing the complete roster of professional development presentations.
Tuesday, March 23, 2021, 6–7:00 pm ET
LGBT Meets SPQR: Resources and Lesson Plans for Including LGBTQIA+ Instruction into High School Latin Curricula
Presenter: Kristin Masters, Rowan University and Cumberland Regional High School, NJ


The purpose of this webinar is to provide lesson plans and authentic Latin and Greek sources on gender and sexuality in the ancient Greco-Roman world. High school appropriate materials will be provided to enhance representation and foster conversations on LGBTQIA+ topics in the classroom. Ancient terminology and voices on how the ancients defined themselves will also be discussed.

Kristin A. Masters has been an Adjunct Professor of Latin at Rowan University, Glassboro, NJ, since 2010. While this is her first year teaching at Cumberland Regional High School, Bridgeton, NJ, her alma mater, she taught high school Latin elsewhere in New Jersey for thirteen years. She sponsors Junior Classical League and has established a dual credit course with Rowan. Masters earned a BA from Dickinson College and her MA from Bryn Mawr College Graduate School of Arts & Sciences. She specializes in Roman history and is the author of several articles and two textbooks, The First Twenty Roman Emperors: Selections from Eutropius Adapted for Beginning Readers of Latin and Troy on Trial: An Intermediate Latin Reader. Masters has provided resources and lesson plans through some 150 blog entries on LGBT Meets SPQR.

Tuesday, April 6, 2021, 6–7:00 pm ET
Trying to Hear the Anti-racism Voices of Antiquity
Presenter: Jackie Murray, University of Kentucky, Lexington, KY


In antiquity, slavery and genocide were the ubiquitous consequences of defeat by a mightier military force. "History is written by the conquerors," they say, so we could ask with the literary theorist Spivak, "can the subaltern* speak?" and return a negative answer as she does. However, often left unconsidered is the scholar's social distance from those they are trying to hear speak. In this presentation, Dr. Murray suggests that we do not hear the subaltern because it is the habit of scholars—especially classicists, who are overwhelmingly from the dominant and well-heeled groups of society—who tend to identify with the historical and mythical figures, especially those glorified by the stories/histories, to be inured to the subalterns' cries against dehumanization and oppression. By using oppositional reading on a sample of ancient texts, she shows that not only can the ancient Greek subaltern speak, but they have a lot to say against racism.

*Subaltern according to Spivak refers to those who belong to the third world countries. It is impossible for them to speak up as they are divided by gender, class, caste, region, religion and other narratives. These divisions do not allow them to stand up in unity.
Dr. Jackie Murray
is Associate Professor of Classics in the Modern and Classical Languages, Literatures and Cultures Department at the University of Kentucky. She is on the editorial board of
Classical Philology
,
Religion Compass
, and
Brill Research Perspectives in Classical Poetry
. Her primary area of research is Hellenistic Poetry, and her secondary area is Race and the Classics. For insights on these areas of scholarship, please see how Dr. Murray expresses it "
in her own words
."

Murray earned her BA in Latin and Classical Studies (summa cum laude), University of Guelph, an MA in Classics from the University of Western Ontario, and her PhD from the University of Washington. A sampling of her awards, honors, and scholarships include Fellowship (2020) and Visiting Scholar (2018) at the Center for Hellenic Studies, NEH Post-Doctoral Fellowship at the American Academy in Rome (2011–2012), NEH Fellowships (2010, 2006), and a Social Sciences and Humanities Research Council of Canada Doctoral Fellowship (1999–2003). Select recent publications include "Race and Sexuality: Racecraft in the Odyssey" in Denise McCoskey, ed., Bloomsbury Cultural History of Race Series [in press 2021], "Poetically Erect: The female oriented humor in Callimachus' Hymn to Demeter" Hellenistica Groningana 24: New Perspectives in Callimachean Scholarship (Leuven, 2020), and "W.E.B. Du Bois' The Quest of the Silver Fleece: The Education of Black Medea" TAPA 149.2 Supplement (Sesquicentennial Anniversary Issue 2019).

Tuesday, April 20, 2021, 6–7:00 pm ET
The Archaeology of "Race" in the Roman Empire:

Old Problems, New Approaches
Presenter: Sinclair Bell, Northern Illinois University, DeKalb, IL


Can we write an archaeology of "race" in the Roman period? In this webinar, Dr. Bell considers the question through the lens of images of and artifacts related to Aethiopians (that is, Sub-Saharan Africans). After providing a brief overview of the corpus of objects and their imagery and the critical axioms of their study, he will propose some new ways of thinking about this material culture and discuss the ethical stakes of such a project within the field of archaeology more broadly.

Sinclair Bell
is a classical archaeologist and art historian. Professor of Art History at Northern Illinois University, he is also the editor of the
Memoirs of the American Academy in Rome
. His current areas of research include the art and archaeology of the Etruscans; the art and archaeology of the Roman provinces; spectacles in the Roman imperial period; the visual and material evidence for slaves and foreigners in the Roman Empire, especially Aethiopians/Nubians. He has co-edited twelve books, including
Free at Last! The Impact of Freed Slaves on the Roman Empire
(London, 2012). After earning his BA in Classical Studies and History at Wake Forest University, he earned a master's degree in Classical Archaeology at the University of Oxford and the University of Edinburgh, from which he received his PhD in Classics in 2004. He also studied at the University of Cologne and has been a Fellow at the American Academy in Rome, the Deutscher Akademischer Austauschdienst, and the Howard Foundation. Congratulations to Professor Bell who has recently been named a recipient of a prestigious
National Endowment for the Humanities
grant to fund his research on the visual and material evidence of race and ethnicity in the Roman Empire (c. 100 BCE–200 CE).
Tuesday, May 11, 2021, 6–7:00 pm ET
Julius Caesar's "Augustan" Dictatorship
Presenter: Hans-Friedrich Mueller, Union College, Schenectady, NY


Caesar's Commentarii de Bello Gallico portray a republican general of the traditional type. When students turn from this reading to Vergil's Aeneid, they land in a rather different world of myth, legend, and Augustan values. How can we help students bridge this seeming disconnect? We can fill in the historical background. Many of the policies and programs that we associate primarily with the principate of Augustus were, in fact, either established by, or foreshadowed in, the legislative program of Caesar's brief dictatorship. Cassius Dio, for example, discusses Caesar's descent from Venus and Mars, his celebration of equestrian games for noble youth, and his promotion of marriage and childbirth. By exploring "Augustan" elements in Caesar's legislative program, we can help students connect Caesar not just to Augustus, but also to Augustus's Vergilian avatar Aeneas.

Hans-Friedrich Mueller has been praised for his previous webinars for B-C. Mueller, a.k.a. Molinarius/ΜΥΛΩΝΙΚΟΣ, is the Thomas B. Lamont Professor of Ancient & Modern Languages at Union College. He is a recipient of a Lifetime Achievement Award from Eta Sigma Phi and of the Society for Classical Studies Award for Excellence in the Teaching of Classics as well as two awards for excellence in teaching at Florida State University. While at FSU, Mueller developed a graduate distance program in classics for high school teachers. Mueller is the author of Roman Religion in Valerius Maximus (Routledge, 2002), the editor of an abridgment of Gibbon's Decline and Fall of the Roman Empire (Modern Library, 2003), the translator of Mehl's Roman Historiography (Wiley-Blackwell, 2011), and the author of two video courses for The Great Courses (Teaching Company), Latin 101: Learning a Classical Language and Greek 101: Learning an Ancient Language. Molinarius's six years as a high school teacher served him well as author of Caesar: Selections from his Commentarii De Bello Gallico and as coauthor (with Rose Williams) of Caesar: A LEGAMUS Transitional Reader (Bolchazy-Carducci, 2012). Mueller is presently working on night as a legal, religious, and social context in Roman culture.

Teaching Tips & Resources

► Social Justice
• Wake Forest requires new course for classics majors—Classics Beyond Whiteness. Be sure to read the comments.

• B-C again offers a set of readings for use during March—Women's Month. See eLitterae March 2020.

• Introduce your students to six ancient female philosophers.

• New drama series examines the power struggles of Ancient Rome from a female perspective.

• Podcast on Boudica and access to roster of others.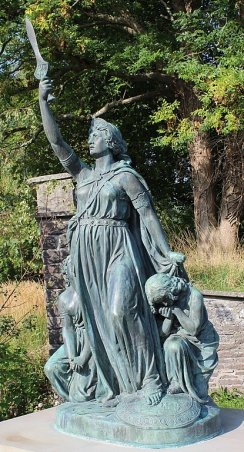 Bronze statue of Boadicea (Boudica) and her daughters at Captains Walk, Brecon, Wales. Statue by John Thomas of England (1855). Photo by 14GTR. Courtesy of Wikimedia Commons, Creative Commons 4.0.


► Literature and Pedagogy
• Romans deal with grief.

• Pertinent examples of ecphrastic poetry.

• Yale Library yields interesting text on children's talk, English and Latin.

• New English translation presents the Aeneid six feet per line!

► Res Aegypticae
• Saqqara necropolis yields an additional fifty sarcophagi.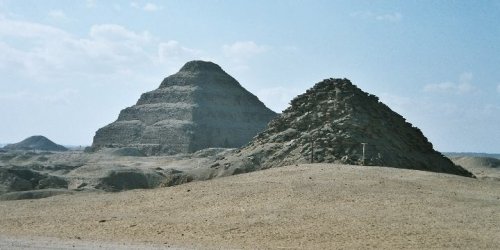 The necropolis at Saqqara. Photo by Hajor, December 2002. Released under the Creative Commons Attribution-Share Alike 3.0 Unported license.


• "How to embalm" papyrus tells all.

• Ancient Egyptians treasured their pets.

• Egyptian "Mona Lisa" documents extinct goose?

• CT-scan reveals pharaoh's murder.

• Industrial scale brewery—world's oldest—found in Egypt.

► Res Romanae
• Roman soldier's grave found in Bulgaria.

• Exploring Roman spectacle.

• Eat like a gladiator!

• More about the mausoleum of Augustus.

• Roman geographers provide view of world at time of Jesus's birth.

• Terracotta figurines found in Turkey.

• Roman Cupid figurine discovered in the United Kingdom.

• Celebrating 1,900 years of Hadrian's Wall.

• Revelations about breakfast at Hadrian's villa in Tivoli.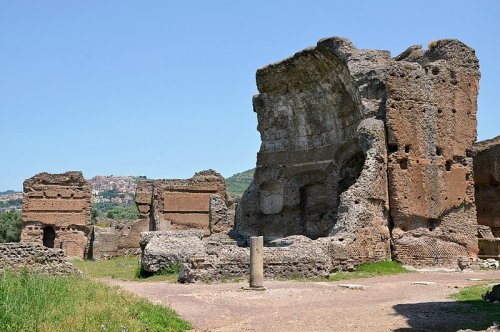 View of imperial apartments at Hadrian's Villa, Tivoli. Photo by Carole Raddato. Courtesy of Wikimedia Commons, Creative Commons 2.0.


• Recipe for pancakes reveals Romans' sweet tooth.

• What lessons do the Romans provide us for dealing with Covid?

• New document provides insight on Tiberius's accession.

• The Roman roads of Gaul presented as a subway map.

• Famous Roman "Dewlish Mosaic" is rescued for public display.

• Eruption of Mt. Etna provides great material and photos for classes studying Mt. Vesuvius.

► Developments at Pompeii & Herculaneum
• Herculaneum to reveal beach buried by Vesuvius.

• Meet Pompeii's innovative new director.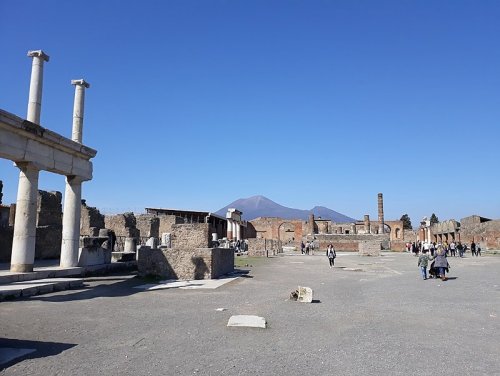 The forum at Pompeii. Photo by Simon Burchell. Courtesy of Wikimedia Commons, Creative Commons 4.0.


• Colors of the House of the Ceii's hunt fresco shine brilliantly.

► Ceremonial Chariot found near Pompeii
• NPR calls it a Lamborghini of chariots!

• BBC's report.

• Yahoo account.

• From the Pompeii website.

• The Smithsonian's coverage.

• From CNN.

► Res Hellenicae
• Greek helmet found near Israel.

• Forgotten theater of Thorikos.

• Greece's elephants, rhinos, and hippos, oh my!

• American School of Classical Studies at Athens presents webinar series.

• Who should manage Greece's museums?

• US Embassy in Athens celebrates two centuries of official friendship with video series.

► Res Aliae
• New digs reveal details about Iron Age life.

• A fascinating re-evaluation of a long-dismissed manuscript—no longer considered a forgery?

• Magnificent obsidian eagle found in Mexico.

• Sistine Chapel of Columbian cave painting.

• Was Stonehenge moved?

• Did Viking woman Gudrid visit North America a thousand years ago?

• The Bayeux Tapestry, now fully available online, makes for a fun Latin document for students to discover.

• Scythian rug retains bright color after 2,600 years!

2021 Classical Conferences and Meetings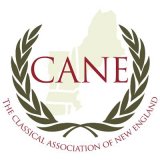 Virtual Annual Meeting
Saturday, March 13 and Saturday, March 20, 2021
B–C will participate in the Virtual Exhibit Hall.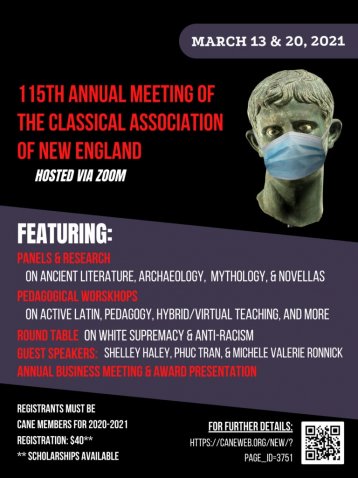 Saturday, March 20
2:30–3:45 pm
"Integrating Lycian Mythological Data into a Greco-Roman Database: A Collaborative Digital Initiative" copresenter, R. Scott Smith, coauthor, The Unknown Socrates: Translations, with Introductions and Notes, of Four Important Documents in the Late Antique Reception of Socrates the Athenian

CANE Keynote Address
4:00–4:45 pm
"In Search of Helen Maria Chestnutt" Michele Valerie Ronnick, editor and introduction author, William Sanders Scarborough's First Lessons in Greek: A Facsimile of the 1881 First Edition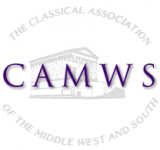 B-C Author Presentations
Wednesday, April 7, 2021
10:00–12:00 EST

""A rare body, a quick mind, a high spirt": Cleopatra in Interwar Fiction"
Gregory N. Daugherty, coauthor,
To Be a Roman
12:30–2:30 EST
"Bridging the Divides: Expanding Engagement in the Greek Language Classroom" Wilfred E. Major, organizer and presider, coauthor,
Plato: A Transitional Reader
Thursday, April 8, 2021
10:00–12:00 EST
"Playing the Player: Thinking about the Meretrices of Plautus's Truculentus" Christopher W. Bungard, author, forthcoming novellas.

Friday, April 9, 2021

3:00–5:00 EST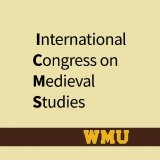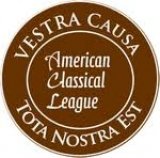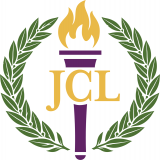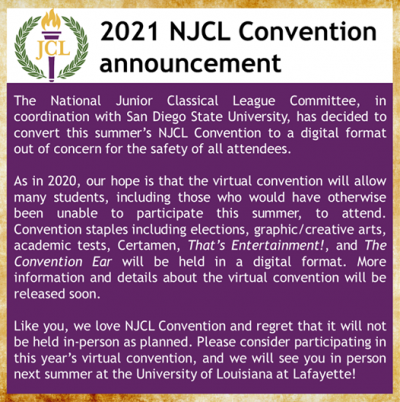 Lumina: Received to Much Acclaim from Students and Instructors


Available to accompany Latin for the New Millennium and Caesar and Vergil Selections and as a standalone, comprehensive Latin course, Artes Latinae!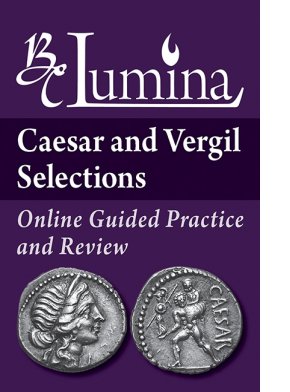 Lumina: Caesar and Vergil Selections
offers online interactive exercises to accompany
Caesar: Selections from his Commentarii de Bello Gallico
and
Vergil's Aeneid: Selected Readings from Books 1, 2, 4, and 6
. Hundreds of automatically-graded multiple choice questions promote close reading of all selections and provide students with immediate feedback. Copious free response questions ensure that students have the tools to thoroughly analyze Latin passages for grammar, style, and historical context. Practice exams, flashcards, and supplementary exercises allow for further review and assessment.
An ideal learning tool, for online or in person classes, that provides exceptional AP Exam prep!

Lumina for Latin for the New Millennium is an easy-to-use online interactive tool featuring a multitude of practice and review materials. With its guided activities and self-grading exercises, Lumina provides students with immediate feedback and frees up class time for translation, aural-oral work, discussion, and other student/teacher interactivity. Lumina is both student- and teacher-friendly!

To learn more, visit the
Lumina
for
Latin for the New Millennium
product page
and watch the overview
video
.
Fully Interactive Online Introductory Latin Course for Today's Student


For those intending to learn or review Latin on their own, at their own pace, Artes Latinae has long provided all the tools necessary to achieve a firm grasp of the language. Now, the self-teaching Latin course is available as a fully interactive online program, Lumina for Artes Latinae. Receive immediate feedback while progressing through the audio- and image- enhanced frames—anytime, anywhere, on an internet-enabled device. This course is a great option for college-level summer study or course scheduling conflicts.


Each level of Lumina for Artes Latinae is equal to a semester of college Latin study. Students who have finished Levels 1 and 2 are ready for reading courses.

eLitterae Subscribers Special Discount

for eLitterae Subscribers
Terrific resource of primary material!
86 pages, paperback
ISBN 13: 978-0-86516-355-3
$15.00
$10.00
This offer is valid for up to ten (10) copies, prepaid, no returns.
Discount is not available to distributors.
This offer expires 04/17/21.

Enter coupon code eLit0321 on the payment page.
The special offer pricing will be charged at checkout.

(Please note that there will be no adjustments on previous purchases.
Offer is nontransferable and subject to change without notice.)