Well, here we are…the journey to the cross — jarring, messy and uncomfortable.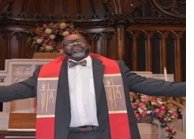 So much of life is just like that. While we celebrate those times when we feel connected, protected, insulated from the gritty realities of so many, we must pause and look at the harshness and danger just visible out of the corner of our eyes.
I weep and pray every day when I allow myself to feel deeply the hardships that still surround my little bubble of relative safety. Do you allow yourself those moments? Full of an odd mixture of helplessness, hopefulness and faith.
One of the things that this upcoming week can help us with is the discipline of seeing, really seeing, what we have yet to overcome in our current times. Mass incarceration, of immigrants and those charged and convicted of crimes; rampant homelessness and need; displacement and hunger of those who are precariously sheltered; fear-based overreach of authorities and those who are supposed to be there to protect us from harm; absence of reparations and repentance for lands and labor stolen; a revisionist version of history that undermines any notion of strength, resistance and self-determination.
You can find many of these themes in the time of Jesus. It would seem that our progress hasn't been as awesome as it appears at first glance.
Yet, there is more to the story! We do have so much work still to do. And we have a God that is bigger, more loving, more grace-giving than our ability to understand!
We have a mandate from our God — tikkun olam. Generally, tikkun can mean improvement, establishment, repair, prepare, and more. In Mishnaic context, it refers to practical legal measures taken in the present to ameliorate social conditions. A common but more modern understanding of this phrase is that we share a partnership with God, and are instructed to take the steps towards improving the state of the world and helping others, which simultaneously brings more honor to God's guidance and magnificence. (adapted from Wikipedia)
Another way of seeing this is that every challenge is an opportunity to serve!
Praying with you as we move forward in creating lives of practice, purpose and praise!
May the grace of God surround and infuse us as we go!
Blessings,
Rev. Louis
Alki UCC Holy Week Schedule
Admiral UCC Maundy Thursday Service
April 1 at 8:00 pm
You're invited! This Taize-infused worship experience invites the gathered body to reflect on the meaning of service and the reality of betrayal. Please prepare elements for a remote Eucharist, a candle-lighting, and a humble heart in the shadow of the Cross.
Information and Zoom link here.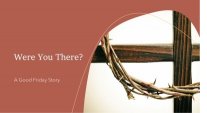 Alki UCC Good Friday Service
April 2 at 7:00 pm.
Good Friday: Were You There.
Emerging out of the shadows of time, eye-witnesses to the events leading up to the betrayal, trial and crucifixion come forward to share what they saw, knew and felt. We listen as the cry of their hearts ... regret, remorse and fear, are met with forgiveness.

Hosted by Alki UCC, presented by the Spiritual Travelers, live streamed from the Alki UCC sanctuary, we are joined by Admiral UCC, Normandy Park UCC, Sausalito Presbyterian and guests. Special Zoom registration here.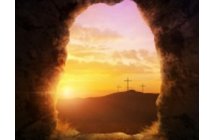 Alki UCC Easter Sunday
April 4 at 10:00 am


Rev. Louis J. Mitchell





John Wells, Guest Trumpeter


featured in Handel's Hallelujah, a Soulful Celebration


Celebrate the Resurrection!


Scripture Readings:
Psalm 118:14-24 (NRSV)
Mark 14:12-24
Sermon:
"Walking through Our Fears of A New Way of Living"

If you already registered for Sunday worship, just use your regular Zoom login. If you are new to Sunday worship, welcome! Please register here.

Registration Now Open for
"The Book of Joy"
Community Discussion Groups
Six-week book study offered via Zoom:
Sundays at 5:00 pm beginning March 28
or Tuesdays at 2:00 pm beginning March 30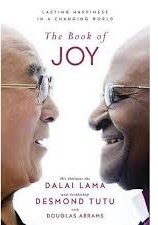 Your Faith Formation team invites you to a six-week community book study of The Book of Joy: Lasting Happiness in a Changing World, the New York Times bestseller by Nobel Peace Prize Laureates His Holiness the Dalai Lama and Archbishop Desmond Tutu



In April 2015, Archbishop Tutu traveled to the Dalai Lama's home in Dharamsala, India, to celebrate His Holiness's eightieth birthday and to create what they hoped would be a gift for others. By the end of a week filled with laughter and punctuated with tears, these two global heroes had stared into the abyss and despair of our time and revealed how to live a life brimming with joy.



Participants should get their own copy of "The Book of Joy" and begin reading. There are plenty of online resources, but consider buying local and supporting West Seattle's own Paper Boat Booksellers located just north of the Morgan Street junction on California Avenue SW.



This is a community event; all are welcome. Join in for one or both six-week sessions … or switch it up as your schedule allows.


• Zoom registration link for Sundays at 5:00 pm beginning March 28
• Zoom registration link for Tuesdays at 2:00 pm beginning March 30



Questions? Contact jepeeler@comcast.net.

Join us! —Julia, Russ and Andrea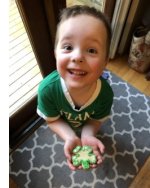 A huge thank you to Dave and Vicky for coordinating and cooking the delicious Irish Lamb Stew and Irish Soda Biscuits! And to Verona for the very tasty decorated Irish clover-shaped cookies!

The takeout dinners were a contribution from the Alki UCC Caring Community and Fellowship Team as an effort to help us stay connected, bonded and fed, since we couldn't dine together on St. Patrick's Day, as we have for many years (enjoying Mary Holton's famous corned beef and cabbage in Fellowship Hall).

Vicky and Dave calculated how much lamb, carrots, celery, onions, potatoes, turnips and broth it would take to make 50+ servings in quart and pint jars and 60 biscuits. What a huge amount of work!

There were a few leprechauns who helped chop the veggies: Sandy J, Patty M, Joe A and Julia C, but the Leader Cooks and Bakers did most of the work!. Oh, and the Shamrock label and Irish Blessing was created by Emily H and Lowell P. Also thanks to Sandy J for collecting jars from the Mardi Gras Gumbo dinner last month, to Julia C for donating jars for our efforts and to Lisa J for helping distribute stew, biscuits and cookies to all, sorting between regular and gluten free/dairy free options! It was great to have her help, and to meet her in person!

Thanks to you all for "feeding" us in so many ways!

Warmly,
— Your Church Family

Pictured above: Julia and Joe's grandson Jack

PNCUCC Annual Meeting April 30 - May 2




Our theme, "Rooted in Love," is the same as this year's national UCC General Synod. All events are online via Zoom.



Detailed planning for Friday's Gathering sessions are underway. Watch for info on opportunities to talk together on topics that have bubbled up during these unusual times.

Come worship with everyone in a candlelight service on Friday evening, April 30. Other engaging, faithful worship will take place on Saturday and Sunday.

There will be a chance to engage in some significant areas and vote on ways to further the ministry of the PNC; support our mission of care, outreach, and support. Online registration available here.

Prayers of healing for Larry G, recovering at home from a recent injury.
DEAR. GOD.
Special prayers for the victims, their family and friends and all those affected by the tragic and horrific shooting in Boulder.
Special prayers for the victims, their family and friends and all those affected by the tragic and horrific shootings in the Atlanta metro area.
Special Prayers for the family and
friends of
Walter Wallace
,
Jonathan Price, Jacob Blake, Rayshard Brooks, Manuel Elllis, George Floyd, Elijah McClain, Dreasjon (Sean) Reed, Breonna Taylor, Ahmaud Arbery and the heart-breaking list of African-Americans and other people of color murdered or wounded by police or self-declared vigilantes in our nation over many decades. We mourn with you and we stand for justice and healing.
Special Prayers for all those on the front lines of working to protect us, keep us healthy, sane, grounded, informed, fed and comfortable during the current COVID 19 outbreak: our faith leaders, front-line health care workers, EMTs, police, firefighters, educators, transit bus and rail drivers, farmers, therapists, social workers, shelter operators, engineers, grocery/drug store personnel, caregivers, childcare specialists, pharmacists, custodians, organizations caring for the most vulnerable, sanitation workers, dispatchers and others keeping our supply chains operational, truth-telling journalists and all the many public servants who are so vital to our community.
For those grieving the recent death of a loved one:
Friends and family of Bev C; friends and family of Sue B's friend Toni, Charlie H and family; Candace G and family; Ed B and family; Jeff D's cousin Jerry Elder and his wife Tami Elder; Todd S and family; Patty M, family and friends of Bob J, family and friends of Jim C, Kirstin and family; Larry G
Recent hospitalization, illness and other concerns:
Dan K, Cinda's sister-in-law, Cindy, Julia P, Jeff and Kirstin's sister-in-law Sue, Sandy and Jim's friend Al, his mom, Sue and friend Kay; Penny M; Kirstin D; Shannon P's father, Rev. Dr. Bill; Verona's younger brother Eric; Julia C's long-time friend Megan; Bonita C; Claire F; Dayle B; Imy P; Kirstin D's father; Don P

For homebound members/friends of Alki UCC: Doris C
Wider World: Prayers for all those affected by the corona virus outbreak; all those suffering from PTSD in the military and around the world; for all those affected by the increasingly cruel and inhumane US immigration policies imposed by the current administration; prayers for fewer guns, for all victims and those affected by gun violence; victims and survivors of extremist violence around the world; migrants seeking refuge around the world, and for those who are trying to help them. The rest of the missing schoolgirls kidnapped by Boko Haram, who remain in our hearts as long as they remain missing. The hungry and homeless, the ill and the addicted, the lost and the lonely; the unemployed.







"The Invisible Man"

Scripture Readings:

Psalms 118:1-2


John 12:12-16


Contemporary Voice:


Anonymous, "If you want something you've never had, you must be willing to do something that you've never done."


Liturgist:
Emily H
Moment of Ministry:


Council


Music
Hosanna, Loud Hosanna
Jennette Threfall
Hosanna
Brooke Ligertwood with Hillsong United
Ride On, King Jesus
African American Spiritual/J.W. Work

Sunday's Order of Worship, including the scripture text, is linked here.



Important Change for Alki UCC Online Giving
As we continue to improve our operations and provide the best options to our community, we are changing our online giving vendor from PayPal to Give Lively, a non-profit-based donation systems that aligns more closely with our church's mission.

Following is Give Lively's Forever Free Pledge to non-profits:
We pledge that any service we provide for free ("Forever Free Services") to our Nonprofit Members will always be free for them to use without any charge from us — forever — no catch.
Please note that processing fees are still charged when you use a credit card. These are charges from the credit card companies only (which you can choose to cover when you donate).
Give Lively is safe and will not share your personal information with anyone!
This all means that as of Friday, March 26 (tomorrow), PayPal will no longer be used for Alki UCC online giving.
If you currently have recurring donations set up on PayPal, please consider one of the following:
• Switch to recurring donations through your bank's bill-pay system.
• Switch to Give Lively recurring donations via your bank account (this is a safe option)
• Switch to Give Lively recurring credit card transactions (consider covering fees)
We have been using Give Lively as our Text to Give option for more than a year now and they are an amazing organization!
Please feel free to reach out to me if you have any questions.
Shannon P
Treasurer@alkiucc.org
Candidate Suggestions Sought for 2021/2022 Church Council and Nominating Committee
It is that time of year when we begin to prepare for the Annual Meeting and elect officers and members for the Church Council. In forming the Pastoral Search Committee, we had such good success for nominations coming from members and friends that we would like to do this again.

In addition to the two available officer positions, Moderator and Vice Moderator, we will have an open position called "At Large," whose role is like a roving reporter, listening to the members and friends of the congregation and communicating with the Council.

We also welcome suggestions for two Nominating Committee candidates to be appointed by the Council.

Submit names to Emily H. or Julia P. and we will follow-up and prepare a slate by April 15.

Call for Cooks:
Casseroles Needed for
May 15 WIN
"Welcome Table" Lunch
The Westside Interfaith Network provides a hot meal every Saturday in White Center called "The Welcome Table." Alki UCC has been a big supporter of this program over the years.

On Saturday May 15 we join Admiral UCC to provide the Welcome Table Lunch. Mark your calendars, start researching easy nutritious casseroles, and LMK if you want to be a part of this great program.
— Cinda

Zoom Registration Link for Sunday Worship

You only need to register once for Sunday worship.
You will receive a confirmation email with your own un ique link to join Sunday worship.
For additional assistance, phone or text Tech Deacon Shannon P.
Sunday Worship Videos Posted
on YouTube
Check for church news and calendar updates at www.alkiucc.org.