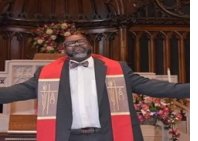 Greetings beloved! And Ramadan Mubarak, which
translates from the Arabic word meaning 'blessed' — the phrase therefore means 'blessed Ramadan.'
I'll be traveling this week, but will join you in worship on Sunday virtually!
We are being graced by the amazing gift of J Mase III, a
Black/trans/ queer poet and educator based in Seattle, by way of Philly. He is the author of "If I Should Die Under the Knife, Tell my Kidney I was the Fiercest Poet Around," as well as "And Then I Got Fired: One Transqueer's Reflections on Grief, Unemployment, and Inappropriate Jokes about Death."
As an educator, J Mase has worked with thousands of community members in the US, the UK and Canada on the needs of LGBTQIA youth and adults in spaces such as K-12 schools, universities, faith communities and restricted care facilities among others.
He is the founder of awQward, the first ever trans and queer people of color specific talent agency. Currently, he is co-editing The #BlackTransPrayerBook with awQward artist Lady Dane Figueroa Edidi.
As a performer, he has shared stages with world renowned artists like Chuck D and the Indigo Girls. His work and musings have been featured on MSNBC, NBC OUT, Essence Live, Atlanta Black Star, GO Magazine, Believe Out Loud, Everyday Feminism, Black Girl Dangerous, Upworthy, the New York Times, Buzzfeed, the Root, the Huffington Post and more.
Check him out on Facebook, Instagram, Twitter, and of course: www.awQwardtalent.com.
I'm very excited to see/hear him again and I know you will be moved (and educated, inspired)!
Praying with you as we move forward in creating lives of practice, purpose and praise!
May the grace of God, the teachings of Christ and the fire of the Holy Spirit surround, inform and infuse us as we go!
Blessings,
Rev. Louis
Alki UCC Food/Men's Casual Clothing Drive
Sunday, April 18, 11:00 am to 3:00 pm

Outside our front entrance at


6115 SW Hinds





Non-perishable food donations and personal hygiene items are distributed by the White Center Food Bank. Donations of Men's Casual/Work Clothes are also being taken, as well as NEW socks — the clothing item most requested by our neighbors experiencing homelessness.



Essential supplies are also needed:• Toilet Paper • Diapers/Similac Formula/Baby Wipes • Can Openers • Personal hygiene items • Hand Sanitizer • Pet Food in clearly labeled containers



Cinda can use some helping hands any time ... but especially around 3:00 pm to help bring the donations inside.



Sign Up to be a an Alki UCC Delegate
PNCUCC Annual Meeting April 30 - May 2
Every year, several members of the Alki UCC Faith Community have served as lay delegates to our conference's Annual Meeting.

Council Moderator Emily H invites you to contact her about being a delegate. Alki UCC will underwrite the $30 registration fee.






This year's annual meeting theme is "Rooted in Love." All events are online via Zoom.



Come worship with everyone in a candlelight service on Friday evening, April 30. Other engaging, faithful worship will take place on Saturday and Sunday.

Check out the Schedule of Events here.


Online registration

available here.

From Your Pastoral Search Committee
The Pastoral Search Committee would like to thank the congregation, Rev. Mike D, and Rev. Louis for the lovely dedication ceremony during Sunday's Worship. It is an honor to serve this community and we thank you for your trust in us.

As we begin our plan we have established leadership roles: Chair Vicky S, Chaplain Russ T, Communication Julia P, Scribe Emily H. Everyone on the committee will have a voice as we redevelop our Church Profile and submit it to the PNW Conference.

We ask the congregation to pray for us as we move forward. Thank you. Blessings, Julia P

TAKE 5 to think about (and hopefully act on) your plastic consumption
When I returned from a recent Costco trip, I was suddenly struck by how much plastic I had brought home in my boxes … SO MUCH PLASTIC! Plastic mushroom containers with plastic wrap, veggies in plastic bags, large (and heavy!) detergent bottles, apples in stiff plastic ... it made me want to cry.
Our outsized consumerism and excessive petroleum-derived plastic packaging are major factors in our poor earth's continuing decline and the increasing devastation caused by climate change.
How can we use less plastic and lower demand for its production? Here are some suggestions:
• Seek out alternatives by shopping locally
• Don't buy in bulk (which is what we do at Costco, they sell us 12 perfect apples in protective plastic)
• Use your own reusable vegetable and grocery bags
• Buy milk and dairy products in cardboard or glass containers (not plastic!)
What ideas do you have?
I've found two alternatives for reducing my plastic consumption by shopping online. Yes, it can be slightly more expensive, but what a difference it makes!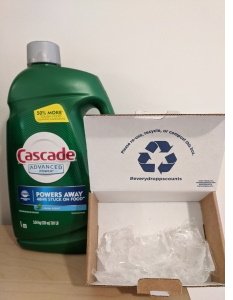 Check out dropps.com for detergent pods that are shipped in recyclable paper packaging (see comparison of big plastic bottle vs cardboard container full of pods at left). Imagine what it must cost to ship the heavy plastic bottle of (mostly water) detergent vs lightweight concentrated pods, as well as the carbon footprint of making and shipping that bottle!
Another alternative is Public Goods, a membership site offering a wide inventory with no plastic packaging and a range of products that are good for the earth and healthy for all (no toxic ingredients, compostable packaging, sustainable sourcing, etc). I'm trying out my first order now, from cat food to detergent pods to kitchen towels.
And best of all, shop at your local farmer's market to know and support local farmers and suppliers. Know where your food comes from!
So next time you return from Costco or a grocery store, take a close look at your purchases and ask yourself "how can I do better?"
Here's a terrific resource via National Geographic: Plastic Pollution is a huge problem- it's not too late to fix it
— Cinda
Monday night marked the beginning of the Islamic holy month of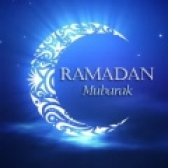 Ramadan. As Muslims around the world begin this time of holy fasting, we wish Ramadan Mubarak (Happy or Blessed Ramadan) to all who are celebrating!
Ramadan is a month of spiritual devotion, including fasting during daylight hours, with a focus on cultivating self-control, gratitude, and compassion for those less fortunate. It is also a time of joy and celebration spent with loved ones.
For non-Muslims wanting to learn more about the practices and spiritual significance of Ramadan, this article from National Geographic is a good primer: Why Ramadan is the most sacred month in Islamic culture.
(copy adapted from an email sent by Earth Ministry)
For secure, online giving through Give Lively, click the blue button.



You can also send your check, made out to "Alki UCC," to: Alki UCC Church Office,
6115 SW Hinds, Seattle, WA 98116

Prayers of Wellbeing and Good Health to longtime members Jan and Ned Cochran, who wrote in to say: "We sure miss Seattle and Alki UCC. Jan's health problems keep us here in Colorado. Travel is very difficult. When this COVID thing is passed, we might show up one of these days. Hello to all and Cheers!"

Dear. God.
Special Prayers for the family and friends of Daunte Wright, who was shot by police earlier this week. Prayers of reckoning and healing for the community as they deal with the traumatic aftermath of this tragic death.

Special Prayers for the family and

friends of

Walter Wallace

,


Jonathan Price, Jacob Blake, Rayshard Brooks, Manuel Elllis, George Floyd, Elijah McClain, Dreasjon (Sean) Reed, Breonna Taylor, Ahmaud Arbery and the heart-breaking list of African-Americans and other people of color murdered or wounded by police or self-declared vigilantes in our nation over many decades. We mourn with you and we stand for justice and healing.



Special Prayers for all those on the front lines of working to protect us, keep us healthy, sane, grounded, informed, fed and comfortable during the current COVID 19 outbreak: our faith leaders, front-line health care workers, EMTs, police, firefighters, educators, transit bus and rail drivers, farmers, therapists, social workers, shelter operators, engineers, grocery/drug store personnel, caregivers, childcare specialists, pharmacists, custodians, organizations caring for the most vulnerable, sanitation workers, dispatchers and others keeping our supply chains operational, truth-telling journalists and all the many public servants who are so vital to our community.



For those grieving the recent death of a loved one:
Friends and family of Bev C; Charlie H and family; Candace G and family; Ed B and family; Jeff D's cousin Jerry Elder and his wife Tami Elder; Todd S and family; Patty M, family and friends of Bob J, family and friends of Jim C, Kirstin and family; Larry G

Recent hospitalization, illness and other concerns:


Larry G, Dan K, Cinda's sister-in-law, Sue B's friends Mary and Louise, Cindy, Julia P, Jeff and Kirstin's sister-in-law Sue, Sandy and Jim's friend Al, his mom, Sue and friend Kay; Penny M; Kirstin D; Shannon P's father, Rev. Dr. Bill; Verona's younger brother Eric; Julia C's long-time friend Megan; Bonita C; Claire F; Dayle B; Imy P; Kirstin D's father; Don P

For homebound members/friends of Alki UCC: Doris C


Wider World: Prayers for all those affected by the corona virus outbreak; all those suffering from PTSD in the military and around the world; for all those affected by the increasingly cruel and inhumane US immigration policies imposed by the current administration; prayers for fewer guns, for all victims and those affected by gun violence; victims and survivors of extremist violence around the world; migrants seeking refuge around the world, and for those who are trying to help them. The rest of the missing schoolgirls kidnapped by Boko Haram, who remain in our hearts as long as they remain missing. The hungry and homeless, the ill and the addicted, the lost and the lonely; the unemployed.

Worship this Sunday

April 18

at 10:00 am

The Second Sunday

after Easter

leads worship in a live, interactive service

Special Guest

J Mase III will give a Sermonic Offering



Scripture Readings:
Psalms 89:1-2
Hebrews 11:1-3
adapted from
The Message
Contemporary Voice:
"God's love supersedes all religions and it is the core of all religions." ― Riaz Ahmed Gohar Shahi, The Religion of God
Liturgist:
Kim B

For bio information on our Guest Speaker, see Pastor Louis article at left. More information here:
J Mase III

Music Highlights:
Lead Us From Death To Life (World Peace Prayer)
Satish Kumar
and Marty Haugen
Love Song
Jars of Clay
Let There Be
Peace On Earth
Jill Jackson and Sy Miller
YouTube Link



Sunday's Order of Worship, including the scripture, is linked here.



Call for Stand-In Tech Deacons and Smart Phone Donation for Sunday Worship
Bob C, one of our intrepid and valued Tech Deacons will be out of town for a month beginning next week and we need a stand-in or two or three to provide on site tech help for the 9 am Rehearsal and 10 am Sunday worship on April 25 and May 2, 9 & 16.

Bob says: I will be able to attend and help remotely, but I will not be able to be onsite. I am updating documentation now and can walk folks through during Sunday practice. I am available to do a training Saturday or earlier if needed.

We also have a critical need for another mobile phone to use as a camera (preferably an Android).

We need reinforcements!
Contact Joe or Shannon if you have an old phone to donate or can help out or have any questions.

The Book of Joy Community Study
Alki UCC Food Drive/
Call for Men's Casual Clothing
This Sunday, April 18
11:00 am to 3:00 pm
Front Courtyard



"The Book of Joy"




Community Study




Sundays at 5:00 pm




Tuesdays at 2:00 pm


Contact: Julia P or Russ T

Worship and Music
Sunday, May 2
after worship
Contact: Joe

Outreach/Social Justice
Monday, May 3, 6:30 pm
Contact: Cinda

Call for Cooks!
Westside Interfaith Network (WIN) Lunch
Saturday, May 15
The Westside Interfaith Network provides a hot meal every Saturday in White Center called "The Welcome Table." Alki UCC has been a big supporter of this program over the years.
On Saturday May 15 we team with Admiral UCC to provide the hot meal.
Mark your calendars, choose an easy nutritious casserole, and LMK if you want to be a part of this great program. — Cinda
Zoom Registration Link for Sunday Worship

You only need to register once for Sunday worship.
You will receive a confirmation email with your own un ique link to join Sunday worship.
For additional assistance, phone or text Tech Deacon Shannon P.
Sunday Worship Videos Posted on YouTube
Check for church news and calendar updates at www.alkiucc.org.