B-C's Special Distance Learning Page with Complimentary Materials

In response to school closures due to COVID-19, Bolchazy-Carducci Publishers is making a variety of materials available to the classics community in order to ease the transition to distance learning. Please see our new Distance Learning page to freely access downloadable packets of fair use excerpts from our books as well as some fun mythology-related activities.
Lecture in Assyrian Civilization and Culture

The 2021 Jeremiah S. and Helen James Lecture in Assyrian Civilization and Culture will be delivered by Northwestern Professor and Artist Michael Rakowitz. Rakowitz's work is informed by his Iraqi-Jewish heritage and extensive research on cultural objects and events. His creations critique colonization and underline the relevance of artifacts that have been lost, looted, or destroyed and the stories of people who have suffered from ongoing violence.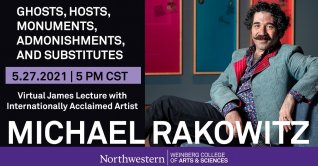 Thursday, May 27, 2021 at 5:00 p.m. CST

Teachers & Students Love B-C Novella Series

Designed to engage and delight novice and intermediate learners, these Latin readers use limited, high-frequency vocabulary and copious images to support comprehension. The debut titles in the Explore Latin and Encounter Latin series focus on the world of Roman augury—entirely in Latin!
The nonfiction text Explore Latin: Avēs offers an immersive introduction to the significance of birds in Roman culture and religion. This "pre-reader" pairs perfectly with the Encounter Latin novella, Augury Is for the Birds, which delves deeper into the ins and outs of augury and its role in ancient Rome.
Great gifts for the young Latin learner in your life!

Marvelous reading resources for your Latin 1 classroom!

Editor's Note: CANE Wiencke Teaching Award Winner Matthew Katsenes has developed a directrix legendi for Augury Is for the Birds: Marcus de Avibus Discit.
Bolchazy-Carducci Publishers is pleased to provide complimentary webinars on a variety of subjects, especially pedagogical, of interest to classicists. Some webinars are geared to the Latin for the New Millennium program and to topics generated by the AP* Latin curriculum.
Read eLitterae or follow us on Facebook and Twitter for the announcement of our winter/spring
series of free webinars.
Please note:
The Bolchazy-Carducci Publishers Webinar Program is intended to be a live interactive endeavor in which presenter and attendees ask questions, make comments, seek clarification, share examples, etc. Thus, by design and in order to protect the presenter's intellectual property, B-C does not make recordings available to non-attendees. B-C encourages those interested in a given topic or presenter to plan to attend the live webinar.
If you have suggestions for webinars, please contact Don Sprague.
---
What Equipment Do I Need for B-C Webinars?
To participate in Bolchazy-Carducci Publishers sponsored webinars you will need high-speed internet access, computer speakers/headphones, current web browser, and the link to the webinar virtual meeting space, which is provided in your webinar invitation.
Webinars Make for User-Friendly Professional Development
Participation is free. All webinars provide opportunity for participants to ask questions. Learn lots—attend as many presentations as you can. Bolchazy-Carducci Publishers provides documentation for your participation. You can share this with your supervisors. Many webinar presenters provide handouts, etc.
Bolchazy-Carducci Publishers provides eTextbooks on a variety of eBook platforms. Bolchazy-Carducci textbooks are available through VitalSource,

GooglePlay

,

Chegg

, RedShelf, Adams Book, Follett,

MBSDirect Digital

, and ESCO. Each eBook platform offers a variety of tools to enhance the learning process. eBooks have the same content as our traditional books in print.
You can read eBooks on a Mac, PC, iPhone, iPad, Android, or a variety of eReaders. Review the eBook providers specifications.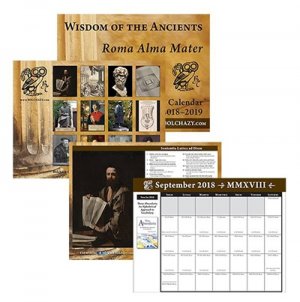 The 2020–2021 Roman Calendar has been mailed. If you did not put yourself on the mailing list or would like to download a printable PDF, we have the full file posted on our website!
The 2020–2021 Roman Calendar follows the travels of Aeneas, with each month focusing on a representative image corresponding to each of Aeneas's stops. We'll be posting JPEG images of each month of the calendar—feel free to use these calendar resources in your LMS or online classroom!
Finally, with the month of May, we, alongside Aeneas, have come to Carthage—the north African city founded by Dido, dubbed dux femina facti in Vergil. The Roman calendar image accompanying this important stopover is a theriomorphic statue of the goddess Tanit. Both a fertility goddess and a goddess of war, Tanit was one of the chief deities of the Phoenician and Punic peoples. She was sometimes portrayed with a lion's head, as in this first-century sculpture; the sign of Tanit, a highly stylized representation of a female figure, was another common depiction. Even after Rome defeated Carthage during the Punic Wars, her worship remained popular in the Mediterranean. She was associated with the Roman goddess Juno and worshipped in Italy as Juno Caelestis.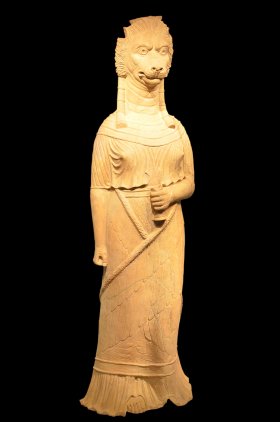 Watch Facebook for monthly postings.
Preview Bolchazy-Carducci Titles

Preview Bolchazy-Carducci titles before you purchase using Google Preview.
---

Downloadable Products
iPodius - Bolchazy-Carducci Publishers online shop for: audio, software, video, and a treasure trove of teacher-created materials in the Agora.
---
B-C Facebook Fan Page
Become a FAN of Bolchazy-Carducci Publishers, visit our Facebook Fan page for the latest news from B-C.
---
B-C Blog
Visit the BCPublishers Blog for B-C news and information.
The most recent addition to the blog includes tips on incorporating 3-D printing projects, including Latin inscription cookies, into the Latin classroom.
---
BCPublishers on Twitter
Follow us on Twitter
---
AP® is a trademark registered and/or owned by the College Board, which was not involved in the production of, and does not endorse, this site.
These products have been developed independently from and are not endorsed by the International Baccalaureate (IB).
Already, May!


Happy to be double "vaxxed" and finally able to connect with some friends here in New England.


Spring's arrival in Maine brings the wicked short season for fresh fiddlehead ferns—a delicious delicacy! Fiddlehead ferns are so named based on the similarity of their shape to a fiddle's head. Officially, ostrich ferns—Matteuccia struthiopteris—grow wild in wet areas in Maine and other parts of the northeast. Facebook Marketplace has made it easier for enterprising Mainers to sell what they forage before the fiddleheads unravel as they bloom. The Wabanaki peoples of Maine have traditionally harvested fiddleheads and introduced the vegetable to the settlers of the early eighteenth century. I have happily sautéed some fiddleheads and frozen some to serve guests when they visit.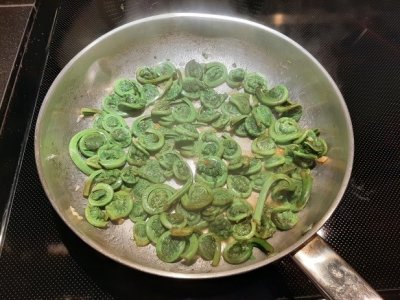 And, this spring also means the return of the cacophonous cicadas after their long hibernation. To celebrate their arrival, consider sharing this
article
about cicadas in the Greco-Roman world from
Atlas Obscura
. I did not consider the relevance of this image when I shared it in the
March 2021 issue
of
eLitterae
. It's surely worth another chuckle!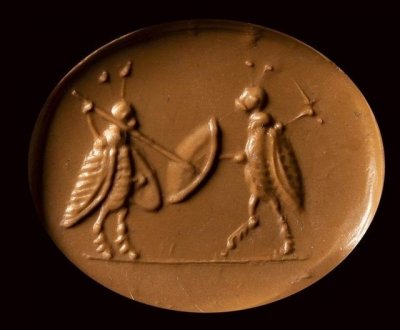 B-C is also happy to share the following Latin story,

Cicada et Formica

, from

Aesop's Fables in Latin: Ancient Wit and Wisdom from the Animal Kingdom

by Laura Gibbs. As is our custom, B-C provides this for teachers to duplicate for their classes only and does not authorize other distribution. We are offering this title as our May

eLitterae

discount! Seize the opportunity to purchase some copies for your classroom resource center.




Shout out to Davina McLain on a successful virtual annual meeting of the Classical Association of the Middle West and South—her first as the new secretary-treasurer for CAMWS! B-C has enjoyed partnering with CAMWS and exhibiting at its annual meetings, both in-person and nowadays virtually. Congratulations to Aaron Pelttari (University of Edinburgh), the recipient of the 2021 Ladislaus J. Bolchazy Pedagogy Book Award for

The Psychomachia of Prudentius: Text, Commentary, and Glossary

(Oklahoma University Press, 2019).




As the year winds down and you find yourself thinking about learning materials for next year, do not hesitate to reach out to us. B-C's classicist editors are always ready to chat with their colleagues.



All good wishes as the school year winds down!



All best,





Don



Don Sprague
Executive Editor
editordon@yahoo.com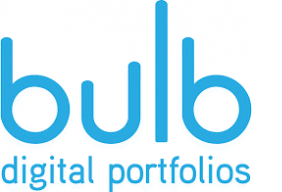 At this point in the academic year, the topic of portfolios naturally arises as teachers are considering how they might summatively assess student work. As we use technology more and more, students turn in work to us in a variety of formats. For example, over the course of a semester, we might collect videos, graphics, presentations, and documents from our students—all as evidence of their learning. Bulb is an online portfolio tool that offers a simple means for students to share their work and reflections with the teacher, their peers, and their family. Once set up with an account, the Bulb user can add content to the portfolio by adding "pages." Each page can contain text, media, or links. The portfolio can be shared with a broad audience via a link. The end of the school year is a great time to encourage students to reflect on their learning, and portfolios are a great tool to this end. You might ask students to pick the three pieces of work that best demonstrate their growth. Using Bulb, the student can insert the original piece of work accompanied by a written explanation of why they chose to include it. Teachers (and other viewers of the portfolio) can leave comments and feedback. Bulb has a simple and clear interface as well as an upgraded account at no charge for teachers. Give it a try at
bulbapp.com
Teaching Tips & Resources

► Classroom Resources
• Video discusses the death of Constantine and its consequences.

• Video overview of Roman sites in Northumberland.

• Take your students on this virtual tour of newly excavated homes in Pompeii.

• Share the splendor that was Roman Lebanon with this virtual tour.


Eighteenth-century photograph provides a general view of Baalbek, Lebanon.
Public Domain. Library of Congress.





• For those teaching from Latin for the New Millennium, Level 2, use this article about the Tudor warship Mary Rose, staffed by an ethnically diverse crew, to accompany the Erasmus chapters.

• Learning about apocope.

• For those of you using Vanderpool's new readers de avibus, check out the NYT on birding.

• An alternative ending to The Giving Tree.

► Res Romanae
• Would you want a lamp like this in your home?

• Rome to offer a gladiator's view of the Coliseum.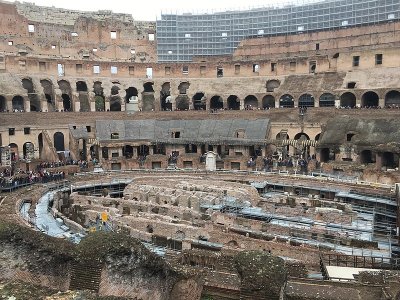 The interior of the Coliseum.
Wikimedia Commons. Creative Commons 4.0.

• British Museum explores Nero with two hundred artifacts in special exhibit.
• Archaeologists in Leicestershire learn it's more than meets the eye.
• Emperor Tiberius, PI.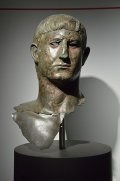 Bust of Tiberius at the Museo Nazionale Romano, Baths of Diocletian, Rome.
Wikimedia Commons. Creative Commons 3.0.

• Newly unveiled Roman villa on the Aventine.
• Large amphitheater revealed in Turkey.
• New open air museum for site of Caesar's assassination.

Panoramic view of the Largo Argentina archaeological site with Republican temples and remains of the Theater of Pompey, site of Caesar's assassination. Wikimedia Commons. Creative Commons 4.0.


• Unique Roman ruins found in Yorkshire.

• Connecting the fall of Rome to modernity.

• Hairstyle identifies newly found bust of Augustus.

• Dig at Herculaneum uncovers one of Pliny's officers?

• Long lost finger reunited to Roman statue.

► Res Hellenicae
• New Acropolis renovations elicit controversy.

• Learn more about poet Constantine Cavafy.

• Lessons from the Odyssey as we reenter the post-covidian world.

• What does Germany's power of example mean for the Parthenon marbles?

► Res Aegypticae


•

A fascinating first—pregnant Egyptian mummy (intentional word play).



•

3,400-year-old Egyptian city proves valuable find.



•

Nile delta yields 110 ancient tombs.

► Res Aliae


•

Ancient ruins provide refuge in war-torn Syria.



•

Thoughts about Howard University's decision to disband classics department.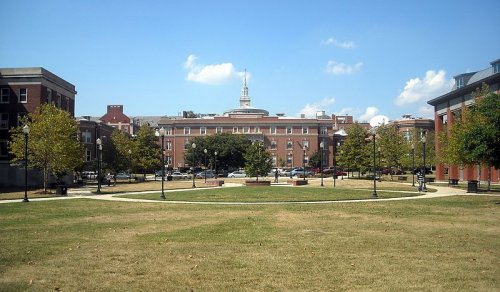 Howard University, Washington, DC. Wikimedia Commons. Creative Commons 3.0.




•

Byzantine mosaic discovered in Israel.



•

News about the origins of the Dead Sea scrolls.



•

Treasure trove of Bronze Age artifacts.



•

Bronze Age settlement discovered in Switzerland.



•

Neanderthals found in Italian cave.

2021 Classical Conferences and Meetings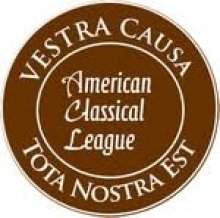 Bolchazy-Carducci Author Presentations





Monday, June 21, 2021
10:00 –11:30 EST "Changing Perspectives: Making a Paradigm Shift in Course Content"panel participant Victoria Pagán, author, A Sallust Reader: Selections from Bellum Catilinae and Bellum Iugurthinum, and Historiae

Wednesday, June 23, 2021
10:00–11:30 EST "In Search of the Beloved Community"panel participant Robert Patrick, introduction to B-C novellas.

11:45–12:45 EST "Classical Reception in Modern Dance: Martha Graham's Medea in "Cave of the Heart" Ronnie Ancona, author, Horace: Selected Odes and Satire 1.9: 2nd Edition Revised and Writing Passion: A Catullus Reader, Second Edition; coauthor, A Horace Workbook and Horace: A LEGAMUS Transitional Reader

Friday, June 25, 2021
10:00 –10:30 EST "Before Led Zepplin: Robert Plant's Headmaster R.L. Chambers and His Latin Textbook, Septimus, A First Latin Reader"Michele Valerie Ronnick, editor and introduction author, William Sanders Scarborough's First Lessons in Greek: A Facsimile of the 1881 First Edition

2:00–3:00 EST "Perfect Latin Textbook II" David Pellegrino, coauthor, Caesar & Vergil AP® Vocabulary Cards; author, Cicero and Horace Vocabulary Frequency Lists for AP® Selections and Catullus Vocabulary Cards for AP® Selections



AP® is a trademark registered and/or owned by the College Board, which was not involved in the production of, and does not endorse, this product.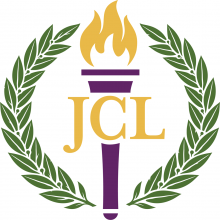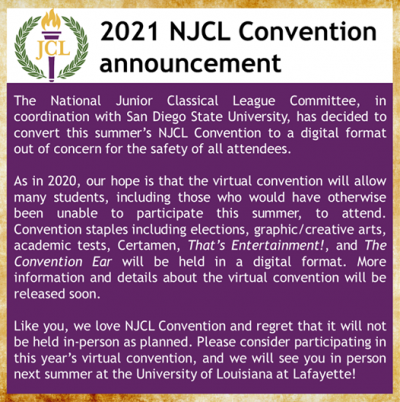 Classical Association of New England Summer Institute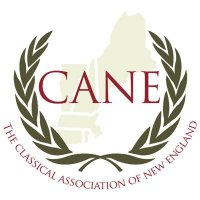 This summer's 3-day mini-courses include:


He Longed for the Desert: Turning Your Back on Rome John Higgins, Smith College
Looking For (and at) Royal Women in the Hellenistic World Patricia Eunji Kim, New York Univ.
Practicing Critical Language Awareness in the Latin Classroom Kelly Dugan, Trinity College
Pindar's Victory Odes: Songs and Contexts Hanne Eisenfeld, Boston College
Tragedy's Empire: Individual Agency in Antiquity and Beyond Aaron Seider, College of the Holy Cross
Problems in Roman Slavery: Texts and Contexts Roberta Stewart, Dartmouth College
Dido, Hannibal, Carthage: 'Necessary' Victims of Rome's Imperial Destiny? Jeri DeBrohun, Brown University
What Happens When A Ruler is Replaced? The Problem of Succession in Antiquity Peter Machinist, Harvard University
Roman Hauntology: Spectres of Sulla in the Roman Civil Wars Mark Wright, Sturgis Charter Public School




Public lectures session 1 (8-9:15 pm, eastern)

will feature a series of three lectures by Diane Arnson Svarlien, most well-known as the translator of Medea.

Public lectures session 2 (8-9:15 pm, eastern): Kathleen Coleman (Harvard University), Dan-el Padilla Peralta (Princeton University), and Aaron Seider (College of the Holy Cross)

The CANE Summer Institute is grateful to the Classical Association of New England, the Department of Classics at Brown University, and the Gladys Krieble Delmas Foundation for their support.

Lumina: Received to Much Acclaim from Students and Instructors


Available to accompany Latin for the New Millennium and Caesar and Vergil Selections and as a standalone, comprehensive Latin course, Artes Latinae!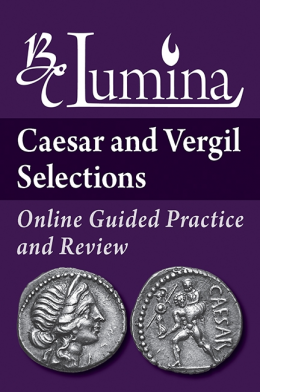 Lumina: Caesar and Vergil Selections
offers online interactive exercises to accompany
Caesar: Selections from his Commentarii de Bello Gallico
and
Vergil's Aeneid: Selected Readings from Books 1, 2, 4, and 6
. Hundreds of automatically-graded multiple choice questions promote close reading of all selections and provide students with immediate feedback. Copious free response questions ensure that students have the tools to thoroughly analyze Latin passages for grammar, style, and historical context. Practice exams, flashcards, and supplementary exercises allow for further review and assessment.
An ideal learning tool, for online or in person classes, that provides exceptional AP Exam prep!

Lumina for Latin for the New Millennium is an easy-to-use online interactive tool featuring a multitude of practice and review materials. With its guided activities and self-grading exercises, Lumina provides students with immediate feedback and frees up class time for translation, aural-oral work, discussion, and other student/teacher interactivity. Lumina is both student- and teacher-friendly!

To learn more, visit the
Lumina
for
Latin for the New Millennium
product page
and watch the overview
video
.
Fully Interactive Online Introductory Latin Course for Today's Student


For those intending to learn or review Latin on their own, at their own pace, Artes Latinae has long provided all the tools necessary to achieve a firm grasp of the language. Now, the self-teaching Latin course is available as a fully interactive online program, Lumina for Artes Latinae. Receive immediate feedback while progressing through the audio- and image- enhanced frames—anytime, anywhere, on an internet-enabled device. This course is a great option for college-level summer study or course scheduling conflicts.


Each level of Lumina for Artes Latinae is equal to a semester of college Latin study. Students who have finished Levels 1 and 2 are ready for reading courses.

eLitterae Subscribers Special Discount

for eLitterae Subscribers
Author:
Laura Gibbs
xxxi + 366
pages, paperback
ISBN 13: 978-0-86516-695-0
$34.00
$20.00
This offer is valid for up to ten (10) copies, prepaid, no returns.
Discount is not available to distributors.
This offer expires 06/17/21.

Enter coupon code eLit0521 on the payment page.
The special offer pricing will be charged at checkout.

(Please note that there will be no adjustments on previous purchases.
Offer is nontransferable and subject to change without notice.)