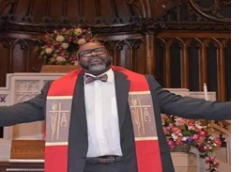 Greetings all!
Pentecost is much more than just wearing red! Early church fathers discerned the seven gifts of the Pentecost. They are: wisdom, understanding, counsel, fortitude, knowledge, piety, and fear of the Lord (I'm amending the last one to read reverence of the Lord).
These are some amazing gifts to anticipate! This week in your prayer and reflection time, take some time to think about what each of these might mean to you personally.
What is the difference between wisdom, understanding and knowledge? What does it mean to give/receive good counsel? In what spheres of your life do you need fortitude? What does piety mean/look like in your life?
The thing I love most about Pentecost isn't reflected in this thinking. The thing I love most is the invitation to humility!
Those that traveled with, prayed with, fed with Jesus were surprised at the outpouring of the Holy Spirit! Even with all that they knew, saw, experienced – God, through the Holy Spirit, was more/bigger/ greater/more expansive than they'd imagined!
I love that! It reminds me to stay open to the moves of Divine Presence, even, perhaps especially, in ways that surprise me. All that we know of God is miniscule to all that God is!
Quoting Rev. Kirk Byron Jones again, "the great presumption of Pentecost is that we can survive living full!" Imagine, pray for/about, what the fullness of the Holy Spirit can mean/do in your life! And then what you can do to change the world!
Perhaps we have been guilty of making our God too small and thereby making our capacity too limited. But this Pentecost can remind us to reach, grow, believe in the expansive, unlimited power of God. And the possibilities that are yet to be realized with the move of the Holy Spirit!
Repeating from last week, "Just as God breathed life into Adam and Eve in Genesis 2, at Pentecost Jesus breathed His Spirit into His disciples, filling them with life anew, which this time will never be taken away. Spirit and flesh were once again brought together, initiating the reuniting of heaven and earth that is to come." (Source: the International Anglican Church)
Deep diving and dreaming, praying, praising and celebrating the immensity of Divine Love and Essence together!
May the grace of God, the teachings of Christ and the fire of the Holy Spirit surround, inform and infuse us as we go!
Blessings,
Rev. Louis
** For your Reference
Congregational Budget Review and Stewardship Kickoff this Sunday, May 23
after Worship
Join us this Sunday, May 23 after worship (11:15 am estimated start time) as we move forward into our Future Story. Our Stewardship Team will also announce the 2021/2022 campaign.
Be a part of this important conversation, your opportunity to discuss and ask questions about what your contributions will be supporting this year!
If you've already registered for Sunday worship, use your regular Zoom link, even if you're just coming to the meeting. If you haven't registered for Sunday worship yet, welcome! After you register here, you will receive your own unique link in a confirmation email.
SIGN UP BY 2:00 PM TODAY
Last Chance to Register for Two-Session Class on the "History of Slavery in the United States"
Led by Joe Aprile
TODAY and Thursday, May 27 at 3:00 pm via Zoom
Taught in two 45-minute sessions, the class is an excellent follow-up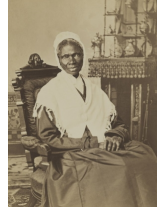 to our reading of Caste and a necessary step in our exploration of white supremacy.

Class Materials Linked Here
May 20 Session
After accessing the link above, click on the Class Documents folder and download "History of Slavery and its Impact in the US" and "Voices Timeline" .

The May 27 class will focus on voices of courage and conviction of individuals dedicated to the truth through action – Sojourner Truth, George Washington Williams and John Lewis. Check out the material in the "Important Voices for Human Equality" folder.

Sign up today by 2:00 pm! Contact Cinda

Pictured above: Sojourner Truth (1797 – 1883), an ex-slave and powerful spokesperson for the abolitionist movement and for women's rights.

Annual Meeting of the Congregation
Sunday, June 27 at 10:00 am
Join us via Zoom for a brief worship service, followed by our Annual Meeting, when we will discuss and pass the 2021/2022 budget and elect the next slate of Council Officers and Ministry Team representatives.

Council Moderator Emily H would like you to know that the Alki United Church of Christ Bylaws are available in advance.

The Bylaws include the Purpose Statement and the Vision Statement accepted last Fall, as well as the addition of the word "virtual" as one of the venues for congregational meetings. Please contact the church office if you would like to have the document sent to you.

Neighborhood Appreciation
for Alki UCC Food Donations Drives
This past Sunday didn't have a lot of drop offs for our donations drive, but the few people that stopped by spoke of how appreciative they are that we're open and available for them to easily donate and help their neighbors in need.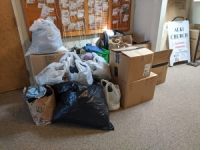 All of these conversations happened in the front of the church, with flags representing gay pride, BLM, trans pride, and greetings-to-our-Muslim-siblings flying proudly overhead.

One young man stood out front, just staring at our flags. I came out to greet him, and he said he was visiting from California, and had never seen ANY church fly so many flags. He was amazed.

I said: "This is who we are. We follow Jesus's teachings."

We are being seen.

Take heart fellow disciples, we are building a foundation in our community for our Future Story to take flight.

Blessings, Cinda
(she/her)

Faith Action Network (FAN) Online Spring Summits May 23 and June 6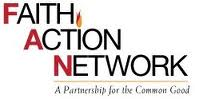 Alki United Church of Christ is a member of the Faith Action Network (FAN), a powerhouse advocacy group of diverse faith communities working to promote justice across our state.
FAN is hosting two virtual Spring Summits on Sundays, May 23 and June 6. I am attending on May 23 from 2:00 to 4:00 pm, when I will suggest the following list of concerns for legislative advocacy:
• Elimination of Cash Bail
• Implementing curriculum of the true history of the US in our public schools (along the lines of the 1619 Project and Critical Race Theory), to be taught at all grade levels
• At the local level, to change how Seattle public schools are funded by local neighborhood tax dollars (this creates systemic racism). Instead, city tax dollars should be equally distributed across all schools in all neighborhoods.
What is weighing heavy on your mind? Let's take action. Join me on May 23 or sign up for June 6 from 2:00 to 4:00 pm and have your thoughts heard! Register here.
— Cinda
Continuing Prayers of Peace and Healing
for all those affected by the recent violence in Palestine and Israel.
Prayers for Healing and Support for
the people of India as they face unfathomable trauma and loss during the current Covid crisis.
Special Prayers for the family,
friends and communities of Ronald Greene, Andrew Brown Jr, Adam Toledo, Ma'hia Bryant, Andrew Brown Jr, Daunte Wright,
Walter Wallace,
Jonathan Price, Jacob Blake, Rayshard Brooks, Manuel Elllis, George Floyd, Elijah McClain, Dreasjon (Sean) Reed, Breonna Taylor, Ahmaud Arbery and the heart-breaking list of African-Americans and other people of color murdered or wounded by police or self-declared vigilantes in our nation over many decades. We mourn with you and we stand for justice and healing.
Special Prayers for all those on the front lines of working to protect us, keep us healthy, sane, grounded, informed, fed and comfortable during the current COVID 19 outbreak: our faith leaders, front-line health care workers, EMTs, police, firefighters, educators, transit bus and rail drivers, farmers, therapists, social workers, shelter operators, engineers, grocery/drug store personnel, caregivers, childcare specialists, pharmacists, custodians, organizations caring for the most vulnerable, sanitation workers, dispatchers and others keeping our supply chains operational, truth-telling journalists and all the many public servants who are so vital to our community.
For those grieving the recent death of a loved one:
Friends and family of Bev C; Charlie H and family; Candace G and family; Ed B and family; Jeff D's cousin Jerry Elder and his wife Tami Elder; Todd S and family; Patty M, family and friends of Bob J, family and friends of Jim C, Kirstin and family; Larry G
Recent hospitalization, illness and other concerns:
Larry G, Dan K, Cinda's sister-in-law, Sue B's friends Mary and Louise, Cindy, Julia P, Jeff and Kirstin's sister-in-law Sue, Sandy and Jim's friend Al, his mom, Sue and friend Kay; Penny M; Kirstin D; Shannon P's father, Rev. Dr. Bill; Verona's younger brother Eric; Julia C's long-time friend Megan; Bonita C; Claire F; Dayle B; Imy P; Kirstin D's father; Don P

For homebound members/friends of Alki UCC: Doris C
Wider World: Prayers for all those affected by the corona virus outbreak; all those suffering from PTSD in the military and around the world; for all those affected by the increasingly cruel and inhumane US immigration policies imposed by the current administration; prayers for fewer guns, for all victims and those affected by gun violence; victims and survivors of extremist violence around the world; migrants seeking refuge around the world, and for those who are trying to help them. The rest of the missing schoolgirls kidnapped by Boko Haram, who remain in our hearts as long as they remain missing. The hungry and homeless, the ill and the addicted, the lost and the lonely; the unemployed.
For secure, online giving through Give Lively, click the blue button.




You can also send your check, made out to "Alki UCC," to: Alki UCC Church Office
6115 SW Hinds
Seattle, WA 98116

Worship this Sunday

May 23

at 10:00 am

Pentecost Sunday


Rev. Louis J. Mitchell


preaching live

in an interactive service




Sermon:
"A Pentecost Story —
I Can't Breathe!"
Scripture Readings:
Ezekiel 37:1-10 and
Acts 2:1-21
The Message
Contemporary Voice:
"Christians have no business thinking that the good life consists mainly in not doing bad things. We have no business thinking that to do evil in this world you have to be a Bengal tiger, when, in fact, it is enough to be a tame tabby – a nice person but not a good one. In short, Pentecost makes it clear that nothing is so fatal to Christianity as indifference."
— William Sloane Coffin
Liturgist:


Julia P


Moment of Ministry:
Worship and Music



Sunday's Order of Worship, including the scripture, is linked here.



100 Years of Slavery in the United States
Today and Next Thursday, May 27 at 3:00 pm
Contact: Cinda S

Worship and Music Team Meeting
Sunday, June 6 after worship
Contact: Joe M

Annual Meeting of the Congregation
Sunday, June 27
at 10:00 am

Join the Reopening Conversation!

Take the Survey Today!!



We very much look forward to worshiping together again in our sanctuary. It will require a lot of planning, and we could use your help.

Thanks to all who have already participated!

Please take this brief survey linked here.



Deadline:


Tomorrow at Noon Friday, May 21



Note: If there are two or more folks in one household taking the survey, you will have to use two or more different devices so Survey Monkey can recognize you as different people.

Call for Church Council Nominations
The Nominating Committee is searching for a "few good folks" willing to serve Alki UCC during the 2021-2022 term. Church Council elections are scheduled for June 27 and so far the Ballot looks like this:



Moderator: Joe M


Vice Moderator:




Shannon P


Treasurer: Gary G


Worship/Logistics:




Kirstin D





Worship/Music: _____________





At Large: _____________



Nominating Committee: Jeff Duckett


___________



Please contact Emily H or Julia P to nominate yourself or someone else.. Thank you.

Photo Friday
Call for Pix
Send in your pictures for our weekly showcase of images that speak to your heart, tickle your fancy, inspire, amuse, instruct or just because.

Email pictures to the church office (only one or two per email, please). .
Win a free ticket to a special event.
Turns out that our own Joe Aprile's daughter, Lia, is a playwright and has co-written/co-produced a new show called The Black Horse Tavern, described as a love song to our local watering holes.

Inspired by the very real struggle of bars and restaurants across the nation, this is a play about a pandemic, our places, and why they matter. Learn more here. The show will be performed next week via Zoom.
Be the first to contact Dan K and win a ticket.
And even if you aren't the winner, get a ticket anyway to see an engaging show and contribute to restaurant relief! — Dan
Zoom Registration Link for Sunday Worship

You only need to register once for Sunday worship.
You will receive a confirmation email with your own un ique link to join Sunday worship.
Sunday Worship Videos Posted on YouTube
Check for church news and calendar updates at www.alkiucc.org.