B-C's Special Distance Learning Page with Complimentary Materials

In response to school closures due to COVID-19, Bolchazy-Carducci Publishers is making a variety of materials available to the classics community in order to ease the transition to distance learning. Please see our new Distance Learning page to freely access downloadable packets of fair use excerpts from our books as well as some fun mythology-related activities.
Canadian classicists discovers Ovid book owned by Shakespeare himself.
---
Porchlight Music Theatre Chicago presents classic musicals with WMPT: A Weekly Series of Complimentary Radio Plays. Check out these with classical roots.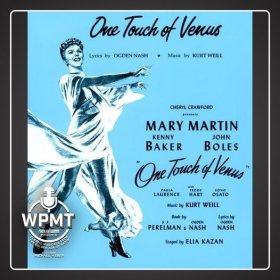 ---
Rick LaFleur weighs in on the cyclical nature of cicadas.
---
While hurricanes are no longer identified by Greek alphabet names, scientists are naming COVID-19 variants with the names of Greek letters.
---
Ten items in your pantry that Hippocrates used medicinally.
---
Why are they the Michigan State Spartans?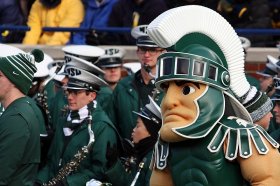 Michigan State Spartan mascot at 2019 game versus Michigan Wolverines. Wikimedia Commons: Creative Commons 2.0.
---
---
Blast from the past! Heineken commercial inspired by I, Claudius features Nero.
---
Harvard classicist Richard Thomas celebrates Bob Dylan at 80.
---
Tasting History recreates KYKEON—the drink of Greek heroes.
Teachers & Students Love B-C Novella Series

Designed to engage and delight novice and intermediate learners, these Latin readers use limited, high-frequency vocabulary and copious images to support comprehension. The debut titles in the Explore Latin and Encounter Latin series focus on the world of Roman augury—entirely in Latin!
The nonfiction text Explore Latin: Avēs offers an immersive introduction to the significance of birds in Roman culture and religion. This "pre-reader" pairs perfectly with the Encounter Latin novella, Augury Is for the Birds, which delves deeper into the ins and outs of augury and its role in ancient Rome.
Great gifts for the young Latin learner in your life!

Marvelous reading resources for your Latin 1 classroom!

Editor's Note: CANE Wiencke Teaching Award Winner Matthew Katsenes has developed a directrix legendi for Augury Is for the Birds: Marcus de Avibus Discit.
Bolchazy-Carducci Publishers is pleased to provide complimentary webinars on a variety of subjects, especially pedagogical, of interest to classicists. Some webinars are geared to the Latin for the New Millennium program and to topics generated by the AP* Latin curriculum.
Read eLitterae or follow us on Facebook and Twitter for the announcement of our winter/spring
series of free webinars.
Please note:
The Bolchazy-Carducci Publishers Webinar Program is intended to be a live interactive endeavor in which presenter and attendees ask questions, make comments, seek clarification, share examples, etc. Thus, by design and in order to protect the presenter's intellectual property, B-C does not make recordings available to non-attendees. B-C encourages those interested in a given topic or presenter to plan to attend the live webinar.
If you have suggestions for webinars, please contact Don Sprague.
---
What Equipment Do I Need for B-C Webinars?
To participate in Bolchazy-Carducci Publishers sponsored webinars you will need high-speed internet access, computer speakers/headphones, current web browser, and the link to the webinar virtual meeting space, which is provided in your webinar invitation.
Webinars Make for User-Friendly Professional Development
Participation is free. All webinars provide opportunity for participants to ask questions. Learn lots—attend as many presentations as you can. Bolchazy-Carducci Publishers provides documentation for your participation. You can share this with your supervisors. Many webinar presenters provide handouts, etc.
Bolchazy-Carducci Publishers provides eTextbooks on a variety of eBook platforms. Bolchazy-Carducci textbooks are available through VitalSource,

GooglePlay

,

Chegg

, RedShelf, Adams Book, Follett,

MBSDirect Digital

, and ESCO. Each eBook platform offers a variety of tools to enhance the learning process. eBooks have the same content as our traditional books in print.
You can read eBooks on a Mac, PC, iPhone, iPad, Android, or a variety of eReaders. Review the eBook providers specifications.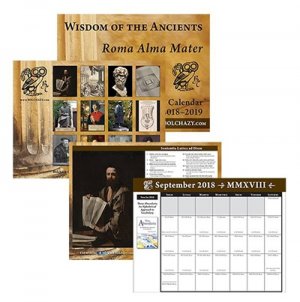 The 2020–2021 Roman Calendar has been mailed. If you did not put yourself on the mailing list or would like to download a printable PDF, we have the full file posted on our website!
If you've not previously put your name on our Roman Calendar mailing list, send us a request with your address to info@bolchazy.com. Please do so by August 1, 2021.
With June, we have just a few months left in the 2020–2021 Roman calendar, and just several stops until Aeneas finally makes it to Latium. A reminder: this year's Roman Calendar follows the travels of Aeneas. We'll be posting JPEG images of each month of the calendar—feel free to use these calendar resources in your LMS or online classroom!
June represents Aeneas's return to Sicily after his extensive layover in Carthage. Despite leaving the Punic kingdom, he hasn't quite left the sphere of Carthaginian cultural influence, as indicated by June's archaeological object from Marsala. This funerary aedicula dating to the Roman imperial age shows both Greek and Punic influence: the central painting depicts a Greek-style banqueting/symposium scene. The symbol of the Punic goddess Tanit (who was pictured in her lion-headed form as May's calendar image) decorates the sides of the small shrine.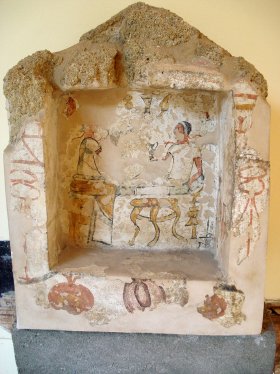 Watch Facebook for monthly postings.
Preview Bolchazy-Carducci Titles

Preview Bolchazy-Carducci titles before you purchase using Google Preview.
---

Downloadable Products
iPodius - Bolchazy-Carducci Publishers online shop for: audio, software, video, and a treasure trove of teacher-created materials in the Agora.
---
B-C Facebook Fan Page
Become a FAN of Bolchazy-Carducci Publishers, visit our Facebook Fan page for the latest news from B-C.
---
B-C Blog
Visit the BCPublishers Blog for B-C news and information.
The most recent addition to the blog includes tips on incorporating 3-D printing projects, including Latin inscription cookies, into the Latin classroom.
---
BCPublishers on Twitter
Follow us on Twitter
---
AP® is a trademark registered and/or owned by the College Board, which was not involved in the production of, and does not endorse, this site.
These products have been developed independently from and are not endorsed by the International Baccalaureate (IB).
Finally, June has arrived and with it a thoroughly deserved summer break for our colleagues laboring so assiduously in the classroom over the past year of pandemic circumstances. Please know that we appreciate all your extra efforts to provide your students, as is your custom, the best teaching possible.


My editor colleague Amelia Wallace and I look forward to joining you for the American Classical League's

Annual Institute

later this month. We'll be available during virtual office hours. For specifics, check out the Bolchazy-Carducci Publishers exhibit in the virtual exhibit hall.




We are happy to announce that the second novella,

Under His Father's Wing, Marcus de Auguribus Discit

, in the four-volume series devoted to

aves

and augury by Emma Vanderpool, is scheduled to arrive from the printers just in time for the ACL Institute! In this issue, we reprise an interview with Vanderpool that first appeared on the B-C blog.




Our next issue of eLitterae will hit your inbox in August. It will include an interview with Butler University Classics Professor Christopher Bungard, who is currently developing a set of four novellas for our Encounter Latin series. Bungard's novellas will gently introduce new Latin readers to the world of Roman comedy and theater. Exciting!





My talented colleague, Amelia Wallace, has revised and updated "The Latin Advantage," a document near and dear to our beloved founder, the late Lou Bolchazy. Lou especially loved Latin and promoted its study and the study of the classics. His belief in their value found its roots in his life experience living in Slovakia under Nazi and then Soviet occupation. Thus, B-C's motto, "A better future by bringing forward the lessons of the past." That concept remains as important as ever. For Latin's practical benefits, feel free to share "

The Latin Advantage Redux

."




Wishing you the most relaxing, rejuvenating, and restful summer ever!



All best,





Don



Don Sprague
Executive Editor
editordon@yahoo.com



PS: Don't forget to renew your subscription(s) to Lumina for Latin for the New Millennium and/or Caesar and Vergil Selections. For more information, see post later in this issue. New subscriptions begin July 15, 2021.

Teaching Tip: An Interview with B-C Novella Author Emma Vanderpool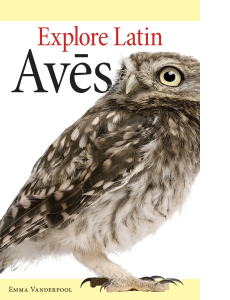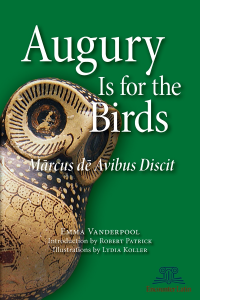 The debut titles in Bolchazy-Carducci's Latin-language easy reader series are available both at our
website
and via
Amazon
! Both books provide an immersive introduction to the multifaceted world of augury and birds in ancient Rome.
Explore Latin: Avēs
uses fewer than one-hundred unique Latin words to provide basics information about birds in a Roman context, with copious color images reinforcing the text.
Augury Is for the Birds
explains elements of augury through a relatable coming-of-age story in 144 unique words. There are three forthcoming follow-up novellas that will build on the vocabulary, themes, and concepts established in
Explore Latin: Avēs
and
Augury Is for the Birds
.
Emma Vanderpool, award-winning Latin teacher and the author of several self-published Latin novellas, carefully crafted these two books to appeal to students and to be readily comprehensible to beginning Latin learners. Editor Amelia Wallace was pleased to speak to her about her inspirations, writing process, and larger goals. This interview has been edited for length and clarity.


AW: How did you choose the topic of augury for your novella series? What themes and key cultural ideas were you hoping to address?


EV: I was inspired by my first novella, Sacri Pulli: A Tale of War and Chickens, which focused on an instance of augury. I wanted to continue an exploration of this influential practice and its role in history, politics, and military endeavors. Its intersection with so many different areas seemed to make a great place to focus upon.


AW: One of the main goals of these readers is to draw in novice Latin learners with compelling and comprehensible material—a challenge since students may be using different textbooks or learning in very different settings. What strategies did you use to ensure that the language in your books met these two requirements?

EV: To make sure these novellas are comprehensible, I carefully structured the vocabulary so that I consistently utilized a core vocabulary from book to book while gradually introducing new words. To make sure these novellas were compelling, I added some levity and comedy in the dialogue while still maintaining a focus on the rather complex topic of duty. I hope the combination of these two things will draw different types of students in and keep them reading.

I focused on high frequency vocabulary, drawing on
Dickinson College Commentary's Core Vocabulary
, but also did not shy away from incorporating short phrases or vocab words from Cicero's extant texts that touched on augury. In doing so, I hoped to allow students to read the text, while still learning subject-related vocabulary.
AW: What sources did you draw on when writing these books? Did any of the material you learned while researching surprise you?


EV: I was able to draw upon my favorite author, Cicero, when researching these books, including his De Divinatione, De Natura Deorum, and De Legibus, to inform my understanding of augury. It was most surprising to realize how fluid the Romans' understanding of sinistra and dextra was when deciding if a sign was secundum or adversum.


AW: What process do you use when you first begin writing a novella? Does it change depending on subject matter or intended audience?


EV: I always set out with an audience in mind. The clearer the audience I have, the easier it is for me to craft my story in terms of plot structure and to select vocabulary. Once I have an audience in mind, I make some "first draft picks" for vocabulary, words that I will need (or really want) to use. From there, I do my round of writing and crafting of the story before allowing any "second draft picks" for vocabulary to make their way into the text as I begin editing.


AW: In Augury Is for the Birds, we meet the character of Marcus, a Roman boy who is studying augury at the behest of his father. While this book takes place in an ancient setting, I couldn't help but notice how relatable the central conflict of the story is for modern students. Marcus is at an age where he is exploring who he wants to be while also contending with his parents' expectations. Did your own work with students around Marcus's age inform this story? Any other key inspirations for the emotional core of the work?

EV: I definitely had a certain set of beloved middle schoolers in mind when I was writing this book and imagining the kind of wise mischief Marcus was getting up to as he tries to get his way. This audience shaped both Marcus's perspective but also the kind of humor in the book.


While many existing Roman narratives have been dominated by a "good" son who knows his duty, I thought it important to imagine that for every son aware of his duty, there was also one who was still growing into that space. For every soldier willing to die for his country, there must have been another who was haunted by the horrors of war. While extant Latin texts have certainly shaped our views of the ancient world, those are only the ones we have left and not necessarily the only perspectives available.


AW: What are some of the features of Explore Latin: Avēs and Augury Is for the Birds? How will they enhance the reading experience for language learners (or the teaching experience for those using these works as a classroom text)?


EV: I think that the glossary is fairly innovative in the fact that it utilizes not only the traditional dictionary entry but also the different parsed forms, as students do not always recognize these forms as connected. I think this inclusion will make the book more accessible to students learning from different teaching styles [editor's note: look for an upcoming blog post that further describes these features].


I'm also excited about the grammatica section [in Augury Is for the Birds], which provides a written example of a "grammar pitstop." These short explanations will help students to understand the grammar on a need-to-know basis in terms of their reading.

AW: Where will this storyline go in the future? What additional themes do you hope to explore?


EV: The next volume goes deeper into Marcus and his father's story and their dueling views of the nature of war by looking at instances of augury within both a Homeric and ancient Roman history context. It explores further the possible tension between duty to family and duty to country. Although it may be focusing on the familiar topic of war and men, I hope to expand on existing narratives by adding layers of complexity to their characters and views.


Emma Vanderpool has been teaching Latin since 2017—two years at the University of Massachusetts at Amherst, a year at Trickum Middle School in Gwinnett County, Georgia, and now back in her beloved New England at Springfield Honors Academy, Springfield, MA. Vanderpool earned her Bachelor of Arts in Latin, Classics, and History from Monmouth College in Illinois and her Master of Arts in Teaching for Classical Humanities from the University of Massachusetts Amherst. Among her awards, Vanderpool is the recipient of the Distinguished Teaching Award from UMASS Amherst (2019) and was honored as the Lincoln Laureate for Monmouth College (2017). She serves on the Executive Board for Ascanius: The Youth Classics Institute and the Classical Association of New England and is an organizer for Lupercal. She has self-published nine novellae and is pleased to be an author for Bolchazy-Carducci Publishers.

Lumina Renewal for 2021–2022

Links for the current 2020–2021 school year
expire July 15, 2021!



Schools using Lumina content via LTI links


Lumina online content subscription for Latin for the New Millennium or Caesar and Vergil Selections expires on July 15, 2021.

To renew your subscription for the 2021–2022 school year (July 15, 2021–July 15, 2022) please contact B-C before July 15, 2021.

Renewal before July 15 prevents any interruption of LMS using the Lumina: LNM LTI links you are currently using in your Latin courses. Otherwise, your current LMS domain registration will expire on July 15, 2021 and the LNM LTI links you have placed in your Latin courses will not function.

Please contact Bolchazy-Carducci at lumina@bolchazy.com before July 15 to renew your Lumina content subscription.


Schools using Lumina content via B-C Moodle


Lumina online content subscription for Latin for the New Millennium or Caesar and Vergil Selections expires on July 15, 2021.

To renew your subscription for the 2021–2022 school year (July 15, 2021–July 15, 2022) please contact B-C before July 15, 2021.

We will continue to provide each school with their own Lumina LNM Level 1, Level 2, or Caesar and Vergil Selections course in the B-C Moodle. Otherwise, your current school group(s) will be deleted from the Bolchazy-Carducci Moodle. Your students will not have access to the Lumina content after July 15, 2021. Please export your student's grades by July 15, 2021. All expired user information will be removed from the B-C Moodle.

Please contact Bolchazy-Carducci at lumina@bolchazy.com before July 15 to renew your Lumina content subscription.

Lumina: Received to Much Acclaim from Students and Instructors


Available to accompany Latin for the New Millennium and Caesar and Vergil Selections and as a standalone, comprehensive Latin course, Artes Latinae!

Lumina: Caesar and Vergil Selections
offers online interactive exercises to accompany
Caesar: Selections from his Commentarii de Bello Gallico
and
Vergil's Aeneid: Selected Readings from Books 1, 2, 4, and 6
. Hundreds of automatically-graded multiple choice questions promote close reading of all selections and provide students with immediate feedback. Copious free response questions ensure that students have the tools to thoroughly analyze Latin passages for grammar, style, and historical context. Practice exams, flashcards, and supplementary exercises allow for further review and assessment.
An ideal learning tool, for online or in person classes, that provides exceptional AP Exam prep!

Lumina for Latin for the New Millennium is an easy-to-use online interactive tool featuring a multitude of practice and review materials. With its guided activities and self-grading exercises, Lumina provides students with immediate feedback and frees up class time for translation, aural-oral work, discussion, and other student/teacher interactivity. Lumina is both student- and teacher-friendly!

To learn more, visit the
Lumina
for
Latin for the New Millennium
product page
and watch the overview
video
.
Fully Interactive Online Introductory Latin Course for Today's Student


For those intending to learn or review Latin on their own, at their own pace, Artes Latinae has long provided all the tools necessary to achieve a firm grasp of the language. Now, the self-teaching Latin course is available as a fully interactive online program, Lumina for Artes Latinae. Receive immediate feedback while progressing through the audio- and image- enhanced frames—anytime, anywhere, on an internet-enabled device. This course is a great option for college-level summer study or course scheduling conflicts.


Each level of Lumina for Artes Latinae is equal to a semester of college Latin study. Students who have finished Levels 1 and 2 are ready for reading courses.

Teaching Tips & Resources

► Social Justice
• Celebrating Pride month!

• Vergilian Society's Symposium Cumanum 2021, "Identity in Vergil: Ancient Representations, Global Receptions."

• Reflections of an Asian-American female classicist.

►

Professional Development Opportunities


• British Museum presents lecture on Agrippina.

• Symposium: Disease, Community and Communication from Antiquity to Today (scheduled for 19 June 2021)

• 2021 Michael Ventris Memorial Lecture | Tales from Nestor's Crypt: Pylos 2015–2020

► Res Romanae
• Tiberius's fabulous seaside villa in Sperlonga.

• Galen mourns library destruction wrought by fire in Rome.

• Stolen Roman frescoes returned to Pompeii.

• Locating the site of the battle of Metaurus between Carthage and Rome.

• Virtual visit to sites in Roman Londinium designed for the classroom.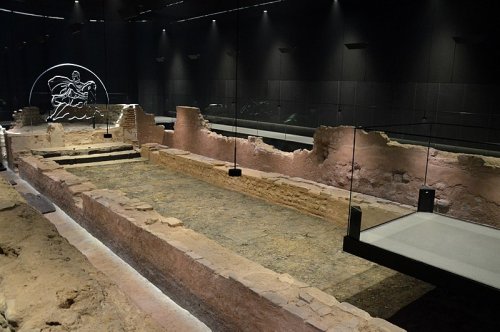 Mithraeum, Bloomberg's European headquarters, London.
Wikimedia Commons: Creative Commons 2.0.



• Marcus Aurelius's Meditations—a motivator for the morning!

• Check out British Museum curator's blog on the Nero exhibit.

• Nero at the British Museum redux.

• Delightful video about Pompeii and Vesuvius.

• Roman bath complex emerges from the sands of Spain.

• Roman basilica, possibly constructed by Herod the Great, discovered.

• Decapitation in Rome . . .

• Largo Argentina—the cat's meow!


Cats at Largo di Torre Argentina, Rome.

Wikimedia Commons: Creative Commons 2.0.


• Determining the identify of Catullus's Lesbia.

• A recording of Rick LaFleur reading the proem to Vergil's Aeneid.

• More on the Torlonia marbles.

• Art historians showcase seven Roman sculptures worth knowing.

• Queens of Infamy: Boudicca

• The truth about Empress Livia Drusilla.

• Big ears and hairstyle key to identifying newly discovered Roman bust as Augustus.



► Res Hellenicae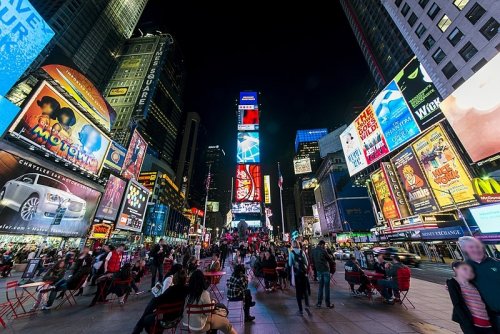 "Time Square Night Anonymized." Wikimedia Commons.
Photo by Paulinabial. Shared via Creative Commons 4.0.



• The golden ratio and hit musicals.

• The Greek tradition of work in marble lives on.

• A modern abduction of Persephone.

• The Golden Fleece and the tower homes of Georgia.

• The ongoing search for Atlantis.

• Athens opens a magnificent new Olympic Museum.

• Did the ancient Greek armies employ mercenaries?

• The Curious Case of the Cursed Chicken: A New Binding Ritual from the Athenian Agora

• X-rated language restored to Greek lexicon.

• The Getty explores Greek mythology and ancient daily life in tv and film.

• The erosion of dialects in today's Greece.

► Res Aegypticae
• This enticing itinerary gives a terrific overview of the Kingdom of Kush and Sudan of today.

• The wondrous tradition of Egypt's egg ovens.

► Res Aliae
• Neanderthal remains discovered in cave in Italy.

• Insights on Khalkedon, or Chalcedon, the 2,500-year-old "Land of the Blind."

• Revisiting the Seven Wonders of the Ancient World.

• The archaeology of eating kosher.

• German researchers find 3,800-year-old gold ornament in tomb.



•

Albania's UNESCO World Heritage sites include ones from the classical era.

• Humans have fed animals for millennia.

2021 Classical Conferences and Meetings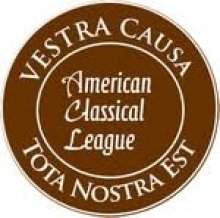 Bolchazy-Carducci Author Presentations





Monday, June 21, 2021
10:00 –11:30 EST "Changing Perspectives: Making a Paradigm Shift in Course Content"panel participant Victoria Pagán, author, A Sallust Reader: Selections from Bellum Catilinae and Bellum Iugurthinum, and Historiae

Wednesday, June 23, 2021
10:00–11:30 EST "In Search of the Beloved Community"panel participant Robert Patrick, introduction to B-C novellas.

11:45–12:45 EST "Classical Reception in Modern Dance: Martha Graham's Medea in "Cave of the Heart" Ronnie Ancona, author, Horace: Selected Odes and Satire 1.9: 2nd Edition Revised and Writing Passion: A Catullus Reader, Second Edition; coauthor, A Horace Workbook and Horace: A LEGAMUS Transitional Reader

Friday, June 25, 2021
10:00 –10:30 EST "Before Led Zepplin: Robert Plant's Headmaster R.L. Chambers and His Latin Textbook, Septimus, A First Latin Reader"Michele Valerie Ronnick, editor and introduction author, William Sanders Scarborough's First Lessons in Greek: A Facsimile of the 1881 First Edition

2:00–3:00 EST "Perfect Latin Textbook II" David Pellegrino, coauthor, Caesar & Vergil AP® Vocabulary Cards; author, Cicero and Horace Vocabulary Frequency Lists for AP® Selections and Catullus Vocabulary Cards for AP® Selections



AP® is a trademark registered and/or owned by the College Board, which was not involved in the production of, and does not endorse, this product.
---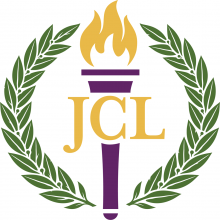 ---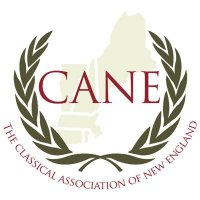 This summer's 3-day mini-courses include:
He Longed for the Desert: Turning Your Back on Rome John Higgins, Smith College
Looking For (and at) Royal Women in the Hellenistic World Patricia Eunji Kim, New York Univ.
Practicing Critical Language Awareness in the Latin Classroom Kelly Dugan, Trinity College
Pindar's Victory Odes: Songs and Contexts Hanne Eisenfeld, Boston College
Tragedy's Empire: Individual Agency in Antiquity and Beyond Aaron Seider, College of the Holy Cross
Problems in Roman Slavery: Texts and Contexts Roberta Stewart, Dartmouth College
Dido, Hannibal, Carthage: 'Necessary' Victims of Rome's Imperial Destiny? Jeri DeBrohun, Brown University
What Happens When A Ruler is Replaced? The Problem of Succession in Antiquity Peter Machinist, Harvard University
Roman Hauntology: Spectres of Sulla in the Roman Civil Wars Mark Wright, Sturgis Charter Public School

Public lectures session 1 (8-9:15 pm, eastern) will feature a series of three lectures by Diane Arnson Svarlien, most well-known as the translator of Medea.

Public lectures session 2 (8-9:15 pm, eastern): Kathleen Coleman (Harvard University), Dan-el Padilla Peralta (Princeton University), and Aaron Seider (College of the Holy Cross)

The CANE Summer Institute is grateful to the Classical Association of New England, the Department of Classics at Brown University, and the Gladys Krieble Delmas Foundation for their support.

eLitterae Subscribers Special Discount

for eLitterae Subscribers
about Julius Caesar
249 pages, ISBN 13: 978-0-86516-533-5 $12.00 $6.00
about Catullus
224 pages, ISBN 13: 978-0-86516-534-2 $12.00 $6.00
about Cicero
304 pages, ISBN 13: 978-0-86516-535-9 $12.00 $6.00
about Ovid
316 pages, ISBN 13: 978-0-86516-712-4

$12.00
$6.00
This offer is valid for up to ten (10) copies, prepaid, no returns.
Discount is not available to distributors.
This offer expires 08/15/21.

Enter coupon code eLit0621 on the payment page.
The special offer pricing will be charged at checkout.

(Please note that there will be no adjustments on previous purchases.
Offer is nontransferable and subject to change without notice.)