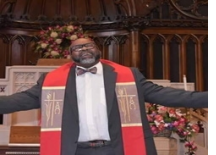 Greetings beloved ones!
"Sethe," he says, "me and you, we got more yesterday than anybody. We need some kind of tomorrow."
He leans over and takes her hand. With the other he touches her face. "You your best thing, Sethe You are." His fingers holding hers. "Me? Me?"
— Toni Morrison, Beloved
You, yes you! You are your best thing!
I'm filled with joy at the sights, sounds and presence of you!
I submit that God is also filled with joy and love at the "all" of you!
We are chock full of yesterdays and we are in this moment working towards our tomorrows.
I'm prayerful and optimistically realistic! As Joe asks you to list and share your gifts, I wait with anticipation for your responses.
I haven't had the pleasure of meeting all of you yet, but the things you know, the gifts you bring are plentiful and beautiful. I suspect that y'all are far more gifted than your humility will allow you to admit, but take this opportunity to celebrate yourselves! To God be the glory!
Often when I'm working, I listen to music. I have a favorite playlist called "Sublime Sweetness." One of the songs, Spyro Gyra's Morning Dance, spoke to me this morning. It sounds like how I feel when I'm with you. I invite you to enjoy it with me!
You, like this song, can move me to tears of joy! You, like this song, inspire me to praise and dance! You, like this song transport me to a place of sweetness! Thank you for being YOU!
It is my hope that sometime(s) this week, you find a place, a song, a piece of art, a meal that fills you with a joy that blocks out everything else for a moment. The enjoyment of that thing, the honoring of it, the thankfulness for it, is prayer!
May the grace of God, the teachings of Christ and the fire of the Holy Spirit surround, inform and infuse us as we go!
Blessings,
Rev. Louis
September 22 Council Meeting:
Discussions and Decisions
We reviewed the Pastoral Search Committee's church profile. The team did excellent work! Council approved the content and will do a final proofread by Monday, September 27.
We made a unanimous decision to delay, once again, our return to in-person services. Although we'd all love to get back together in the sanctuary, the dynamics of the pandemic are still too uncertain right now. We will update in a few weeks about both a return date and current safety protocols.
Our Outreach/Social Justice Team will continue discussions with KHN about ways we could be able to help them support Afghan refugees.
— Charlie H, Clerk
UCC Neighbors in Need Special Offering
Sunday, October 3

Neighbors in Need (NIN), a UCC special mission offering, supports ministries of justice and compassion throughout the United States.

This year's NIN "Unfailing Love" offering is focused on supporting organizations and projects that serve homeless and immigrant neighbors or communities. One-third of NIN funds support the Council for American Indian Ministry (CAIM). Two-thirds of this offering is used by the UCC's Justice and Witness Ministries (JWM) to provide funding grants to UCC churches and organizations leading justice initiatives, advocacy efforts, and direct service projects in their communities.

The NIN Offering will be taken during worship on Sunday, October 3, but you can contribute any time here.

A Reminder of Plastics and Their Pollution
A recent study found that just four types of plastic make up nearly half of all trash in the ocean.
Plastic wrappers, bags, cutlery and bottles collectively they account for 44% of all trash in the ocean. Not all plastic trash — all trash, period (David Vetter, "These Four Plastic Items Make Up Almost Half Of All Ocean Trash," Forbes, June 18, 2021).
Our oceans are drowning in a plastic pollution crisis that threatens hundreds of marine species. And plastics production fuels the global climate crisis since plastic is made from petroleum.
PLEASE STOP using these kinds of plastics. THINK before you buy products or purchase take out food. Patronize restaurants that use compostable materials; if they do use plastic, request that the plastic utensils are not included in your order. If you do use plastic, make to dispose it securely in your trash.
One thing is clear: The only way to keep plastic out of the ocean is to make less of it. When we use less, demand goes down. Then less is made by the producers, so less petroleum is used. Every bit counts!
Every one of us has the power to affect demand and thus protect God's Great Creation.
— Cinda (she/her)
Faith Formation Team Field Trip October 29
Kinsey African American Art & History Collection
Tacoma Art Museum
Friday, October 29, noon to 1:00 pm
$12.00 per person/group rate discount
Carpool leaves from the church at 10:00 am;
$2.00 per hour parking fee
Exhibit preview here.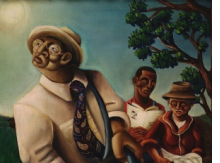 Join us for a group tour of the heralded Kinsey African American Art & History Collection,
a celebration of the achievements and contributions of Black Americans from 1595 to present times.

Considered one of the most comprehensive surveys of African American history and culture outside the Smithsonian Institution, the exhibition features masterful paintings and sculpture, photographs, rare books, letters, manuscripts and more that offer new perspectives on the nation's history and culture.

We need a final count by October 22 so check your calendars and contact Julia P for details.

If you prefer to go on your own, check out exhibit details at tacomaartmuseum.org. If there's interest, we'll schedule a follow-up discussion.

Big Thanks to our Lunches of Love Elves
The following is excerpted from a letter sent by St. Vincent de Paul: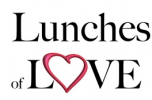 Thank you for the very generous and thoughtful contributions to the Lunches of Love (LOL) program for the Seattle RV Project of the St. Vincent de Paul. We were completely out of these important meals to give to those living in vehicles, tents and on the street.

You stepped up and supported us without a lot of notice. It is nearly impossible to say how much this means to those who are hungry. it is only through the generosity of donors like you that we can provide help which is so much more than food. These lunches represent the community's caring and concern.

Special Prayers of Restoration and Comfort for the many people affected by Hurricane Ida, for the residents of Haiti and and for victims of extreme climate across the world.
Continuing Prayers of Protection and Support for the people of Afghanistan.
As the school year opens, Special Prayers of Support and Safety for Kirstin, Jeff, and all the educators and students in our community and beyond ... and for all who work in the school environment.
Special Prayers for the family,
friends and communities of Ronald Greene, Andrew Brown Jr, Adam Toledo, Ma'hia Bryant, Andrew Brown Jr, Daunte Wright,
Walter Wallace,
Jonathan Price, Jacob Blake, Rayshard Brooks, Manuel Elllis, George Floyd, Elijah McClain, Dreasjon (Sean) Reed, Breonna Taylor, Ahmaud Arbery and the heart-breaking list of African-Americans and other people of color murdered or wounded by police or self-declared vigilantes in our nation over many decades. We mourn with you and we stand for justice and healing.
Special Prayers for all those on the front lines of working to protect us, keep us healthy, sane, grounded, informed, fed and comfortable during the current COVID 19 outbreak: our faith leaders, front-line health care workers, EMTs, police, firefighters, educators, transit bus and rail drivers, farmers, therapists, social workers, shelter operators, engineers, grocery/drug store personnel, caregivers, childcare specialists, pharmacists, custodians, organizations caring for the most vulnerable, sanitation workers, dispatchers and others keeping our supply chains operational, truth-telling journalists and all the many public servants who are so vital to our community.
For those grieving the recent death of a loved one:
Friends and family of Jim and Sandy's good friend Jim; friends and family of Bev C; Charlie H and family; Candace G and family; Ed B and family; Jeff D's cousin Jerry Elder and his wife Tami Elder; Todd S and family; Patty M, family and friends of Bob J, family and friends of Jim C, Kirstin and family; Larry G
Recent hospitalization, illness and other concerns:
Lowell P, Emily H's friend Donna, Jim and Sandy's friends Jim S and Mary Jane as they deal with health issues,
Dan's brother Bill and Bill's wife Helaina, Larry G, Dan K, Cinda's sister-in-law, Sue B's friends Mary and Louise, Cindy
,
Julia P, Jeff and Kirstin's sister-in-law Sue, Sandy and Jim's friend
Al
,
his mom, Sue and friend Kay;
Penny M; Kirstin D; Shannon P's father, Rev. Dr. Bill
;
Verona's younger brother Eric; Julia C's long-time friend Megan; Bonita C; Claire F; Dayle B;
Imy P; Kirstin D's father; Don P
For homebound members/friends of Alki UCC: Doris C
Wider World: Prayers for all those affected by the corona virus outbreak; all those suffering from PTSD in the military and around the world; for all those affected by misguided immigration policies; prayers for fewer guns, for all victims and those affected by gun violence; victims and survivors of extremist violence around the world; migrants seeking refuge around the world, and for those who are trying to help them. The rest of the missing schoolgirls kidnapped by Boko Haram, who remain in our hearts as long as they remain missing. The hungry and homeless, the ill and the addicted, the lost and the lonely; the unemployed.
Worship

this Sunday

September 26

at 10:00 am

Eighteenth Sunday after Pentecost

Rev. Louis J. Mitchell


Contemporary Voice:
"Too often one jumps to the conclusion that something is impossible simply because we cannot see the solution. No one knows enough to be a pessimist."
— Wayne W. Dyer

Scripture Readings:
Numbers 11:4-6, 10-16, 24-29 (NRSV)
James 5:13-20
(adapted from NRSV)
Mark 9:38-41 (NRSV)

Sermon:
"Check Your Invitation!"

Liturgist:
Dan K

Moment of Ministry:


Faith Formation





Guest Accompanist:




Zachary Kellogg





Music Highlights:


The Gartan Mother's Lullabye
Phil Coulter
Hymn #4 (NCH):
Joyful, Joyful,
We Adore You
Hymn #451 (NCH):
Be Now My Vision
Hymn #593 (NCH):
Lift Every Voice and Sing



Sunday's Order of Worship, including the scripture text, is linked here.



Outreach/Social Justice
Tuesday, September 28
at 7:00 pm/Place TBD
(meetings on 4th Tuesdays at 7:00 pm)
Contact: Cinda S

Celebrate Oktoberfest with Homemade Soup from the Alki UCC Kitchen ...
Order Today!
'Tis the Season...




...for soup, and also Oktoberfest. So let's combine them! On Sunday, October 3, you can have your soup and pretzel, too!




Just choose from two kinds of soup:
Hamburger Vegetable or Butternut Squash (vegetarian) and then the amount: soup for one (in a pint jar - $8) or soup for two (in a quart jar - $15).

Don't delay! Please place your order with this handydandy online form by Wednesday, September 29.



Then don your Dirndl or Lederhosen and come pick it up at the church if you can between 11:30 am and 1:30 pm on Sunday, October 3. Or ask to have it delivered.

Either way you'll get to visit with your church people before enjoying a wonderful Oktoberfest-worthy bowl of soup and a pretzel!

Join us! O' Zapft is!
— Vicky S.

"Taste of West Seattle" Benefits West Seattle Food Bank
There's still time to enjoy this year's Taste of West Seattle, a week where participating restaurants donate to the West Seattle Food Bank to help stop hunger and homelessness in West Seattle.


Taste of West Seattle 2021 continues through Sunday, September 26.

Details here.

Zoom Registration Link for Sunday Worship

You only need to register once for Sunday worship.
You will receive a confirmation email with your own un ique link to join Sunday worship.
Sunday Worship Videos Posted on YouTube
6115 SW Hinds ♦
Seattle, WA 98116 ♦
206/935-2661
Check for church news and calendar updates at www.alkiucc.org.
For secure, online giving through Give Lively, click the blue button below.






You can also send your check, made out to "Alki UCC," to:



Alki UCC Church Office
6115 SW Hinds
Seattle, WA 98116