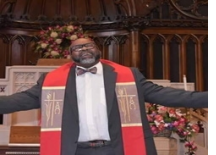 Greetings beloved ones!
Thank you all for your prayers and well wishes this week. I'm just fine. I took a few days to be safe and am on my way to take a COVID test, just to be extra sure.
I feel good and I'm happily full of my Octoberfest supper! Thank you to everyone who procured, produced and distributed this deliciousness! Extra points for the history lesson about the pretzel and super extra points to Joe M. for delivering it to my home!
This week I've started a book by a dear friend and colleague, Pastor Lawrence T . Richardson, called "I Know What Heaven Looks Like — A Modern Day Coming of Age Story." Rev. LT has inspired me for many years — his love of his church, his community and his family. The many losses he's suffered over his young life seem never to darken his spirit.
Every week I experience both deep sadness and empathy for folks going through the hardest moments of their lives and extraordinary joy with folks celebrating new life, new love, new experiences and a new and unexpected sense of joy and purpose. Both/and, the peaks and the valleys, birth, death and resurrection.
Recovery prepared me for this and my faith allows me to ride the waves of life knowing that I'm forever in the embrace of Divine Source.
Somehow, I manage to live in joy and gratitude most every day by remembering a few of pieces of wisdom that I've learned from amazing people:
"When you come back from the dead, you ought to have some bounce in your step!" — JoJo W.
"Chew the fruit and spit out the seeds."
— Bishop Yvette A. Flunder
"What if the wild rumor is true that God was caught dancing in you?" — Rev. Dr. Kirk Byron Jones
You're invited to borrow them, if you'd like! Wishing you peace in the valleys of your life and humility from the peaks! And remember, God is everywhere — even in you!!!
May the grace of God, the teachings of Christ and the fire of the Holy Spirit surround, inform and infuse us as we go!
Blessings,
Rev. Louis
Good News from the
Pastoral Search Committee:
The Pastoral Search Committee (PSC), with the blessing of the Alki UCC Church Council, has submitted our Church Profile to the Pacific Northwest United Church of Christ Conference, announcing our position opening for a three-quarter time designated-term pastor. The designated term will be for the amount of time it takes for Alki's transformation to realize our Future Story.
This 71-page document was created over the last six months by the committee, which met two to three times a month. We prayed, divided the work, researched our history, evaluated our church survey, and consulted with the local conference minister, Rev. Mike Denton. This Profile is posted on the UCC national website. Read it here.
Our position is open for interested pastors to submit their profile to Rev. Mike, who will forward us those he deems appropriate for our consideration. Then the screening process will begin.
Thanks to Emily S (Vicky's daughter) and Charlie H for their help finalizing the document.
Many thanks to the congregation for your questions, participating in the survey and praying for us and along with us.
Now we wait.
— Lisa D,
Emily H,
Julia P,
Cinda S,
Vicky S,
Russ T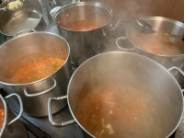 Many thanks to the Caring Community and Fellowship Committee for finding creative ways to connect the congregation during these COVID times.

Sixty seven (67!) servings of home-made soup from the Alki UCC Kitchen were distributed on Sunday. Our old favorite, Hamburger Vegetable, was joined by vegan Butternut Squash and a Pretzel Roll to ward off the chill of the day. Although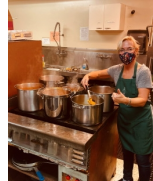 the weather would not allow us to be out in the courtyard as we had hoped, some good conversations filled the Narthex.

Many thanks to Kim for helping throughout the entire process, planning, cooking, and jarring, to the 'Dice Squad' -- Patty, Lisa D, Verona and Dan, to Verona for labeling and decorating jars on Saturday and Sunday, and to Sandy for offering help at every juncture and making all of the deliveries.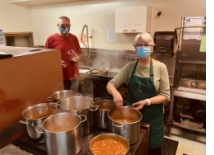 Special thanks to Emily for finding a German bakery/deli in Lakewood to make the rolls, and then picking them up and delivering. Emily also researched the history of the humble pretzel and its connections to Christianity and Oktoberfest.

Social distancing guidelines precluded a large group soup-preparation gathering, so individual Sous-Chefs did much of the prep in their own homes. That would be a LOT of veggie chopping! We all found satisfaction in providing this opportunity for caring and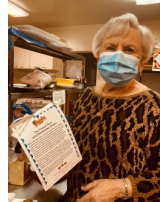 fellowship.

"When is the next gathering opportunity?!," you ask! Since the jars haven't been sealed, we plan to sterilize and reuse them.

You can help us out by returning your jars, rims and lids to the church next Sunday, October 17, during our monthly food/clothing donations drive any time between 11:00 am to 3:00 pm.

Bring a food and/or men's/children's clothing donation along with your clean jar. If weather permits, we will be out in the courtyard enjoying each other's company. Another opportunity to connect with your Alki people!

Thanks, everyone!

— Chefs Dave and Vicky S
(Pictures by Kim B)

Note: If October 17 doesn't work for your jar return, please contact Sandy J to make an alternate plan.

Faith Formation Team Field Trip October 29
Kinsey African American Art & History Collection
Tacoma Art Museum
Friday, October 29, noon to 1:00 pm
$12.00 per person/group rate discount
Carpool leaves from the church at 10:00 am;
$2.00 per hour parking fee
Exhibit preview here.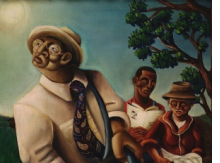 Join us for a group tour of the heralded Kinsey African American Art & History Collection,
a celebration of the achievements and contributions of Black Americans from 1595 to present times.

Considered one of the most comprehensive surveys of African American history and culture outside the Smithsonian Institution, the exhibition features masterful paintings and sculpture, photographs, rare books, letters, manuscripts and more that offer new perspectives on the nation's history and culture.

We need a final count by October 22 so check your calendars and contact Julia P for details.

If you prefer to go on your own, check out exhibit details at tacomaartmuseum.org. If there's interest, we'll schedule a follow-up discussion.

Prayers of Healing for Julia C's friend Peter, starting chemo treatment this week.
Continuing Prayers of Protection and Support for the people of Afghanistan.
Special Prayers of Support and Safety for Kirstin, Jeff, and all the educators and students in our community and beyond ... and for all who work in the school environment.
Special Prayers for the family,
friends and communities of Ronald Greene, Andrew Brown Jr, Adam Toledo, Ma'hia Bryant, Andrew Brown Jr, Daunte Wright,
Walter Wallace,
Jonathan Price, Jacob Blake, Rayshard Brooks, Manuel Elllis, George Floyd, Elijah McClain, Dreasjon (Sean) Reed, Breonna Taylor, Ahmaud Arbery and the heart-breaking list of African-Americans and other people of color murdered or wounded by police or self-declared vigilantes in our nation over many decades. We mourn with you and we stand for justice and healing.
Special Prayers for all those on the front lines of working to protect us, keep us healthy, sane, grounded, informed, fed and comfortable during the current COVID 19 outbreak: our faith leaders, front-line health care workers, EMTs, police, firefighters, educators, transit bus and rail drivers, farmers, therapists, social workers, shelter operators, engineers, grocery/drug store personnel, caregivers, childcare specialists, pharmacists, custodians, organizations caring for the most vulnerable, sanitation workers, dispatchers and others keeping our supply chains operational, truth-telling journalists and all the many public servants who are so vital to our community.
For those grieving the recent death of a loved one:
Friends and family of Jim and Sandy's good friend Jim; friends and family of Bev C; Charlie H and family; Candace G and family; Ed B and family; Jeff D's cousin Jerry Elder and his wife Tami Elder; Todd S and family; Patty M, family and friends of Bob J, family and friends of Jim C, Kirstin and family; Larry G
Recent hospitalization, illness and other concerns:
Lowell P, Emily H's friend Donna, Jim and Sandy's friends Jim S and Mary Jane as they deal with health issues,
Dan's brother Bill and Bill's wife Helaina, Larry G, Dan K, Cinda's sister-in-law, Sue B's friends Mary and Louise, Cindy
,
Julia P, Jeff and Kirstin's sister-in-law Sue, Sandy and Jim's friend
Al
,
his mom, Sue and friend Kay;
Penny M; Kirstin D; Shannon P's father, Rev. Dr. Bill
;
Verona's younger brother Eric; Julia C's long-time friend Megan; Bonita C; Claire F; Dayle B;
Imy P; Kirstin D's father; Don P
For homebound members/friends of Alki UCC: Doris C
Wider World: Prayers for all those affected by the corona virus outbreak; all those suffering from PTSD in the military and around the world; for all those affected by misguided immigration policies; prayers for fewer guns, for all victims and those affected by gun violence; victims and survivors of extremist violence around the world; migrants seeking refuge around the world, and for those who are trying to help them. The rest of the missing schoolgirls kidnapped by Boko Haram, who remain in our hearts as long as they remain missing. The hungry and homeless, the ill and the addicted, the lost and the lonely; the unemployed.
Worship

this Sunday

October 10

at 10:00 am

Twentieth Sunday after Pentecost

Rev. Louis J. Mitchell


Contemporary Voice
"Baptize yourself in the waters of God's grace whenever you wish."
— Rev. Dr. Kirk
Byron Jones

Scripture Readings
Hosea 14:4-8
Colossians 1:9-14
(adapted from
The Message)

Sermon
"Grace and Mercy, Enough to Share!"

Liturgist:
Kim B

Moment of Ministry:
Worship and Music



Guest Accompanist:


Zachary Kellogg



Music Highlights:


Hymn #257 (NCH)
Alleluia! Gracious Jesus!

Hymn #400 (NCH)
Christ Is Made the Sure Foundation

Hymn #473 (NCH)
Blessed Assurance



Sunday's Order of Worship, including the scripture text, is linked here.



Caring Community/
Fellowship Meeting
Monday, October 11
6:30 pm via Zoom
Contact: Sandy J

Food/Children's & Men's Clothing Donations Drive
Sunday, October 17
11:00 am to 3:00 pm
Front Courtyard

Outreach Meeting
Tuesday, October 26
Fourth Tuesday of the Month at 7:00 pm via Zoom/Contact: Cinda S

Faith Formation
Field Trip
Kinsey African American Art & History Collection
Tacoma Art Museum
Friday, October 29
RSVP by October 22
Contact: Julia P

Thanksgiving
Food/Clothing
Donations Drive
Sunday, November 21
11:00 am to 3:00 pm
Front Courtyard

Real Rent Duwamish:
Alki UCC Statement
of Support


Alki UCC has formalized our commitment to support Real Rent Duwamish by making the first of the church's $54 monthly payments. Following is our official statement:





By making regular contributions to Real Rent Duwamish, Alki United Church of Christ acknowledges that the land upon which we worship was once the communal territory of the Duwamish, whose ancestors were the successful stewards of this region for thousands of years before they were forcibly displaced by white-settler colonialists.

We also recognize that this usurpation came at a great cost to the indigenous population from which they have yet to fully recover. It is only fitting that, in order to stay true to our strong traditional belief in social and economic justice, we make an attempt to offer some level of restitution for this grievous aspect of our collective history.
— Cinda (she/her) with special thanks to Joe A

Note: You can make your own personal contribution of support to Real Rent Duwamish here.

Our national United Church of Christ office announces completion of a major upgrade to its website.




Check it out for the latest news about UCC mission and programs.

While you're at it, you can sign up for a Daily Devotional, RSVP for upcoming events/webinars and add your voice to vital advocacy campaigns: www.ucc.org

Zoom Registration Link for Sunday Worship

You only need to register once for Sunday worship.
You will receive a confirmation email with your own un ique link to join Sunday worship.
Sunday Worship Videos Posted on YouTube
6115 SW Hinds ♦
Seattle, WA 98116 ♦
206/935-2661
Check for church news and calendar updates at www.alkiucc.org.
For secure, online giving through Give Lively, click the blue button below.






You can also send your check, made out to "Alki UCC," to:



Alki UCC Church Office
6115 SW Hinds
Seattle, WA 98116