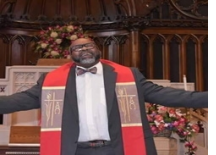 Greetings beloved ones!
I invite you into some time of love for self and others this week.
I'm writing this on All Soul's Day – the day that is set aside to pray for those who are trapped in purgatory. I'm not a believer in purgatory in the way that Catholic observers do, but there are plenty of people, living and dead, who are in a purgatory of our making.
As we edge closer to advent and Christmas, release those who you've imprisoned with resentment and hatred. Not because they've changed. But because you deserve to be free of the burden of them.
I'm not suggesting that you forgive and forget. I'm inviting you to stretch to forgive them for hurting you and remember the pain you've experienced so that you don't do it to others.
The jail door is open, just push and walk through.
Pray with me:
God, I can still see and feel the faces and hurt.
Allow me to be free of them — through and through.
You take it — release me from the weight of old harm.
Give me space to soar, unburdened by my past.
Set me free from judging people who remind me of them.
Emancipate me from seeing them in the faces of strangers.
On this day, when judgment precedes prayer,
Remind me to pray for my own healing and leave judgment to you.
Today and every day, remind me that you love me dearly
And wept with me through the harm,
And that you kept me, restored me and
Made testimony of every test. Amen.
I know that this isn't an easy ask. But I also know, as some of you do,
that the freedom that comes from laying down those burdens is worth the challenge of it.
I pray for your and our freedom!
"When the power of love overcomes the love of power, the world will know peace." — Jimi Hendrix
May the grace of God, the teachings of Christ and the fire of the Holy
Spirit surround, inform and infuse us as we go!
Blessings,
Rev. Louis
For over a decade, Kristin M has been working behind the scenes to keep Alki UCC running smoothly. As operations/business manager, she has handled a myriad of tasks that most of us aren't even aware of, while also making sure we comply with all laws and insurance regulations. And as a true professional, she has created a "knowledge book"— an operations manual — that clearly documents details of how things are done. It will serve as a roadmap, as a guideline, for our next operations manager.
Today, we are announcing Kristin's retirement from her role. Her quiet strength and competence will be greatly missed. We are so very thankful for what she's accomplished and for the preparations she's made for her successor as business/operations manager. We're starting the search for a replacement to fill this very important, critical position at Alki.
The good news is, Kristin isn't going anywhere and will still be an active member of Alki UCC, including serving on the Personnel Committee. With deepest gratitude, Kristin, we say thank you for your years of great service and for your ongoing presence here.
If you have an interest in the position of operations/business manager, please contact council moderator Joe M at kalanicorp@gmail.com.
— Alki UCC Council
Report: Faith Formation Field Trip to Tacoma Art Museum Kinsey Art Exhibit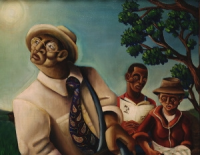 A group of 15 from Alki UCC and our larger community came together for a tour of the Kinsey Family Exhibit of African American Art at the Tacoma Art Museum last Friday, October. 29. The acclaimed display, comprising the second largest collection of African American art and historical documents outside the Smithsonian Museum, was gathered by the family over the last 50 years.
We viewed stark and often jarring historical documents, including lists of enslaved people, slave ship route maps, and pictures of African Americans during the Civil War, World Wars I and II and subsequent events. Although Africans and enslaved people were largely invisible in the mainstream media of the time, the Kinsey exhibit is testament to the significant contribution they made to building our nation.
Stunning art works included paintings, statues, news publications, and posters by African Americans from the earliest days of our republic through current times. The main takeaway for me was the thoughtful chronological display that illuminates the impact art and slavery have on all humans of the United States. We have much to learn in becoming an anti-racist country.
I want to thank the Tacoma Art Museum and the Kinsey Family for helping me become more aware of the history of African American artists. I have always loved Jacob Lawrence but the painting of the woman unchained with the list of all the inventions by African Americans written on her dress was the highlight. I have much to learn.
And thanks to all who joined us to share this extraordinary exhibit.
—Your Faith Formation Team
Julia P and Russ T
Note: Next week, the newsletter will feature impressions from some of the other folks who toured the exhibit as part of our group. We're planning a follow-up Zoom discussion to share our insights and reactions. Details to come.
If you haven't seen the exhibit yet, please do! It's well worth the trip. Info linked here.
PNCUCC Monthly Packet Now Available
The news and events update from our regional Pacific Northwest
UCC Conference is now online.
Check it out here for:
Mike's Blog
Conference Calendar
Staff Column by Courtney Stange-Tregear
COP26, the United Nations climate summit,
and other popular features.
Continuing Prayers of Protection and Support
for the
people of Afghanistan.
Special Prayers of Support and Safety for Kirstin, Jeff, and all the educators and students in our community and beyond ... and for all who work in the school environment.
Special Prayers for the family,
friends and communities of Ronald Greene, Andrew Brown Jr, Adam Toledo, Ma'hia Bryant, Andrew Brown Jr, Daunte Wright,
Walter Wallace,
Jonathan Price, Jacob Blake, Rayshard Brooks, Manuel Elllis, George Floyd, Elijah McClain, Dreasjon (Sean) Reed, Breonna Taylor, Ahmaud Arbery and the heart-breaking list of African-Americans and other people of color murdered or wounded by police or self-declared vigilantes in our nation over many decades. We mourn with you and we stand for justice and healing.
Special Prayers for all those on the front lines of working to protect us, keep us healthy, sane, grounded, informed, fed and comfortable during the current COVID 19 outbreak: our faith leaders, front-line health care workers, EMTs, police, firefighters, educators, transit bus and rail drivers, farmers, therapists, social workers, shelter operators, engineers, grocery/drug store personnel, caregivers, childcare specialists, pharmacists, custodians, organizations caring for the most vulnerable, sanitation workers, dispatchers and others keeping our supply chains operational, truth-telling journalists and all the many public servants who are so vital to our community.
For those grieving the recent death of a loved one:
Friends and family of Bev C; Charlie H and family; Candace G and family; Ed B and family; Todd S and family; Patty M, family and friends of Bob J, family and friends of Jim C; Larry G
Recent hospitalization, illness and other concerns:
Verona R, Rev Ron Marshall, Julia C's friend Peter, Emily H's friend Donna, Jim and Sandy's friends Jim S and Mary Jane,

Dan's brother Bill and Bill's wife Helaina, Larry G, Dan K, Cinda's sister-in-law, Sue B's friends Mary and Louise, Cindy

,

Julia P, Jeff and Kirstin's sister-in-law Sue, Sandy and Jim's friend

Al

,

his mom, Sue and friend Kay;

Penny M; Kirstin D; Shannon P's father, Rev. Dr. Bill

;

Verona's younger brother Eric; Julia C's long-time friend Megan; Bonita C; Claire F; Dayle B;

Imy P; Kirstin D's father; Don P
For homebound members/friends of Alki UCC: Doris C
Wider World: Prayers for all those affected by the corona virus outbreak; all those suffering from PTSD in the military and around the world; for all those affected by misguided immigration policies; prayers for fewer guns, for all victims and those affected by gun violence; victims and survivors of extremist violence around the world; migrants seeking refuge around the world, and for those who are trying to help them. The rest of the missing schoolgirls kidnapped by Boko Haram, who remain in our hearts as long as they remain missing. The hungry and homeless, the ill and the addicted, the lost and the lonely; the unemployed.


Don't forget to set your clocks back one hour before going to sleep Saturday night ... and enjoy that extra hour!

Worship

this Sunday

November 7

at 10:00 am

Communion Sunday

The Twenty-fourth Sunday after Pentecost


Rev. Louis J. Mitchell


Contemporary Voice


"The creative process is a process of surrender, not control."


— Julia Cameron, author of The Artist's Way


Scripture Readings
1 Kings 17:8-16
Psalm 127:1-2
Mark 12:10-11
Sermon
"Our Journey Ahead"
Liturgist:


Charlie H


Moment of Ministry:


Council




Guest Accompanist




David Duvall




Music Highlights


I'm Gonna Live So God Can Use Me
Traditional Spiritual
Journey of Joy
David Duvall
#516 O Grant Us, God, A Little Space
Just A Closer Walk with Thee Traditional

Sunday's Order of Worship, including the scripture text, is linked here.

Pastoral Search Committee
This Sunday at 11:00 am
Worship and Music
Meeting
This Sunday at 12:30 pm
Contact: Joe M
Thanksgiving
Food/Clothing
Donations Drive
Sunday, November 21
11:00 am to 3:00 pm
Front Courtyard
How to Register Your COVID Vaccination Card
Part of our shared new reality is the requirement to show Proof of COVID Vaccination in numerous venues and situations. Be prepared!
Here are a couple of online registration options:
MyIRMobile
Your
COVID card is not
replaceable. Here's a site where you can set up an account and upload your WA immunization/vaccine records, which
will be updated with
boosters or additional shots. If you lose
your COVID vaccination card, you'll have an online
record for backup.
WAVerify
Enter a few details for a link to a QR
code and digital copy of your COVID-19
verification record that can you access online or print as needed.
Note: Tip of the hat to Normandy Park UCC for running this important information in their current newsletter.
Zoom Registration Link for Sunday Worship

You only need to register once for Sunday worship.
You will receive a confirmation email with your own unique link to join Sunday worship.
Sunday Worship Videos Posted on YouTube
6115 SW Hinds ♦
Seattle, WA 98116 ♦
206/935-2661
Check for church news and calendar updates at www.alkiucc.org.
For secure, online giving through Give Lively, click the blue button below.

You can also send your check, made out to "Alki UCC," to:
Alki UCC Church Office
6115 SW Hinds
Seattle, WA 98116