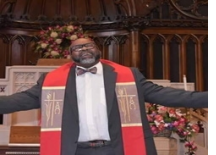 Merry Christmas! Happy New Year!
What a joy our Christmas Eve service was!
And what a shock our Christmas morning service was!
Truly, an opportunity to experience the ups and downs of hybrid worship together.
As we settle into the awareness of the new life of and in Christ, we do so with full knowledge that life can be a mixed bag — bountiful and barren, bumpy and smooth, mournful and joyous!
The best news of all is that regardless of what happens, we are soaking in love, grace and mercy! This is the good news! We don't have to be perfect or have perfect lives. We can bring every part of us to church and to our relationships. We can exemplify non-binary awarenesses. We can bring our own blends of sacred and secular, human and holy, faithful and concerned, all the things! We don't have to pretend … about anything!
How refreshing and what a gift it is to know that whoever we are, however we are, whatever we are going through, whatever road(s) we've taken to get to right now, God loves us and we can learn to more deeply love each other!
No tomorrows are promised, but today … just for today, let us sing a joyful noise unto God, for the fullness of our lives. For the moments that stop us and remind us to have humility and show compassion and for the moments that remind us to have joy and show exuberance!
Whatever comes next for us, celebrate today for the love we share and for the vision and community that we are building together!
May the grace of God, the teachings of Christ and the fire of the Holy Spirit surround, inform and infuse us as we go!
— Rev. Louis
New Zoom Link and Protocol
to Attend Virtual Sunday Worship
Alki UCC has created NEW and UPDATED protocols as well as a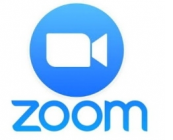 new registration link for you to attend our virtual Sunday worship services on Zoom. Due to some technical issues and unsavory characters at our last service, we updated our security requirements, so your old Zoom link no longer works.

Please follow the instructions below to attend virtual Sunday worship at 10:00 am, beginning with this week's service on January 2:


You will then be required to either: sign in with your Zoom account or sign up for a FREE Zoom account. Please use your first/last name plus your email to sign up.

— After registering, you will receive a confirmation email with your personal link, which you should not share.

— Add the confirmation link to your online calendar or save the email for logging into the service on Sunday mornings.

— When you click your personal link, you may be required to sign into your Zoom account in order to attend the virtual service.

— You will then be placed into a 'waiting room' until the Alki UCC technical host lets you in about 5 to 10 minutes before the service begins.

Try your best to be a bit early or on time so you don't miss a thing! Please be patient as we work through these new protocols.

— If someone arrives late, and we do not recognize the name, we might not let them into the service as this is when the unsavory characters showed up!

If you have any questions about this new protocol, please contact Shannon by email or phone. Thank you for your continued support and participation in virtual and hybrid church services!

Please note: You can still participate in person with proof of your full vaccination!

Thank you, from your virtual service technology team.
— Shannon, Joe and Gary

Special UCC Christmas Fund Offering this Sunday January 2
The Christmas Fund has been caring for active and retired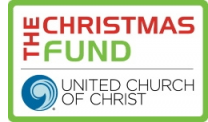 clergy and lay employees of the United Church of Christ for more than 100 years, providing emergency grants, supplementation of small annuities and health premiums, and Christmas "Thank You" gift checks each December to our lower-income retirees.

UCC congregations and members have blessed the Christmas Fund with their generosity for many years. This year, your care and compassion will be especially appreciated by those servants of the church who are facing a time of need.

Donate this Sunday or any time here. Thank you!

Welcome to "hybrid" worship at Alki UCC. You can still stream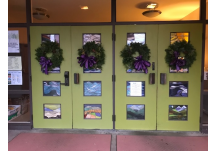 our 10:00 am service online live via Zoom, or gather in the Sanctuary to join other actual people in prayer.
Your safety is our number one priority. Kindly note the following guidelines:
You must be fully vaccinated for COVID to attend in person. You only need to present your proof of vaccination on your first visit.
Face coverings are required; s
ocial distancing is encouraged.
Lisa B Celebrates Birthday/Retires from Safeway This Week
Congratulations to Lisa B, retiring after 26 years at Admiral Safeway!

Our own Lisa celebrated her birthday yesterday, December 29, and her official Safeway retirement date is today.

Please join us in congratulating Lisa and wishing her well in her new 'life of leisure'! We will plan a special celebration after it is safe to gather again for a party. — Vicky

Prayers of condolence for Jim and Sandy's friend Mary Jane and family on the passing of her husband Jim in November.

Continuing prayers of protection and support

for the

people of Afghanistan ... and for migrants everywhere experiencing upheaval and distress.

Special prayers of support and safety for Kirstin, Jeff, and all the educators and students in our community and beyond ... and for all who work in the school environment.

Special Prayers for the family, friends and communities of Ronald Greene, Andrew Brown Jr, Adam Toledo, Ma'hia Bryant, Andrew Brown Jr, Daunte Wright, Walter Wallace, Jonathan Price, Jacob Blake, Rayshard Brooks, Manuel Elllis, George Floyd, Elijah McClain, Dreasjon (Sean) Reed, Breonna Taylor, Ahmaud Arbery and the heart-breaking list of African-Americans and other people of color murdered or wounded by police or self-declared vigilantes in our nation over many decades. We mourn with you and we stand for justice and healing.

Special Prayers for all those on the front lines of working to protect us, keep us healthy, sane, grounded, informed, fed and comfortable during the current COVID 19 outbreak: our faith leaders, front-line health care workers, EMTs, police, firefighters, educators, transit bus and rail drivers, farmers, therapists, social workers, shelter operators, engineers, grocery/drug store personnel, caregivers, childcare specialists, pharmacists, custodians, organizations caring for the most vulnerable, sanitation workers, dispatchers and others keeping our supply chains operational, truth-telling journalists and all the many public servants who are so vital to our community.



For those grieving the recent death of a loved one:


Dan K's family mourning the passing of his sister-in-law Helaina, f

amily and friends of Julia P's brother Wayne B, friends and family of Rev. Ron Marshall; friends and family of Bev C; Charlie H and family; Candace G and family; Ed B and family; Todd S and family; Patty M, family and friends of Bob J, family and friends of Jim C; Larry G

Recent hospitalization, illness and other concerns:


Verona R, Julia C's friend Joan, Vicky's friend Janelle O, Julia C's friend Peter, Emily H's friend Donna,

Dan's brother Bill and Bill's wife Helaina, Larry G, Dan K, Cinda's sister-in-law, Sue B's friends Mary and Louise, Cindy

,

Julia P, Jeff and Kirstin's sister-in-law Sue, Sandy and Jim's friend

Al

,

his mom, Sue and friend Kay;

Penny M; Kirstin D; Shannon P's father, Rev. Dr. Bill

;

Verona's younger brother Eric; Julia C's long-time friend Megan; Bonita C; Claire F; Dayle B;

Imy P; Kirstin D's father; Don P

For homebound members/friends of Alki UCC: Doris C


Wider World: Prayers for all those affected by the corona virus outbreak; all those suffering from PTSD in the military and around the world; for all those affected by misguided immigration policies; prayers for fewer guns, for all victims and those affected by gun violence; victims and survivors of extremist violence around the world; migrants seeking refuge around the world, and for those who are trying to help them. The rest of the missing schoolgirls kidnapped by Boko Haram, who remain in our hearts as long as they remain missing. The hungry and homeless, the ill and the addicted, the lost and the lonely; the unemployed.

Worship this Sunday,

January 2 at 10:00 am

Communion Sunday

"Epiphany 2022"



Please join us for a special Epiphany service, led by the Spiritual Travelers, our own Rev. Louis, and Admiral UCC's Rev. Andrew Conley-Holcom. This is a joint worship with Admiral church so be sure to welcome our friends from up the hill!

We will share a new perspective on Epiphany and the wisemen, and celebrate communion in a way to ring in the new year.

Our service is dedicated to the UCC Christmas Fund, with offerings gladly accepted to benefit retired UCC pastors. See related story below left.

In recognition of the first communion of the new year, and celebrating epiphany, we encourage all those attending in person to bring their own communion "elements" such as bread, a donut, juice, coffee, etc.

We are going to try something a little bit different, while still maintaining Covid protocols. The pre-packaged elements will be available, but it will be fun to do something different. And besides, opening those little plastic cups is a challenge in dexterity!
— Joe M

Click here for Order of Online Worship.

Happy New Year!





Celebrate safe and happy.



Monday after
New Year's Day
January 3, 2022
Office closed

Webinar on "Flights & Rights: Access to Health Care"
Wednesday, January 5
5:00 pm (Pacific Time)
Register here.
Emily would like you to know about this important webinar co-sponsored by the Washington Chapter of American Association of University Women (AAUW).
Other co-sponsors include the American Civil Liberties Union of Washington and
Alliance for a Healthy Washington
The conversation will explore how the prolific trend of mergers and acquisitions between health care entities like hospitals, hospital systems, and provider organizations can negatively impact cost, quality, and access.
In Washington state, these health entity consolidations receive minimal oversight, allowing large health care systems to dictate patients' access to reproductive, end-of-life, and gender-affirming health care.
Check for church news and calendar updates at www.alkiucc.org.
Sunday Worship Videos Posted on YouTube
NEW

Zoom Registration Link
for Sunday Worship


You only need to register once for Sunday worship.
You will receive a confirmation email with your own unique link to join Sunday worship.
For secure, online giving through Give Lively, click the blue button below.

You can also send your check, made out to "Alki UCC," to:
Alki UCC Church Office
6115 SW Hinds
Seattle, WA 98116