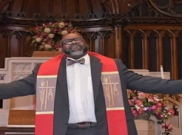 Greetings, beloveds,
As you may know, I've accepted a call at Rincon UCC in Tucson AZ.
I was confirmed by unanimous vote last Sunday.
I'm very excited and also deeply sad to be leaving y'all!
As we embark on this upcoming month together, I'll be working with you to heal from past church hurts. I know that you've been through a lot of ministerial and leadership transitions in the last few years. And some of it has left some residual hurt.
As you prepare to welcome your new Pastor, let's do some healing and consecrating ourselves to the purposes God has for us in this time and place!
And let us continue to be in prayer for all who are at war around the world!
"No one can stop us from imagining another kind of future,
one that departs from the terrible cataclysm of violent conflict,
of hateful divisions, poverty, and suffering.
Let us begin to imagine the worlds we would like to inhabit,
the long lives we will share,
and the many futures in our hands."
— Susan Griffin

May the grace of God, the teachings of Christ and the fire of the Holy Spirit surround, inform and infuse us as we go!
Blessings,
— Rev. Louis
Stewardship 2022: Sharing & Caring
Did you miss Stewardship kickoff on Sunday? Here is a recap.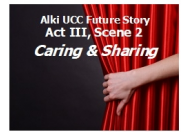 The history of Alki United Church of Christ is rich with stories! From Sunday school for kids spending the summer on Alki in 1905 to building 30+ tiny homes in 2017 and all the rest in between. Check out these historical stories on our website HERE!
We completed a deep discernment in 2019 about what comes next for Alki UCC with over 80% of the congregation participating! We took your ideas and continued to build our future story through today, based on what we believed should be next for Alki UCC. After many years of several different pastoral leaders, our pastoral search committee is working hard to call our next pastor who will lead us forward on this journey!
In the meantime, as we lay the foundation for our future, the stewardship team will partner with caring community and would like to reconnect with each of you one-on-one to check in and see how you are doing and what you look forward to in this future story. We can answer questions you may have about what is next, the budget needed to get us there, or anything else on your mind. We are here to listen to what is on your mind. That is the Caring & Sharing part of our stewardship campaign this year.
More to come on how we will be supporting our future with our time, talent, and treasures!
Peace,
— Your Stewardship Team
(Dan K, Kim B, and Shannon P)
May marks Rev. Louis' last month as our Bridge Pastor before he begins his new calling at Tucson's Rincon Congregational United Church of Christ. And he has something special planned for May worship!
Rev. Louis has personally prepared special element packages to support a rich and meaningful time of transition. He says: "You're invited to join us in May as we work to heal, grow and consecrate ourselves to this new season! These elements will be explained in our worship."
Since the contents are fragile, they are difficult to mail. If you live nearby, please contact the church office to arrange for a time to pick one up or to have yours delivered in time for May 1 worship.
Show Support for the People of Ukraine!
Batik Heart-Making Session Creates 100+ Hearts for Peace

Last Sunday the Outreach team invited local activist and artist Denise Henrikson to create batik hearts representing the flags of conflict-ridden areas around the world. It was a beautiful sunny day so we were able to utilize the sunshine on the front patio for the drying stage after applying the wax and paint to the fabric. We created more than 100 hearts!

We made hearts for Ukraine, Somali and Yemen. Eventually these will be "flown" on our Peace Pole in front of the church. We have a few more steps to complete them before they can go up — we'll let you know when they are flying!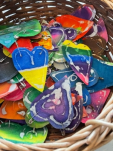 In lieu of a donation to cover expenses, you're invited to consider making a donation to the Ukrainian Education Platform, a charitable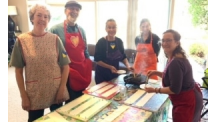 organization providing emergency shelter, psychological, and social and emotional support for internally displaced persons (IDPs), mostly women and children. — Cinda
Worship and Music
Sunday, May 1 after Worship
Contact: Joe M
WIN Hot Lunch Service
Saturday, May 7 ... cooks welcome!
Contact: Cinda S
Memorial Service/Celebration of Life for Dayle B
Sunday, May 15 at 1:00 pm
(see story below)
Seward Park Neighborhood Fundraiser for Refugees Sunday, May 15, 9:00 am to 3:00 pm
Drowning in Plastic?
Ridwell to the Rescue!!

Did you know that you can no longer put plastic bags in the recycle bin? And that local grocery stores who take them are NOT actually recycling them (because there are no local companies to take them)? Your plastic bags are really going into the landfill.

Ridwell serves as a national resource to reuse plastic bags in manufacturing. The company also collects eyeglasses, plastic bread bag tags and other specialty items for re-use.

Bring yours to church by Sunday May 8, and I'll add them to my pickup.

Consider becoming a Ridwell customer! Pickup is every other week and always includes the core categories of batteries, light bulbs, fabric (clothing, towels, bedding, underwear — whatever is no longer usable and not good enough to donate) and plastic bags/film. You can bring batteries every Sunday to church and I'll send them off.

Or better yet, sign up yourself and work in your community to gather recyclables. I signed up for the year at $12/month and I believe it is truly worth it! — Cinda

Memorial Service/Celebration of Life for
Dayle B Sunday, May 15 at 1:00 pm
As previously announced, our own Dayle B passed away at St. Joseph Residence on March 31. Arrangements are being made for a memorial service in-person or virtually at Alki UCC on Sunday, May 15 at 1:00 pm.
If you have remembrances that you would like to share, please let Pastor Louis, Sandy J or Vicky S know. Although Dayle was a very private person, she was an active member of Alki UCC for many years and was well-known. Many Alki people supported her in the past several years, helping with tasks around her apartment or driving her to her numerous appointments; we're sure there are many memories floating around out there!
We are hoping for an outdoor reception following the memorial, where folks can share more stories and enjoy some of our favorite Dayle coffee hour recipes: i.e. Nordy Bars, Molasses cookies and Peanut Butter cookies.
If you would like to help with the reception, please contact Sandy J or Vicky S.
For those grieving the recent death of a loved one:
The Alki UCC community and friends/family of our own Dayle B, Julia, Rod and family on the death of Julia's youngest brother Rick B, Cinda S and family on the death of her brother-in-law Tom P, Charlie H and family, Todd S and family, Patty M
Recent hospitalization, illness and other concerns:
Special Prayers of vibrant health and good work for Dan K, former Alki UCC member Mark H, Shannon's "stepmomma" Gail B, Julia C's good friend Kevin B, Nette M, Dan K, Sue B's friends Mary and Louise, Cindy, Jeff and Kirstin's sister-in-law Sue, Kirstin D, Shannon P's father Rev. Dr. Bill, Verona's younger brother Eric, Bonita C, Claire F, Imy P, Kirstin D's father, Don P

For homebound members/friends of Alki UCC: Doris C
Wider World: Prayers for all those affected by the corona virus outbreak; all those suffering from PTSD in the military and around the world; for all those affected by misguided immigration policies; prayers for fewer guns, for all victims and those affected by gun violence; victims and survivors of extremist violence around the world; migrants seeking refuge around the world, and for those who are trying to help them. The rest of the missing schoolgirls kidnapped by Boko Haram, who remain in our hearts as long as they remain missing. The hungry and homeless, the ill and the addicted, the lost and the lonely; the unemployed.
Worship this Sunday,

May 1

at 10:00 am

The Third Sunday of Easter

Communion Sunday


Please prepare a cup and a morsel for at-home communion.

Guest Accompanist: Zachary Kellogg

Contemporary Voices:
"Healing is embracing what is most feared; healing is opening what has been closed, softening what has hardened into obstruction, healing is learning to trust life." — Jeanne Achterberg
Blessed are the vulnerable,
for they shall be broken.
And being so,
Shall break open the heart of the Universe."
— Quaker Proverb
Scripture Readings:
Psalm 30:11-12
Acts 9:11-15
(NRSV)
Sermon:
"Healing the Broken Parts"
Music Highlights:
All Things Bright and Beautiful, #31 NCH
Holy, Holy, Holy
#277 NCH
God, Speak to Me, That I May Speak, #531 NCH
Click here for the Order of Online Worship.
If you're already registered for Sunday worship on Zoom, use your personal link. If not, welcome! Please
r
egister here.
The ChurchLady is IN:
Mon, Wed, Thurs
8:30 am to 12:30 pm
Tues, Fri
Noon to 4:00 pm
And by appointment.
(Virtual) 2022 PNCUCC
Annual Meeting
Saturday, April 30 and Sunday, May 1
Online registration here.
Business Meeting:
Saturday, April 30
9:00 am
Sunday Worship:
May 1 at 10:30 am
Links for both days will be sent out prior to the meeting. Stay tuned!
Full agenda here.
PNC 2022 Women's Retreat
"Who Do You Say
I AM"
May 13-15
Join the women of the Pacific Northwest Conference at N-Sid-Sen for a weekend of faith, fellowship and fun.
We will engage in creativity, dance the labyrinth, and listen deeply to Spirit in our midst. Come ready for soul play.
Retreat details here
"Alaska Suite" to Benefit Green Buildings Now
Sunday, May 15
3:00 pm
Seattle First Baptist Church
1111 Harvard Ave

Don't miss the Nelda Swiggett Quintet performing the touching and powerful "Alaska Suite," Swiggett's multimedia jazz story of beauty, loss and hope.

The concert benefits Green Buildings Now, a grassroots initiative promoting social justice and climate resilience by working with marginalized communities to remove fossil fuels from buildings in a just way.

Information and tickets:

Sunday afternoon Protestant Worship Service Volunteer Opportunity at
Providence Mount St. Vincent
Rev. Louis says:
I encourage folks who have the time and desire to apply! What a gift to them and those they will serve!I
Sunday afternoon Protestant Worship Service Volunteer
Providence Mount St. Vincent
4831 35th Ave SW
Sundays, 2:00 – 4:00 pm (two hours per week).
This volunteer job can be shared, alternating Sundays. Details here.
For secure, online giving through Give Lively, click the blue button below.

You can also send your check,
made out to "Alki
UCC" to:
6115 SW Hinds
Seattle, WA 98116
Sunday Worship Videos Posted on YouTube

Sunday Worship recordings now online! Check out Alki UCC's very own YouTube channel.
Sunday Worship Registration

If you've already registered on Zoom, you can still use your personal link. If not, you can register here.
When you register, please use your first/last name plus your email.

Check for church news and calendar updates at www.alkiucc.org.