It's (still) Stewardship Time ...
Thank you for supporting our campaign!

Here's our progress so far: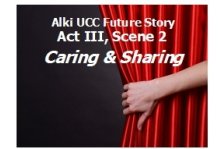 24 Pledging individuals and families
80% responses by Active Members!
There is still time to increase your pledge for the coming year. Just update your form and mail it in or fill out a new form HERE.
We also would like to know how you would like to share your time and talent. A BIG THANK YOU to so many of you who are already so generously giving of your time and talents.
Maybe you should call a friend to join you.
As mentioned during Sunday's congregational meeting, the council is a collaborative group charged with shaping the way we all "do church". Because we are a lay-led church, we all have a voice and can step up to help!
We have an immediate need for folks to help plan/coordinate worship services by leading the Worship & Music or Worship Logistics Ministry team.
If you enjoy attending worship, this is your chance to lead the future on what that looks like by working with our new bridge pastor, Rev. Emily!
The Worship & Music ministry team is meeting on Sunday, July 10 after worship so come see what it is all about! Bring a friend to co-lead. Contact Joe M for info
— Shannon, Dan and Kim along with Emily and Sandy representing the Caring Community ministry team
As previously announced, Rev. Emily Tanis-Likkel, Alki UCC's new Bridge Pastor, begins regular office hours on Tuesday, July 5. Her specific schedule and contact info will be announced next week.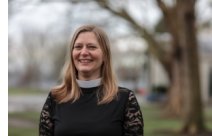 About Rev. Emily
The Reverend Emily Tanis-Likkel is an ordained United Church of Christ minister who lives in a multigenerational household in West Seattle with her spouse Brett, nineteen-year-old daughter Eva, fifteen-year-old son Day, and her parents.

She is trained in Nia, a holistic movement practice, which informs her spiritual practice of embodying Scripture. She loves collaborative ministry and co-creating experiences that liberate, challenge the status quo, engage the senses, deepen relationships, and draws us nearer to our creator.

She also loves to consume novels and dance barefoot. She is currently writing a book for those on the journey of faith who wish to widen their experience of the sacred through the joy of movement. She is very much looking forward to serving as Bridge Pastor at Alki United Church of Christ.

On Sunday, June 26, we held our annual congregational meeting. It was the first time since 2019 that we've been able to hold this event both online and in person. Thank you to all who attended!
Business included:
• Re-election of council positions
(
unanimously approved/see list above right)
• 2022 to 2023 church budget
(unanimously approved)
• A reminder from the Stewardship team to get pledges in
Penny Matthews announced that she'll be retiring in mid-July, after serving as a hospice chaplain for 15 years.
Our Steering Committee needs a new member, as Shannon Peterson has a new job (an actual job, on top of everything she does as Alki!) and is leaving the committee. Please contact Joe Mitter if you're interested.
In addition to business, there was a big thank-fest to all the volunteers who have kept Alki UCC going and growing. Also a special thank you to Zachary Kellogg, who has made a wonderful musical contribution. He'll be staying with Alki through the summer.
Our new bridge pastor, Emily Tanis-Lykkel, starts on July 5, with her first worship service on July 10. In the meantime, there will be no service at Alki UCC on July 3, but two good options for services that day are Admiral UCC, where Pastor Bruce Wilson is filling in for Pastor Andrew, and Normandy Park UCC, where Cinda Stenger will be guest pastor that day. See story at right
— Charlie H, clerk
Prayers of Healing and Recovery for Amy Y's mother Corlene, who has suffered a sudden health challenge.

For those grieving the recent death of a loved one:
The Alki UCC community and friends/family of our own Dayle B, the Alki UCC community and friends/family of Nick Tobler-Wolff; Julia, Rod and family on the death of Julia's youngest brother Rick B, Cinda S and family on the death of her brother-in-law Tom P, Charlie H and family, Todd S and family, Patty M

Recent hospitalization, illness and other concerns:
Jeff D's brother Andy, Julia C's friend Cheryl W, Dan K, former Alki UCC member Mark H, Shannon's "stepmomma" Gail B, Nette M, Sue B's friends Mary and Louise, Cindy, Jeff and Kirstin's sister-in-law Sue, Kirstin D, Shannon P's father Rev. Dr. Bill, Verona's younger brother Eric, Bonita C, Claire F, Imy P, Kirstin D's father, Don P



For homebound members/friends of Alki UCC: Doris C


Wider World: Prayers for all those affected by the corona virus outbreak; all those suffering from PTSD in the military and around the world; for all those affected by misguided immigration policies; prayers for fewer guns, for all victims and those affected by gun violence; victims and survivors of extremist violence around the world; migrants seeking refuge around the world, and for those who are trying to help them. The rest of the missing schoolgirls kidnapped by Boko Haram, who remain in our hearts as long as they remain missing. The hungry and homeless, the ill and the addicted, the lost and the lonely; the unemployed.

Alki UCC Worship Cancelled

this

Sunday, July 3

Two recommended alternatives:

Our own Cinda S is leading service/preaching at Normandy Park UCC with another longtime Alki UCC friend, Shannon T, as liturgist.
Worship at 10:00 am
To join worship remotely via Zoom, send an email to info@npucc.org.
In-person:
19247 1st Ave S
(masks recommended)

Longtime Alki UCC friend, Rev. Bruce Wilson, is the temporary minister at Admiral UCC while Pastor Andrew is on sabbatical.
Worship at 10:30 am
Link to attend via Zoom:
In-person:
4320 SW Hill St
(masks required)

Two excellent options! Have a safe and happy July 4 holiday weekend.

Slate of Council Members Approved Unanimously at 2022 Annual Meeting
Joe Mitter – moderator
Shannon Peterson – vice moderator
Charlie Hinckley – clerk
Gary Gesellchen – treasurer
Cinda Stenger – Outreach/Social Justice
Sandy Johnson – Caring Community
Julie Peeler - Faith Formation
Dan Kennedy – at large.

Our own beloved Verona R will be 90 years young this Wednesday, July 6.




If you would like to send a card or related birthday salutations, contact the church office for specifics.
We love you, Verona!

For secure, online giving through Give Lively, click the blue button below.

You can also send your check,
made out to "Alki
UCC" to:
6115 SW Hinds
Seattle, WA 98116
Sunday Worship Videos Posted on YouTube

Sunday Worship recordings now online! Check out Alki UCC's very own YouTube channel.
Sunday Worship Registration

If you've already registered on Zoom, you can still use your personal link. If not, you can register here.
When you register, please use your first/last name plus your email.
6115 SW Hinds,
Seattle, WA 98116
Church news and calendar updates at www.alkiucc.org.