I have heard people in various congregations say, in the face of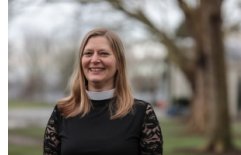 crises large and small, I don't want to bother the pastor with this. Assuming the pastor already has plenty on their plate, they keep it under wraps. Later, the pastor will hear about it and wish that they could have kept that person in prayer, helped connect them with resources, visited them in the hospital, called or sent a supportive note.
And even though my position as Bridge Pastor is primarily a worship leadership position, not a pastoral care position, I can't effectively prepare sermons for people I do not know! Worship is a co-creation, a living, breathing and collaborative response to God. The way we worship will evolve over our time together, as we grow and change in community and learn from one another, as we listen to our still-speaking God. If you ever find yourself thinking, I don't want to bother the pastor with this, please let me in. I want to know you and know how to pray for you.
In this Sunday's sermon I will be talking about Paul and Timothy's letter to the church in Colossae, and how they had been praying continually for that community. It is of utmost importance to me that I continually pray for all of you, and get to know you.
So, let's start this out on the right foot!
and let me know something about yourself.

Perhaps it's something for which you would like prayer, or a bit you'd like me to know about you. It will be kept confidential, whether large or small, and I will hold you, your concern, your story in prayer.
I'm looking forward to getting to know you all!
— Pastor Emily
Contact
pastor@alkiucc.org
Office Hours
Monday, Tuesday, Wednesday
8:30 am to 12:30 pm
Best to contact first before dropping by
About Rev. Emily
The Reverend Emily Tanis-Likkel is an ordained United Church of Christ minister who lives in a multigenerational household in West Seattle with her spouse Brett, nineteen-year-old daughter Eva, fifteen-year-old son Day, and her parents.
She is trained in Nia, a holistic movement practice, which informs her spiritual practice of embodying Scripture. She loves collaborative ministry and co-creating experiences that liberate, challenge the status quo, engage the senses, deepen relationships, and draws us nearer to our creator.
She also loves to consume novels and dance barefoot. She is currently writing a book for those on the journey of faith who wish to widen their experience of the sacred through the joy of movement. She is very much looking forward to serving as Bridge Pastor at Alki United Church of Christ.
It's (still) Stewardship Time ...
Thank you for supporting our campaign!

Here's our progress so far:
Pledge Goal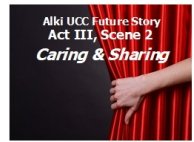 $100,000
24 Pledging individuals and families
80% responses by Active Members!
There is still time to increase your pledge for the coming year. Just update your form and mail it in or fill out a new form HERE.
We also would like to know how you would like to share your time and talent. A BIG THANK YOU to so many of you who are already so generously giving of your time and talents.
Maybe you should call a friend to join you.
As mentioned during our recent congregational meeting, the council is a collaborative group charged with shaping the way we all "do church." Because we are a lay-led church, we all have a voice and can step up to help!
We have an immediate need for folks to help plan/coordinate worship services by leading the Worship & Music or Worship Logistics Ministry team.
If you enjoy attending worship, this is your chance to lead the future on what that looks like by working with our new bridge pastor, Rev. Emily!
The Worship & Music ministry team is meeting this Sunday, July 10 after worship so come see what it is all about! Bring a friend to co-lead. Contact Joe M for info
— Shannon, Dan and Kim along with Emily and Sandy representing the Caring Community ministry team
Jeff D's Stewardship Moment
When I was little, we didn't go to church very much. When we did, my mom gave my brother and me a quarter each to put in the collection plate. When I was in my teens and began going to church regularly, I put in some money from time to time.
As I got older and began to work, I continued to have that same routine of placing money in the plate for offering. I also continued to put my time and talent in my home church.
When Kirstin and I moved over here, it took us a while to find a church where we could give that time and talent as well as an offering. When we found that church, we did many things and stayed involved. When we first came to Alki, our first Sunday 15 years ago, Kirstin, Kelly and I sat down. At the time, Cinda was teaching Sunday School and invited Kelly to come. Kelly did not want any part of going anywhere since we were visiting and politely declined.
When we came back the following Sunday, Cinda approached us again and invited Kelly. This time, Kelly said yes and off she went with Cinda. I turned to Kirstin and commented, "Who was that kid?!" After church, we climbed into the car and the first thing out of Kelly's mouth was, "When are we coming back?" I looked at Kirstin and said, "I think we found our new church home." Yes, out of the mouths of babes!
When Gary mentioned during the Congregational Meeting how it was a joy to serve on the council, I wanted to stand up and second that motion. When the new council was formed back in 2019, I joined as a rep for the Worship-Logistics team.
I was there when EVERYTHING hit the fan of March 2020. At the time, the council met with Mike Denton several times in a couple of weeks. He told us, the council, to take a deep breath, several if need be. When we did, the rich discussions that took place and everybody's opinion was valued.
Even though I finished my term in 2021, I highly recommend you give the council a try. They are a Fabulous group of people to work with!! And I mean fabulous with a capital "F."
Kirstin and I have put our time, talent and our offering into Alki and we continue to do so. I hope that you will find the opportunities at Alki to give of your time, talent and treasures. — Jeff D

Happy Birthday (yesterday), Verona! Celebrating 90 years and counting.

We love you!


For those grieving the recent death of a loved one:
The Alki UCC community and friends/family of our own Dayle B, the Alki UCC community and friends/family of Nick Tobler-Wolff; Julia, Rod and family on the death of Julia's youngest brother Rick B, Cinda S and family on the death of her brother-in-law Tom P, Charlie H and family, Todd S and family, Patty M

Recent hospitalization, illness and other concerns:
Amy Y's mother Corlene, Jeff D's brother Andy, Julia C's friend Cheryl W, Dan K, former Alki UCC member Mark H, Shannon's "stepmomma" Gail B, Nette M, Sue B's friends Mary and Louise, Cindy, Jeff and Kirstin's sister-in-law Sue, Kirstin D, Shannon P's father Rev. Dr. Bill, Verona's younger brother Eric, Bonita C, Claire F, Imy P, Kirstin D's father, Don P



For homebound members/friends of Alki UCC: Doris C


Wider World: Prayers for all those affected by the corona virus outbreak; all those suffering from PTSD in the military and around the world; for all those affected by misguided immigration policies; prayers for fewer guns, for all victims and those affected by gun violence; victims and survivors of extremist violence around the world; migrants seeking refuge around the world, and for those who are trying to help them. The rest of the missing schoolgirls kidnapped by Boko Haram, who remain in our hearts as long as they remain missing. The hungry and homeless, the ill and the addicted, the lost and the lonely; the unemployed.

Alki UCC Worship

Sunday, July 10

at 10:00 am





Rev. Emily Tanis-Likkel



Guest Accompanist:
Zachary Kellogg

Liturgist:
Vicky S



Scriptures:




Psalm 25:1–10 paraphrase by




Nan C. Merrill




Colossians 1:1-14


NRSV




Sermon:




"The Fruit You Bear"



Click here for the Order of Online Worship.

If you're already registered for Sunday worship on Zoom, use your personal link. If not, welcome! Please
register here.

Church Office on Summer Break
Beginning July 16
Larisa is taking her three-week summer break from July 16 through August 7.

Here's who to contact for:
Email Blasts
The newsletter will be on hiatus for the weeks of July 18, 25 and August 1. Charlie H will send out email blasts as needed to keep folks up to date on any important events or developments.
Scheduling Zoom
Contact Cinda S if you need to set up a church meeting. Email her with the meeting title, date/time and duration, and she will send you the login information to forward to your participants.
Building Use
If you want to use a room for an in-person meeting before August 8, please don't assume it will be available. Our building partner, KHN, uses the building on a regular basis. Contact Kristin M
BIG thanks as well to Shannon P for creating the worship slides and handling communication with the worship team.
The church office is open through next week in case you need anything or have a special request.
PNCUCC July News Now Online
Click here for the Conference Calendar and to read about July highlights, celebrations and more!



Conference Minister Announces New Call
Mike Denton announced that he has received a new call to serve in a local church in the Massachusetts Conference. He will be missed but we are grateful for his faithful leadership of the Pacific Northwest Conference since 2008. Read his letter here.

For secure, online giving through Give Lively, click the blue button below.

You can also send your check,
made out to "Alki
UCC" to:
6115 SW Hinds
Seattle, WA 98116
Sunday Worship Videos Posted on YouTube

Sunday Worship recordings now online! Check out Alki UCC's very own YouTube channel.
Sunday Worship Registration

If you've already registered on Zoom, you can still use your personal link. If not, you can register here.
When you register, please use your first/last name plus your email.
6115 SW Hinds,
Seattle, WA 98116
Church news and calendar updates at www.alkiucc.org.