In the 2021 Farm to ECE Needs Assessment, 32 percent of respondents said they had limited access to farms and farmers markets. Childcare staff also said they would like to develop relationships with local farmers and community gardens.
Partnering with a local farmer can be a great way to add local produce to your menus.
In this edition we will bring you stories and multiple resources and links to websites to help you find markets, farmers, and gardens near you!
If you're doing amazing things at your program (and we know you are!) please send us a photo and brief description of your farm to preschool in action activities for future newsletters at dtimson@asapconnections.org.
Let It Grow! The Harvest

by Maria Hitt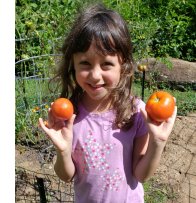 OH my goodness, the garden is overflowing with delicious fresh produce! Store tomatoes at room temperature and eat them ripe for best flavor. Pick up any that have fallen to the ground or split from too much rain and put them in the compost pile.
Harvest green beans, squash, and cucumbers often, when they are still young and tender. This way they will have better flavor and the plants will continue to produce more fruit. If left too long they can get overgrown and tough or bitter.
If plants look like they are diseased, dying, or are infested with insects, go ahead and remove them from the garden. Do not put diseased plants into your compost bin. Throw them into the trash or make a pile far away from the garden where they can rot in peace and not infect your garden soil.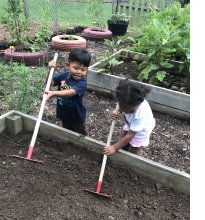 If you take out summer crops or have extra space, you can plant fall carrots and beets in August. You can also start planting other fall vegetables in late August like lettuce, spinach, kale, and transplants of broccoli, collards, and cabbage if you can find them in your local garden center.
Enjoy the abundance!
Maria
Whip It Up!

Marianne Lindgren

NC Child and Adult Care Food Program (CACFP)

Melon Sampler


Cantaloupe, watermelon, and honeydew are in season in North Carolina July through August. One fun way to introduce children to these delicious fruits is with a taste test! Taste tests can help children learn about new foods and feel comfortable trying them out. Below are easy steps for a Melon Sampler taste test at your facility:
First, gather the materials you will need, such as:
Local melons (cantaloupe, honeydew, and/or watermelon)

Knife and cutting board (for adult use only)

Paper plates, forks, napkins, popsicle sticks or another type of child-safe skewer (optional)
Second, show the children the whole, uncut melon(s) and see if they can name them. Talk with the children about how melons grow and ask questions about what melons need to grow (water, nutrients, and sunlight).
TIP: Have seeds and/or pictures available to show the melons growing on vines.
Engage the senses by asking the children to touch each melon and describe how it feels and what it looks like from the outside. What predictions can the children make about what the melon will look like on the inside and how will it taste?
Next, have an adult wash and cut the melon open. Ask the children to compare what they see to the predictions they made earlier. Then, cut the melon into
bite-size pieces that are age and developmentally appropriate.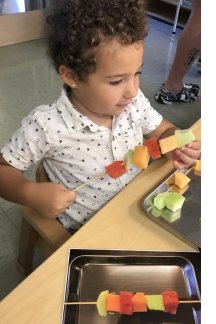 Finally, it is time to taste the melons! Provide each child with a plate and fork, as well as one piece of each type of melon. After the children taste each melon sample, have them identify their favorite and share what they liked about it. Add more of their favorite melon to their plate or have them slide the fruit onto a
child-safe skewer and enjoy!
As a follow up activity, it can be fun to make a graph recording the children's votes for their favorite melon.
For a creditable snack in the CACFP serve ½ cup of melon with 1 ounce of cottage cheese.
CACFP Crediting for Snack: ½ cup fruit and ½ ounce meat/meat alternate
Resource: Growing Minds Melon Exploration
The 2021 National Farm to ECE Survey is now available from the National Farm to School Network. More than 2,900 providers in 26 states and Washington, D.C. responded and shared the benefits and challenges of connecting young children to healthy, local foods, gardening, and food and agriculture education through farm to ECE. You can find the survey fact sheet, infographic, and sharing toolkit
here
.
Thanks to lots of advocacy, the Healthy Meals, Healthy Kids Act
passed through
the House Committee on Education and Labor on July 27th! This is only step one. This bill needs to continue passing through the whole House as well as the Senate. Letting legislators know what's important to us and thanking them when they listen is crucial feedback, and continuing to spread the word to our communities on supporting child nutrition is key.
Please spread the word to keep the momentum up. National Farm to School Network created a toolkit with some sample language you can copy/paste directly to Twitter.
Find the toolkit here!
This Week in the Garden

@ Preschool



The NC Farm to Preschool Network connects, educates, develops and shares resources between community and state partners, farmers, early childhood educators and families to spark the local foods movement in early childhood education environments.

Farmer's Market Day
by Shanda Trent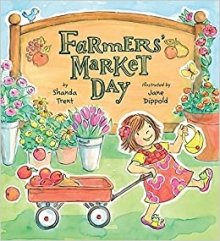 This short rhyming story follows an enthusiastic little girl as she searches the farmers market for the perfect treat. She'll discover forests of broccoli trees and rainbows of flowers and taste freshly baked breads and pies. But will she find her prize? Farmers' Market Day captures a colorful feast for the senses!
Read aloud on YouTube.
Tractor Mac Farmers Market
by Billy Steers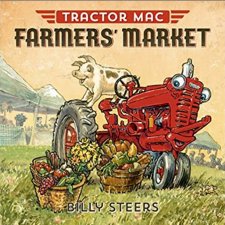 Pete and Paul the pigs love food, especially snacks and sweets. But Tractor Mac knows there is a better way to eat, and that it can even be fun, too: buying food from the farmers market! So Tractor Mac and friends visit the local farmers market, pick out a variety of fresh fruits and vegetables, and cook up a big, healthy feast.
Read aloud on YouTube.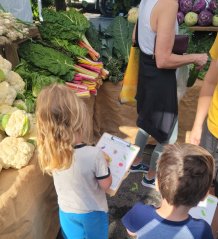 Visit the farmers market with your family or preschool and see how many of the things you can find there.
If you can't visit a market in person right now, you can watch a video to take a virtual "tour" of a farmers market. Check out these recent videos at the Hendersonville and Transylvania Farmers Markets in Western North Carolina.
Download a printable scavenger hunt handout here.
Webinars and a Video

from CEFS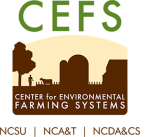 Learning Burst from CEFS:
Utilizing CACFP and a Decision Tree
Learning Burst from CEFS:
Local Food Purchasing
Hear about a Farm to Early Care and Education (Farm to ECE) success story from Teneshia Tyson, director and owner of Follow the Son Childcare Center here. Follow the Son is a childcare center located in Greenville, NC that participated in the Farm to ECE Collaborative, an initiative of the Center for Environmental Farming Systems. For more information visit https://cefs.ncsu.edu.
2022 North Carolina Crunch!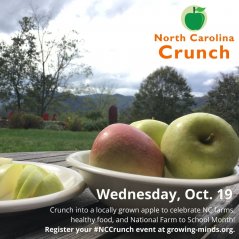 This October, join schools, childcare centers, and organizations across the state of North Carolina in celebrating
National Farm to School Month by crunching into a locally grown apple. The 2022 NC Crunch will take place on Wednesday, October 19th. Participants of all ages are invited to crunch with us!
This annual event, co-sponsored by the NC Farm to Preschool Network and the Farm to School Coalition of NC, celebrates farm to school/preschool, NC agriculture, local farmers and farm workers, and healthy eating. Learn more and register your Crunch event here!
The Center for Environmental Farming Systems (CEFS) has compiled a collection of materials on local food purchasing
here
.
These websites, directories and apps can help you find fresh food and farms near you.
Community Gardens
:
Visit
this website
to find a community garden near you. They may have extra produce to share, garden space you can use if you don't have any at your center, invite you to bring your kids on a field trip, or have garden volunteers to help you at your center.
Farms and Farmers Markets:
At
GottaBeNC
you can search by farm, product and region to find farms near you or who have what you're looking for.
NCFarmFresh.com
also provides a search engine for local products. Always follow-up with a phone call before visiting a farm, in case things have changed.
Visit NC Farms
has a new app you can download to your phone to find farms near you,
click here
for more info.
If you are in WNC check out Appalachian Sustainable Agriculture Project (ASAP) Online Local Food Guide! As well as information about Farm Tour 2022!