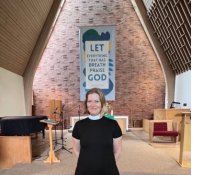 Dear Alki UCC,
We are so grateful for the music leadership that Zachary Kellogg has brought to worship and to our community. Zachary's expertise, incredible talent, and dedication as a musician has blessed us immensely.
We will take some time in worship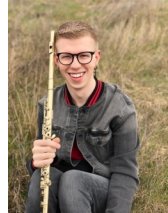 this Sunday to thank Zachary for his ministry among us, and bless him as he prepares for his next chapter in New York. We know that he will continue to make beautiful music and be a blessing of light and love wherever he goes.
We have absolutely loved having him here at Alki UCC, and wish him all the best.
Our Scripture readings and sermon this Sunday focus on music in the Psalms and the power that music has to connect us with our Creator. Whether we are musicians or not, music has a role to play for all of us in our walk with God.
Joyce Rupp, in her book, May I Have This Dance, suggests the image of a flute to represent our openness to God's song flowing through us. Her poem reads:
A small, wooden flute,
an empty, hollow reed,
rests in her silent hand.
of one who creates song
through its open form.
My often-empty life
rests in the hand of God;
like the hollowed flute,
it yearns for the melody
which only Breath can give.
The small, wooden flute and I,
we need the one who breathes,
we await one who makes melody.
and the one whose touch creates,
awaits our empty, ordinary forms,
so that the song-starved world
may be fed with golden melodies.
Let us join together to become God's song in the world. I hope to see you this Sunday as we celebrate music, our dance with God, and our friend Zachary Kellogg.
In hope,
Pastor Emily
Let There Be Beautiful Color!
A hearty thank you goes out to Rod P, Julia P, John C and Keith T for
painting the clergy offices this week!

Fresh colorful paint has transformed these spaces (for the first time this century!), and Rabbi Sabine and Pastor Emily are most grateful.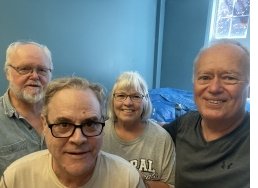 We thank all the talented, dedicated and hard-working volunteers who keep our amazing community thriving.

Heartfelt appreciation to you all!

Support Opportunities for Peruvian Families Seeking Asylum Status
On behalf of the congregation, the Alki UCC Council has agreed to provide support to the two Peruvian families seeking asylum status with time, talent and treasure.
The Council has directed the remaining $1000 from the church's outreach fund to be seed money for this effort.
You are invited to participate!
• Time:
Bring them to appointments, take them on outings and build relationships. They don't speak English, so here's a chance to brush up on your Spanish ... and Google translate works!
• Talent:
Research grant/housing opportunities and reach out to others in the community to gather more support.
• Treasure:
Checks can be directed to Alki UCC with "Peruvian families" in the memo line. You can leave your check in Sunday's offering plate, or mail to Alki UCC, 6115 SW Hinds, Seattle 98116.
After entering your donation amount, click on "Dedicate this Gift" and enter "Peruvian Families" in the Dedicatee's Name box, then click save.
To donate with a credit card, click on "choose another payment method" and complete the transaction.

There are many church and community folks already helping with our efforts to support these families in need.
Please direct your questions to the church office for referral to the right person to offer further information or to discuss your ideas.
Prayers of comfort for dear Alki UCC friend Jane Clay, who is in declining health, and her family.

Please pray for Don and Imy P and family. Don is still at Swedish Hospital.



For those grieving the recent death of a loved one:
Jeff D and family, Julia C's friend Cheryl W, the Alki UCC community and friends/family of our own Dayle B, the Alki UCC community and friends/family of Nick Tobler-Wolff; Julia, Rod and family on the death of Julia's youngest brother Rick B, Cinda S and family on the death of her brother-in-law Tom P, Charlie H and family, Todd S &


and family, Patty M



Recent hospitalization, illness and other concerns:
Sue B's brother Tom and his wife Carla, Julia C's friends Peter C and Jessie T & family; Amy Y's mother Corlene, Jeff D's brother Andy, Julia C's friend Cheryl W, Dan K, former Alki UCC member Mark H, Shannon's "stepmomma" Gail B, Nette M, Sue B's friends Mary and Louise, Cindy, Jeff and Kirstin's sister-in-law Sue, Kirstin D, Shannon P's father Rev. Dr. Bill, Verona's younger brother Eric, Bonita C, Claire F, Imy P, Kirstin D's father



For homebound members/friends of Alki UCC: Doris C


Wider World: Prayers for all those affected by the corona virus outbreak; all those suffering from PTSD in the military and around the world; for all those affected by misguided immigration policies; prayers for fewer guns, for all victims and those affected by gun violence; victims and survivors of extremist violence around the world; migrants seeking refuge around the world, and for those who are trying to help them. The rest of the missing schoolgirls kidnapped by Boko Haram, who remain in our hearts as long as they remain missing. The hungry and homeless, the ill and the addicted, the lost and the lonely; the unemployed.

Alki UCC Worship

Sunday,

August 28

at 10:00 am





Rev. Emily Tanis-Likkel



Join us for a special celebration and send-off for musician extraordinaire Zachary Kellogg on his imminent departure for new triumphs and adventures in New York.

Liturgist:
Joe M

Guest Accompanist:
Zachary Kellogg



Scripture Readings:


Psalm 118:1-2, 19-29
re-imagined by Elsa Anders Cook in
"Living Psalms"
Psalm 150
adapted from NRSV

Sermon:
"Everything That Breathes"

Join us either in-person (masks required) or virtually via Zoom.

Click here for the Online Order of Worship, including scripture text and song lyrics.

If you're already registered for Sunday worship on Zoom, use your personal link. If not, welcome! Register here.

September 4 Worship Cancelled ...
... to give our leadership and hard-working volunteers a much-needed respite Here's a suggested alternative:

Longtime Alki UCC friend, Rev. Bruce Wilson, is the temporary minister at Admiral UCC while Pastor Andrew is on sabbatical.
Worship at 10:30 am
Link to attend via Zoom:
In-person:
4320 SW Hill St
(masks required)

Have a safe and happy Labor Day weekend

"Godspell" Film at Admiral UCC
Monday, August 29
at 7:00 pm
Admiral UCC
4320 SW Hill St
Admiral UCC invites you to an in-person community screening of the 1973 film sensation, Godspell.
More information here.

For secure, online giving through Give Lively, click the blue button below.

You can also send your check,
made out to "Alki
UCC" to:
6115 SW Hinds
Seattle, WA 98116
Sunday Worship Videos Posted on YouTube

Sunday Worship recordings now online! Check out Alki UCC's very own YouTube channel.
Sunday Worship Registration

If you've already registered on Zoom, just use your personal link. If not, welcome! You can register here.
When you register, please use your first/last name plus your email.

Church news/calendar updates
at alkiucc.org.