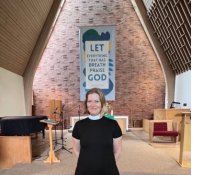 Dear Alki UCC,
Homecoming. I have seen this word quite a lot in my email inbox lately. Promotions for church events beckon everyone to come home this Sunday, September 11.
My previous church is even getting a bouncy house. It's a whole thing. And for good reason. Many church-goers are away much of the summer, and the Sunday following Labor Day feels like a good day to come home.
I haven't met everyone at Alki UCC yet. Some of you have been away for stretches. Others of you haven't returned since pre-pandemic days. I'm not sure if you'll be back or not. Maybe you don't even know.
I always think it feels a bit funny, coming home, after a long time away. When I am on my way to an event, and I'm feeling nervous and awkward about it, introvert as I am, I remind myself of this question: How does the organizer of this event hope that I feel?
When I am organizing something, I always want people to feel comfortable, welcome, wanted. I don't want them to feel awkward about coming late, I'd rather that they take their time and not rush. I don't want them to feel funny about arriving early, because I know some people need more time to settle in and it can relieve anxiety to have lots of time to spare. I would not want them to feel badly for not bringing a gift. I would want them to come, just as they are, no mad dashes to the store required. I want them to feel at home. I'm guessing that many of you feel these things too, about organizing an event or having guests in your home.
This is what it's like, returning to church after time away. No one will come up to you and ask: "Where have you been all this time?!" Heavens, I sure hope not! They will say, "I am so glad to see you. Tell me how you have been. Have a cookie and cup of tea." Besides, most of us have been away a whole bunch. We are in the same boat, coming home.
If you feel a bit funny coming home, remind yourself that the worship leaders, including myself, hope that you feel radically welcome. Your church family will be happy to see you.
So . . . what are we coming home to? What are we coming home for? Why go to church? Ah. That is what we'll be exploring this Sunday. I look forward to being together.
In hope,
Pastor Emily
UPDATE/Support Opportunities:
Peruvian Families Seeking Asylum Status
Join the Peruvian Family support brigade!
Organizational Meeting Tonight
Thursday, September 8 at 6:30 pm
Alki UCC Parlor

Bring your questions ... Sign up to help ... Join us!

* * *

Our Peruvian families have settled in nicely at their temporary home.
Alki's Outreach ministry has given $1,000 and we are delighted that Fauntleroy UCC's Immigration Task Force is gifting us with $1,000.
Here are some suggestions of how you can help:
• Volunteer to drive them places: Trips to the Food Bank, a fun family outing, or to appointments not easily accessible by bus.
• Donate food: They use a lot of onions, potatoes, eggs, tuna and rice (jasmine rice a treat!). Bring your food donations to church on Sunday and they will be delivered.
• Donate $$ to help cover their generous host's additional utility and food expenses.
Checks: Make out to Alki UCC with "Peruvian families" in the memo line; leave in Sunday's offering plate or mail to 6115 SW Hinds, Seattle 98116.

After entering your $$ amount, click on "Dedicate this Gift" and enter "Peruvian Families" in the Dedicatee's Name box, then click save.
To donate with a credit card, click on "choose another payment method" and complete the transaction.
• Research permanent housing options: The two families will do nicely staying together.
Please
email me
if you have questions and/or want to help in any way!. All suggestions are gratefully accepted.
— Vicky S
Meet New Accompanist Becky Cain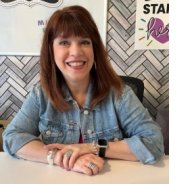 We are so happy to welcome Becky Cain as our Interim Music Director!

In addition to accompanying worship on Sunday mornings, Becky will be rebuilding our church choir.

Are you interested in joining the choir? Come and talk to Becky after church this Sunday!





* * *



Becky L. Cain has been a church musician for more than 30 years. The daughter of a Lutheran pastor, Becky grew up playing for church! She has held music director positions in Lutheran, Catholic, Methodist and Presbyterian churches — and is very excited to be adding UCC to the list!

Twelve years ago, she founded the Puyallup Children's Theater, which has grown into a premiere music and theater training opportunity for children ages 3-18. Becky is also busy as a private music/online teacher, and author of many nonfiction books about music education and three cozy mysteries. Becky holds a Master of Education Degree from Lesley University in Curriculum Design & Instruction and a Bachelor of Arts Degree from Washington State University in Music & Theater. She is currently pursuing her Master of Music Degree from Eastern Washington University.

Becky has six grown children; one three-year-old grandson; and one overly dramatic and needy dachshund. Becky is very excited about the ministry possibilities at Alki UCC and can't wait to get to know everyone!

Please feel free to talk to Becky after church about any interest you may have in choir, instruments you play or just to say "Hi!"

Preparedness Begins at Home!
In case of a regional emergency, do you know how to reach the closest Communications Hub?
West Seattle has a network of outdoor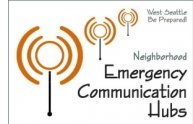 "Communications Hubs" which have been designated as community gathering sites if a major disaster makes it impossible to communicate or provide help through regular channels
.
Please bookmark this website:
Enter your zip code to find the site nearest your West Seattle residence. You'll also find information on other valuable resources and a link to info from other Seattle neighborhoods.
Now that the building has reopened and is getting busier by the day, it's the perfect time to brush up on our Building Radar!
There are some simple steps we can follow as a community to be safe if confronted with an unforeseen event.
Stay tuned throughout the month for specific suggestions on home and church safety. To get started please do look over the National Preparedness website for an overview of valuable information and resources.
Please continue prayers for
Don and Imy P and family
. Don and Imy have both moved to Providence Mount St. Vincent.
For those grieving the recent death of a loved one:
Jeff D and family, Julia C's friends Lorrie C and Cheryl W, the Alki UCC community and friends/family of our own Dayle B, the Alki UCC community and friends/family of Nick Tobler-Wolff; Julia, Rod and family on the death of Julia's youngest brother Rick B, Charlie H and family, Todd
and family, Patty M
Recent hospitalization, illness and other concerns:
Jane C and her family, Sue B's brother Tom and his wife Carla, Julia C's friend Jessie T & family; Amy Y's mother Corlene, Jeff D's brother Andy, Dan K, former Alki UCC member Mark H, Shannon's "stepmomma" Gail B, Nette M, Sue B's friends Mary and Louise, Cindy, Jeff and Kirstin's sister-in-law Sue, Kirstin D, Shannon P's father Rev. Dr. Bill, Verona's younger brother Eric, Bonita C, Claire F, Imy P, Kirstin D's father

For homebound members/friends of Alki UCC: Doris C
Wider World: Prayers for all those affected by the corona virus outbreak; all those suffering from PTSD in the military and around the world; for all those affected by misguided immigration policies; prayers for fewer guns, for all victims and those affected by gun violence; victims and survivors of extremist violence around the world; migrants seeking refuge around the world, and for those who are trying to help them. The rest of the missing schoolgirls kidnapped by Boko Haram, who remain in our hearts as long as they remain missing. The hungry and homeless, the ill and the addicted, the lost and the lonely; the unemployed.
This Sunday, September 11
Worship
at 10:00 am
Worship and Music
In-person meeting Sunday, September 18 at church after worship
Food/Clothes
Donations Drive
Sunday, September 25
11:00 am to 3:00 pm
Front Courtyard
PNCUCC September Calendar Now Online


Check it out here for news about:

• September Celebrations
• Conference Calendar and Transitions
• Stewardship
• Gender Workshop
• Justice Leadership Program
• Regional Women's Retreat
... and more!

Premiere Recycling Company September Special Offer
Ridwell, a Seattle-based subscription service, picks up hard to recycle items such as plastic film, light bulbs and batteries.

Create less waste in your life while keeping a whole lot of your stuff from ending up in landfill.




This month only, you can sign up for a Ridwell membership on a month-to-month basis, allowing you to enjoy regular pickups of plastic film, clothing, light bulbs, batteries, etc. with no long-term commitment.
SPECIAL OFFER HERE!.

For secure, online giving through Give Lively, click the blue button below.

You can also send your check,
made out to "Alki
UCC" to:
6115 SW Hinds
Seattle, WA 98116
Sunday Worship Videos Posted on YouTube

Sunday Worship recordings now online! Check out Alki UCC's very own YouTube channel.
Sunday Worship Registration

If you've already registered on Zoom, just use your personal link. If not, welcome! You can register here.
When you register, please use your first/last name plus your email.
Church news/calendar updates
at alkiucc.org.