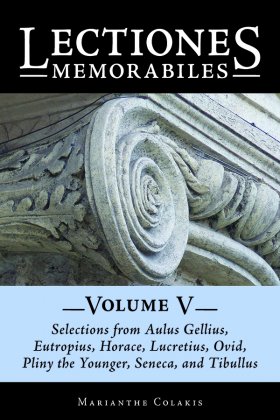 This new text is currently at press, and pre-ordered copies will be shipped by the week of September 19. A full description of Lectiones V, designed for the IB Latin syllabus, is available at the product page. Check out some sample pages from one of the selections, Seneca De Clementia 1.8, to get a feel for the format and student support that this volume has to offer.

AP Latin Professional Development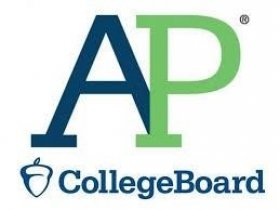 AP Latin Professional Development
October 5 and 12, 2022 online with two asynchronous modules to be completed between the two synchronous online meetings.
Facilitator: Jennie Luongo
To Register
PD menu is to right upon sign in!
B-C's Special Distance Learning Content with Complimentary Materials

In response to school closures due to COVID-19, Bolchazy-Carducci Publishers is making a variety of materials available to the classics community in order to ease the transition to distance learning. Please see our new Distance Learning page to freely access downloadable packets of fair use excerpts from our books as well as some fun mythology-related activities.
Tuesday, September 27, 2022 — 5:00–6:00 pm Central Time
"The Blues of Achilles," Joe Goodkin, Chicago-based Musician
The Blues of Achilles is a 17-song conversation between Joe Goodkin and Homer's Iliad. It captures the grief, horror, and love of Homer's epic tale as experienced by characters such as Achilles, Patroclus, Priam, Chryseis, Briseis, Andromache, and others. Following this engaging and moving guitar performance, evocative of the bards of Homer's time, Goodkin will entertain questions from the audience.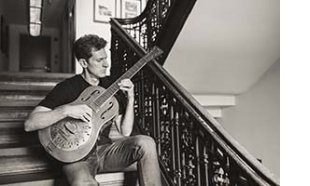 Joe Goodkin is a Chicago-based singer/songwriter with a Bachelor's Degree in Classics from the University of Wisconsin-Madison. For decades he has toured the country performing his original one-person song interpretations of Homer's Odyssey (A Folk Opera) and Iliad (The Blues of Achilles). He has given almost 400 performances between the two pieces in forty-four states in the US and in Europe at such institutions as Harvard, Stanford, University of Chicago, UC-Berkeley, and the American School for Classical Studies in Athens. He has also performed at VA hospitals as part of recreational therapy for veterans experiencing PTSD. More info about his work can be found at joegoodking.com, thebluesofachilles.com, and joesodyssey.com
---
Tuesday, October 27, 2022 — 5:00–6:00 pm Central Time
"David Walker, the Abolitionist Movement, and the Reframing of the Classics," Timothy Joseph, College of the Holy Cross
The black abolitionist David Walker's (1796/7?–1830) four-article Appeal (1829) is a landmark work of American political writing about the cruelty of the institution of slavery in the United States and the need for immediate abolition. In the work, which was immediately condemned and banned in much of the US, Walker drawers on models from across the Mediterranean world to underscore his points. For example, he brings into relief the extraordinary sufferings of enslaved persons in the US through a comparison with conditions of the Israelites in Egypt, the helots in Sparta, and the enslaved under Roman rule—a direct response to Thomas Jefferson's argument about the superior conditions of enslaved persons in the US. Elsewhere Walker discusses Egypt as the wellspring of learning for the entire Mediterranean world, and he figures the Carthaginian general Hannibal as a representative of all people of African origins, at all time, in their fight against European oppressors—and he anticipates the arrival of another Hannibal to unite African-Americans in the fight against oppression in the US. The Appeal thus stands as an important example of reframing and redirecting ancient models, long used by prominent American figures such as Jefferson for the defense of slavery, toward the causes of freedom and justice.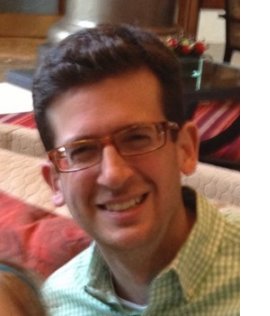 Timothy Joseph attended the College of the Holy Cross as a Bean Classics Scholar and then taught Latin at Cresskill Junior-Senior High School in New Jersey from 1998 to 2001. He went on to earn a PhD in Classical Philology from Harvard University in 2007. He joined the classics department at Holy Cross in 2006. He has served as department chair and as director of the Classical Association of New England's Summer Institute at Brown University. Currently, he serves as CANE's president.
Joseph's research concentrates on Latin historiography and epic poetry with a focus on the literature of the early Roman empire. He has authored Thunder and Lament: Lucan on the Beginnings and Ends of Latin Epic (Oxford University Press, 2022) and Tacitus the Epic Successor (Brill, 2012) and has contributed "Tacitus and Epic" to A Companion to Tacitus (Blackwell, 2012), "Cornelius Tacitus: Annals" to The Literary Encyclopedia (2013), and "Caesar in Vergil and Lucan" to The Cambridge Companion to the Writings of Julius Caesar (Cambridge, 2017). On occasion Joseph writes for The Conversation about topics such as Martin Luther's King's lived engagement with the Classics and echoes of Roman history in the ongoing transformation of the U.S. Senate and presidency.
---
Tuesday, November 15, 2022 — 5:00–6:00 pm Central Time
"Insights on the Fall of the Roman Empire from the 'Outsider's' Perspective of Alaric the Goth," Douglas Boin, St. Louis University
Professor Boin returns as a B-C webinar presenter to share insights on his latest research that resulted in the publication of Alaric the Goth: An Outsider's History of the Fall of Rome (W.W. Norton, 2020). Honored as one of The Economist's favorite books of 2020, the book earned Boin St. Louis University's Senior Faculty Scholarly Works Award. Boin brings to life one of the most pivotal - and little understood—figures of ancient history, Alaric the Goth, to better understand the last days of the Roman Empire. Boin tells the story of Rome — a really well known, well-studied topic — but through the eyes of an immigrant. In doing so, Boin makes ancient history feel interesting because it turned the tables on who was important. People from the margins are not often put at the center of the story of the Roman Empire. Find more about Boin's work on Alaric.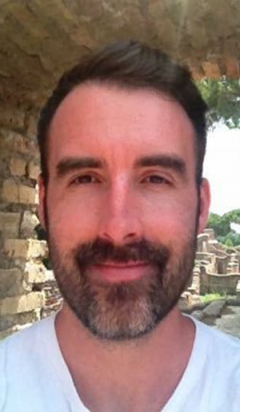 Douglas Boin, trained in the classics and archaeology, earned his PhD and MA from the University of Texas at Austin and his BA from Georgetown University. Boin holds a full professorship in St. Louis University's department of history. Boin received an Innovative Teaching Fellowship, Reinert Center for Transformative Teaching and Learning, Saint Louis University in 2014. He has also taught at Georgetown University and the University of Texas at Austin. Boin has authored Alaric the Goth: An Outsider's History of the Fall of Rome (W.W. Norton, 2020), Late Antiquity: A Social and Cultural History (Wiley, 2017), Coming Out Christian in the Roman World (Bloomsbury Press, 2015) and Ostia in Late Antiquity (Cambridge University Press, 2013).
Boin's intellectual interests are driven by a strong desire to interrogate the social history of Republican, Imperial and Late Roman religions. He is also keenly intent on exploring broader issues related to the transformation of Roman society—working at the intersection of politics and religion in ancient history. His research largely draws upon archaeological, anthropological, and sociological approaches to religion, as well as recent research on social memory, landscape, and the construction of identity. Boin charts the transformations and economic changes that characterized Rome, Italy, and the Western provinces during the imperial and late Roman periods. He incorporates epigraphic material, as well as smaller objects like lamps, glassware, and ivory, to reconstruct a more intimate image of Roman daily life—exploring the social, cultural and visual continuities that bind the Roman "Age of Augustus" to the late Roman "World of Augustine" —and beyond. Current avenues of interest include the city, people, and history of Rome in Late Antiquity to issues related to the transformation of Roman imperial cult. For more about Boin, check out his website.
---
Tuesday, November 22, 2022 — 5:00–6:00 pm Central Time
"To Gaze from Elsewhere: 'Looking' at Pasts and Futures in Mexican and Puerto Rican Classical Reception," Joshua Hartman, Bowdoin College
This talk introduces major figures within the history of Puerto Rican and Mexican receptions of Greek and (especially) Latin literature. Two case studies will focus on Neo-Latin poetry in Mexico and vernacular poetry in Puerto Rico. The first will comprise a longer investigation of a Neo-Latin epic from colonial Mexico, the Guadalupe of Jose Antonio Villerías (1695–1728), focused especially on how the poem's principal actors "look" at the past, what the politics of such looking may be, and how they are informed by engagement with the Latin epic tradition. As a kind of epilogue, I will also preview a new project in Puerto Rican reception: an analysis of Luis Muñoz Rivera's Mens Divinior (c. 1900), a Spanish poem that examines the vitality of the classical tradition in Latin America, including perspectives on "looking" at the past and future, in dialogue with ancient and modern literary traditions.
Joshua Hartman earned his BA in classics, history, and Latin from the University of Wisconsin-Madison and his MA and PhD in classics from the University of Washington-Seattle. He has also studied and taught at the University of Münster in Germany. He served as a Latin teaching assistant at Edgewood High School in Madison, WI, and also worked for the Wisconsin Center for Academically Talented Youth. Currently teaching at Bowdoin College, Hartman has also taught at the University of Washington, the University of Waterloo, and Kalamazoo College.
His research focuses on the relationship between literature and memory, especially during late antiquity. He is currently working on the monographic adaptation of his dissertation, Poetry and Cultural Memory in Late Antiquity. He has published articles on Greek and Roman literature, Roman cultural memory, and classical reception in Puerto Rico. While pursuing his studies, he lived and worked in France, Germany, Spain, and Italy. He has developed proficiency in Spanish, German, and French. Hartman has collaborated with colleagues to translate material from German into English for other scholars' academic publications and has translated Spanish, French, Latin, and Greek for use in his own publications.
Celebrating Our Second Decade of Complimentary Professional Development
Bolchazy-Carducci Publishers is pleased to provide complimentary webinars on a variety of subjects, especially pedagogical, of interest to classicists. Some webinars are geared to the Latin for the New Millennium program and to topics generated by the AP* Latin curriculum.
Watch for the announcement of our fall series of free webinars in the September eLitterae or follow us on Facebook and Twitter.
Please note:
The Bolchazy-Carducci Publishers Webinar Program is intended to be a live interactive endeavor in which presenter and attendees ask questions, make comments, seek clarification, share examples, etc. Thus, by design and in order to protect the presenter's intellectual property, B-C does not make recordings available to non-attendees. B-C encourages those interested in a given topic or presenter to plan to attend the live webinar.
If you have suggestions for webinars, please contact Don Sprague.
---
What Equipment Do I Need for B-C Webinars?
To participate in Bolchazy-Carducci Publishers sponsored webinars you will need high-speed internet access, computer speakers/headphones, current web browser, and the link to the webinar virtual meeting space, which is provided in your webinar invitation.
Webinars Make for User-Friendly Professional Development
Participation is free. All webinars provide opportunity for participants to ask questions. Learn lots—attend as many presentations as you can. Bolchazy-Carducci Publishers provides documentation for your participation. You can share this with your supervisors. Many webinar presenters provide handouts, etc.
Bolchazy-Carducci Publishers provides eTextbooks on a variety of eBook platforms. Bolchazy-Carducci textbooks are available through VitalSource,

GooglePlay

,

Chegg

, RedShelf, Adams Book, Follett,

MBSDirect Digital

, and ESCO. Each eBook platform offers a variety of tools to enhance the learning process. eBooks have the same content as our traditional books in print.
You can read eBooks on a Mac, PC, iPhone, iPad, Android, or a variety of eReaders. Review the eBook providers specifications.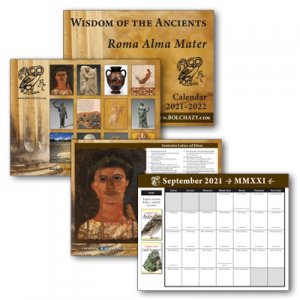 The 2022–2023 Roman Calendar will be appearing in teachers' mailboxes shortly (barring significant supply chain or USPS issues). If you didn't meet the August 8 deadline to sign up for a mailed copy of the Roman Calendar, never fear: you can download a printable PDF version of the calendar here.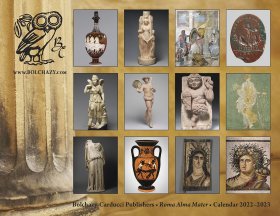 This year's calendar will take you on a journey through the "lesser" gods of the Greek and Roman pantheon. From Nike and Nemesis to Isis and Vertumnus, a variety of gods and goddesses are represented, portrayed as classical statuary, in colorful mosaics, and more! Watch our social media for regular posts describing the artwork used in the calendar in more detail.
Preview Bolchazy-Carducci Titles

Preview Bolchazy-Carducci titles before you purchase using Google Preview.
---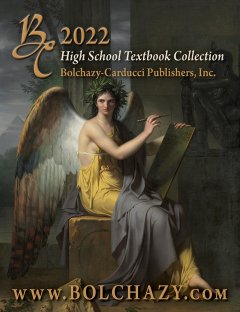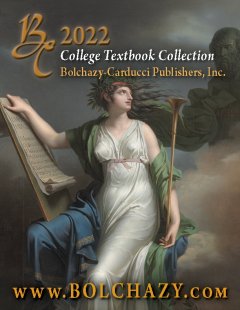 ---

Downloadable Products
iPodius - Bolchazy-Carducci Publishers online shop for: audio, software, video, and a treasure trove of teacher-created materials in the Agora.
---
B-C Facebook Fan Page
Become a FAN of Bolchazy-Carducci Publishers, visit our Facebook Fan page for the latest news from B-C.
---
B-C Blog
Visit the BCPublishers Blog for B-C news and information.
The most recent addition to the blog includes tips on incorporating 3-D printing projects, including Latin inscription cookies, into the Latin classroom.
---
BCPublishers on Twitter
Follow us on Twitter
---
AP® is a trademark registered and/or owned by the College Board, which was not involved in the production of, and does not endorse, this site.
These products have been developed independently from and are not endorsed by the International Baccalaureate (IB).
Dear Colleagues,



By now, you're all back in the classroom and enjoying a return to something more akin to normal. Nonetheless, I'm sure you're experiencing bumps and setbacks embedded in the legacy of the pandemic and its resultant supply chain disruption. That disruption has certainly affected the publishing world and especially so at a small, niche company like Bolchazy-Carducci Publishers. Not only are we experiencing the rising cost of paper, shipping supplies, and shipping itself, but also the more troublesome problem of paper shortages!



So, we are most grateful to those of you who have so graciously shared in our mutual predicament of paper shortages and resultant delays in receiving books. As you'll see in this issue's update on the Roman Calendar, we've had to secure a new printer and, thus, have a new projected arrival date.



With this issue's Teaching Tip, we launch another round of Latin stories, written by Emma Vanderpool and edited by Amelia Wallace and yours truly, to accompany Latin for the New Millennium, Level 1. This year's series will consist of seven new stories to accompany chapters three to nine.


We have incorporated the seven Latin stories, which complemented each of the seven review units, published in

eLitterae

last year, into the current version of

Lumina: Latin for the Millennium, Level 1

. The stories will also be available as a set in the

LNM

Teachers' Lounge and in our complimentary

Distance Learning Resources

. Amelia Wallace has written a set of exercises to accompany each review's story available exclusively in

Lumina

.




For over forty years now, I have attended classics conferences—as attendee, as presenter, as presider, as officer, and, for the past decade, as exhibitor. In February of my very first year teaching at Loyola Academy in Wilmette, Illinois, at the recommendation of the late Patrick Flaherty, a colleague whose classes I had observed at New Trier West High School, I attended the annual gathering of the Illinois Classics Conference hosted by Northwestern University. My participation in the ICC enriched my teaching and introduced me to lifelong friends whose colleagueship, advice, and ideas significantly my professional and personal growth.


One of those good friends is Tom Sienkewicz, whose enthusiasm, energy, and industry transformed the classics program at Monmouth College in Illinois. Through the decades, Tom has nurtured many a Latin teacher and mentored his high school colleagues throughout the state. I suspect you might enjoy his

memories

of being a classics major at the College of the Holy Cross.




While at Monmouth, Tom was named in 1985 the inaugural holder of the Minnie Billings Capron Chair of Classical Languages. In 2017, Tom retired after thirty-three remarkable years at Monmouth. Today, Robert Holschuh Simmons holds the Capron Chair at Monmouth. Bob, in so many ways, shares the enthusiasm, energy, and dedication of his predecessor. Like Tom, he is currently serving as vice president of the Illinois Classical Conference and will become president following this term. As Tom ensured that Monmouth would regularly host the Illinois Latin Tournament as a means of promoting classics at Monmouth, Bob has established the biennial Classics Day at the college. Like Tom, Bob is keen about supporting Illinois high school teachers and their students. He played a key role in keeping the Latin program at the local high school alive. I think you'll appreciate his

essay

on how we can save Latin in our public high schools.




I'm sure it comes as no surprise that I heartily encourage you to engage with your colleagues at other schools. And, I assure you there is no substitute for the in-person conference where your learning is spontaneous and informal as much as it is formal presentations. I look forward to kicking off the 2022–2023 with my friends at the Classical Association of the Atlantic States meeting in October at the historic Hotel DuPont in Wilmington, Delaware.



Celebrating our second decade of complimentary professional development webinars, join us for the launch of the fall series with musician Joe Goodkin performing live his original work The Blues of Achilles on Tuesday, September 27 from 6:00 to 7:00 pm Central Time. The fall roster of webinars is published in this month's eLitterae.



Wishing you all good things in your classrooms!



All best,





Don Sprague
Executive Editor





PS
I forgot to mention that last month's issue, August 2022, is our two hundredth! issue of eLitterae.

Teaching Tip: A Latin Story to Accompany Latin for the New Millennium, Level 1, Chapter 3

This is the first in a series of seven stories to accompany chapters 3–9 in LNM 1. While complementary to LNM, the stories can serve all first-year Latin students.

This story recounts an episode of Roman history from the historian Titus Livius, who is known as Livy. In this episode, Lucius Quinctius Cincinnatus, known simply as Cincinnatus, is called upon to serve his country and protect the city of Rome from danger.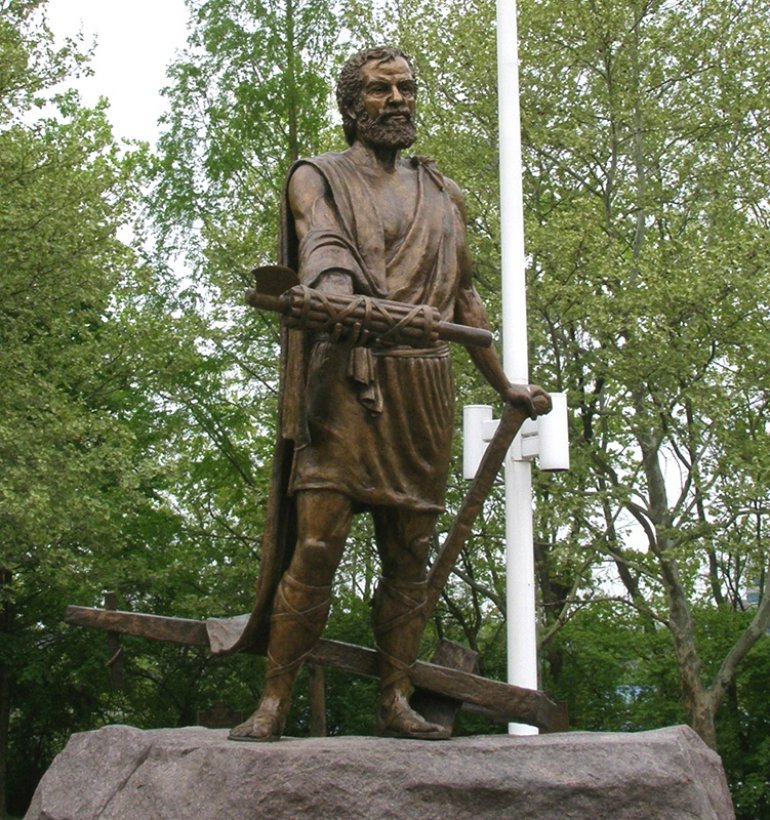 This statue was commissioned in 1984 by the Cincinnatus Association, an organization dedicated to improving the life of the citizens of the city of Cincinnati, Ohio. Sculpted by Eleftherios Karkadoulias (1936–2015), the statue commemorates the city's namesake, Cincinnatus. Cincinnatus is depicted with his plow as well as with the Roman fasces in his hands. He is the "citizen farmer," called from the fields to assume, as represented by the fasces, political power. In 1790, Northwest Territories Governor Arthur St. Clair0 as a tribute to Cincinnatus's volunteer spirit as a citizen-soldier, renamed the Ohio city. Wikimedia Commons. Creative Commons 4.0.
Cincinnātus
Titus Līvius poēta nōn est. Līvius historicus est. Fābulās dē patriā nārrat.


In fābulā Līviī, Lūcius Quīnctius Cincinnātus nauta nōn est. Mīles et agricola est.


Cincinnātus in casā habitat. Cincinnātus est agricola et in agrīs ambulat. Rīvōs et terram cūrat. Cincinnātus fōrmam āthlētae habet. Animum fortis virī habet.


Virī in viā ambulant quia Cincinnātum vidēre volunt. Virī Cincinnātum in agrō vident. Deinde virī Cincinnātum vocant et amīcum exspectant. Cincinnātus ad virōs ambulat.


Virī vocant: "Rōma, patria tua, in perīculō est! Cincinnāte, tū animum fortis virī habēs! Tū fōrmam fortis āthlētae habēs! Tū, Cincinnāte, dēbēs esse dictātor patriae!"


Cincinnātus agrōs cūrāre amat. Sed patriam valdē amat et perīculum nōn timet.


Cincinnātus cum virīs Rōmam ambulant. Ad perīculum ambulant. Cincinnātus, vir fortis, nōn timet.


Rōmae Cincinnātus nunc mīles et dictātor est. Rōmam et virōs bene cūrat.


Cincinnātus potestātem diū nōn tenet. Dictātor diū nōn est quia agrōs et terram cūrāre vult. Cincinnātus Rōmam bene cūrat et ad agrōs redit. Cincinnātus agricola est.


Vocabula Nova

ad – to, toward
dē – down from
dictātor, dictātōris, m. – dictator
esse – to be
fortis – strong, of a strong
historicus, -ī, m. – historian
mīles, mīlitis, m. – soldier
perīculum, -ī, n. – danger
quia – because
potestātem (direct object) – power, authority
redit – returns
Rōmae – at Rome
Rōmam – to Rome
sed – but
tua – your
volunt – want
vult – wants

Editor's Note:
Bolchazy-Carducci Publishers is pleased to provide this Latin story for Latin teacher subscribers to use with their own classes
only
. The
PDF version
includes a full-color illustration and caption.
About the Author
Emma Vanderpool has taught Latin at the university, middle school, and high school levels—currently at the Springfield Honors Academy in Massachusetts. Vanderpool earned her Bachelor of Arts in Latin, Classics, and History from Monmouth College in Illinois and her Master of Arts in Teaching Classical Humanities from the University of Massachusetts in Amherst. She serves as a state rep for CANE, as an executive board member of Ascanius, and as an organizer for Our Voices and Lupercal. Vanderpool is the recipient of a Distinguished Teaching Award from UMASS Amherst and was honored as the Lincoln Laureate for Monmouth College. She has self-published ten novellae. Bolchazy-Carducci Publishers is pleased to have had Vanderpool launch our novella series with Explore Latin: Aves and the first three titles for the Encounter Latin series—Augury is for the Birds: Marcus de Avibus Discit, Under His Father's Wing: Marcus de Auguribus Discit, and Princess, Priestess, Mother, Wolf: Fabula de Romulo et Remo (forthcoming).
Content by Emma Vanderpool
Latin for the New Millennium ©2022 Bolchazy-Carducci Publishers

Teaching Tips & Resources

► Social Justice
• UNESCO supports adding Odesa to World Heritage Roster

• Archaeologists seek UNESCO support to protect the Hagia Sophia.

• Mughal women asserted their autonomy.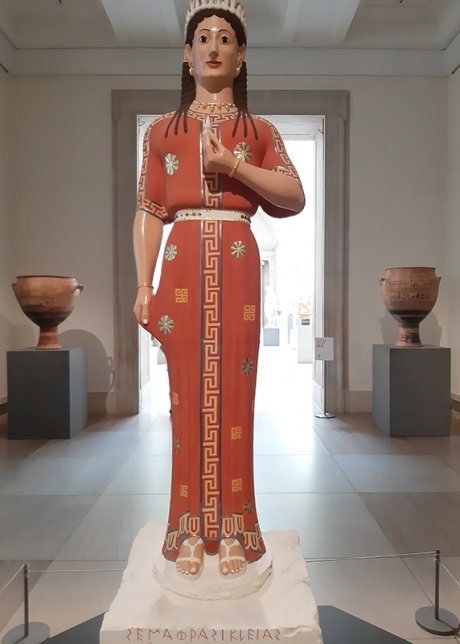 Reconstruction of a marble funerary stele of Phrasikleia, 2010/2019,
by Vinzenz Brinkmann and Ulrike Koch-Brinkmann at the
Metropolitan Museum of Art. Photo by Donald Sprague.



• What about that flesh color at the Met's Chroma exhibit?

• Braga, Portugal boasts a polychrome version of the Augustus of Prima Porta.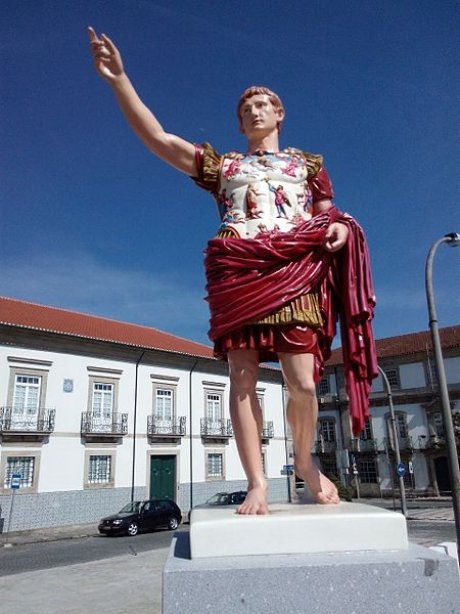 The multicolored rendition of the iconic Augustus of Prima Porta
stands proudly in Braga, Portugal, a city founded by Augustus as
Bracara Augusta. Wikimedia Commons. Creative Commons 3.0.



• Let's give classicist Katherine Wright, sister of the aviation pioneers, her due credit!

• Rare coin celebrating Jewish rebellion is returned.

• Museum of the Bible returns looted Gospel manuscript to Greece.

• Greece approves repatriation of ancient treasures from US.

• US returns antiquities to Egypt.

• Egyptian archaeologist seeks return of the Rosetta Stone.

• Glasgow Museums approves repatriation agreement with India.

• In India, politicians make archaeology a political weapon.

► Classroom Ideas
• Try your hand at this linguistic certification for the Latin language exam.

• The Laocoon sculpture group, beloved highlight of the Vatican Museums, becomes symbol of struggle for climate protestors. Ask students to consider why these protestors chose the Laocoon group to highlight their dramatic gesture.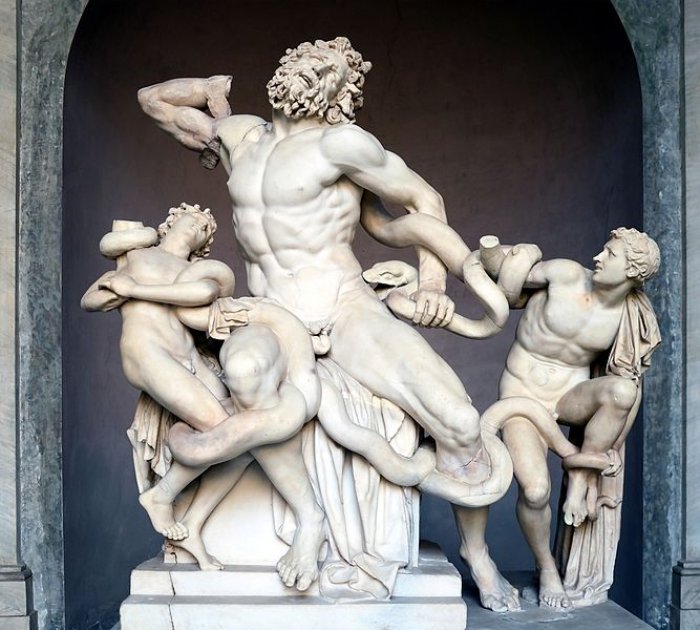 The famous Hellenistic sculpture of the Trojan priest Laocoon and his sons.
Wikimedia Commons. Creative Commons 4.0.



• Check out Legonium: Where Latin Meets Lego. You'll enjoy its daily posting. Share the 9.8.2022 with your students for sure!

• "Antiquity & America" uncovers a new history of curious and related phenomena: the intensity and passion with which Mediterranean antiquities have long been collected by Americans, and the prominent role the ancient Mediterranean has played in the history of American cultural and political life. Use this online resource for a class project.

• Did these six mystery islands only exist in ancient explorers' imaginations?

• Here's an interesting reading for those using B-C's Explore Latin: Aves. You can also share this lovely recording of a bird singing.

• Some medieval gastronomy, especially apropos for those using the workbook for Latin for the New Millennium, Level 2, with its Hildegard von Bingen reading.

• Classes reading Trimalchio's Dinner Party might enjoy learning about Vikings and werewolves.

► Res Romanae
• Celebrating the summer solstice and reviving ancient Roman religious practices.

• Memories of Caecilius renewed.

• New turret discovered at Hadrian's Wall.

• Excavations provide insight into the Iceni during the Roman domination.

• Massive Roman era phallus relief uncovered in Spain.

• Fascinating facts about ancient Roman medicine.

• Three fun sites in Rome: Largo Argentina and its cats, the mausoleum of Augustus, and the keyhole on the Aventine.

• Excavations of temple in Italy's Marche region near the Adriatic reveal a rare find: extant colorful interior painting!

► Res Hellenicae
• The story of the restoration of the Stoa of Attalus in the Athenian agora.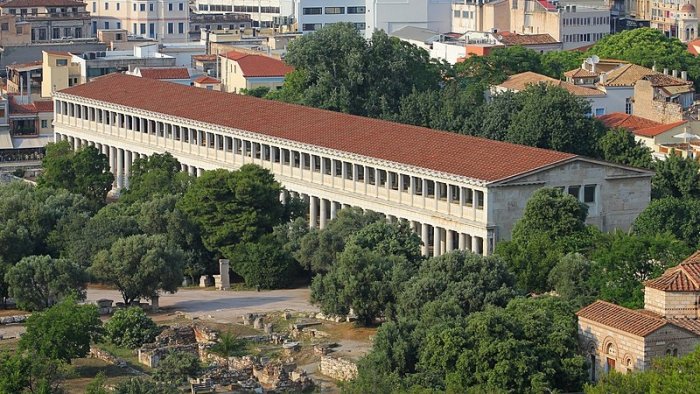 An aerial view of the Stoa of Attalos in the Athenian agora.
Photo by Pedro Palazzo. Creative Commons 4.0.



• Employing 3D technology, researchers explore ancient Greek city of Heloros in Sicily.

• The Vlachs: Greeks who proudly speak a Romance language.

► Res Aegypticae
• Visit the newly opened subterranean "Southern Tomb" at Saqqara.

• Egyptomania in Chino Hills, California.

• Papyrus document contains Cleopatra's signature.

► Res Aliae
• Why did Hitler and Stalin despise the Esperanto language?

• The oldest known song, "Hurrian Hymn No. 6" from 3,400 years ago.

• Europe's drought lays historic artifacts and sites bare.

• Megalithic complex of more than five hundred standing stones discovered in Spain.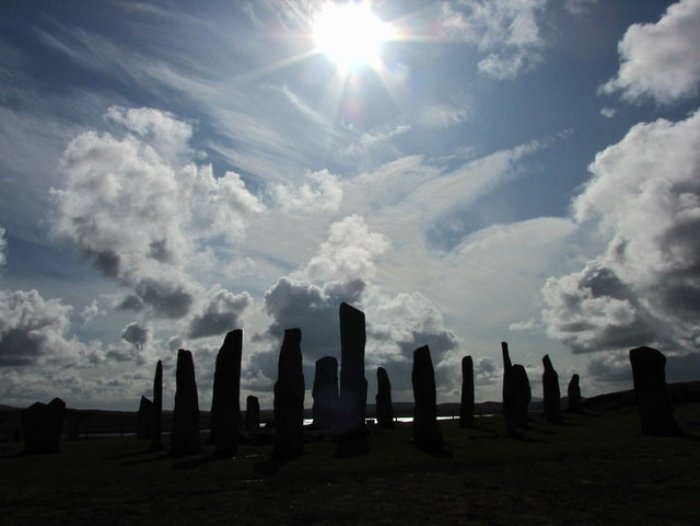 An evocative view of the Callanash standing stones of the outer Hebrides
Islands, Scotland. Photo by John Tustin. Creative Commons 2.0.



• Scotland's most enchanting standing stone groupings.

• The oldest form of writing: ancient cuneiform.

• The lost language of Easter Island.

• Rescuing the ancient glass shattered by Beirut explosion.

• Archaeologists find 1.8-million-year-old human tooth.

• Fossil may boost case for earliest ancestor.

• The origins of Zanzibar's stone town.

• Twelve-hundred-year-old luxury mansion found in Israeli desert.

• Dig in Israel uncovers a treasure of ancient dice used for divination and gaming.

• Prehistoric grave in Romania yields hoard of gold rings.

• Massive three-millennia-old mythical bronze creature unearthed in China.

Important Dates & Deadlines
Classics Exams 2022–2023

National Classical Etymology Exam
Exam Registration September 1–October 25, 2022: Registration Link
Exam Administration: November 1– December 10, 2022


Harry de Forest Smith Scholarship
Greek translation exam for seniors applying to Amherst College.
Contact department for this year's dates.

National Roman Civilization Exam
Exam Registration September 1–October 25, 2022: Registration Link
Exam Administration: November 1– December 10, 2022

National Mythology Exams
Pegasus Mythology Exam grades 3–8
Pegasus Exam Registration September 1, 2022–January 15, 2023: Digital Version Registration Link - Print Version Registration Link
Pegasus Exam Administration: February 13–March 10, 2023

Medusa Mythology Exam grades –12
Medusa Exam Registration September 1, 2022–January 31, 2023: Digital Version Registration Link - Print Version Registration Link
Medusa Exam Administration: March 20–April 7, 2023


National Greek Exam
Exam Registration September 1, 2022–January 15, 2023: Digital Version Registration Link - Print Version Registration Link
Exam Administration: February 27–March 17, 2023

National Latin Exam
The NLE has not yet published dates for 2022–2023.

National Latin Vocabulary Exam
Exam Registration* November 1, 2022–January 25, 2023: Registration Link
Exam Administration: February 1–March 5, 2023


National Hellenic Civilization Exam
Exam Registration* November 1, 2022– January 25, 2023: Registration Link
Exam Administration: February 1– March 5, 2023


Exploratory Latin Exam
Exam Registration September 1, 2022– March 2, 2023: Digital Version Registration Link - Print Version Registration Link
Exam Administration: January 1–April 1, 2023

Bernice L. Fox Classics Writing Contest
"What Makes Them Different Makes Them Great"
deadline: March 15, 2023 postmark

SCRIBO
Registration: September 15, 2022–March 15, 2023
Submissions Due: March 15–April 15, 2023


CAMWS Latin Translation Contest
[intermediate and advanced levels for high school students and for college students]
deadline: October 31, 2022

* Registration form goes live Nov 1.

2022–2023 Classics Conferences and Meetings
Bolchazy-Carducci Publishers is pleased to be exhibiting in-person
at these conferences of the new academic year.

—2022—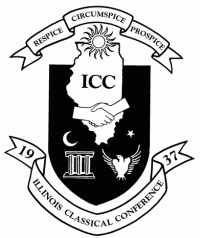 Annual Meeting
Rockford University, Rockford, IL
October 7–9, 2022
B-C will exhibit October 8.
Bolchazy-Carducci Representative:
Bridget Dean, PhD
Jesuit Latin Colloquium
November 3–5, 2022
Boston College High School, Dorchester, MA
Bolchazy-Carducci Representative: Donald Sprague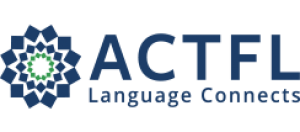 Boston Convention Center
Bolchazy-Carducci Representative: Donald Sprague

—2023—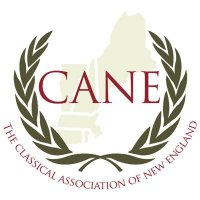 CANE—Classical Association of New England
117th Annual Meeting
St. Sebastian's School, Needham, MA
March 17–18, 2023
Bolchazy-Carducci Representative:
Donald Sprague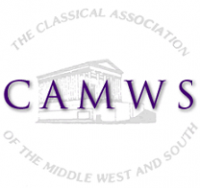 CAMWS—Classical Association of the Middle West and South
119th Annual Meeting
CAMWS 2023 Provo, Utah | CAMWS
at the Invitation of the Utah Classical Association
Provo Marriott Hotel and Covnention Center, Provo UT
March 29–April 1, 2023
Bolchazy-Carducci Representatives:
Donald Sprague and Amelia Wallace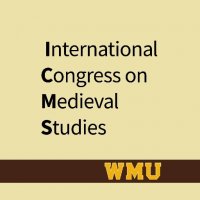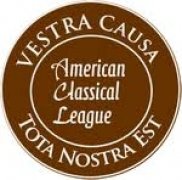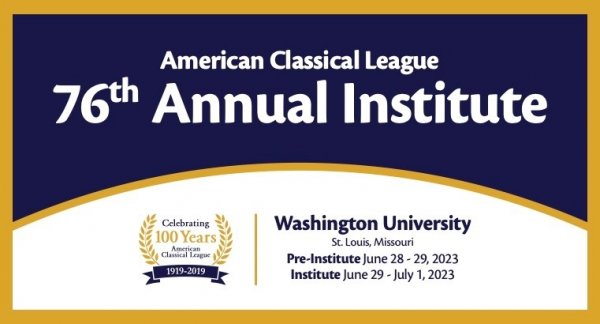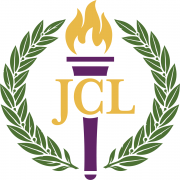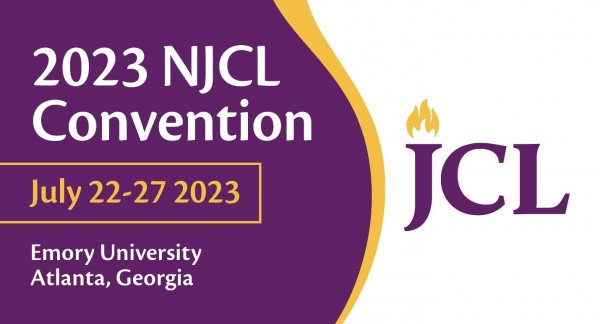 Caelum, non animum, mutant qui trans mare currunt.
"They who rush across the sea change their sky, not their soul"

–Horace, Epistles 1.11

Bolchazy-Carducci Representatives: Donald Sprague and Amelia Wallace

eLitterae Subscribers Special Discount

for eLitterae Subscribers
William Anderson
in his introduction, along with the essays chosen for this volume, gives compelling reasons why one should read Horace.
280
pages, paperback, ISBN: 978-0-86516-417-8 •

$25.00

$15.00
Enter coupon code eLit0922 on the payment page.
The special offer pricing will be charged at checkout.
This offer is valid for up to ten (10) copies, prepaid, no returns.
Discount is not available to distributors.
This offer expires 010/20/22.


(Please note that there will be no adjustments on previous purchases.
Offer is nontransferable and subject to change without notice. Only valid on products published by Bolchazy-Carducci Publishers, Inc.)

Bolchazy-Carducci's New Novella Series:
Great Gifts for the Young Latin Learner
in Your Life
Don't miss the latest Explore Latin title
.