Ever since Benjamin Franklin created the first public library in the United States in 1790, we have enjoyed the benefits of easily obtaining books. It's not that way for everyone in the world. Our featured author, Margriet Ruurs, shares some pretty unusual libraries in her book, MY LIBRARIAN IS A CAMEL. That book is just one of three excellent giveaways. Don't forget to send us an email to enter!
By Margriet Ruurs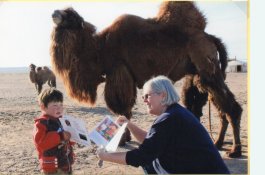 It all started when I read a newspaper article about a mobile library in Kenya. Librarians there used camels to transport books to remote areas.
"If they use camels in Kenya to bring books to readers, how else in the world do children get access to books if there are no library buildings?" That was the fundamental question which lead me to years of research.
In the process I learned about unique mobile libraries. Often these primitive projects were in remote areas where volunteers had little or no contact with the outside world. It took me several years to actually make contact with a Mongolian writer of children's books who spoke no English and who transported books into the Gobi Desert by any means he could find. You never know where and how research will lead. Dashdondog, the Mongolian writer, and I became friends. He ended up receiving IBBY's Asahi Reading Award and I ended up traveling through the Gobi with him to deliver books to nomad families.
I found a book boat in Finland, a donkey library in Peru, an elephant library in Thailand and other unique projects. I didn't visit all of these mobile libraries but I did make friends by writing this book. In turn, the book inspired countless schools in North America to 'adopt' another country by sending money or resources to libraries in need. Children in the Arctic sent books to Pakistan and schools in Oregon fundraised for books for the Himalayas.
Exciting things continue to happen with this My Librarian is a Camel. Recently a school in Detroit, together with the Detroit Public Library system and in conjunction with Right To Read, turned a school bus into a mobile library and dedicated it to me!
Many of my other books also focus on global issues but my global journey started with mobile libraries.
Margriet Ruurs is the author of over 40 books for children, including several bestsellers. When she's not traveling to speak at international schools, she lives on Salt Spring Island BC, Canada. Read more about Margriet's books, awards, and school visits on her website.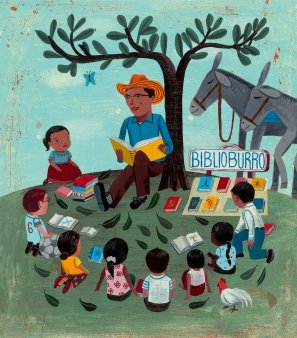 John Parra is an award-winning illustrator, fine artist, designer, author, and educator best known for his art illustrated, Latino themed children's picture books. For his work he has received many awards and accolades including: Three American Library Association's Pura Belpré Honors, Two Golden Kite Awards from The Society of Children's Book Writers and Illustrators and a Christopher's Award.
Two Tweens' Takes On Three Books

The Inside-Outside Book of Libraries
b
y Roxie Munro
This book is about different types of libraries and what makes them unique. One kind of library described was the Internet. Millions of books are at your fingertips from fiction to self help.The Internet shows that the value of a library is not measured by floor space but by how much it benefits the reader. The Internet is a true library without walls.
Reviewed by Daniel W. Vernon
Down Cut Shin Creek
b
y Kathi Appelt & Jeanne Cannella Schmitzer
This nonfiction book is about the packhorse librarians of Kentucky who brought books and magazines to the mountain folk during the Great Depression. The librarians would get up at 4:30AM, pack the reading materials in saddlebags, then ride all day delivering them to neighbors and one room school houses. Picture books were the most desirable considering the majority of the people couldn't read. Practical magazines like
Woman's Home Companion
and
Popular Mechanics
were also favorites since they taught them how to improve their circumstances. I think kids should read this book because it teaches about helping others and being diligent. These librarians showed how a library doesn't need a room, it just needs books.
Reviewed by Daniel W. Vernon
Little Libraries, Big Heroes
b
y Miranda Paul
This book is about a man named Todd and how his idea of Little Free Libraries spread around the world. A Little Free Library is a tiny weatherproof box with books inside that anyone can read. Todd came up with this idea from his mother who taught neighborhood kids to read. At first the libraries were not successful but Todd's friend Rick helped him by building little libraries and spreading his idea. Now you can find Little Free Libraries in your own neighborhood, on a hiking trail in Canada and in foreign countries like Uganda. My favorite part in the book was when Rick helped Todd build the boxes for the libraries.
Reviewed by Benjamin I. Vernon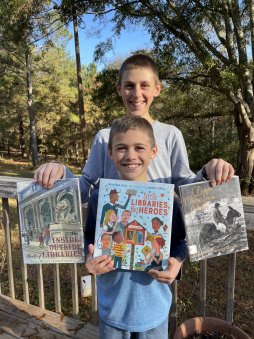 Daniel is 14-years-old. He enjoys hiking with his friends and anticipates driving soon. Benjamin is 10-years-old. He enjoys reading exciting historical novels.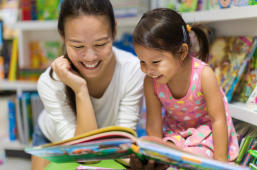 Play library with your child. Pretending to select and check out books can be a fun role-playing activity! Help them select books for each member of the family and for their stuffed animals or pets. If they are interested, have them host a story time for their stuffed animals in which they are the host reader.

Go to the library with your child. Make regular trips to your local library with your child. There are many wonderful resources available for free! It is a fun outing that your child will grow to cherish.

Sort books with your child. Talk about the Dewey Decimal system, then practice sorting your own home library in a similar way. What categories or groupings can you come up with that are the same and/or different than the way the books are sorted on the shelves at the library.

Donate a book Teach your child to give to others. Look around your community for a place to donate a book. What about the library of the pre-school or elementary school that your child attends or will attend someday? What about a day-care that serves an at-risk community? Is there a family in need that you could bless with a surprise?

We love to hear from our readers!

You can contact us through the newsletter or individually at the following social media platforms.

We're also both available for school visits.
Mindy Baker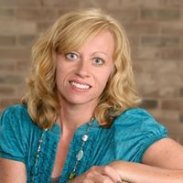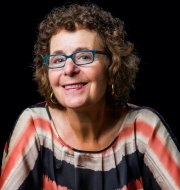 We're always looking for teen or tween reviewers. If you know someone who might be interested in reading and writing a short synopsis of three books, please email us.
Did you know there is a

TALKING STORY

Facebook Group

?

We would love for you to participate and find out what other writers, educators and librarians are saying. You can also leave questions for Margriet Ruurs if you'd like.
If you're having trouble emailing us, try using CHROME browser.
Send us an

and we'll enter your name to win one of the three books below.

Each will intrigue a young reader in your life.

If you have a book preference, please mention it. We try to honor requests.

US

address

only!
Enter by
January 14, 2023

(Or better yet, enter right now!)

If you forward Talking Story
to a friend or share this issue on social media, please let us know. We will enter your name for one of these three books.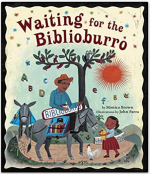 and illustrated by John Parra.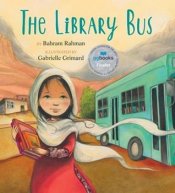 and illustrated by Gabrielle Grinard
It's not too often that our author expert is someone I've met. In 2009 Margriet was in Charlotte, NC speaking at an ALA conference. We had both published books through Maupin House and she contacted me and asked if she could stay with me. Of course, I said yes! She gave me an autographed copy of My School in the Rainforest. Now, 13 years later, I'm proud to introduce her to you.
Libraries Without Walls

Congratulations to

winners from our

Fall issue.

Vanessa Fortenberry won Give Us the Vote

Glenda Burks won The Teachers March

Gwen McCluney won Evicted!

Talking Story is an expression that the people of Hawaii use.
Libraries Without Walls is a real non-profit organization serving libraries, museums, and archives around the world.
To Margriet Ruurs for being our featured author.
To John Parra for being our featured illustrator and
for a copy of Waiting for the Bilblioburro.
To Nancy Sutin for proofreading.
To Daniel and Benjamin Vernon for being our book reviewers.
To Pajama Press for a copy of The Library Bus.
To Astra Publishing for a copy of My Librarian is a Camel.
PLEASE SHARE

If you share TALKING STORY either on social media or via email, we will enter your name in our giveaway. Please email by January 14, 2023, indicate your book preference and we will add your name to the hat!