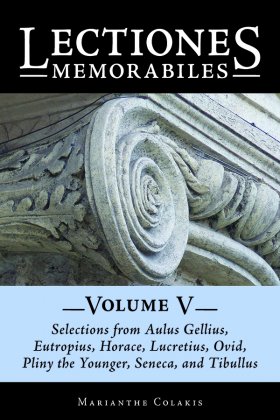 This new text is currently at press, and pre-ordered copies will be shipped by the week of September 19. A full description of Lectiones V, designed for the IB Latin syllabus, is available at the product page. Check out some sample pages from one of the selections, Seneca De Clementia 1.8, to get a feel for the format and student support that this volume has to offer.

The Classical Association of Massachusetts has honored B-C author Emma Vanderpool and proclaimed her the CAM 2021 Award for Excellence in the Teaching of Classics! The CAM citation praises Emma's achievement as an author: "These books (novellae) cleverly reinforce core vocabulary and supplement the classroom textbook. Moreover, her books are rooted in history and culture, making them gateways to discussion of Roman life."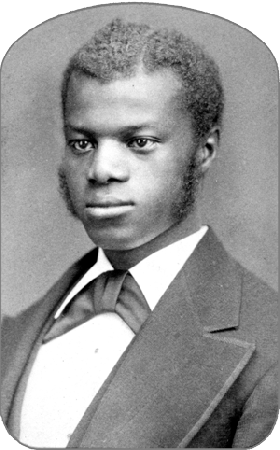 William Sanders Scarborough
A column on Scarborough from Philadelphia's Mainline Media News.
Scarborough and the Black Classicists: A Mural Mosaic at the Center for Hellenic Studies of Harvard University.
B-C's Special Distance Learning Content with Complimentary Materials

In response to school closures due to COVID-19, Bolchazy-Carducci Publishers is making a variety of materials available to the classics community in order to ease the transition to distance learning. Please see our new Distance Learning page to freely access downloadable packets of fair use excerpts from our books as well as some fun mythology-related activities.
Tuesday, October 25, 2022 — 5:00–6:00 pm Central Time
"David Walker, the Abolitionist Movement, and the Reframing of the Classics," Timothy Joseph, College of the Holy Cross
The black abolitionist David Walker's (1796/7?–1830) four-article Appeal (1829) is a landmark work of American political writing about the cruelty of the institution of slavery in the United States and the need for immediate abolition. In the work, which was immediately condemned and banned in much of the US, Walker drawers on models from across the Mediterranean world to underscore his points. For example, he brings into relief the extraordinary sufferings of enslaved persons in the US through a comparison with conditions of the Israelites in Egypt, the helots in Sparta, and the enslaved under Roman rule—a direct response to Thomas Jefferson's argument about the superior conditions of enslaved persons in the US. Elsewhere Walker discusses Egypt as the wellspring of learning for the entire Mediterranean world, and he figures the Carthaginian general Hannibal as a representative of all people of African origins, at all time, in their fight against European oppressors—and he anticipates the arrival of another Hannibal to unite African-Americans in the fight against oppression in the US. The Appeal thus stands as an important example of reframing and redirecting ancient models, long used by prominent American figures such as Jefferson for the defense of slavery, toward the causes of freedom and justice.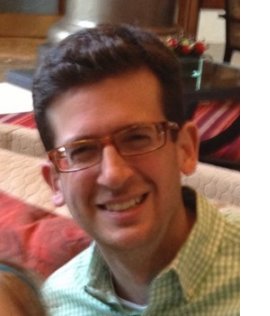 Timothy Joseph attended the College of the Holy Cross as a Bean Classics Scholar and then taught Latin at Cresskill Junior-Senior High School in New Jersey from 1998 to 2001. He went on to earn a PhD in Classical Philology from Harvard University in 2007. He joined the classics department at Holy Cross in 2006. He has served as department chair and as director of the Classical Association of New England's Summer Institute at Brown University. Currently, he serves as CANE's president.
Joseph's research concentrates on Latin historiography and epic poetry with a focus on the literature of the early Roman empire. He has authored Thunder and Lament: Lucan on the Beginnings and Ends of Latin Epic (Oxford University Press, 2022) and Tacitus the Epic Successor (Brill, 2012) and has contributed "Tacitus and Epic" to A Companion to Tacitus (Blackwell, 2012), "Cornelius Tacitus: Annals" to The Literary Encyclopedia (2013), and "Caesar in Vergil and Lucan" to The Cambridge Companion to the Writings of Julius Caesar (Cambridge, 2017). On occasion Joseph writes for The Conversation about topics such as Martin Luther's King's lived engagement with the Classics and echoes of Roman history in the ongoing transformation of the U.S. Senate and presidency.
---
Tuesday, November 15, 2022 — 5:00–6:00 pm Central Time
"Insights on the Fall of the Roman Empire from the 'Outsider's' Perspective of Alaric the Goth," Douglas Boin, St. Louis University
Professor Boin returns as a B-C webinar presenter to share insights on his latest research that resulted in the publication of Alaric the Goth: An Outsider's History of the Fall of Rome (W.W. Norton, 2020). Honored as one of The Economist's favorite books of 2020, the book earned Boin St. Louis University's Senior Faculty Scholarly Works Award. Boin brings to life one of the most pivotal - and little understood—figures of ancient history, Alaric the Goth, to better understand the last days of the Roman Empire. Boin tells the story of Rome — a really well known, well-studied topic — but through the eyes of an immigrant. In doing so, Boin makes ancient history feel interesting because it turned the tables on who was important. People from the margins are not often put at the center of the story of the Roman Empire. Find more about Boin's work on Alaric.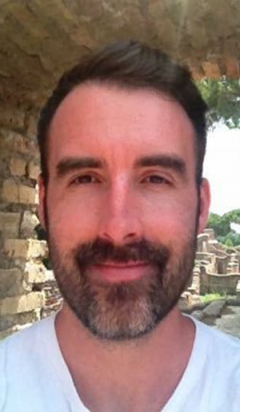 Douglas Boin, trained in the classics and archaeology, earned his PhD and MA from the University of Texas at Austin and his BA from Georgetown University. Boin holds a full professorship in St. Louis University's department of history. Boin received an Innovative Teaching Fellowship, Reinert Center for Transformative Teaching and Learning, Saint Louis University in 2014. He has also taught at Georgetown University and the University of Texas at Austin. Boin has authored Alaric the Goth: An Outsider's History of the Fall of Rome (W.W. Norton, 2020), Late Antiquity: A Social and Cultural History (Wiley, 2017), Coming Out Christian in the Roman World (Bloomsbury Press, 2015) and Ostia in Late Antiquity (Cambridge University Press, 2013).
Boin's intellectual interests are driven by a strong desire to interrogate the social history of Republican, Imperial and Late Roman religions. He is also keenly intent on exploring broader issues related to the transformation of Roman society—working at the intersection of politics and religion in ancient history. His research largely draws upon archaeological, anthropological, and sociological approaches to religion, as well as recent research on social memory, landscape, and the construction of identity. Boin charts the transformations and economic changes that characterized Rome, Italy, and the Western provinces during the imperial and late Roman periods. He incorporates epigraphic material, as well as smaller objects like lamps, glassware, and ivory, to reconstruct a more intimate image of Roman daily life—exploring the social, cultural and visual continuities that bind the Roman "Age of Augustus" to the late Roman "World of Augustine" —and beyond. Current avenues of interest include the city, people, and history of Rome in Late Antiquity to issues related to the transformation of Roman imperial cult. For more about Boin, check out his website.
---
Tuesday, November 22, 2022 — 5:00–6:00 pm Central Time
"Language, Power, and Revolution in Mexican and Puerto Rican Classical Reception," Joshua Hartman, Bowdoin College
This talk introduces major figures within the history of Puerto Rican and Mexican receptions of Greek and (especially) Latin literature. Two case studies will focus on Neo-Latin poetry in Mexico and vernacular poetry in Puerto Rico. The first will comprise a longer investigation of a Neo-Latin epic from colonial Mexico, the Guadalupe of Jose Antonio Villerías (1695–1728), focused especially on how the poem negotiates issues of power and language through the use of Latin, Spanish, Nahuatl and the traditions of historical production associated with those languages. As a kind of epilogue, I will also preview a new project in Puerto Rican reception: an analysis of Luis Muñoz Rivera's Mens Divinior (c. 1900), a Spanish poem that examines the vitality of the classical tradition in Latin America, including perspectives on "rejecting" words from the Spanish and Classical traditions.
Joshua Hartman earned his BA in Classics, History, and Latin from the University of Wisconsin-Madison and his MA and PhD in classics from the University of Washington-Seattle. He has also studied at the University of Münster in Germany. He served as a Latin teaching assistant at Edgewood High School in Madison, WI, and also worked for the Wisconsin Center for Academically Talented Youth. Currently teaching at Bowdoin College, Hartman has also taught at the University of Washington, the University of Waterloo, and Kalamazoo College.
His research focuses on the relationship between literature and memory, especially during late antiquity. He is currently working on the monographic adaptation of his dissertation, Poetry and Cultural Memory in Late Antiquity. He has published articles on Greek and Roman literature, Roman cultural memory, and classical reception in Puerto Rico.
Celebrating Our Second Decade of Complimentary Professional Development
Bolchazy-Carducci Publishers is pleased to provide complimentary webinars on a variety of subjects, especially pedagogical, of interest to classicists. Some webinars are geared to the Latin for the New Millennium program and to topics generated by the AP* Latin curriculum.
Watch for the announcement of our fall series of free webinars in the September eLitterae or follow us on Facebook and Twitter.
Please note:
The Bolchazy-Carducci Publishers Webinar Program is intended to be a live interactive endeavor in which presenter and attendees ask questions, make comments, seek clarification, share examples, etc. Thus, by design and in order to protect the presenter's intellectual property, B-C does not make recordings available to non-attendees. B-C encourages those interested in a given topic or presenter to plan to attend the live webinar.
If you have suggestions for webinars, please contact Don Sprague.
---
What Equipment Do I Need for B-C Webinars?
To participate in Bolchazy-Carducci Publishers sponsored webinars you will need high-speed internet access, computer speakers/headphones, current web browser, and the link to the webinar virtual meeting space, which is provided in your webinar invitation.
Webinars Make for User-Friendly Professional Development
Participation is free. All webinars provide opportunity for participants to ask questions. Learn lots—attend as many presentations as you can. Bolchazy-Carducci Publishers provides documentation for your participation. You can share this with your supervisors. Many webinar presenters provide handouts, etc.
Bolchazy-Carducci Publishers provides eTextbooks on a variety of eBook platforms. Bolchazy-Carducci textbooks are available through VitalSource,

GooglePlay

,

Chegg

, RedShelf, Adams Book, Follett,

MBSDirect Digital

, and ESCO. Each eBook platform offers a variety of tools to enhance the learning process. eBooks have the same content as our traditional books in print.
You can read eBooks on a Mac, PC, iPhone, iPad, Android, or a variety of eReaders. Review the eBook providers specifications.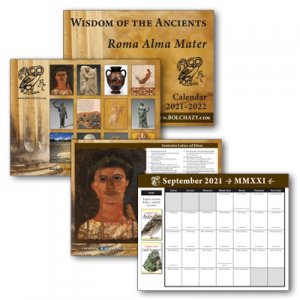 Despite our best efforts, we have been unsuccessful trying to have the Roman Calendar printed and then mailed in a timely manner. Unfortunately, we're the victims of the supply chain and the paucity of paper available. Thank you for understanding.
As is our custom, you can download the Roman Calendar from our website. Feel free to print the calendar for display in your classroom
.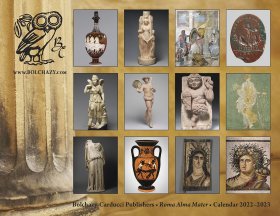 This year's calendar will take you on a journey through the "lesser" gods of the Greek and Roman pantheon. From Nike and Nemesis to Isis and Vertumnus, a variety of gods and goddesses are represented, portrayed as classical statuary, in colorful mosaics, and more! Watch our social media for regular posts describing the artwork used in the calendar in more detail.
Preview Bolchazy-Carducci Titles

Preview Bolchazy-Carducci titles before you purchase using Google Preview.
---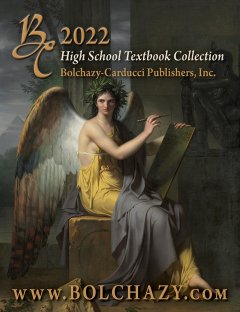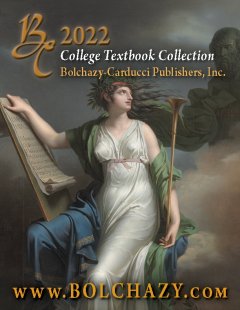 ---

Downloadable Products
iPodius - Bolchazy-Carducci Publishers online shop for: audio, software, video, and a treasure trove of teacher-created materials in the Agora.
---
B-C Facebook Fan Page
Become a FAN of Bolchazy-Carducci Publishers, visit our Facebook Fan page for the latest news from B-C.
---
B-C Blog
Visit the BCPublishers Blog for B-C news and information.
The most recent addition to the blog includes tips on incorporating 3-D printing projects, including Latin inscription cookies, into the Latin classroom.
---
BCPublishers on Twitter
Follow us on Twitter
---
AP® is a trademark registered and/or owned by the College Board, which was not involved in the production of, and does not endorse, this site.
These products have been developed independently from and are not endorsed by the International Baccalaureate (IB).
Dear Colleagues,



What a delight is autumn! I deliberately chose to take Amtrak to Wilmington, DE, the site of the Classical Association of the Atlantic States' first in-person meeting since the pandemic. The Downeaster, celebrating twenty years of service, is a delightful ride any time of year but especially so as autumn colors the trees magnificent. As the train ends in Boston's North Station, one has to switch to South Station for trains that serve the Northeast corridor. For me, the layover provided a nostalgic walk through the station as I surveyed its changes. Fifty years ago, I wrote an article on its derelict state for The Botolphian, the literary magazine of Boston College High School. I'm pleased to report that the station is bustling and in the midst of a grand renovation. I headed to Wilmington via the Acela and reveled in the gorgeous views of the Connecticut coastline. I have railroad in my DNA—my mom and dad met working on the New York, New Haven, and Hartford railroad, my grandmother worked for the NYNHH credit union, my great grandfather served as an engineer—you get the idea! So, the roundtrip journey proved to be pure pleasure.





South Station's repurposed waiting room—note the beautiful coffered ceiling;
Checking departures; the Connecticut coastline from the train window.





The classics world, as I'm sure you well know, is often a discovery of connections. CAAS did not disappoint as I enjoyed a lovely conversation with Kathleen Whall, current president of the New Jersey Classical Association and Christian Brothers Academy, Lincroft, retired Latin teacher. She introduced herself recalling that I had mentioned my Centro experience in an earlier editor's note. Lo and behold! We soon realized her husband and I both attended Boston College High and her brother-in-law is a classmate.





As I've written previously, the

Centro

(Intercollegiate Center for Classical Studies in Rome) was a transformative experience for my development as a classicist. Similarly, two Vergilian Society experiences impacted my early years as a secondary school teacher. The lessons come both from the in-depth site visits but also the conversations and connections with fellow participants—college professors, high school teachers, undergrads, classics enthusiasts. Steve Ostrow and Ann Koloski-Ostrow enthusiastically led a fascinating and engaging program studying sites in Campania. For a heartwarming and insightful look at a very special classics scholar, check out this

tribute

to Ann upon her retirement from Brandeis. Small world connection, Caitlin Gillespie, a Brandeis colleague, chose Loyola Academy for her high school education because she was attracted by its classics tour, a credit-bearing three-week summer program in Italy and Greece. That tour, which I founded in 1979, was significantly influenced by the Centro and the

Vergilian Society

experience with Steve and Ann. I heartily recommend your undertaking a Vergilian Society tour like Ray Capra's summer 2023 tour of Roman Belgium.




Thanks for indulging me and my nostalgia! May you enjoy the small world and interconnectedness of the classics community. All good wishes for your classroom endeavors. Enjoy this autumn in all its colorful glory!



All best,





Don Sprague
Executive Editor

Teaching Tip: A Latin Story to Accompany Latin for the New Millennium, Level 1, Chapter 4

This is the second in a series of seven stories to accompany chapters 3–9 in LNM 1. While complementary to LNM, the stories can serve all first-year Latin students.

This short story tells of Mithridates VI, the Persian king, who, following the poisoning of his father, attempted to make himself immune to all poisons by ingesting many different types. In doing so, he created the so-called mithridatium, a combination of poisons that was a supposed antidote. Mithridates waged war against the Romans on three separate occasions before meeting his death at the hands of his own men.

This medal was produced by the Swiss firm Jean Dassier & Sons between 1740 and 1750. It depicts the suicide of Mithridates. As an enemy soldier approaches, Mithridates takes his own life with a sword as a cup of ineffective poison lies at his feet. While many accounts of Mithridates's death suggest that he was killed by his bodyguard, the scene depicted here tells a different story. Classical Numismatic Group, Inc. http://www.cngcoins.com. Wikimedia Commons. Creative Commons 2.5.
Mithridātēs
In castrīs Persicīs est praeclārus rēx, Mithridātēs. Multa venēna bibit. Itaque Mithridātēs praemium magnum habet; venēnō nōn moritur.

Mithridātēs rēx Persicus est. Gerit multa bella contrā Rōmānōs. Mithridātēs bene iubet virōs. Rēx magnus est, sed nōn iūstus. Gerit bellum contrā Sullam, ducem Rōmānum. Gerit bellum contrā Lucullum, ducem Rōmānum. Deinde gerit bellum contrā Pompeium, ducem Rōmānum. Virī Persicī bellum habēre nōlunt.
Posteā fīlius Mithridātis, Pharnacēs, timet. Pharnacēs bellum contrā Rōmānōs habēre nōn vult. Rōmānī virī armātī et magnī sunt. Pompeius dux magnus Rōmānus est. Pharnacēs et virī Persicī sēcēdunt, sed Mithridātēs dolum videt. Mithridātēs virōs in vinculīs tenet sed nōn fīlium, Pharnacem.
Deinde Pharnacēs in castra Rōmāna intrat et iubet virōs Rōmānōs rēgem malum in vinculīs tenēre.
Mithridātēs fīlium timet et ē castrīs fugit. Rēx nōn debet in vinculīs tenērī. Mithridātēs venēnum bibit sed nōn moritur. Mithridātēs nōn venēnō sed gladiō moritur.
Vocabula Nova

bibit – drinks
contrā (adv.) – against
ducem, m. (direct object) – leader

dux, m. –leader
fugit – flees
gerit bellum – wages war
gladiō – by a/the sword
moritur – dies
nōlunt – do not want
Persicus, -a, -um – Persian
rēgem, m. (direct object) – king
rēx, m. – king
sēcēdunt – rebel, revolt
tenērī – to be held

vult – wants

Editor's Note:
Bolchazy-Carducci Publishers is pleased to provide this Latin story for Latin teacher subscribers to use with their own classes
only
. The
PDF version
includes a full-color illustration and caption.
About the Author
Emma Vanderpool has taught Latin at the university, middle school, and high school levels—currently at the Springfield Honors Academy in Massachusetts. Vanderpool earned her Bachelor of Arts in Latin, Classics, and History from Monmouth College in Illinois and her Master of Arts in Teaching Classical Humanities from the University of Massachusetts in Amherst. She serves as a state rep for CANE, as an executive board member of Ascanius, and as an organizer for Our Voices and Lupercal. Vanderpool is the recipient of the Classical Association of Massachusetts 2021 Award for Excellence in the Teaching of Classics and a Distinguished Teaching Award from UMASS Amherst; she was honored as the Lincoln Laureate for Monmouth College. She has self-published ten novellae. Bolchazy-Carducci Publishers is pleased to have had Vanderpool launch our novella series with Explore Latin: Aves and the first three titles for the Encounter Latin series—Augury is for the Birds: Marcus de Avibus Discit, Under His Father's Wing: Marcus de Auguribus Discit, and Princess, Priestess, Mother, Wolf: Fabula de Romulo et Remo (forthcoming).
Content by Emma Vanderpool
Latin for the New Millennium ©2022 Bolchazy-Carducci Publishers

CAAS—Classical Association of the Atlantic States Annual Meeting Report

Hats off to the leadership of the
Classical Association for the Atlantic States
! President Denise Flood-Doyle, Treasurer Henry Bender, Program Coordinator Konstantinos Nikoloutsos, Executive Director Mary Brown, and a host of collaborators assembled an impressive roster of speakers and programs. As Nikoloutsos noted, "It was a collective effort!" The staff of the historic Hotel DuPont in Wilmington were welcoming, attentive, and solicitous of attendees as they provided a delicious array of coffee break treats and meals.
The B-C exhibit's creative space utilization. B-C's rep Don Sprague captured by
CAAS president Denise Flood-Doyle for a photographic review
of the meeting shared at the final luncheon.

The book exhibits enjoyed an excellent location in the King Sullivan Foyer—right by the registration desk and facing the area reserved for coffee breaks. B-C was comfortably able to display its array of titles, including the brand new
New Testament Greek: A Reading Course
and
Lectiones Memorabiles, Volume V
. Howard University's Ari Mehta won the CAAS book drawing for the new introductory Greek series. Of course, the book exhibit competed with highly anticipated opportunities for classicists from across the Atlantic states to catch up with one another
in person
! for the first CAAS in-person meeting since 2019. That excitement and delight was especially present as folks gathered for the Clack Memorial Reception, and the room echoed with enthusiastic chatter. Indeed, the wine, cheese plates, and conversation proved more attractive than the book display. As they should . . .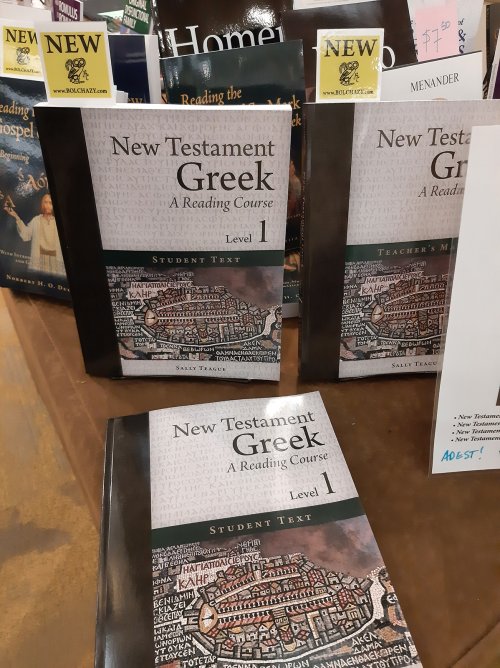 The New Testament Greek series was welcomed by CAAS attendees.

The highlight of the past decade's annual meetings has been the Jerry Clack Memorial Lecture, a tribute to this beloved teacher, first CAAS executive director, and generous benefactor to CAAS. B-C is proud to have published several of
Clack's
works on the Greek poets. This year's Clack Lectureship Committee Chair, Sulochana Asirvatham, brought the amazing Emma Dench, McLean Professor of Ancient and Modern History and of the Classics and Dean of the Graduate School of Arts and Sciences at Harvard University, to address the attendees, whom Dench described as "really fun people." Dench regaled the audience with a brilliant talk, "Life and Leadership Lessons from Ancient Rome: Reflections on an Experiment in Applied Science." She shared the triumphs and low points of the semester course she team-taught in the Harvard School of Business. Note that the multitalented Dench taught the course during her sabbatical.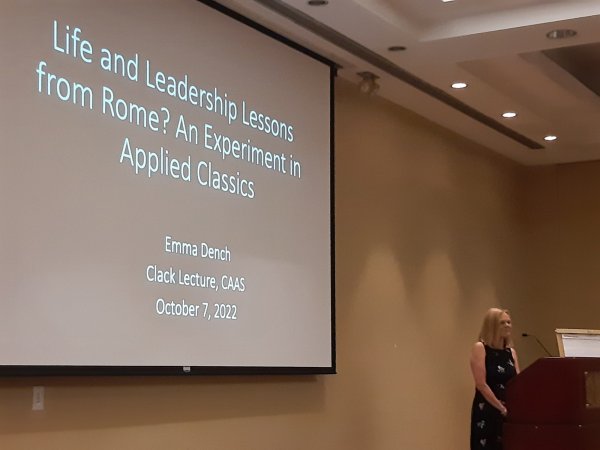 Dean Dench presents the insights and lessons learned from teaching applied
classics to a group of Harvard Business School students.


On all counts, the CAAS 2022 annual meeting was a great success. Well over a hundred participants made the journey to Wilmington. They especially enjoyed the undergraduate and graduate student presentations, the performance of Mary Brown's translation of Apollonius, King of Tyre, and the comforts of the venerable Hotel DuPont, but, most of all, they reveled in the opportunity to catch up with old friends, make new friends, and share the serendipity and networking that in-person gatherings offer. Next year, the Inn at Penn and the Clack Lecture at the Penn Museum!

Students proclaim Lumina excellent prep for the MCQs on the AP Latin Exam!

Available to accompany AP Latin Caesar and Vergil Selections—a splendid tool for AP* Exam review!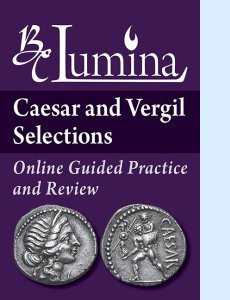 Bolchazy-Carducci Publishers is thrilled with the very positive response from students and instructors alike about this

Lumina

content: online exercises to accompany the Caesar and Vergil selections on the AP Latin syllabus! With its comprehensive, completely original content,

Lumina: Caesar and Vergil Selections

is a perfect complement to Bolchazy-Carducci's print and eBook resources for AP Latin. Better yet,

Lumina: Caesar and Vergil Selections

works on any internet-enabled device!

Features

• Hundreds of automatically-graded multiple choice questions promote close reading of all syllabus selections and provide students with immediate feedback



• Veteran AP Latin teacher Patrick Yaggy has carefully constructed Lumina to model the formatting, terminology, and question-type frequency of the AP Latin exam.



• Multiple choice questions cover every single line of Caesar and Vergil in the AP Latin syllabus.



• Copious AP-style free response questions ensure that students develop the necessary skills to thoroughly analyze and respond to all passages on the syllabus



• Thorough practice exams prepare students for the format of the AP Latin exam



• Vocabulary and figures of speech flashcards allow for additional review.


The current version reflects additions and revisions, as well as some corrections, made in response to student and teacher feedback.

An ideal learning tool, for online or in person classes, that provides exceptional AP Exam prep!

To learn more, visit the

Lumina: Caesar and Vergil Selections

product page and watch the

overview video

.




Contact lumina@bolchazy.com to schedule an online demonstration.

NB: B-C has also developed Lumina for Latin for the New Millennium, Level 1 and Level 2 and for the online self-learning program Artes Latinae, Level 1 and Level 2.

Teaching Tips & Resources

► Halloween
• Petronius's ghost stories, perfect for Halloween! Complimentary download for classroom use from the B-C Distance Learning Resources, Advanced Latin Packet. This packet includes selections from Petronius: Selections from the SATYRICON, Gilbert Lawall, "Two Ghost Stories."

• Earliest image of a ghost found on Babylonian tablet.

• Monsters—human and otherwise—abound in the Bible.

• Places to see mermaids and mermen.

► Social Justice
• Dutch Museum returns stolen painting to Jewish heirs.

• Russian annexation houses dozens of Ukrainian museums.

• Ukrainian museums and heritage sites targeted by Russian missiles.

• Prime minister against returning Parthenon marbles while UK Advisory Board calls for their return.

• Archaeologists demand return of Rosetta Stone.


High resolution photograph of the Rosetta Stone.
Wikimedia Commons. Public Domain.



• All about the Rosetta Stone and its significance.

• Medieval wall contains victims of antisemitic massacre.

• African American sculptor of iconic Cleopatra, queen in her own right.

• What about those Benin bronzes?

• Smithsonian returns bronzes to Benin.

• John Oliver assails museums including the British Museum.

► Res Romanae
• Learning Latin during the Roman Empire.

• Roman chamber pot yields theories about how disease spread.

• Very important Roman site in England may fall into the sea.

• Extremely rare Roman anchor found off English coast.

• Roman ford unearthed near Evesham, UK.

• Digital Maps of the Ancient World: The Imperial Roman Legion.

• Insights on the painters of Pompeii.

• Everyday objects in Pompeii and other fascinating ancient sites.


The thermopolium of Vetutius Placidus opens directly onto the south side of
Pompeii's main thoroughfare, the Via dell'Abbondanza. Wikimedia
Commons. Creative Commons 2.0.



• Pub menu of Pompeii.

• Aeneas's hydraulic telegraph and antiquity's long-distance communication.

• Significance of Roman-era falcon shrine in Egypt.

• Revelations drawn from Roman DNA.

• Roman Empire timeline.

• Huge Roman mosaic discovered in Syria.

• Nero's revolving dining room.

► Res Hellenicae
• A day in the life of an ancient Athenian.

• Fabulous acoustics of Epidaurus theater explained.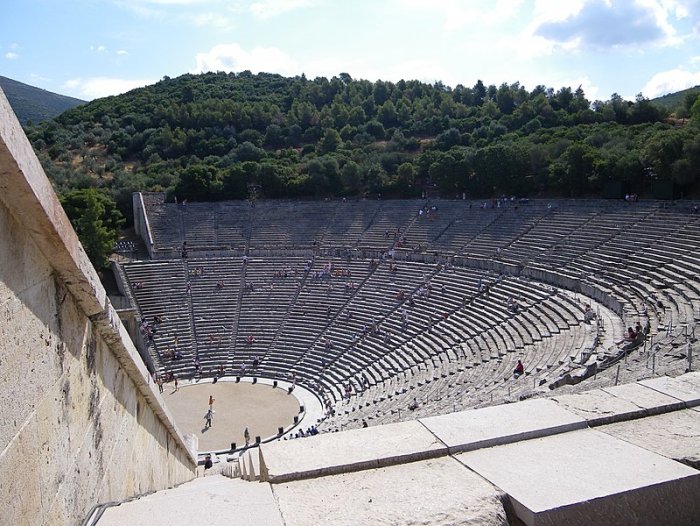 Theater at Epidaurus. Wikimedia Commons. Creative Commons 4.0.


• Excavations at Philippi unearth a larger-than-life Hercules.

• Excavations reveal everyday life in ancient Greece.

• Palestinian farmer happens upon Byzantine-era mosaic.

• New thoughts about mercenaries in Greek warfare.

• Has miracle plant of two millennia ago thought extinct been found?

• Deaf West returns Sophocles to its most physical form.

• Turkish archaeologists discover 1,800-year-old Medusa medal.

• Hidden gold coins shed light on the Byzantine Empire.

• The ancient Greeks of Kashmir.

► Res Aegypticae
• Burial chamber sheds light on Exodus-era funeral customs.

• Sarcophagus of Ramses II's chief treasurer found at Saqqara.

• Have archaeologists found Queen Nefertiti's tomb? Near Tutankamun's burial place?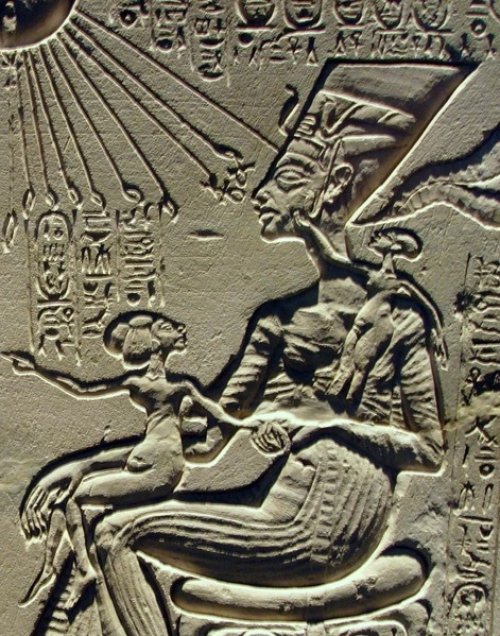 Amarna relief showing Nefertiti with her daughters
Meketaten (on lap) and Ankhesenpaaten (on shoulder).
Wikimedia Commons. Creative Commons 2.0.



• Discovery of dazzling Aten, lost 3,000-year-old Egyptian city.

► Res Aliae
• Ancient remains of Great Zimbabwe.

• The hidden history of Zanzibar's stone town.

• Buddhist structures and ancient murals discovered in Bengal tiger reserve.

• 3,000-year-old gold mask found in Chinese royal tombs.

• Have archaeologists found St. Peter's birthplace?

• St. Peter's life projected onto St. Peter's Basilica at the Vatican

• Mayan city discovered by railroad builders.

• Indigenous wall paintings uncovered at convent in Mexico.

• 7,000-year-old structure discovered.

• 3,000-year-old canoe found in Wisconsin.

• What do Stonehenge and Japanese stone circles have in common?

• Archaeologists find remains of 1,400-year-old Native American canal.

• Archaeologists discover evidence of earliest known opium use.

• Racing to document prehistoric cave art in France.

• Following the trail of Europe's last wild lions.

• 3,400-year-old treasure trove found in China.

• Science joins art in analysis of Chinese dancing horse statue.

• History of the printing press.

• Textiles document power of Viking women.

• Was the story of Sodom caused by an asteroid?

• Ancient shipwreck provides insight into breadth of Mediterranean trade.

• A Mediterranean divide: Islamic vs. Christian experiences of the Black Death.

• The ten biggest recent archaeological discoveries.

• Drought may have resulted in collapse of India's Mughal Empire.

• Celebrating the first known author—Mesopotamian priestess Enheduanna.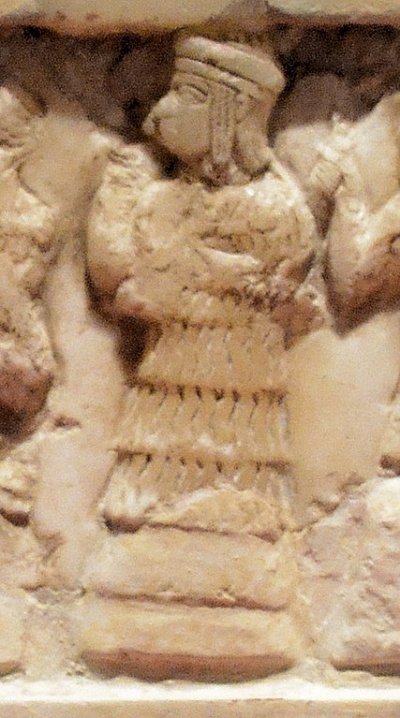 Enheduanna, daughter of King Sargon, as she appears
in the Disc of Enheduanna, housed at the University
of Pennsylvania Museum. Wikimedia Commons.
Creative Commons CCO 1.0.

Important Dates & Deadlines
Classics Exams 2022–2023

National Classical Etymology Exam
Exam Registration September 1–October 25, 2022: Registration Link
Exam Administration: November 1– December 10, 2022


Harry de Forest Smith Scholarship
Greek translation exam for seniors applying to Amherst College.
Contact department for this year's dates.

National Roman Civilization Exam
Exam Registration September 1–October 25, 2022: Registration Link
Exam Administration: November 1– December 10, 2022

National Mythology Exams
Pegasus Mythology Exam grades 3–8
Pegasus Exam Registration September 1, 2022–January 15, 2023: Digital Version Registration Link - Print Version Registration Link
Pegasus Exam Administration: February 13–March 10, 2023

Medusa Mythology Exam grades –12
Medusa Exam Registration September 1, 2022–January 31, 2023: Digital Version Registration Link - Print Version Registration Link
Medusa Exam Administration: March 20–April 7, 2023


National Greek Exam
Exam Registration September 1, 2022–January 15, 2023: Digital Version Registration Link - Print Version Registration Link
Exam Administration: February 27–March 17, 2023

National Latin Exam
Application for Title I School Grants available: October 12–26, 2022
Deadline for paper exams: January 23, 2023
Deadline for online exams: February 17, 2023
Exam administration: February 27–March 17, 2023


National Latin Vocabulary Exam
Exam Registration* November 1, 2022–January 25, 2023: Registration Link
Exam Administration: February 1–March 5, 2023


National Hellenic Civilization Exam
Exam Registration* November 1, 2022– January 25, 2023: Registration Link
Exam Administration: February 1– March 5, 2023


Exploratory Latin Exam
Exam Registration September 1, 2022– March 2, 2023: Digital Version Registration Link - Print Version Registration Link
Exam Administration: January 1–April 1, 2023

Bernice L. Fox Classics Writing Contest
"What Makes Them Different Makes Them Great"
deadline: March 15, 2023 postmark

SCRIBO
Registration: September 15, 2022–March 15, 2023
Submissions Due: March 15–April 15, 2023


CAMWS Latin Translation Contest
[intermediate and advanced levels for high school students and for college students]
deadline: October 31, 2022

* Registration form goes live Nov 1.

2022–2023 Classics Conferences and Meetings
Bolchazy-Carducci Publishers is pleased to be exhibiting in-person
at these conferences of the new academic year.

—2022—

Jesuit Latin Colloquium
November 3–5, 2022
Boston College High School, Dorchester, MA
Bolchazy-Carducci Representative: Donald Sprague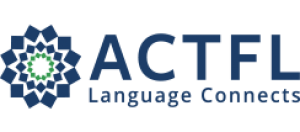 Boston Convention Center

Booth 1513
Bolchazy-Carducci Representative: Donald Sprague

—2023—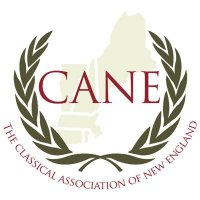 CANE—Classical Association of New England
117th Annual Meeting
St. Sebastian's School, Needham, MA
March 17–18, 2023
Bolchazy-Carducci Representative:
Donald Sprague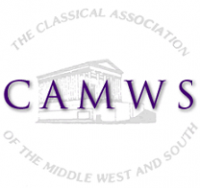 CAMWS—Classical Association of the Middle West and South
119th Annual Meeting
CAMWS 2023 Provo, Utah | CAMWS
at the Invitation of the Utah Classical Association
Provo Marriott Hotel and Covnention Center, Provo UT
March 29–April 1, 2023
Bolchazy-Carducci Representatives:
Donald Sprague and Amelia Wallace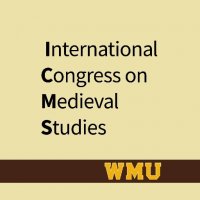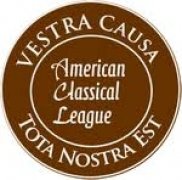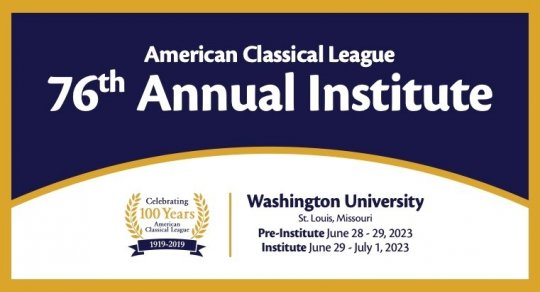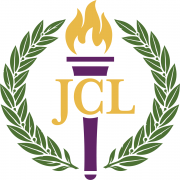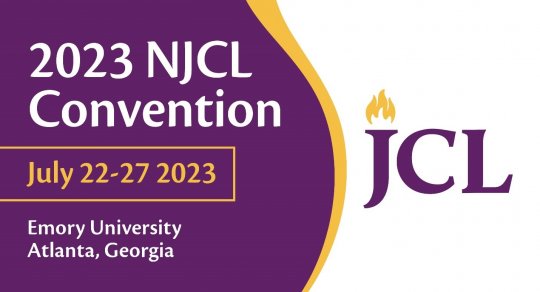 Caelum, non animum, mutant qui trans mare currunt.
"They who rush across the sea change their sky, not their soul"

–Horace, Epistles 1.11

Bolchazy-Carducci Representatives: Donald Sprague and Amelia Wallace

The Latin of King Charles II's new coins.
---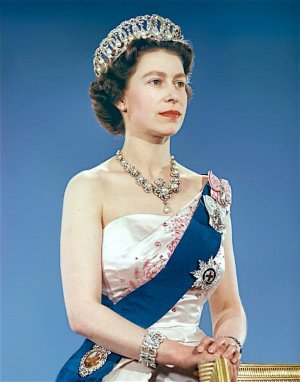 Queen Elizabeth II, 1959. Wikimedia Commons.
Creative Commons 2.0.

Sing, Muse, of dutiful Elizabeth—Understanding the Aeneid.
---
Patriarca verde, the oldest olive tree in the world.
---
---
New Greek frigates named after ancient naval commanders.
---
B-C editor Amelia Wallace shares a splendid set of classics-connected images she captured in Amsterdam and Brussels.
A furniture store in Amsterdam bears the name of Janus, the Roman god of beginnings, doorways, and the start of the year.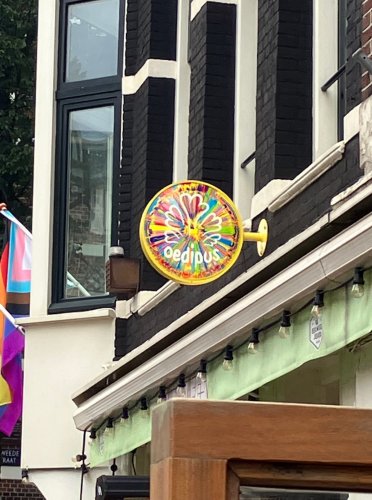 You can find this psychedelic sign all over Amsterdam: Oedipus is a local craft brewery.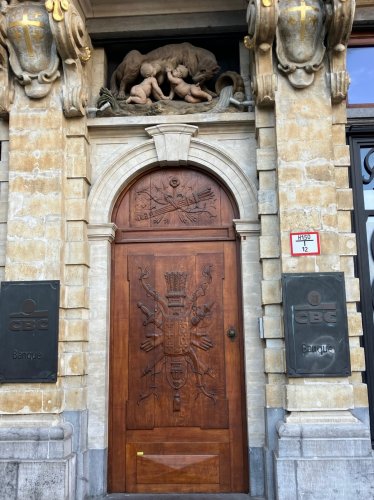 La Louve, French for she-wolf, is one of the elaborate guild halls on the Grand Place in Brussels. Originally housing the archers' guild, the building derives its name from the relief of Romulus and Remus just above the door.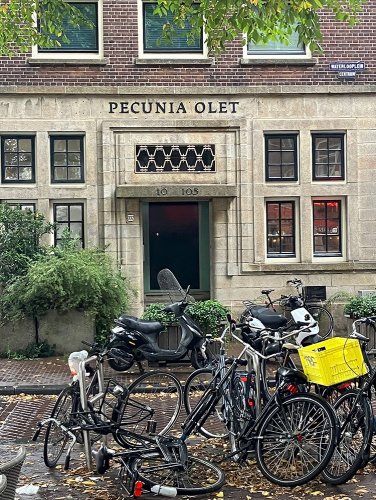 The Roman emperor Vespasian reportedly said, Pecunia non olet ("Money doesn't stink"). This building in the Plantage neighborhood of Amsterdam seems to disagree!

eLitterae Subscribers Special Discount

for eLitterae Subscribers
From
Stephanie Quinn
's introduction: We lack automatic and simple answers to the question "Why Vergil?"—or many similar questions for that matter: why literature, why art, especially why old literature— and at that—why literature in an old language? Yet even after 2,000 years, the voice of Vergil still resonates with the universal human cry.
467
pages, paperback, ISBN: 978-0-86516-418-5 •

$25.00

$15.00
Enter coupon code eLit1022 on the payment page.
The special offer pricing will be charged at checkout.
This offer is valid for up to ten (10) copies, prepaid, no returns.
Discount is not available to distributors.
This offer expires 11/20/22.


(Please note that there will be no adjustments on previous purchases.
Offer is nontransferable and subject to change without notice. Only valid on products published by Bolchazy-Carducci Publishers, Inc.)

Bolchazy-Carducci's New Novella Series:
Great Gifts for the Young Latin Learner
in Your Life
Don't miss the latest Explore Latin title
.