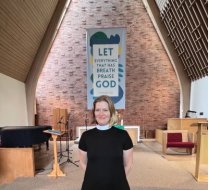 Dear Alki UCC,
For worship this Sunday we join faith communities around the world in observance of All Saints Day, a service of remembrance for recognized saints as well as those who have passed and are still in our hearts.
If you would like me to add anyone to our commemoration, please email their names to the church office by Friday at noon so I can read them aloud during worship.
For those worshiping in person, you will have an opportunity to light candles for loved ones during Holy Communion. If you are worshiping on Zoom, you are invited to gather candles to light for those dear ones that you are remembering, along with your communion elements.
Wherever you are this Sunday, the community of faith joins you in your remembrance. May God bless us as we remember, and give us peace.
Grieving
No need to swallow your grief
No need to smile for me
Or say that you are okay
Memoir betrayed by your eyes
Runs deeper than
Yawning pleasantries
Your injury is deep
Healing is unattainable
When the wound is untended
Sit in this patch of holy
Welcome the quiet
We have all the time we need
I'll receive your story into my palm
Carry it
In the pocket of my heart
© Rev. Emily Tanis-Likkel
In hope,
Pastor Emily
Please Attend! This Sunday!!
November 6 Congregational Vote on Pastor Emily's Candidacy for Alki UCC Designated-Term Pastor

During a recent Sunday worship, we announced with great joy that the Pastoral Search Committee has offered a Call to Pastor Emily Tanis-Likkel to be our three-quarter time designated-term pastor!

This Sunday, November 6, please join us for a congregational meeting after Worship to vote on Pastor Emily's candidacy for Alki UCC Designated-Term Pastor.

We encourage everyone to attend (either in-person or online via Zoom) as we discuss the call and take an official vote.

In the meantime, please reach out to either Joe M, your moderator, or Shannon P, your vice-moderator, if you have any questions or concerns.

We look forward to this next chapter in the life of Alki UCC.

Last Call for Cooks!
Team Needed for This Saturday
WIN "Welcome Table"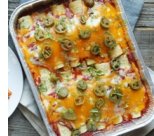 We are signed up to provide meals for and host this Saturday's WIN "Welcome Table" and can still use more large aluminum sized roaster pans of hot casseroles, roasted veggies, fully tossed salad, roasted chicken (great from Safeway deli), side dishes, boiled eggs, etc.
Men's work clothing and work shoes/boots are always needed, as well as non-perishable food donations, diapers, adult pullups, razors, deodorant, laundry pods, shampoo, conditioner and camping equipment that helps folks survive outside
.
Drop off hot food
by 11:30 am
Body of Christ Church
1320
102nd St SW,
White Center
Stay till 1:00 pm to help
I am more than happy to help with logistics and pickup.
Big thanks, Cinda S
Help Plant a New Forest
on the Green River in Auburn
Saturday, November 12
10:00 am: brief educational program/training
planting until 1:00 pm

We'll be planting seedlings that were tended at "Grow it Forward" micro-nurseries like ours! The volunteer restoration planting event is organized by the Mid Sound Fisheries Enhancement Group; all tools and supplies provided.

Dress for the weather and wear sturdy work shoes/boots. Bring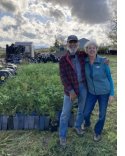 gardening gloves if you have them, otherwise provided (event happens regardless of weather events barring smoke or lightning).

Contact Julia C to sign up and receive directions. Thanks for your support of more trees on our earth!

— Julia C and Joe A for the Outreach Team
(pictured with our Alki UCC seedlings)

Peruvian Families Seeking Asylum Status
November 2 Update
Many thanks to all who have stepped up to volunteer — donating food, money or other items — and especially to drivers who take the children to Concord school for Head Start!
The two refugee families that moved to Alki are settling in. Look in the church entry this Sunday for a list of some items they could use in their home.
Ten-year-old Dyland started 5th grade at Alki School on Monday, receiving a wonderful welcome in Spanish from several staff members, including the multilingual teacher who has quite a twinkle in her eye! Three-and-a-half-year-old Gia started commuting with her cousin, Jhadiel to their Head Start class in South Park. Dyland's first day was great! We think Gia's first day was also great, but both she and Jhadiel fell asleep immediately when they got it the car, so it was difficult to tell!
Please continue to pray for our refugees, who seek asylum from violence and threats in their home country, as they navigate the US immigration legal system. The first legal hearing is coming up next week for Yesenia and Jhordy, and their son, Jhadiel.
Our Peruvians continue to be so very grateful for our s
upport. They are now ready to start learning English. We will be looking for classes for them to begin as soon as possible.
Calling all Drivers!
The families are navigating the bus system, but there are ongoing needs for car transportation, including trips to the food bank, medical appointments and school.
Thank you for your continued support!
Vicky S
How to make a monetary donation:

Checks: Make out to Alki UCC with "Peruvian families" in the memo line; leave in Sunday's offering plate or mail to 6115 SW Hinds, Seattle 98116.

After entering your $$ amount, click on "Dedicate this Gift" and enter "Peruvian Families" in the Dedicatee's Name box, then click save. To donate with a credit card, click on "choose another payment method" and complete the transaction.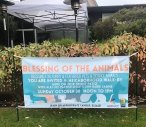 Thanks to everyone who helped make Sunday's Blessing of the Animals, co-hosted by our partner synagogue Kol HaNeshamah (KHN), such a rousing success.

Even in the drizzle, Rabbi Sabine and Pastor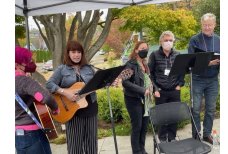 Emily were busy the entire hour blessing the steady stream of animals and their humans.

The Alki UCC choir delighted the neighborhood with their animal songs!

Special prayers of healing and recovery for our own Verona R and Bonita C.
Prayers of condolence and comfort for Sandy & Jim J and family on the passing of their beloved and loving dog Oscar.
For those grieving the recent death of a loved one:
Jeff D and family, Julia C's friends Lorrie C and Cheryl W, the Alki UCC community and friends/family of our own Dayle B, the Alki UCC community and friends/family of Nick Tobler-Wolff, Charlie H and family, Todd S
and family, Patty M
Recent hospitalization, illness and other concerns:
Don & Imy P and family, Bonita C, Anne S, Dan K, Patty M, Jane C and her family, Sue B's brother Tom and his wife Carla, Julia C's friend Jessie T & family, Amy Y's mother Corlene, Jeff D's brother Andy, former Alki UCC member Mark H, Shannon's "stepmomma" Gail B, Sue B's friends Mary and Louise, Cindy, Jeff and Kirstin's sister-in-law Sue, Kirstin D, Shannon P's father Rev. Dr. Bill, Verona's younger brother Eric, Claire F, Imy P, Kirstin D's father

For homebound members/friends of Alki UCC: Doris C
Wider World: Prayers for all those affected by the coronavirus outbreak; all those suffering from PTSD in the military and around the world; for all those affected by misguided immigration policies; prayers for fewer guns, for all victims and those affected by gun violence; victims and survivors of extremist violence around the world; migrants seeking refuge around the world, and for those who are trying to help them. The rest of the missing schoolgirls kidnapped by Boko Haram, who remain in our hearts as long as they remain missing. The hungry and homeless, the ill and the addicted, the lost and the lonely; the unemployed.
Church news/calendar updates
at alkiucc.org.


Remember to set your clocks BACK one hour Saturday night so you get that extra hour of sleep before Sunday worship!

This Sunday, November 6
Worship
at 10:00 am
All Saints and

Communion

Sunday

Rev. Emily Tanis-Likkel


Liturgist:
Rev. Penny M

Scripture Readings:
Psalm 145
Re-imagined by Alicia T. Crosby in "The Words of Her Mouth: Psalms for the Struggle"
Isaiah 65:17-25
NRSV

Sermon:
"Where's the Amen?"

Accompanist:
Becky Cain

Guitarist:
Bethany Bevier

Music Highlights:
Becky has prepared YouTube videos of this Sunday's selections so you can listen to and practice songs you don't know. Check it out here!

#84, This is the Day
Here I Am, Lord
One Bread, One Body
John Foley, S.J.
#299, For all the Saints

Click here for the Online Order of Worship, including scriptures and song music.

Join us either in-person (masks required) or virtually via Zoom

If you're already registered for Sunday worship on Zoom, use your personal link. If not, welcome! Register here.

Image courtesy Unsplash, Rebecca Peterson-Hall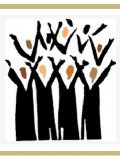 Choir rehearsal every Sunday after worship at about 11:15 am. Join Becky in the choir room ... all are welcome!

From Generation to Generation ..
Tuesday Advent Study Begins November 29
Your Faith Formation team and Pastor Emily are leading a six week Advent-Epiphany Bible study series over Zoom on Tuesdays from Noon to 1:30 pm beginning November 29.
Watch for details next week, but for now please mark your calendar and plan on joining us.
We hope the last session on January 3 will be a "hybrid" celebration both in person in the church parlor and online via Zoom. Stay tuned!
— Julia P
New Alki UCC Group:

Crafting for Community

Join crafters of all abilities in the parlor on the second Sunday of each month after choir practice, 12:15 to 1:45 pm. Bring a lunch, we'll brew the tea!

PNCUCC November News Now Online
Dan K shares a music video by one of his favorite groups, Empty Hands Music. He hopes you enjoy it!




In anticipation of World Kindness Day on November 13, here's where you can watch "Superhero!"

Fauntleroy UCC
Fine Art & Holiday Gift Show
Begins Tomorrow
Through Sunday, November 6
9140 California Ave. SW
Spotlighting a wide variety of creations by 16 artists and artistic crafters
Info here.

Sunday Worship Registration

If you've already registered on Zoom, just use your personal link. If not, welcome! You can register here.
When you register, please use your first/last name plus your email.
Sunday Worship Videos Posted on YouTube

Sunday Worship recordings now online! Check out Alki UCC's very own YouTube channel.
For secure, online giving through Give Lively, click the blue button below.

OR, send your check,
made out to "Alki
UCC," to:
6115 SW Hinds
Seattle, WA 98116