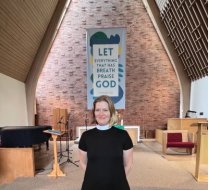 Dear Alki UCC,
I'm happy to announce a new opportunity! This Sunday we begin "Crafting for Community," a monthly gathering to create hand-crafted items that meet specific community needs.
For some background, here are excerpts from a conversation I recently had with Bethany Bevier about her interest in starting a crafting circle at Alki UCC.
During my first Sunday at Alki UCC, I was listening to an announcement regarding the refugee families that the congregation was invested in helping. This announcement mentioned that due to a lack of space the families were spending a lot of time outside which was fine in the warm September weather but was going to be a problem when the cold weather came.
My first thought upon hearing this was, "they need wool." My personal mission is to save the world with knitting.
The story of the Peruvian families indicated a clear need for warm, hand crafted items. It seemed like this was the right time and place to start a crafting circle.
I asked Bethany: "What is your hope for Crafting for Community?"
My hope is that others will find the same comfort, joy, and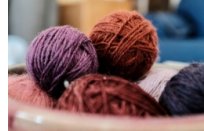 satisfaction that I get when I craft with others. There is comfort in creating with the people in your community and finding connection with others. There is joy in doing something to help those around you.
Sometimes the problems of the world seem so big that you think you can't do anything that matters. That's not true. Making a hat or fingerless mittens for someone in need makes a huge difference to a person experiencing their first PNW winter. It is also highly satisfying to finish a project and to watch your skills develop.

Join Bethany and other crafters this Sunday after choir practice in the parlor, from 12:15 to 1:45 pm.
Crafters of all skill levels and experience are invited. Here's your chance to learn how to knit or crochet — beginners are most welcome!
Bring lunch if you'd like, we'll brew the tea!
In hope,
Pastor Emily
Picture by Jeff Ashton on Unsplash
"From Generation to Generation ..."
Tuesday Community Advent Study Begins November 29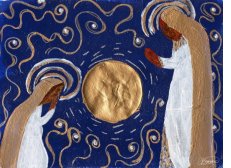 A six week online community Advent-to-Epiphany Bible study series
led by the Alki UCC Faith Formation team and Pastor Emily Tanis-Likkel.
Join us for lively lunchtime discussions from Noon to 1:30 pm as we explore the stories, scriptures and traditions of the Christmas season that have been passed down to us from past generations.
Many of us enter this season with a swell of memories and emotions as vast as the cultural and religious rituals this holiday holds. Like a tapestry woven throughout time, the Christmas story weaves us in —to remember how God has shown up in the past, to continue the work of collective liberation, to behold the presence of God in flesh and bone.

What do the Advent scriptures say to us today?
Each participant receives a lesson packet and a link to devotionals for use during the series. The last session on January 3 is a "hybrid" celebration both in person in the church parlor and online via Zoom.
The free series is open to the community, so please invite your friends and family!
Here's the Zoom link to register for the series. Join us! Please sign up by Monday, November 21 so we can prepare enough packets.
Questions? Contact Russ T, Julia P or Pastor Emily
Image:
Mary's Golden Annunciation
Carmelle Beaugelin
A Sanctified Art LLC | sanctifiedart.org
Help Plant a New Forest on the Green River in Auburn ... this Saturday, November 12
10:00 am: brief educational program/training before planting until 1:00 pm

We'll be planting seedlings that were tended at "Grow it Forward" micro-nurseries like ours! The volunteer restoration planting event is organized by the Mid Sound Fisheries Enhancement Group; all tools and supplies provided.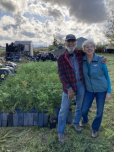 Dress for the weather and wear sturdy work shoes/boots. Bring gardening gloves if you have them, otherwise provided (event happens regardless of weather events barring smoke or lightning).

Contact Julia C to sign up and receive directions. Thanks for your support of more trees on our earth!

— Julia C and Joe A for the Outreach Team
(Pictured above with our Alki UCC seedlings!)

Peruvian Families Seeking Asylum Status
November 10 Update
A huge Thank You to the folks who stepped up to help transport our Peruvian preschoolers for the next couple of weeks to their Head Start class at Concord school, and to those who have offered to take their parents to the food bank as well.



We are profoundly grateful for the money and support received from neighboring churches, especially Fauntleroy UCC, whose Immigration Task Force has been instrumental in helping our two families into their Alki house and soliciting funds for their benefit.





We just heard last week that Danner's mother is planning to brave the border to join her family, as she has no close relatives left in Peru. Please keep her and Danner, Manuela and children in your prayers as she makes this dangerous trip on her own.



Also, please keep looking for a two-bedroom affordable apartment for this family. They remain at Karen's for the time being and are anxious to have their own place. Staying in Seattle would be optimal for Yanko to be able to stay in his school for some continuity in his young life.



Plans are being made for their first Thanksgiving dinner. More about that next week.





Thank you for your continued support!





Vicky S

PS. Huge thanks as well to all the generous people who "took a tab" on Sunday for household item donations you'll be making this week. Every tab was taken.

A reminder to either contact the church office for the delivery address in Alki, or to make arrangements to have your contributions transported. Don't forget to attach the delivery address tabs.





How to make a monetary donation:


Checks: Make out to Alki UCC with "Peruvian families" in the memo line; leave in Sunday's offering plate or mail to 6115 SW Hinds, Seattle 98116.


After entering your $$ amount, click on "Dedicate this Gift" and enter "Peruvian Families" in the Dedicatee's Name box, then click save. To donate with a credit card, click on "choose another payment method" and complete the transaction.



Prayers for the teachers, students and families of Seattle's Ingraham High School following a Tuesday morning shooting.
In light of the continuing threats of violence against voters and election workers, and the larger anxiety many of us feel around U.S. elections, the UCC's Rev. John Dorhauer offered a prayer for America at a recent Zoom gathering of UCC national staff. Read excerpts here.
Continued prayers of healing and recovery for our own Verona R and Bonita C.
For those grieving the recent death of a loved one:
Jeff D and family, Julia C's friends Lorrie C and Cheryl W, the Alki UCC community and friends/family of our own Dayle B, the Alki UCC community and friends/family of Nick Tobler-Wolff, Charlie H and family, Todd S
and family, Patty M
Recent hospitalization, illness and other concerns:
Don & Imy P and family, Bonita C, Anne S, Dan K, Patty M, Jane C and her family, Sue B's brother Tom and his wife Carla, Julia C's friend Jessie T & family, Amy Y's mother Corlene, Jeff D's brother Andy, former Alki UCC member Mark H, Shannon's "stepmomma" Gail B, Sue B's friends Mary and Louise, Cindy, Jeff and Kirstin's sister-in-law Sue, Kirstin D, Shannon P's father Rev. Dr. Bill, Verona's younger brother Eric, Claire F, Imy P, Kirstin D's father

For homebound members/friends of Alki UCC: Doris C
Wider World: Prayers for all those affected by the coronavirus outbreak; all those suffering from PTSD in the military and around the world; for all those affected by misguided immigration policies; prayers for fewer guns, for all victims and those affected by gun violence; victims and survivors of extremist violence around the world; migrants seeking refuge around the world, and for those who are trying to help them. The rest of the missing schoolgirls kidnapped by Boko Haram, who remain in our hearts as long as they remain missing. The hungry and homeless, the ill and the addicted, the lost and the lonely; the unemployed.
Church news/calendar updates
at alkiucc.org.
This Sunday, November 13
Worship
at 10:00 am
Twenty-third Sunday after Pentecost

Rev. Emily Tanis-Likkel


Liturgist:
Cinda S

Scripture Readings:
Psalm 98
re-imagined by Ray Jordan in Living Psalms Book, UCC Witness & Worship Artists' Group
Luke 21:5-19, NRSV

Sermon:


"The Opportunity to Testify"



Accompanist:


Becky

Cain

Guitarist:
Bethany Bevier

Music Highlights:
Becky has prepared YouTube videos of this Sunday's selections so you can listen to and practice songs you don't know. Check it out here!

#403, My Hope is Built on Nothing Else
Be Not Afraid
St. Louis Jesuits
#526, Siyahamb'
(We are Marching in the Light of God)



Click here for the Online Order of Worship, including scriptures and song music.

Join us either in-person (masks required) or virtually via Zoom

If you're already registered for Sunday worship on Zoom, use your personal link. If not, welcome! Register here.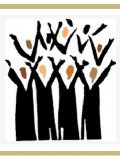 Choir rehearsal every Sunday after worship at about 11:15 am. Join Becky in the choir room ... all are welcome!





Crafting for Community


This Sunday,


November 13


(repeats the second Sunday of the month)


12:15 to 1:45 pm


Alki UCC Parlor


All ages and skill levels welcome!



# # #





Food/Winter Clothing Drive


Sunday, November 20


11:00 am to 3:00 pm


Front Courtyard





Bring your donations to Sunday worship!



The Westside Interfaith Network (WIN), our donations drive partner, requests clean, wearable clothes in all sizes, appropriate for unsheltered men and women in the increasingly cold weather.

Non-perishable food and hygiene items are distributed through WIN's "Welcome Table," a weekly Saturday meal for low income and unsheltered folks hosted in White Center.

"1946," a documentary that chronicles how the misuse of a single word changed modern history.
Tues, Nov 15, 7:00 pm

Christmas Market
Saturday, November 19
11:00 am to 4:00 pm
Craft Fair a la an old World Christkindl Markt




Drop by for a holiday drink great gifts, unique crafts, homemade holiday baked goods, Christmas lights, holiday music and more!
Admiral Church
4320 SW Hill Street
More info here on Admiral UCC events.

Transgender Day of Remembrance
November 20


Transgender Day of Remembrance (TDOR) is an annual observance on November 20 that honors the memory of the transgender people whose lives were lost in acts of anti-transgender violence.

Read more here.

Sunday Worship Registration

If you've already registered on Zoom, just use your personal link. If not, welcome! You can register here.
When you register, please use your first/last name plus your email.
Sunday Worship Videos Posted on YouTube

Sunday Worship recordings now online! Check out Alki UCC's very own YouTube channel.
For secure, online giving through Give Lively, click the blue button below.

OR, send your check,
made out to "Alki
UCC," to:
6115 SW Hinds
Seattle, WA 98116