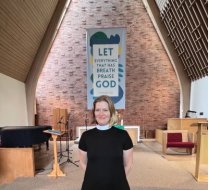 Dear Alki UCC,
This past Sunday we explored testimony. You can find excerpts from the service, including the sermon, here.
We all have an opportunity to testify, to tell the truth. I invited you to take some time this week to write down something of what you have seen, heard, experienced of God — of love.
The UCC Statement of Faith, which can be a helpful tool in articulating the language of faith, invites us to consider our own unique testimonies. When writing your testimony, you might ask: How is God still speaking in my life? What have I seen? What have I heard?
Breathe in, breathe out, and ask Jesus to inspire your words. Consider sharing your testimony with someone in your life. Invite them to hear you into a deeper faith. Your written testimony might be something you revisit yearly as a tool that evolves over time to see how your faith journey has grown.
Your story matters! We will have opportunities in the coming months for you to share your faith journey on a Sunday morning at Alki UCC. Please let me know if you might be interested in sharing a bit of your own story with the congregation.
We are all blessed by honoring the faith (and doubt) journeys of one another. May we tell the truth about what we have seen, heard and experienced of God's love.
May we be bold to testify.
In hope,
Pastor Emily
Meet Rev. Dr. Keith Tanis, Guest Pastor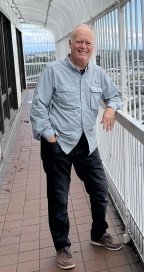 Keith is a graduate of Calvin Seminary (MDiv) and San Francisco Theological Seminary (DMin). He also has a Diploma in the Art of Spiritual Direction from SFTS.
Keith was ordained in the Christian Reformed Church in North America in 1975. He served a campus church at Central Michigan University, a church plant in Houston TX and a suburban congregation in Ferrysburg MI. From 1990-99 he served on the faculty of Calvin Seminary as the Director of Field Education. In this position he had the opportunity to travel throughout North America and mentor a generation of pastors.
From 1999-2010 Keith was the Senior Pastor of New Life Community Church in Artesia, CA, a multi-staff, multi-cultural church. Since 2010 he has served in the Presbyterian Church (PCUSA). He retired in 2016 as Executive Presbyter of Olympia Presbytery, where he coached pastors and churches to better engage their communities.
Keith and Marti live in West Seattle on the upper floor of the house they share with Pastor Emily, Brett, Eva and Day. They love to travel, especially road trips and cruising. Their son, Andy, lives in Kent near his adult children, Asia and Ezra. They enjoy pool, ping-pong, darts, cards, and happy hours (most Thursdays are "martini night"). Keith has been roasting coffee for over 20 years, and now roasts for the whole household!
"From Generation to Generation ..."
Tuesday Community Advent Study Begins November 29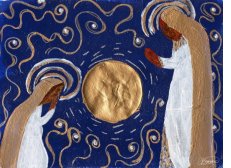 A six week online community Advent-to-Epiphany Bible study series
led by the Alki UCC Faith Formation team and Pastor Emily Tanis-Likkel.
Join us for lively lunchtime discussions from Noon to 1:30 pm as we explore the stories, scriptures and traditions of the Christmas season that have been passed down to us from past generations.
Many of us enter this season with a swell of memories and emotions as vast as the cultural and religious rituals this holiday holds. Like a tapestry woven throughout time, the Christmas story weaves us in —to remember how God has shown up in the past, to continue the work of collective liberation, to behold the presence of God in flesh and bone.

What do the Advent scriptures say to us today?
Each participant receives a lesson packet and a link to devotionals for use during the series. The last session on January 3 is a "hybrid" celebration both in person in the church parlor and online via Zoom.
The free series is open to the community, so please invite your friends and family.
Here's the Zoom link to register for the series. Join us!
Please sign up by Monday, November 21 so we can prepare enough packets.
Questions? Contact Russ T, Julia P or Pastor Emily
Image:
Mary's Golden Annunciation
Carmelle Beaugelin
A Sanctified Art LLC | sanctifiedart.org
Planting Day for the New Forest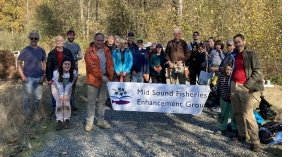 About 25 Grow It Forward Restoration (GIFR) volunteers — including Alki UCC's Julia C, Joe A, Emily H and Lowell P — gathered at Fenster Nature Park on the Green River in Auburn last Saturday to plant nearly 150 seedlings vital to restoration of this valued natural resource.

The event was organized by Erik R and Amy C of the Mid Sound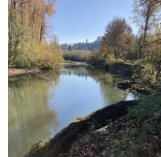 Fisheries Enhancement Group who had graciously offered us this opportunity to have a GIFR exclusive planting event.

We rubbed shoulders with other GIFR folks, helped restore forest important to salmon habitat, and supported one of the many hard working habitat restoration organizations in our community. And we lucked out with beautiful sunny weather!
— James Wight,
Grow it Forward Founder
From Julia C:
Thanks to Alki UCC for growing 100 seedling trees for Grow It Forward's 2022 growing season. In total, close to 10,000 seedlings from throughout the region have been nurtured and planted this year through Grow it Forward.

As our nine-year old grand-daughter asked: "How can we get more trees on earth?" There is a way!
Photos by Julia C
Peruvian Families Seeking Asylum Status
November 17 Update
Plans are underway for our Peruvians' first Thanksgiving, along with making decorations for one of Fauntleroy UCC's Festival of Trees.





Please continue to pray for these refugees. The workload of the Northwest Immigrant Rights Project is creating availability issues; having an attorney at asylum court appearances is crucial. We are grateful to Michael Ramos, of the Church Council of Greater Seattle, who is working diligently to secure this vital legal aid.





In this week of Thanksgiving, we are thankful for all of the people who have stepped forward to help support these families!





Thank you for your continued support!





Vicky S

PS. Huge thanks as well to all the generous people who "took a tab" on Sunday for household item donations you'll be making this week. Every tab was taken.

A reminder to either contact the church office for the delivery address in Alki, or to make arrangements to have your contributions transported. Don't forget to attach the delivery address tabs.





How to make a monetary donation:


Checks: Make out to Alki UCC with "Peruvian families" in the memo line; leave in Sunday's offering plate or mail to 6115 SW Hinds, Seattle 98116.


After entering your $$ amount, click on "Dedicate this Gift" and enter "Peruvian Families" in the Dedicatee's Name box, then click save. To donate with a credit card, click on "choose another payment method" and complete the transaction.



Bonita C writes:
My thanks to Pastor Emily, Sandy J, Kim B, Claire F, Nancy H, Emily H, Sue B and Julia C for the excellent meals they have brought to me over the past weeks. I am lucky to have such a supportive church community.
Prayers of health for Becky's daughter, Erinne.
For those grieving the recent death of a loved one:
Jeff D and family, Julia C's friends Lorrie C and Cheryl W, the Alki UCC community and friends/family of our own Dayle B, the Alki UCC community and friends/family of Nick Tobler-Wolff, Charlie H and family, Todd S
and family, Patty M
Recent hospitalization, illness and other concerns:
Don & Imy P and family, Bonita C, Anne S, Dan K, Patty M, Jane C and her family, Sue B's brother Tom and his wife Carla, Julia C's friend Jessie T & family, Amy Y's mother Corlene, Jeff D's brother Andy, former Alki UCC member Mark H, Shannon's "stepmomma" Gail B, Sue B's friends Mary and Louise, Cindy, Jeff and Kirstin's sister-in-law Sue, Kirstin D, Shannon P's father Rev. Dr. Bill, Verona's younger brother Eric, Claire F, Imy P, Kirstin D's father

For homebound members/friends of Alki UCC: Doris C
Wider World: Prayers for all those affected by the coronavirus outbreak; all those suffering from PTSD in the military and around the world; for all those affected by misguided immigration policies; prayers for fewer guns, for all victims and those affected by gun violence; victims and survivors of extremist violence around the world; migrants seeking refuge around the world, and for those who are trying to help them. The rest of the missing schoolgirls kidnapped by Boko Haram, who remain in our hearts as long as they remain missing. The hungry and homeless, the ill and the addicted, the lost and the lonely; the unemployed.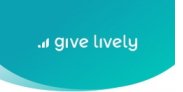 For secure, online giving through Give Lively, click the blue button at left,

OR, send your check,

made out to "Alki

UCC," to:

6115 SW Hinds,

Seattle, WA 98116



Church news/calendar updates
at alkiucc.org.
Newsletter Published on Wednesday
Next Week ...
... so the deadline to submit stories or news items is Monday, November 21.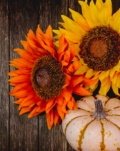 The church office will be closed on Thursday and Friday In observance of the Thanksgiving holiday.
Photo:
Eric Tompkins on Unsplashed
This Sunday, November 20

Worship

at 10:00 am

Last Sunday after Pentecost

Rev. Dr. Keith Tanis
Guest Pastor
(see bio at left)
Liturgist:
Joe M
Scripture Readings:
Psalm 100
Luke 17:11-19
NRSV
Sermon:
""Say Thank You!"
Accompanist:
Becky

Cain
Guitarist:
Bethany Bevier
Music Highlights:
#422, Come, O Thankful People, Come
#419, Now Thank We
All Our God
#420, We Praise You,
O God
Click here for the Online Order of Worship, including scriptures and song music.
Join us either in-person (masks required) or virtually via Zoom
If you're already registered for Sunday worship on Zoom, use your personal link. If not, welcome! Register here.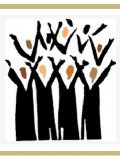 Choir rehearsal every Sunday after worship at about 11:15 am. Join Becky in the choir room ... all are welcome!
Food/Winter Clothing Donations Drive
This Sunday,


November 20


11:00 am to 3:00 pm


Front Courtyard





Bring your donations to Sunday worship!



The Westside Interfaith Network (WIN), our donations drive partner, requests non-perishable food and clean, wearable clothes in all sizes, appropriate for unsheltered men and women in cold weather.

Your donations are distributed through WIN's "Welcome Table," a weekly Saturday meal for unsheltered and low-income folks hosted in White Center.

Joe A's
"Art for Hunger" Holiday Sale
In-person December 4 and online any time!
Artist/Photographer/Writer Joe A is reprising his popular Art for Hunger Holiday Sale to benefit non-profits (of your choice) that provide nutrition for those in need.




Sunday, December 4
11:00 am – 5:00 pm
The home of Joe A
and Julia C
8145 29th Ave. SW

The sale features a variety of art items, including framed/matted pieces, individual and boxed photo/art cards and books of original writing: poetry, fiction and non-fiction.

No money is exchanged when a piece is sold – the buyer simply agrees to donate the negotiated amount to a non-profit organization dedicated to feeding the hungry.

Information on the online option here.

(Blue Heron in Water
shown above)

Christmas Market this Saturday at Admiral UCC
Transgender Day of Remembrance
November 20


Transgender Day of Remembrance (TDOR) is an annual observance on November 20 that honors the memory of the transgender people whose lives were lost in acts of anti-transgender violence.
Read more here.

Sunday Worship Registration

If you've already registered on Zoom, just use your personal link. If not, welcome! You can register here.
When you register, please use your first/last name plus your email.
Sunday Worship Videos Posted on YouTube

Sunday Worship recordings now online! Check out Alki UCC's very own YouTube channel.