With the holidays approaching, we often prepare our favorite recipes, those that warm our homes and our hearts!
The kitchen can be a busy place with lots of family and friends working together to create meals and memories.
Collard greens are in season nearly year-round in North Carolina and while they are popular in the South, they are grown
and served all over the world, including Spain, India, Croatia, Africa, and Brazil. You may have a favorite way to
prepare collard greens; however, if you are looking to try something new, here is a recipe for Brazilian Collard
Greens. With just a few ingredients and quick cooking time, the collards will stay crisp and colorful. Children can be
a part of the recipe preparation by helping to wash, drain, and stack the collard leaves.
When selecting collards, choose dark green leaves, without yellowing. Refrigerating collards in a plastic bag will
keep them fresh for up to five days.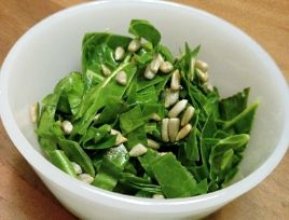 Brazilian Collard Greens
For a creditable snack in the CACFP, add ½ ounce roasted sunflower seeds to each serving of collards.
Yield: 6 servings
Snack serving size for 3-5-year-olds: ½ cup collards + ½ oz. sunflower seeds.
Ingredients:
2 pounds collards, thick stems removed
2 tablespoons olive oil
Pinch of garlic powder
Salt
3 ounces sunflower seeds
Directions:
1. Wash collard leaves and drain. Leaves should not be dried.
2. Stack a few leaves together, arranging with the largest leaf at the bottom. Roll the stack of leaves into a
cylinder, so the stem is along the length of the roll. Slice the roll crosswise into thin ribbons. Repeat this
step until all the collard leaves are cut.
3. In a large skillet or Dutch oven heat the oil over high heat. When the oil is simmering, add the collards and
cook, tossing collards until dark green and tender with a bit of crunch. Add garlic powder and salt to taste.
4. To roast sunflower seeds, add seeds to pan and cook over medium-high heat, stirring occasionally until
seeds are lightly browned and fragrant (about 1 – 2 minutes). Gently mix into the collards.
CACFP Crediting for Snack: ½ cup vegetable and ½ oz. eq. meat/meat alternate
Recipe adapted from
New York Times Cooking