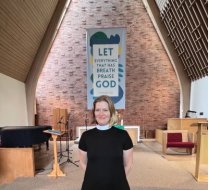 Dear Alki UCC,
This Sunday with Advent we begin a new liturgical year in the church. We move from lush and green to the cool hues of purple and blue. Inspired by Mary's song in Luke 1:48-50, the theme for Advent 2022 at Alki UCC is "From Generation to Generation."
Surely, from now on all generations will call me blessed;
for the Mighty One has done great things for me,
and holy is his name.
His mercy is for those who fear him
from generation to generation.
We have beautiful artwork, devotionals, poetry and Bible study materials from "A Sanctified Art" that will guide us through the season.
May you be blessed as you explore how your story is entwined with the generations that have come before and those yet to be. May you consider how your story is still coming forth, woven into the story of God, of love.
In hope,
Pastor Emily
Room
I asked God—
what about my
fingernail-biting habit
or the way I leave all the cabinets
open in the kitchen?
What about the way I can be dramatic,
drumming up a fight, only to
hand out apologies like souvenirs?
What about the way I second-guess myself,
let shame drive, or stay quiet when I
have something to say?
What about the way I chase accomplishments
like a dog with a bone?
What about the doubt, or the fact
that I'm terrible at prayer and
cannot help but yawn during church?
What about
What about
What about?
My baggage might be too big for the van.
But then
God called me by my first and middle name,
which always means business,
and said:
Who told you that you were too much?
Sugar, there is so much room for you here.
So that's when I grabbed a seat
and we hit the road
and I knew right then
that the rumors were true.
There is room.
There is room.
There is room.
Prayer by Rev. Sarah Speed
A Sanctified Art LLC | sanctifiedart.org
"From Generation to Generation ..."
Tuesday Community Advent Study Begins Next Week!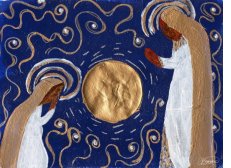 A six week online community Advent-to-Epiphany Bible study series
led by the Alki UCC Faith Formation team and Pastor Emily Tanis-Likkel.
Join us for lively lunchtime discussions from Noon to 1:30 pm as we explore the stories, scriptures and traditions of the Christmas season that have been passed down to us from past generations.
Many of us enter this season with a swell of memories and emotions as vast as the cultural and religious rituals this holiday holds. Like a tapestry woven throughout time, the Christmas story weaves us in —to remember how God has shown up in the past, to continue the work of collective liberation, to behold the presence of God in flesh and bone.

What do the Advent scriptures say to us today?
Each participant receives a lesson packet and a link to devotionals for use during the series. The last session on January 3 is a "hybrid" celebration both in person in the church parlor and online via Zoom.
The free series is open to the community, so please invite your friends and family.
Here's the Zoom link to register for the series. Join us!
Please sign up asap so we can prepare enough packets.
Questions? Contact Julia P, Russ T or Pastor Emily
Image:
Mary's Golden Annunciation
Carmelle Beaugelin
A Sanctified Art LLC | sanctifiedart.org
Peruvian Families Seeking Asylum Status
November 17 Update
Plans are underway for our Peruvians' first Thanksgiving, along with making decorations for one of Fauntleroy UCC's Festival of Trees.





Please continue to pray for these refugees. The workload of the Northwest Immigrant Rights Project is creating availability issues; having an attorney at asylum court appearances is crucial. We are grateful to Michael Ramos, of the Church Council of Greater Seattle, who is working diligently to secure this vital legal aid.





In this week of Thanksgiving, we are thankful for all of the people who have stepped forward to help support these families!





Thank you for your continued support!





Vicky S

PS. Huge thanks as well to all the generous people who "took a tab" on Sunday for household item donations you'll be making this week. Every tab was taken.

A reminder to either contact the church office for the delivery address in Alki, or to make arrangements to have your contributions transported. Don't forget to attach the delivery address tabs.





How to make a monetary donation:


Checks: Make out to Alki UCC with "Peruvian families" in the memo line; leave in Sunday's offering plate or mail to 6115 SW Hinds, Seattle 98116.


After entering your $$ amount, click on "Dedicate this Gift" and enter "Peruvian Families" in the Dedicatee's Name box, then click save. To donate with a credit card, click on "choose another payment method" and complete the transaction.



Prayers for everyone in the Alki UCC community, especially those with challenging medical issues.



Prayers for the victims and all those affected by the recent shootings at Club Q in Colorado Springs


and Walmart in Chesapeake, Virginia.




Pastoral Letter in response from UCC Open and Affirming Coalition

When Open and Affirming congregations gathered Sunday to honor our transgender and nonbinary neighbors who have lost their lives to hatred, we were stunned by the news that a young man inside an LGBTQ club in Colorado Springs shot and killed at least five people and injured 25 late Saturday night. Once again, lives have been irretrievably lost by the rising tide of hatred and gun violence in America.





For those grieving the recent death of a loved one:
Jeff D and family, the Alki UCC community and friends/family of our own Dayle B, the Alki UCC community and friends/family of Nick Tobler-Wolff, Charlie H and family, Todd S

and family, Patty M



Recent hospitalization, illness and other concerns:
Becky's daughter Erinne, Don & Imy P and family, Bonita C, Verona R, Anne S, Dan K, Patty M, Jane C and her family, Sue B's brother Tom and his wife Carla, Julia C's friend Jessie T & family, Amy Y's mother Corlene, Jeff D's brother Andy, former Alki UCC member Mark H, Shannon's "stepmomma" Gail B, Sue B's friends Mary and Louise, Cindy, Jeff and Kirstin's sister-in-law Sue, Kirstin D, Shannon P's father Rev. Dr. Bill, Verona's younger brother Eric, Claire F, Imy P, Kirstin D's father



For homebound members/friends of Alki UCC: Doris C


Wider World: Prayers for all those affected by the coronavirus outbreak; all those suffering from PTSD in the military and around the world; for all those affected by misguided immigration policies; prayers for fewer guns, for all victims and those affected by gun violence; victims and survivors of extremist violence around the world; migrants seeking refuge around the world, and for those who are trying to help them. The rest of the missing schoolgirls kidnapped by Boko Haram, who remain in our hearts as long as they remain missing. The hungry and homeless, the ill and the addicted, the lost and the lonely; the unemployed.

Church news/calendar updates
at alkiucc.org.
This Sunday, November 27

Worship

at 10:00 am

First Sunday

in Advent

Rev. Emily Tanis-Likkel


Liturgist:


John C





Scripture Readings:
Isaiah 2:1-5, NRSV
Matthew 1:1-17,
The Message

Sermon:
"There's Room for Every Story"

Accompanist:


Becky

Cain

Guitarist:


Bethany Bevier



Music Highlights:
#116, O Come, O Come Emmanuel
#109, With Joy Draw Water
#117, Lift Up Your Heads

Click here for the Online Order of Worship, including scriptures and song music.



Join us either in-person (masks required) or virtually via Zoom



If you're already registered for Sunday worship on Zoom, use your personal link. If not, welcome! Register here.

Image:
Genealogy of Christ
by Rev. Lauren Wright Pittman
A Sanctified Art LLC | sanctifiedart.org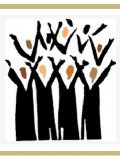 Choir rehearsal every Sunday after worship at about 11:15 am. Join Becky in the choir room ... all are welcome!
"Wishing you

and your loved ones

a blessed holiday!"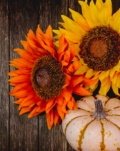 The church office will be closed on Thursday and Friday In observance of the Thanksgiving holiday.
Photo:
Eric Tompkins on Unsplashed
Joe A's
"Art for Hunger" Holiday Sale
In-person December 4 and online any time!
Artist/Photographer/Writer Joe A is reprising his popular Art for Hunger Holiday Sale to benefit non-profits (of your choice) that provide nutrition for those in need.




Sunday, December 4
11:00 am – 5:00 pm
The home of Joe A
and Julia C
8145 29th Ave, SW

The sale features a variety of art items, including framed/matted pieces, individual and boxed photo/art cards and books of original writing: poetry, fiction and non-fiction.

No money is exchanged when a piece is sold – the buyer simply agrees to donate the negotiated amount to a non-profit organization dedicated to feeding the hungry.

Information on the online option here.

(Blue Heron in Water
shown above)

Sunday Worship Registration

If you've already registered on Zoom, just use your personal link. If not, welcome! You can register here.
When you register, please use your first/last name plus your email.
Sunday Worship Videos Posted on YouTube

Sunday Worship recordings now online! Check out Alki UCC's very own YouTube channel.

For secure, online giving through Give Lively, click the blue button above,

OR, send your check,

made out to "Alki

UCC," to:

6115 SW Hinds,

Seattle, WA 98116