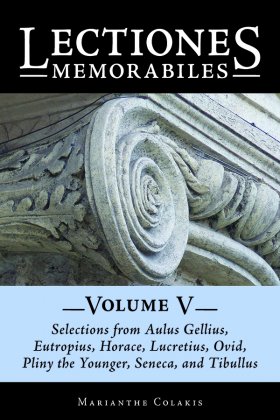 A full description of Lectiones V, designed for the IB Latin syllabus, is available at the product page. Check out some sample pages from one of the selections, Seneca De Clementia 1.8, to get a feel for the format and student support that this volume has to offer.

---
Does ancient Athens
provide contemporary
America a lesson?
---
Epic: The Troy Saga attracts millions of streams.
---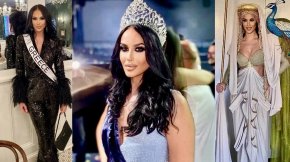 See Miss Universe Greece 2022 dressed as Hera.
---
Oldest olive tree in the world.
---
Journey of Aeneas—special exhibit in Forum Romanum.
B-C's Special Distance Learning Content with Complimentary Materials

In response to school closures due to COVID-19, Bolchazy-Carducci Publishers is making a variety of materials available to the classics community in order to ease the transition to distance learning. Please see our new Distance Learning page to freely access downloadable packets of fair use excerpts from our books as well as some fun mythology-related activities.
Important Dates & Deadlines
Classics Exams 2022–2023

National Latin Exam


Application for Title I School Grants available: October 12–26, 2022




Deadline for paper exams: January 23, 2023




Deadline for online exams: February 17, 2023




Exam administration: February 27–March 17, 2023




National Latin Vocabulary Exam
Exam Registration* November 1, 2022–January 25, 2023: Registration Link


Exam Administration: February 1–March 5, 2023




National Hellenic Civilization Exam
Exam Registration* November 1, 2022– January 25, 2023: Registration Link


Exam Administration: February 1– March 5, 2023




Exploratory Latin Exam
Exam Registration September 1, 2022– March 2, 2023: Digital Version Registration Link - Print Version Registration Link


Exam Administration: January 1–April 1, 2023

Bernice L. Fox Classics Writing Contest


"What Makes Them Different Makes Them Great"


deadline: March 15, 2023 postmark

SCRIBO


Registration: September 15, 2022–March 15, 2023




Submissions Due: March 15–April 15, 2023



* Registration form goes live
Nov 1.
2023 Classics Conferences and Meetings
Bolchazy-Carducci Publishers is pleased to be exhibiting in-person
at these conferences of the new academic year.
—2023—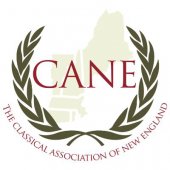 CANE—Classical Association of New England
117th Annual Meeting
St. Sebastian's School, Needham, MA
March 17–18, 2023
Bolchazy-Carducci Representative: Donald Sprague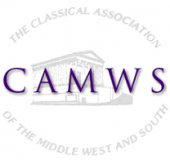 CAMWS—Classical Association of the Middle West and South
119th Annual Meeting
CAMWS 2023 Provo, Utah
CAMWS
at the Invitation of the Utah Classical Association
Provo Marriott Hotel and Covnention Center, Provo UT
March 29–April 1, 2023
Bolchazy-Carducci Representatives: Donald Sprague and Amelia Wallace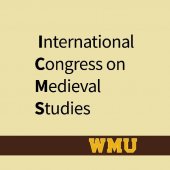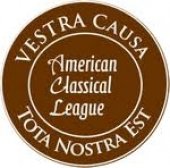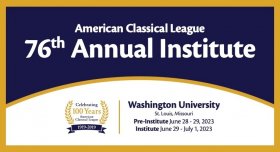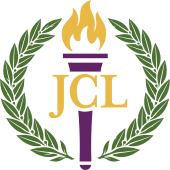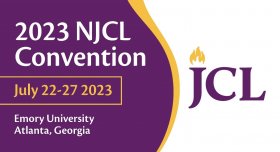 Caelum, non animum, mutant qui trans mare currunt.
"They who rush across the sea change their sky, not their soul"
–Horace, Epistles 1.11

Bolchazy-Carducci Representatives: Donald Sprague and Amelia Wallace

Celebrating the Second Decade!

Join us for our 12th year of providing the classics community this complimentary professional development series of webinars.

---
Winter/Spring

2023 Webin

ars

Tuesday, February 21, 2023 — 5:00–6:00 pm Central Time
"Sea Monsters! O brave new seas that have such monsters in them." Georgia Irby, College of William and Mary, Williamsburg, VA
In this talk, Professor Irby shall consider both biological (whales, sharks, octopods) and mythical sea monsters from conceptual perspectives, including the physics and optics of water and the transformative abilities of sea deities. We shall explore what sea monsters represent, as avatars of the violent sea. They are the unknown maritime dangers given physical form, from the perspective of those who do not belong in the sea. The hero who vanquishes a sea monster also conquers nature.
Georgia Irby, Professor of Classical Studies, has broad research interests including the history of Greek and Roman science. She received her PhD in Classical Philology from the University of Colorado at Boulder. She has co-authored a Latin textbook, edited a two-volume History of Science and Technology in the ancient world, and has published on Greek mythology, Roman military religion, and Roman military medicine. Two of her recent books, Conceptions of the Watery World in Greco-Roman Antiquity and Using and Conquering the Watery World in Greco-Roman Antiquity (Bloomsbury, 2021), stem from her COLL 100 course, "Why Water Matters." In the class and the books, she explores water as a focus of engagement with the natural environment in the ancient world, including physics, infrastructure (e.g., aqueducts), medicine, mythology, religion, and more. In a recent monograph Epic Echoes in The Wind and the Willows (Routledge, 2021), she investigates Kenneth Grahame's engagement with classical literature, especially the themes and imagery of the Iliad and Odyssey. Together with a number of smaller projects (including articles on sea monsters and on environmental history), she is currently working on a translation and commentary of the Hispano-Roman geographical writer Pomponius Mela. She is also the editor of the Classical Journal, one of the premier journals of the field. Her talk today stems from her work researching the watery world.
---
We are working out the details for two webinars in March on Shakespeare and the Classics with UVM Professor Angeline Chiu.


Details will be posted on the website prior to the next issue of eLitterae.
Angeline Chiu joined the classics faculty at the University of Vermont in 2006 after earning her PhD at Princeton. She received her Masters in Greek and Latin from the University of Vermont and her BA in classics from Baylor University. She is a beloved professor at UVM known for her passion, her humor, and her knowledge. She teaches courses in all levels of Greek and Latin language and literature as well as in translation. She especially enjoys teaching "Shakespeare and the Classical Tradition." Her scholarly interests include the late Republican and Augustan periods, Roman epic and elegy (especially Ovid), Greek and Roman theater, and classical reception. She lovingly serves as Magistra Ludorum of the annual Vermont Latin Day and as sponsor for UVM's Goodrich Classical Club and Iota chapter of Eta Sigma Phi, the national classics honors society. She published Ovid's Women of the Year: Narratives of Roman Identity in the Fasti in 2016. Chiu is
the featured faculty member on the UVM Classics Department page,
check this out!
---
Tuesday, April 18, 2023 — 5:00–6:00 pm Central Time
"Experience-proven activities for the Latin classroom" Reagan Ryder, Bartlett City High School, Bartlett, TN

This session will help attendees develop ideas regarding projects that provide meaningful learning in the subject without taking away from valuable instructional time. The project ideas presented have all been developed as quarter-long projects primarily outside of class time, but with a careful eye to a defined grading rubric, in-class check-in points, and multiple levels of student commitment. The projects cover material for Latin, mythology, and etymology courses. Learn from an enthusiastic master teacher!

Reagan Ryder is in her second year teaching at Bartlett City High School in Bartlett, TN. In all her classes, she seeks to help students connect the modern and ancient worlds through her teaching Latin, etymology, and mythology classes and sponsorship of the Latin Club and Junior Classical League. She brings a wealth and breadth of experience to her classes having taught middle and high school Latin at the Maret School in metro Washington, DC, at the Ross School in East Hampton, NY, at the Baylor School in Chattanooga, TN. She served as an online instructor for the Memphis Virtual School and authored online curriculum for Latin 1 and Latin 2 for KC Distance Learning. Ryder has also taught a variety of classes for Kaplan Test Prep. Prior to Bartlett, she taught twelves years for Shelby County Schools, TN, including T-STEM Academy East High School in Memphis, TN.
In 2018, Ryder's peers honored her as the Tennessee Classical Association's Teacher of the Year. She currently serves as Publicity Chair for the Tennessee Junior Classical League. She has presented at the Tennessee Foreign Language Teaching Association's annual conference.
Ryder holds a BA in Classical Studies and Anthropology from Trinity University and an MAT in Instruction & Curriculum Leadership from the University of Memphis where she authored "Readability of Various Latin Texts: Implications for General Education." As an undergrad, she studied archaeology, Celtic civilization, and classics at University College Cork, Ireland.
---
Bolchazy-Carducci Publishers is pleased to provide complimentary webinars on a variety of subjects, especially pedagogical, of interest to classicists. Some webinars are geared to the Latin for the New Millennium program and to topics generated by the AP* Latin curriculum.
Please note:
The Bolchazy-Carducci Publishers Webinar Program is intended to be a live interactive endeavor in which presenter and attendees ask questions, make comments, seek clarification, share examples, etc. Thus, by design and in order to protect the presenter's intellectual property, B-C does not make recordings available to non-attendees. B-C encourages those interested in a given topic or presenter to plan to attend the live webinar.
If you have suggestions for webinars, please contact Don Sprague.
---
What Equipment Do I Need for B-C Webinars?
To participate in Bolchazy-Carducci Publishers sponsored webinars you will need high-speed internet access, computer speakers/headphones, current web browser, and the link to the webinar virtual meeting space, which is provided in your webinar invitation.
Webinars Make for User-Friendly Professional Development
Participation is free. All webinars provide opportunity for participants to ask questions. Learn lots—attend as many presentations as you can. Bolchazy-Carducci Publishers provides documentation for your participation. You can share this with your supervisors. Many webinar presenters provide handouts, etc.
Bolchazy-Carducci Publishers provides eTextbooks on a variety of eBook platforms. Bolchazy-Carducci textbooks are available through VitalSource,

GooglePlay

,

Chegg

, RedShelf, Adams Book, Follett,

MBSDirect Digital

, and ESCO. Each eBook platform offers a variety of tools to enhance the learning process. eBooks have the same content as our traditional books in print.
You can read eBooks on a Mac, PC, iPhone, iPad, Android, or a variety of eReaders. Review the eBook providers specifications.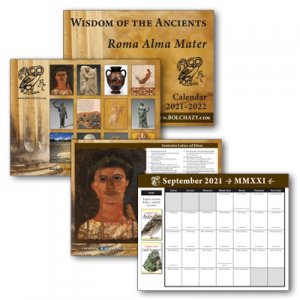 As is our custom, you can download the Roman Calendar from our website. Feel free to print the calendar for display in your classroom
.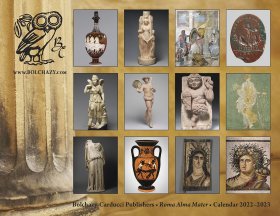 This year's calendar takes you on a journey through the "lesser" gods of the Greek and Roman pantheon. From Nike and Nemesis to Isis and Vertumnus, a variety of gods and goddesses are represented, portrayed as classical statuary, in colorful mosaics, and more!
Preview Bolchazy-Carducci Titles

Preview Bolchazy-Carducci titles before you purchase using Google Preview.
---

Downloadable Products
iPodius - Bolchazy-Carducci Publishers online shop for: audio, software, video, and a treasure trove of teacher-created materials in the Agora.
---
B-C Facebook Fan Page
Become a FAN of Bolchazy-Carducci Publishers, visit our Facebook Fan page for the latest news from B-C.
---
B-C Blog
Visit the BCPublishers Blog for B-C news and information.
The most recent addition to the blog includes tips on incorporating 3-D printing projects, including Latin inscription cookies, into the Latin classroom.
---
BCPublishers on Twitter
Follow us on Twitter
---
AP® is a trademark registered and/or owned by the College Board, which was not involved in the production of, and does not endorse, this site.
These products have been developed independently from and are not endorsed by the International Baccalaureate (IB).
Dear Colleagues,



Winter Greetings!

The beginning of the New Year saw me fretting that the Southwest Airlines computer meltdown would jeopardize my attendance at the AIA/SCS annual meeting in New Orleans. Fortunately, Southwest managed to right the ship and I was headed south before a winter storm struck Maine.





My fascination with New Orleans began with the APA (the American Philological Association, now called the Society for Classical Studies) meeting at the Fairmont Hotel in 1992 back when I was teaching Latin and Greek at Loyola Academy in the northern suburbs of Chicago. I managed to balance attending sessions with two fabulous tours—the architecture of New Orleans and a visit to a nearby plantation (time has taken its name from my memory). Later, in my journey to administrative leadership, I participated in an Ignatian Leadership Program for educators from Jesuit high schools. For three years, each fall, we gathered for a week in Chicago and in the spring for a week in New Orleans. The Dominican retreat house near the campuses of Loyola University New Orleans and Tulane University hosted us. In addition to the opportunity to study organizational change and Jesuit pedagogy while engaging with a talented group of teachers, an appropriate amount of free time afforded us the opportunity to explore the city. Over the course of the three years, I experienced a variety of krewes and their parades, Mardi Gras itself and a wild Bourbon Street, and a very interesting voodoo tour of the city.





In planning for this year's SCS, I was determined to join a tour led by Jeremy Trager, a former actor I knew from his days in Chicago and my work with Porchlight Music Theatre Chicago. Working as a tour guide for

HottestHell.com

has proven a terrific opportunity for Jeremy to employ his acting skills and his love of history and New Orleans. My colleague Bridget Dean and our ACL VIP friends—Sherwin Little, executive director, president Jennie Luongo and her husband Danny, and new

Classical Outlook

editor Phil Walsh—joined me for Jeremy's "Walking the Devil's Empire" tour. Jeremy proved an excellent guide and he enjoyed our group's attentiveness. He quickly improvised when Sherwin readily answered his question about the name of the French royal family under whose aegis New Orleans was developed. We surmised most participants do not know the origin of Bourbon Street! Our group heartily recommends you do a tour with Jeremy and HottestHell!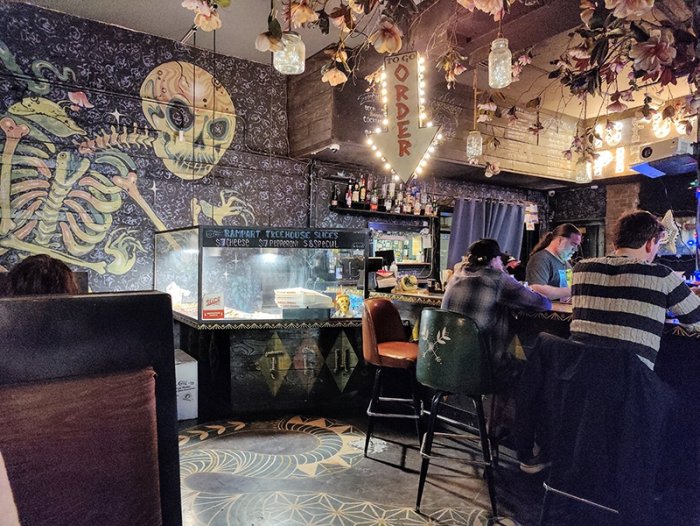 Bridget and I caught a pizza and some beer at the Rampart Treehouse prior to our "Walking the Devil's Empire" tour. Of course, this place also boasts its own ghost story.

The past few weeks have seen a flurry of articles about the development of an AI site that can compose answers and write papers for students. Needless to say, this presents a challenge for teachers everywhere. And one more burden! Among my duties as an associate principal, I dealt with students who had committed "academic dishonesty." In conversations with my teacher colleagues, I would emphasize that in-class assessments serve as a ready antidote to dependence on cheating. For essays written at home and for research papers, the school provided access to Turnitin as a means of detecting plagiarism. Fortunately, a college student has created an app that detects AI-written text.

Check it out!




As we approach the doldrums of winter, take comfort that the work you do is very special. You have chosen to mold the minds and hearts of the future. Keep up the good work!



All best,





Don Sprague
Executive Editor

Teaching Tip: A Latin Story to Accompany Latin for the New Millennium, Level 1, Chapter 6

This is the fourth in a series of seven stories to accompany chapters 3–9 in
LNM
1. While complementary to
LNM
, the stories can serve all first-year Latin students.
This story presents Quintus Sertorius, a Roman general who was exiled from Rome. Along with native Spanish forces, he led a large-scale rebellion against the Romans. Besides his charismatic personality, Sertorius utilized symbolism to help maintain the will and loyalty of his soldiers. One of the most important symbols employed by Sertorius was the all-white deer, an animal given to him by a local farmer named Spanus. Sertorius gave the impression to his Spanish allies that the goddess Diana communicated with him through the deer. Sertorius was successful at fighting the Romans for several years, but he was ultimately killed in a conspiracy led by a Roman aristocrat named Peperna, who was not loyal to Rome, but wished to assume power in Spain himself.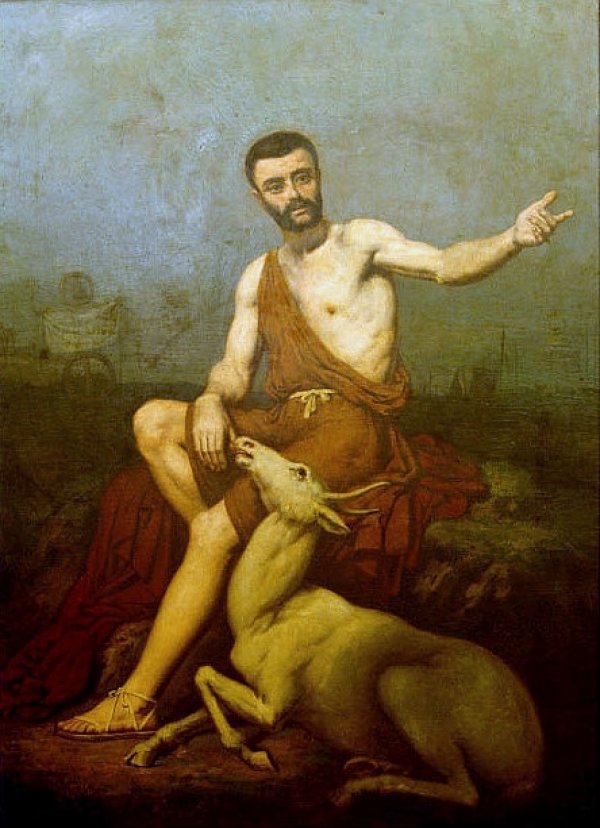 An oil painting on canvas, 1849, by Brazilian-French painter Juan
León Pallière (1823–1887), depicts Roman general Quintus
Sertorius with his famous all-white deer.
Public Domain, Wikimedia Commons.

Quintus Sertōrius
Spanus est agricola quī in Hispāniā habitat. Saepe in agrīs ambulat. Quōdam diē, animal in tenebrīs videt. Est magnum bellum in Hispāniā. Spanus dē animālī cogitat. Est animal dolus? Sunt multī dolī quod bellum est. Sed nōn est dolus.


Animal ē tenebrīs ambulat. Est cerva alba. Pulchram fōrmam habet. Exemplum bonum cervōrum est. Spanus cogitat: cerva est praemium deōrum!


Nunc Spanus multōs virōs armātōs videt! Cervam miseram capere parant. Spanus timet, sed cervam ā virīs servat et Quintō Sertōriō dat. Sertōrius dux Rōmānus est sed Sertōrius patriam nōn servat. Sertōrius praeclārus dux est quod in Hispāniā manet et bellum contrā Rōmānōs gerit.


Sertōrius cōnsilium habet. Sertōrius cervam cūrat et docet; cervam in vinculīs nōn tenet. Cerva cum Sertōriō ambulāre solet. Cerva numquam longē ā Sertōriō est.


Hispānī cervam pulchram amant. Nam, cerva est praemium Diānae! Cerva cum Sertōriō ambulāre solet. Cerva numquam longē ā Sertōriō est. Sertōrius cervam cūrat; cerva Sertōrium amat. Hispānī cervam amant, itaque Sertōrium amant. Auxilium Sertōriō dant quod Diāna Sertōrium et Hispānōs servat.


Sertōrius et armātī Hispānī bellum contrā Rōmānōs gerunt.


Quōdam diē, Sertōrius miser est. Hispānī dolent et lacrimās dant. Cervam vidēre nōn possunt. Praemium Diānae nōn habent.


Iūstus agricola cervam Sertōriō reddit. Sertōrius cōnsilium habet. Est sēcrētum.


"Diāna mē dē bellō docet!" Sertōrius clāmat.


Cerva castra intrat et ad Sertōrium ambulat. Sertōrius lacrimās dat quod gaudium magnum habet. Hispānī gaudium habent quod cervam vident. Praemium Diānae habent. Cervam memoriā semper tenent et cum Sertōriō semper manent.

Vocabula Nova

falbus, -a, -um – white
animal, n. – animal
animālī (abl.) – animal
capere – to take, capture
cerva, -ae, f. – deer
clāmo, clāmāre, clāmāvi, clāmātum – to shout
contrā (adv.) – against
cum (prep.) – with
dux, m. – leader
gerit – he wages
gerunt – they wage
Hispānī, -ōrum – Spaniards
numquam (adv.) – never
quī (pronoun) – who
quod (conj.) – because
quōdam diē – one day
reddō, reddere, reddidī, redditum – to return
sēcrētum, -ī, n. – secret
Spanus, -ī, m. – name of a Spanish farmer

Editor's Note:
Bolchazy-Carducci Publishers is pleased to provide this Latin story for Latin teacher subscribers to use with their own classes
only
. The
PDF version
includes a full-color illustration and caption.
For those using Latin for the New Millennium, Level 1, note that this Rectina story features a letter to complement the letter of Cicero to Terentia provided in adapted Latin in chapter 5. The LNM 1 workbook lesson for chapter 5 includes an imagined letter from Terentia back to Cicero.

As a Latin activity related to this story about Rectina, consider having students compose the letter Rectina sent to Pliny the Elder.
About the Author
Emma Vanderpool has taught Latin at the university, middle school, and high school levels—currently at the Springfield Honors Academy in Massachusetts. Vanderpool earned her Bachelor of Arts in Latin, Classics, and History from Monmouth College in Illinois and her Master of Arts in Teaching Classical Humanities from the University of Massachusetts in Amherst. She serves as a state rep for CANE, as an executive board member of Ascanius, and as an organizer for Our Voices and Lupercal. Vanderpool is the recipient of the Classical Association of Massachusetts 2021 Award for Excellence in the Teaching of Classics and a Distinguished Teaching Award from UMASS Amherst; she was honored as the Lincoln Laureate for Monmouth College. She has self-published ten novellae. Bolchazy-Carducci Publishers is pleased to have had Vanderpool launch our novella series with Explore Latin: Aves and the first three titles for the Encounter Latin series—Augury is for the Birds: Marcus de Avibus Discit, Under His Father's Wing: Marcus de Auguribus Discit, and Princess, Priestess, Mother, Wolf: Fabula de Romulo et Remo (forthcoming).
Content by Emma Vanderpool
Latin for the New Millennium ©2023 Bolchazy-Carducci Publishers

After a three-year hiatus, the joint meeting of the Archaeological Institute of America and the Society of Classical Studies offered a hybrid gathering with both online and in-person options. Some 1,200 classicists and archaeologists descended on the Hyatt Regency New Orleans and eagerly attended sessions and caught up with friends and colleagues.

Bridget Dean, president of Bolchazy-Carducci Publishers, and Don Sprague staffed a booth bursting with B-C titles and eagerly shared new titles such as
New Testament Greek: A Reading Course, Level 1
and the novella series with visitors to the booth. To celebrate the return to an in-person conference, B-C held a special book drawing. Madeline Davos of Christendom College in Virginia, won a complete set of the acclaimed 19 BC Latin Readers, a series produced in consultation with professors and edited by Ronnie Ancona and B-C's beloved Laurie Haight Keenan. Elaine Godwin of Surrey, British Columbia, won a copy of four B-C New Testament Greek texts including the brand-new
New Testament Greek: A Reading Course, Level 1
and the new revision of
Reading the Gospel of St. John
.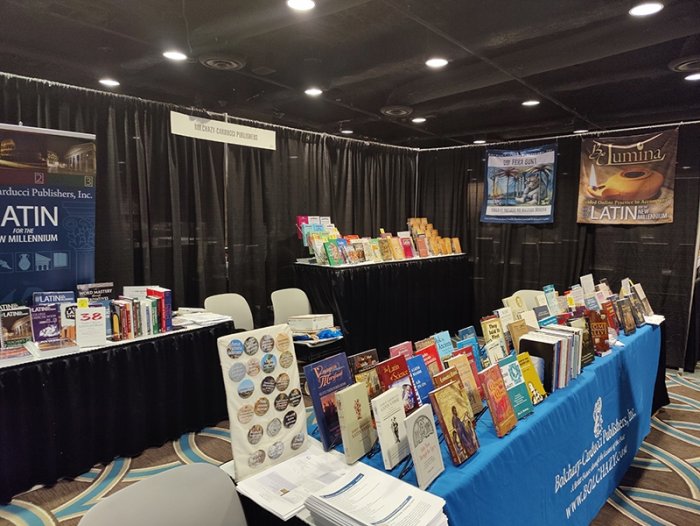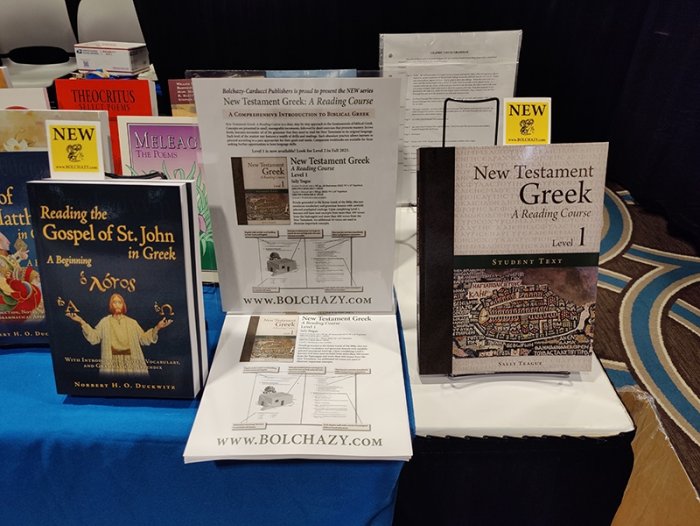 The meeting provided a much-desired opportunity to catch up with old friends and colleagues. We were pleased to be neighbors with the American Classical League and enjoyed chatting with Sherwin Little and Jennie Luongo. Bridget savored meeting up with dear friends from her doctoral studies at the Ohio State University—Sam Flores, who teaches at the College of Charleston, and Chris Bungard, who teaches at Butler University. Bungard was excited about directing the Camp production of Phormio. The production used Erin Moodie's translation. Currently teaching at Purdue University, Moodie served as a senior lecturer at OSU when Sam, Chris, and Bridget were students. Chris, who is a specialist in Roman theater, is the author of the B-C novella series about theater. Bridget also enjoyed seeing Anthony Kaldellis and Carolina Lopez-Ruiz, professors of hers at OSU, now at the University of Chicago. Lopez-Ruiz served on Bridget's dissertation committee. As is his custom, Dwayne Roller, OSU professor emeritus, visited the booth to greet Bridget. It's always a joy to see Dwayne and hear about his latest book project. Author and longtime B-C friend Ronnie Ancona also stopped by the booth.

The Hyatt Regency drew an interesting collection of people—classicists and archaeologists attending the conference, folks setting up for the Miss Universe Pageant that took place a week later, and fans of the Pelicans and Saints sports teams. The hotel is located right beside the basketball stadium and Caesars (sic) Superdome.

Bridget caught an artsy view of Caesars Superdome and the football crowd.
Lines at Hurt Donut shop next door to the hotel documented its popularity.
King cakes in the making.

Three views of the columns that decorate the Cancer Survivors Park across the street
from the hotel. Milosav Cekik designed the park funded by the Richard and
Annette Bloch Family Foundation.

Bridget and Don joined longtime B-C collaborator Jim Keenan, retired papyrologist who taught classics at Loyola University Chicago and husband of retired B-C editor Laurie Haight Keenan, for dinner Friday night. They enjoyed a lovely dinner at Saint John in the French Quarter and following dinner, caught the walking parade that celebrates the birthday (January 6) of Joan of Arc. Saturday night, while Bridget joined her OSU friends for dinner, Don met up with Connie Rodriguez, who retired early from Loyola University New Orleans and now teaches Latin at Benjamin Franklin High School in New Orleans. B-C was pleased to gift Connie with the bookcase bought for use at the conference.

Some quickly snapped shots of Joan of Arc parade: a dragon, the
castle of Orleans, stained glass, and winged creatures.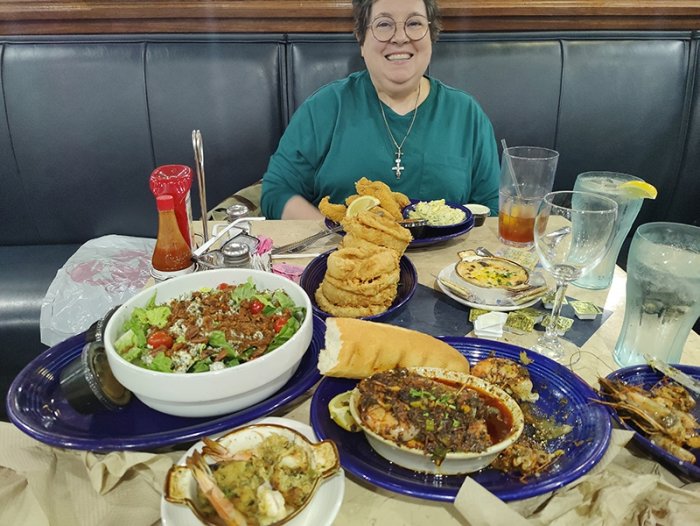 Ben Franklin High School's Connie Rodriguez introduces B-C's
Don Sprague to the seafood delights of local favorite restaurant
Deanie's Seafood in Bucktown. Most of those dishes were Don's!

B-C looks forward to AIA/SCS 2024 to be held in Chicago and hopes for a repeat of this year's mild winter.

Lumina FAQ: Providing feedback on Lumina exercises and grading Lumina essay questions

Bolchazy-Carducci Publishers

Lumina FAQs
When Bolchazy-Carducci Publishers developed Lumina, we provided basic FAQs about using the online content. Since Lumina's debut in 2018, we have enabled more advanced functionality—teachers can now select from a number of customized grading options! In this eLitterae column, we will share some tips about new Lumina features. FAQs will continue to be added based on teacher feedback.

January 2023 Lumina FAQ

Providing feedback on Lumina exercises and grading Lumina essay questions

Every Lumina exercise has the feedback option, which is found in the Teacher's View of the Lumina exercise.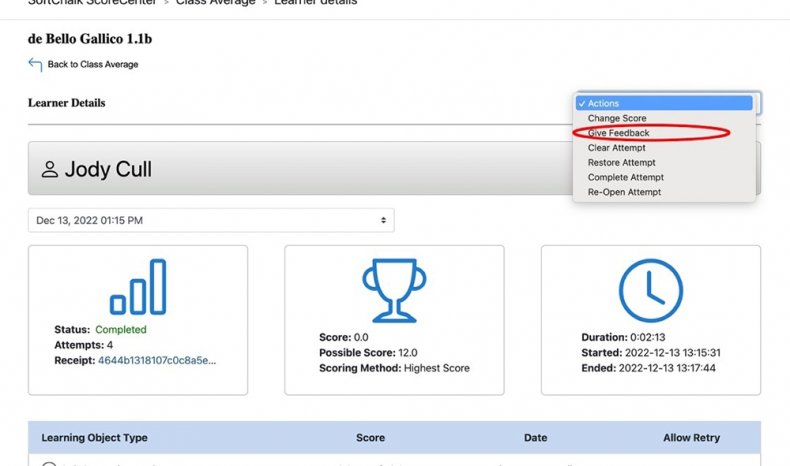 How do teachers give students feedback on Lumina exercises?

Open a Lumina exercise and click on the student's name. In the status column, click on the checkmark to select an attempt. Then click the quiz group. (Note: for Lumina for LNM users, each Practice Exercises page has multiple quiz groups. All other exercises have one.)


The questions, the student's response, and correct answers will display.


To give feedback, select "Give Feedback" from the "Actions" drop-down menu.


Review the student's answers, type feedback into the "Give Feedback" window, and click "Save Feedback."

How do students view teacher feedback on Lumina exercises?
To view the teacher's feedback, the student opens the Lumina exercise. The "Resume Your Attempt…" popup window will open.


The student selects "Feedback and Previous Attempts."


The "Grading Details" page opens, where the teacher's feedback is found in the comments section.
Every Lumina exercise has the "Change Score" option, which is found in the Teacher's View of the Lumina exercise.


Link to original Lumina user FAQs
Link to "What is Lumina?" and "How do I access Lumina?" FAQ
Lumina Interactive Online Content



Lumina: Latin for the New Millennium Level 1 and
Level 2 is designed to be guided online practice to accompany the Latin for the New Millennium textbooks.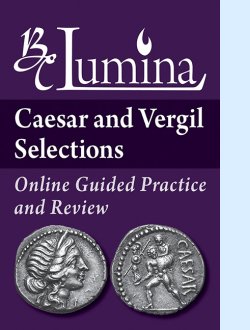 Lumina: Caesar and Vergil Selections offers online interactive exercises designed to prepare students for the rigors of the AP® Latin exam. Hundreds of automatically-graded multiple choice questions promote close reading of all syllabus selections and provide students with immediate feedback. Ample free response questions ensure that students have the tools to thoroughly analyze and respond to syllabus passages. Practice exams prepare students for exam format, while vocabulary and figures of speech flashcards encourage additional self-review.




Teaching Tips & Resources

eLitterae Subscribers Special Discount

for eLitterae Subscribers
Every classroom should have copies of this text by
African American classicist Scarborough!
ISBN: 978-0-86516-863-3 •

$24.00

$14.40
Enter coupon code eLit0123 on the payment page.
The special offer pricing will be charged at checkout.
This offer is valid for one (1) copy per title, prepaid, no returns.
Discount is not available to distributors.
This offer expires February 20, 2023.


(Please note that there will be no adjustments on previous purchases.
Offer is nontransferable and subject to change without notice. Only valid on products published by Bolchazy-Carducci Publishers, Inc.)

Bolchazy-Carducci's New Novella Series:
Great Gifts for the Young Latin Learner
in Your Life