by Carol
Since summer is a time to play, Mindy and I thought that we'd dedicate an issue to playing with words. As writers, we play with words all the time--trying to find the best one for a piece of dialogue or narrative. In this newsletter you'll discover an author who ALWAYS plays with words in his poems. And as usual, we are giving away some great books. Go ahead. Play with words!
by Carol Baldwin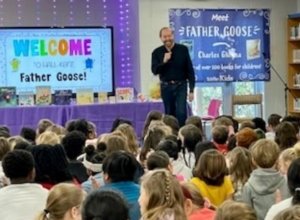 Charles at a school visit.
I started playing with words when I was seven years old and my mother brought home an old secondhand typewriter for my birthday. That was seventy years ago. I'm still playing.
My poems often begin with a writing warm up exercise of wordplay where I try to think of homonyms to replace words in well-known phrases. Most children have played the game of "Hide and Seek." Here's a poem that came to me when I started thinking about how bees play that game.
Spring
I like to describe familiar images of nature in new and unexpected ways. Then I choose unexpected rhymes, homonyms, oxymorons and metaphors to bring those images and ideas to life with fresh new lyrical language. In my poem "Love is a Garden," I began by thinking of similes, comparing aspects of a garden to love in an attempt to bring the abstract concept of love to life by comparing it to images in nature. I wrote the last two stanzas first and then worked to build the poem toward those concluding metaphors.
Love is a Garden
Father Goose
, aka Charles Ghigna, works in a
treehouse
in the middle of Alabama. He is the best-selling author of more than one hundred books from Disney, Random House, Scholastic, Simon and Schuster and Time. He has written thousands of poems that appear in anthologies, textbooks, newspapers, and magazines.
From Brainstorm!

Two Tweens Talk About Two Books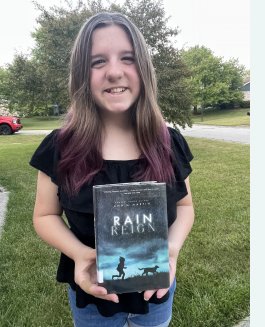 Review by Graely Todd

Rain Reign is a thoughtful story about an autistic girl named Rose and a dog that her dad found outside in the rain one day. Rose is obsessed with homonyms and named her dog Rain because it is a homonym. This story made me think about how people like Rose get treated. When people in Rose's classes (or even her own father) were mean to her, it just broke my heart. There are people in my school that are just like Rose. It made me think about how people treat kids who act differently than them. And it makes me sad. Maybe this story will help people think about showing kindness and love to their autistic classmates.
I'm Graelyn Todd and I am from Noblesville, Indiana. I am 13 years old. I love reading, especially fantasy books. I love theatre and hanging with my friends. My favorite book is either Harry Potter or FableHaven.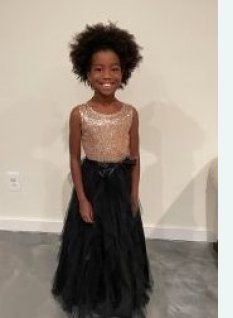 Review by Peyton Watkins
The Father Goose Treasury of Poetry by Charles Ghigna is a very precise and detailed piece of art. It is organized into sections of seasons and animals and plant life. This book has 126 pages so if you like reading books you will like this book.
My favorite part of this book is the illustrations because of the detail and the colors. One example is "Snowfall in the City" on page 36. The illustrator, Sara Brezzi, used collage to make the background look just like a town to buy Christmas supplies. Two other examples are the calico cat's detail on page 94 and the background of "Moon Cat" on page 95. I would recommend this book to anyone who has an interest in art because of the variety of detail and media the illustrator used.
I also liked the humor in several of the poems. For example, in "Pigs," on page 103, I love how it says, "…pigs are loyal, pigs are true, pigs don't care for barbeque." Another example is in "Chickens" on page 102. I like the detail on the chickens, and also the humor in the last stanza, when it says, "…chickens hate chicken soup." The humor brings out the color in the book.
My last favorite thing of the book was the rhythm and beat of some of the poems. Some of the poems rhymed and matched with other words. One example is from "I Like Sunshine" on page 43. I like how it kept saying "I like…I like…I like…" and then rhymed. Another example is from "Thunder" on page 71. I like how a lot of the lines are single words that rhyme with each other so you can really feel the "thunder."
I would recommend this collection to readers who like poetry with rhyme, beat, humor, and imagery. Additionally, the illustrations make this a book that would appeal to everyone.
Hi I'm Peyton Watkins and I'm 10-years old. I live in Matthews,
North Carolina and I love reading. Right now my favorite book to read is Harry Potter. Outside of reading I enjoy doing gymnastics and playing with my friends.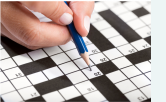 Here are some simple ways to connect with your children using word play.
1. Simplified Scattegories Set a timer for one minute and take turns trying to think of the most words that begin with that letter.
(LEVEL UP: Compete at the same time by writing down the words you think of. When time is up, cross out the words that are also on your opponent's list. One point for each unique word. Most points wins)
2. Who are you? Follow the pattern using each letter of the alphabet. Take turns and be silly. Hi, My name is ASHLEY, I live in ALASKA, and I sell ARMADILLOS. Hi, my name is BRUTUS, I live in BOSTON, and I sell BAGPIPES…etc
3. Acrostic poem Choose a word like your name or SUMMER. Create a poem by writing a word or phrase for each letter.

Sunny weather

Us together
Making

Memories

Everyone

Relaxing

4. Word games Play games with your child such as Boggle, Scrabble, Hangman, Scattegories, or Bananagrams.
5. Crossword puzzle or Word Search Puzzle Use this website to have fun solving puzzles together with your child.
https://www.puzzles-to-print.com/crossword-puzzles-for-kids/
https://www.crosswords-for-kids.com/
We love to hear from our readers!

You can contact us through the newsletter or individually at the following social media platforms.

We're also both available for school visits.
Mindy Baker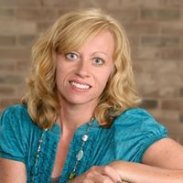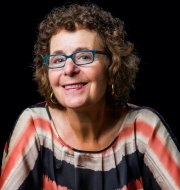 We're always looking for teen or tween reviewers. If you know someone who might be interested in reading and writing a short synopsis of three books, please

email

us.
To Charles Ghigna for being our featured author.
To Nancy Sutin for proofreading.
To Sleeping Bear Press for the illustration and for a copy of Brainstorm!
To Schiffer Books for donating A Poem is a Firefly and The Father Goose Treasury of Poetry.
To Peyton Watkins and Graely Todd for reviewing books.
To Page Street Kids for a copy of A Dollar's Grand Dream.
Did you know there is a

TALKING STORY

Facebook Group

?

We would love for you to participate and find out what other writers, educators and librarians are saying.
If you're having trouble emailing us, try using CHROME browser.
Send us an
email
and we'll enter your name to win one of the four books below.
If you have a preference, please mention it. Do you have a favorite wordplay book? Please tell us!
US

address

only.
Enter by
July 15, 2023

(Or better yet, enter now!)
If you forward Talking Story
to a friend or share this issue on social media, let us know. We will give you an extra chance to win a book.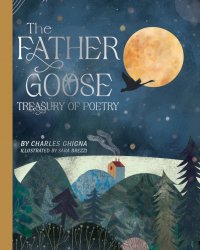 by

Charles Ghigna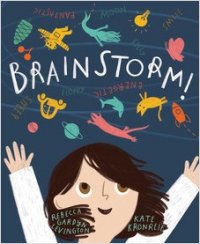 by

Rebecca Gardyn Livington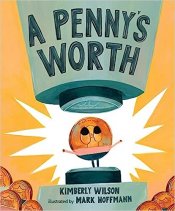 by

Kimberly Wilson

Words, words, words! They are intriguing and delightful. Our recommended books are only a few of the amazing titles related to this topic. I would love to hear your favorites.

In other news, while I have enjoyed this year of co-producing Talking Story, I am signing off from creating it in the future. I feel the need to streamline the responsibilities in my life and simply...do less. I will still interact from time to time on the Talking Story FB group. If you want to connect with me, here is a link to the ways you can find me on social media and/or receive my mini-magazine.

Best wishes!

PICTURE BOOKS
AND BOOKS
FOR YOUNG READERS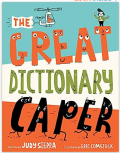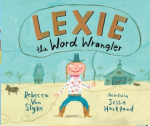 by Rebecca Van Slyke
i
llustrated by Jessie Hartland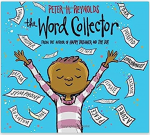 by Peter H. Reynolds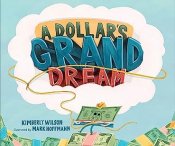 by Kimberly Wilson
Illustrated by Mark Hoffman

****
BOOKS FOR MIDDLE GRADERS and OLDER READERS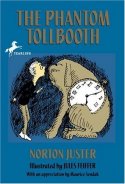 by Norton Juster
by Nikki Grimes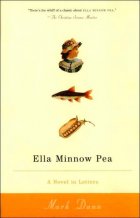 by
Mark Dunn
Congratulations to

winners from our

Danielle Hammelef won Night Becomes Day.
Joan Edwards won Moon Tree.

Gwen Porter won A History of Toilet Paper and other Potty Tools.

Stephanie Ziebarth won Garvey's Choice.

PLEASE SHARE

If you share TALKING STORY either on social media or via email, we will enter your name in our giveaway. Please email by July 15, 2023, indicate your book preference and we will add your name to the hat!