B-C's Special Distance Learning Content with Complimentary Materials

In response to school closures due to COVID-19, Bolchazy-Carducci Publishers is making a variety of materials available to the classics community in order to ease the transition to distance learning. Please see our new Distance Learning page to freely access downloadable packets of fair use excerpts from our books as well as some fun mythology-related activities.
AP Latin Summer Institutes 2023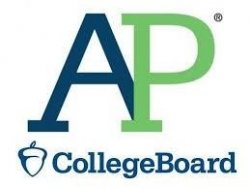 The AP Latin consultant team, Bob Cape, Jill Musselman Crooker, and Jennie Luongo, wanted to let you all know about AP Summer Institutes for the summer of 2023. These programs are designed to benefit anyone from a new to a long-time AP instructor with ideas for being more inclusive in recruiting for the AP Latin classroom and about how to use the AP Daily videos and other AP Classroom materials. Here's the list of most of the programs, dates, and consultant presenting. Contact information for each consultant also appears below.
June 20-23: UT-Austin (Bob Cape)
July 10-14: UT-El Paso (Bob Cape)
Bob will also be presenting at the AP Annual Conference in Seattle on July 20th.

Bolchazy-Carducci Publishers is pleased to be a long-time supporter, providing learning materials, of these AP Latin Summer Institutes.

Looking for a stimulating week learning about the classics this summer?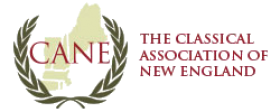 The Herstory of the Latin Language: A Wikipedia Edit-a-thon

The Herstory of the Latin Language: A Wikipedia Edit-a-thon invites participants to join an initiative to address the gender imbalance present on Wikipedia by improving and adding biographies of women who studied and published in Latin. Dozens of known female authors of Latin are yet to have a Wikipedia biography, many others have a Wikipedia biography, but their knowledge and use of Latin is missing or downplayed. This absence contributes to the common misconception that Sulpicia is the only female Latin poet whose work survives. All interested community members, including those affiliated with Classics, Comparative Literature, History, and Women's and Gender Studies, are invited to participate—no knowledge of Latin is required. Training in editing Wikipedia and a list of female Latin authors with research resources will be provided. This event is inspired by the Women in Red WikiProject. You are welcome to participate for the portion of the event that best works for you.

Laura Petersen is a student in the Master of Science in Information program at the University of Michigan School of Information and in the Graduate Certificate in Classical Reception Studies program, which is overseen by Contexts for Classics. She became interested in female authors of Latin after taking a course by Skye Shirley through Lupercal, a Latin reading group for women. She now works with Sophia He and many others in Project Nota, an organization dedicated to promoting the knowledge and use of Latin written by women in classrooms around the world.

When: 9:00 am to 2:00 pm EDT, Saturday, May 6, 2023, refreshments provided


An introduction to editing Wikipedia and researching female Latinists is available 9:00 am to 10:00 am and online beginning Wednesday, May 3, 2023.

Where: Mason Hall, Rm 1437, 419 S State St, Ann Arbor, MI 48109, and virtually via Zoom

Please register by April 28, 2023
Celebrating the Second Decade!

Thank you for joining us for our 12th year of providing the classics community this complimentary professional development series of webinars.

---
Bolchazy-Carducci Publishers is pleased to provide complimentary webinars on a variety of subjects, especially pedagogical, of interest to classicists. Some webinars are geared to the Latin for the New Millennium program and to topics generated by the AP* Latin curriculum.
Please note:
The Bolchazy-Carducci Publishers Webinar Program is intended to be a live interactive endeavor in which presenter and attendees ask questions, make comments, seek clarification, share examples, etc. Thus, by design and in order to protect the presenter's intellectual property, B-C does not make recordings available to non-attendees. B-C encourages those interested in a given topic or presenter to plan to attend the live webinar.
If you have suggestions for webinars, please contact Don Sprague.
---
What Equipment Do I Need for B-C Webinars?
To participate in Bolchazy-Carducci Publishers sponsored webinars you will need high-speed internet access, computer speakers/headphones, current web browser, and the link to the webinar virtual meeting space, which is provided in your webinar invitation.
Webinars Make for User-Friendly Professional Development
Participation is free. All webinars provide opportunity for participants to ask questions. Learn lots—attend as many presentations as you can. Bolchazy-Carducci Publishers provides documentation for your participation. You can share this with your supervisors. Many webinar presenters provide handouts, etc.
2023 Classics Conferences and Meetings
Bolchazy-Carducci Publishers is pleased to be exhibiting in-person
at these conferences of the new academic year.
—2023—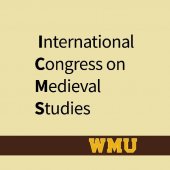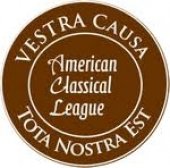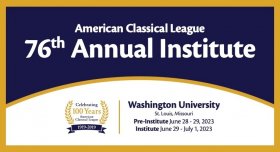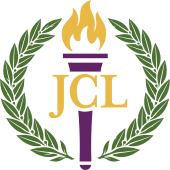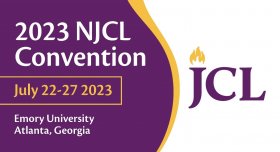 Caelum, non animum, mutant qui trans mare currunt.
"They who rush across the sea change their sky, not their soul"
–Horace, Epistles 1.11

Bolchazy-Carducci Representatives: Donald Sprague and Amelia Wallace

Bolchazy-Carducci Publishers provides eTextbooks on a variety of eBook platforms. Bolchazy-Carducci textbooks are available through VitalSource,

GooglePlay

,

Chegg

, RedShelf, Adams Book, Follett,

MBSDirect Digital

, and ESCO. Each eBook platform offers a variety of tools to enhance the learning process. eBooks have the same content as our traditional books in print.
You can read eBooks on a Mac, PC, iPhone, iPad, Android, or a variety of eReaders. Review the eBook providers specifications.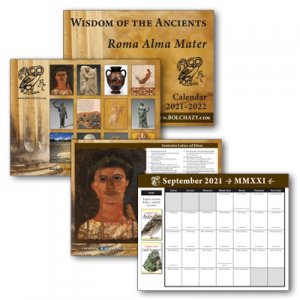 As is our custom, you can download the Roman Calendar from our website. Feel free to print the calendar for display in your classroom
.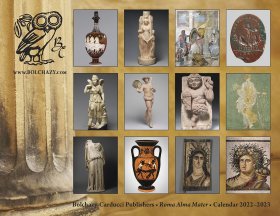 This year's calendar takes you on a journey through the "lesser" gods of the Greek and Roman pantheon. From Nike and Nemesis to Isis and Vertumnus, a variety of gods and goddesses are represented, portrayed as classical statuary, in colorful mosaics, and more!
Preview Bolchazy-Carducci Titles

Preview Bolchazy-Carducci titles before you purchase using Google Preview.
---

Downloadable Products
iPodius - Bolchazy-Carducci Publishers online shop for: audio, software, video, and a treasure trove of teacher-created materials in the Agora.
---
B-C Facebook Fan Page
Become a FAN of Bolchazy-Carducci Publishers, visit our Facebook Fan page for the latest news from B-C.
---
B-C Blog
Visit the BCPublishers Blog for B-C news and information.
The most recent addition to the blog includes tips on incorporating 3-D printing projects, including Latin inscription cookies, into the Latin classroom.
---
BCPublishers on Twitter
Follow us on Twitter
---
AP® is a trademark registered and/or owned by the College Board, which was not involved in the production of, and does not endorse, this site.
These products have been developed independently from and are not endorsed by the International Baccalaureate (IB).
Felicem diem natalem,
Roma aeterna!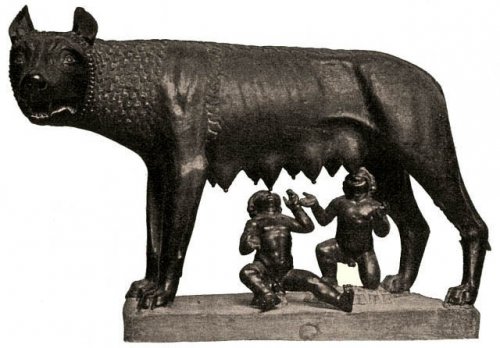 Capitoline she-wolf. Public Domain. Wikimedia Commons.
Dear Colleagues,



Trust that you were able to enjoy a restful and relaxing spring break and that you have returned to the classroom restored and prepared for a fabulous finish to the school year. Of course, the AP Latin Exam, the IB exams, and finals will punctuate those last weeks.



I was deeply touched last month at the Classical Association of New England's (CANE) conference banquet. About four sentences in to the presentation of an ovation, I realized the description matched my work in the classics community. Needless to say, I was humbled, honored, and stunned!



As you might expect, this honor has spurred some regular reminiscing. For example, forty-five years ago I was prepping my first AP Latin class for the big exam. That year, my first after college, I used to review Vergil each day as I took the "E" from Chicago's Lakeview to Loyola Academy in suburban Wilmette. The prescribed curriculum "back in the day," indeed, in the last century was pretty formidable! It was a privilege to teach some terrific students AP Vergil over the next nineteen years. 1989 included offering AP Latin V in my prep time for two seniors who undertook the lyric exam. Tim Joseph, classics professor at the College of the Holy Cross, who, as CANE president presided at the banquet mentioned above, was one of my outstanding AP Latin students.


Speaking of the AP Latin Exam, rest assured as Bolchazy-Carducci Publishers is gearing up and marshalling resources to produce a set of texts and digital resources like those we have traditionally provided for the

new AP Latin Curriculum

. We'll keep you informed along the way . . .




You may have learned about the passing of Bernard Barcio, larger than life Latin teacher from Indianapolis. Check out this beautiful

tribute

. Barcio founded Pompeiiana, a nonprofit dedicated to promoting the study of Latin. For teachers, like myself, and students across the country, the arrival of the Pompeiiana Newsletter was always a welcome occasion. Bolchazy-Carducci Publishers is honored to provide

online access

to all 229 issues of this newsletter that featured crosswords, cartoons, stories, and articles, many of which were student-created.


Sending you all best wishes for these last weeks of the semester.

All best,





Don





Don Sprague
Executive Editor

Teaching Tip: A Latin Story to Accompany Latin for the New Millennium, Level 1, Chapter 9

This is the final installment in a series of seven stories to accompany chapters 3–9 in
LNM
1. While complementary to
LNM
, the stories can serve all first-year Latin students.
This recounts the story of the Roman consul, Publius Claudius Pulcher, as recorded by the Roman historian Suetonius. During the First Punic War, the Romans were fighting against the Carthaginians over control over the island of Sicily. Publius was given command over the Roman fleet and tasked with confronting the preeminent Carthaginian fleet. After some initial victories, Publius and the Romans faced a turn in fortunes.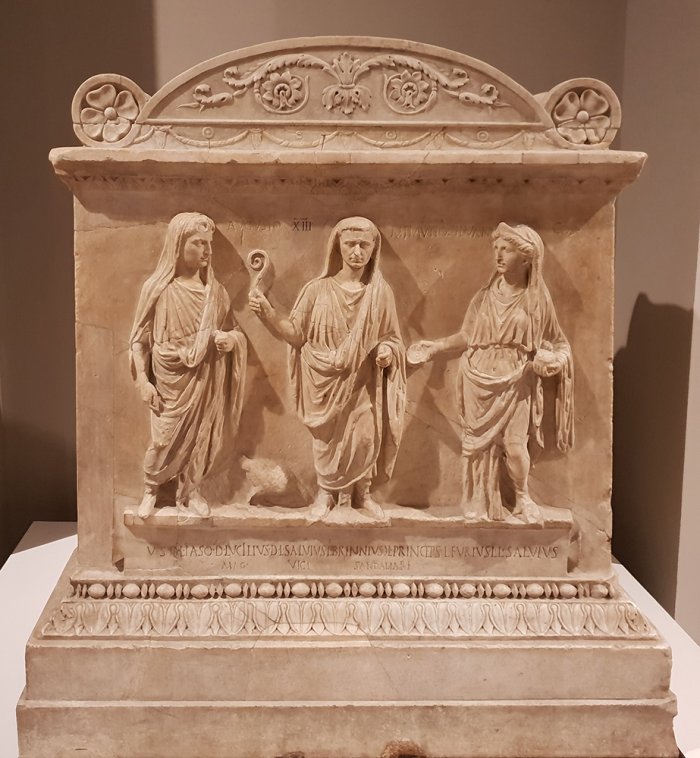 This relief sculpture, known as the Lares Altar, depicts Augustus, in the center, dressed as a pontifex maximus and bearing an augur's lituus as he presides over the augural event. The rooster, to the viewer's left, is captured in the act of pecking, a good omen before a military campaign. The female figure on the right, wearing a tiara and neck torques, is identified as perhaps a priestess of Cybele, a deity of Asian origin, depicted as Venus Genetrix. The young man with veiled head can be associated with Gaius Caesar, Augustus's grandson and heir. Between 2 and 1 BCE, Gaius led Rome's troops in Asia Minor. Julius Caesar built a temple to Venus Genetrix in the Forum of Caesar in Rome. Augustus enjoyed identifying with this divine ancestor. Photo by Jamie Heath. Wikimedia Commons, Creative Commons 2.0.
Pūblius Claudius Pulcher
Rōmānī bellum contrā Carthāginiēnsēs gerunt. Pūblius Claudius Pulcher cōnsul Rōmānus et dux mīlitum est.


Pūblius urbem, Lilybaeum, et castra petit. Tandem cōnsul dēcernit petere nāvēs Carthāginiēnsēs. Nōn longē sunt. Mīlitēs Rōmānī arma multa habent et exemplāria fortitūdinis sunt. Rōmānī timōre magnō corripiuntur quod in marī Carthāginiensēs nāvēs magnās habent.


Pūblius ōrātiōnem habet sed mīlitēs timent. Mīlitēs signum deōrum exspectant. Pūblius scit mīlitēs timēre. Itaque iubet animālia sacra parārī. Animālia sacrī pullī sunt. Mīlitēs pullōs ūnius assīs nōn aestimant nisi pullī signa deōrum dant. Mīlitēs pullīs valdē crēdunt quod pullī signum deōrum dant. Ubi pullī cibum cōnsūmunt, signum bonum est. Ubi pullī cibum nōn cōnsūmunt, signum malum est.


Tempus est dare pullīs cibum. Pūblius et mīlitēs signum ā deīs exspectant sed pullī cibum nōn cōnsūmunt. Pullī cibum cōnsūmere dēbent sed nōn cōnsūmunt. Deī signum bonum nōn dant. Pūblius scit signum malum esse. Timor in corpora mīlitum veniunt. Pūblius tamen sevērus iubet mīlitēs contrā Carthāginiēnsēs navēs bellum gerere.


Pūblius iubet mīlitēs pullōs mortī dare. Pullōs in aquam maris iaciunt. Posteā Pūblius et Rōmānī nāvēs Carthāginiēnsēs petunt et Pūblius multōs mīlitēs mortī dat. Ubi Rōmānī cīvēs dē pullīs audiunt, Pūblium ad urbem Rōmām venīre iubent. Cōnsul et dux nōn iam est.

Vocabula Nova
Carthāginiēnsēs – nom. pl. masc. or fem. Be careful as it is used both as a noun substantive and as an adjective!
cibum, -ī, n. – food
cōnsūmō, cōnsūmere, cōnsūmpsī, cōnsūmptus – to consume, eat
corripiō, corripere, corripuī, correptum – to seize, engulf
deus, -ī, m. – god
iaciō, iacere, iēcī, iactum – to throw
nāvis, nāvis, f. – ship
nisi (conj.) – unless
nōn iam – no longer
pullus, -ī, m. – chicken
quod (conj.) – because
sacer, sacra, sacrum – sacred
signum, -ī, n. – sign
ubi (conj.) – when

Editor's Note:
Bolchazy-Carducci Publishers is pleased to provide this Latin story for Latin teacher subscribers to use with their own classes
only
. The
PDF version
includes a full-color illustration and caption.
About the Author
Emma Vanderpool has taught Latin at the university, middle school, and high school levels—currently at the Springfield Honors Academy in Massachusetts. Vanderpool earned her Bachelor of Arts in Latin, Classics, and History from Monmouth College in Illinois and her Master of Arts in Teaching Classical Humanities from the University of Massachusetts in Amherst. She serves as a state rep for CANE, as an executive board member of Ascanius, and as an organizer for Our Voices and Lupercal. Vanderpool is the recipient of the Classical Association of Massachusetts 2021 Award for Excellence in the Teaching of Classics and a Distinguished Teaching Award from UMASS Amherst; she was honored as the Lincoln Laureate for Monmouth College. She has self-published ten novellae. Bolchazy-Carducci Publishers is pleased to have had Vanderpool launch our novella series with Explore Latin: Aves and the first three titles for the Encounter Latin series—Augury is for the Birds: Marcus de Avibus Discit, Under His Father's Wing: Marcus de Auguribus Discit, and Princess, Priestess, Mother, Wolf: Fabula de Romulo et Remo (forthcoming).
Content by Emma Vanderpool
Latin for the New Millennium ©2023 Bolchazy-Carducci Publishers

If you and your students have been enjoying Emma Vanderpool's stories that accompany Latin for the New Millennium, be sure to check out Lumina for LNM. On Lumina, you'll find special sets of exercises that accompany Vanderpool's Latin-language review readings, first released in eLitterae during the 2021–22 academic year. Lumina's automatically graded activities ask students to engage with these stories in a number of ways, with a primary focus on reading comprehension.


An update for the 2022–23 academic year will include brand new exercises keyed to Vanderpool's more recent stories, including this one!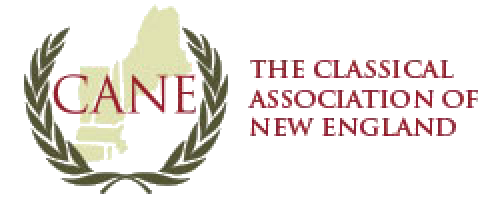 For the first time since 2019, the Classical Association of New England hosted an in-person meeting March 17–18, its 117th meeting! The Classics faculty and Assistant Headmaster Michael Nerbonne welcomed classicists from across New England to St. Sebastian's School, in Needham, MA, a suburb to the west of Boston. Nearly two hundred attendees enjoyed a comprehensive range of presentations and the gracious hospitality of the hosts. Those who had attended the last CANE meeting held at St. Sebastian's were thoroughly impressed with the additions and renovations to the independent school's campus. As one might expect, attendees eagerly spent their meal and coffee breaks chatting and catching up with their teacher colleagues. Some even did so Latine over lunch.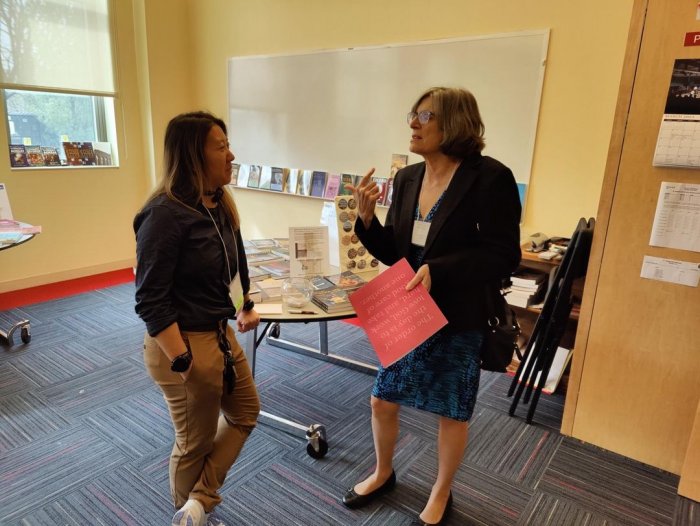 B-C novella author Emma Vanderpool and UMass Boston classics
professor emerita Jacqui Carlon.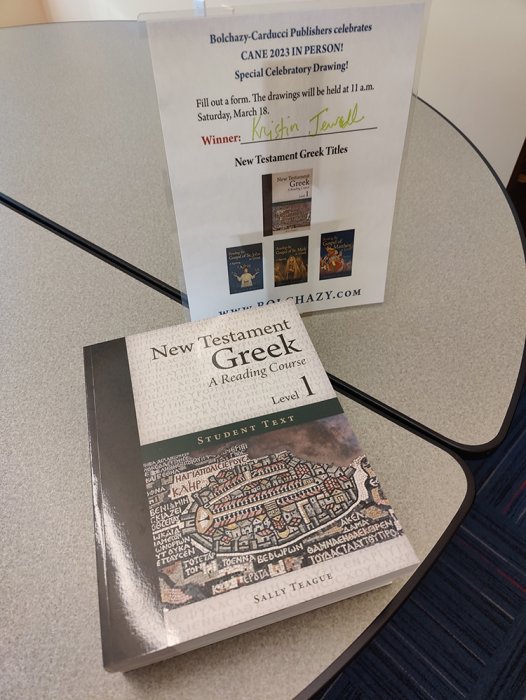 Congratulations to Kristin Jewell of Boston University Academy
who won the B-C book drawing.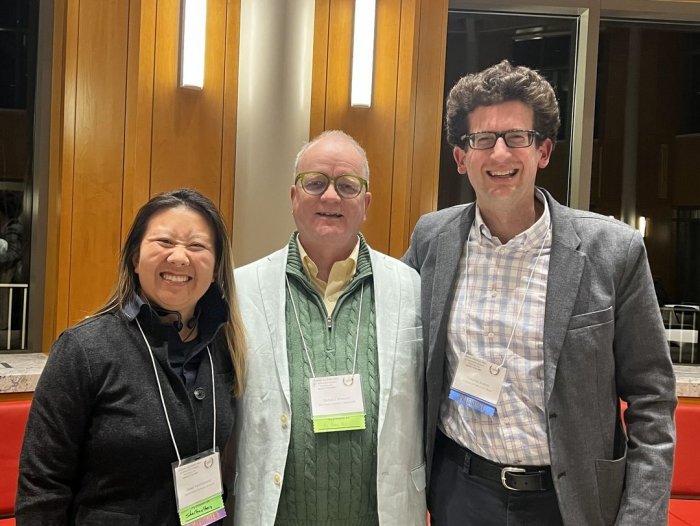 Emma Vanderpool, who proclaimed the ovation, honoree B-C's Don Sprague,
and CANE president Tim Joseph of the College of the Holy Cross.


Kudos to the St. Sebastian's food services for providing nutritious meals offering a variety of choices. Special thanks to Stephen and Roberta Ward, parents of four St. Sebastian boys, who, in tribute to the classics faculty, sponsored the libations and hors d'oeuvres prior to the annual banquet. As one might expect, the banquet on March 17—St. Patrick's Day—featured a delicious corned beef and cabbage entrée. Following dinner, CANE honored Geoffrey S. Sumi, Professor of Classics and Chair of Classics and Italian at Mt. Holyoke College, with the Barlow-Beach Award for distinguished service to CANE and to the Classics in New England. The Matthew I. Wiencke Award for excellence in teaching at the primary, middle, and secondary level was presented to Jen Faulkner of East Longmeadow High School (Longmeadow, MA).

Two statues on campus depict the Roman soldier St. Sebastian, the school's patron.

Special thanks to Sean Albertson, the Timothy and Anne Connelly Distinguished Chair in Classics, and Michael Deschenes, Director of Library & Information Services and Classics Instructor, who provided exemplary hands-on service throughout the course of the conference and especially to exhibitors like B-C's Don Sprague. Mike and Sean helped move boxes of books to and from the parking lot to the exhibit rooms. Gratias maximas eis!

The Classical Association of the Middle West and South held its 119th meeting at the Provo Marriott, March 29–April 1, 2023, at the invitation of the Utah Classical Association. Despite adverse weather across the country and a spike in airfares, nearly three hundred classicists made their way to Provo. They enjoyed the spectacular setting with stunning views of mountains all around. The conference featured some sixty-two sessions on topics from Feminist Epistemologies for Greece and Rome to the Presidential Panel: Religion, Faith, Personhood, and Classics. A cadre of enthusiastic undergraduates presented papers and enjoyed mingling with their confreres and the graduate student contingent.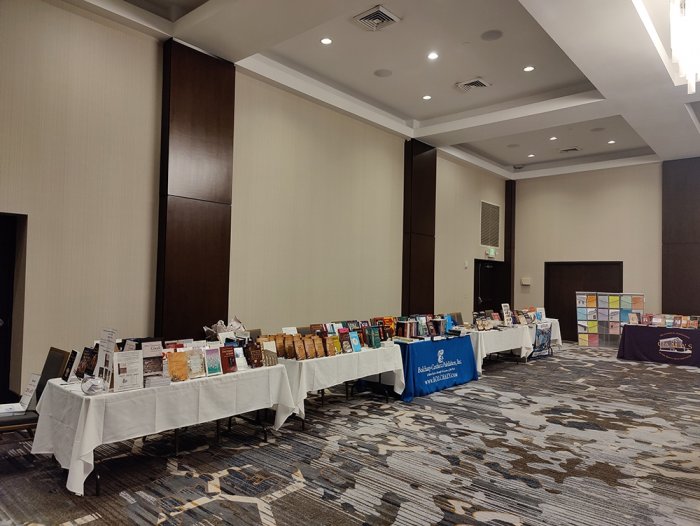 The Bolchazy-Carducci Publishers book display filled five
tables—a full wall of books.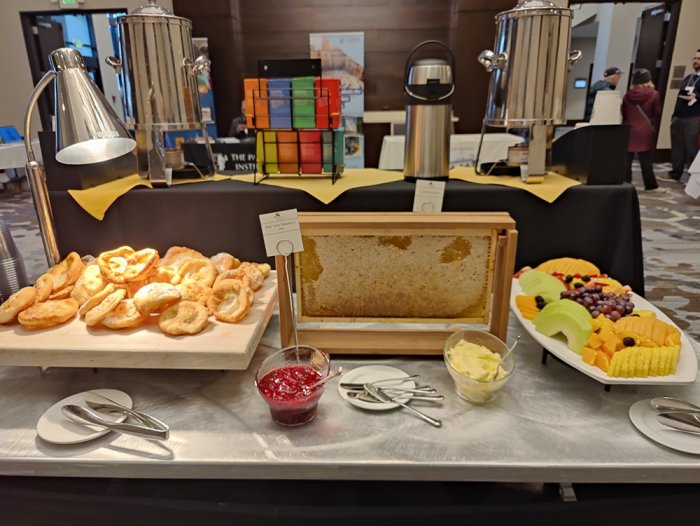 An afternoon snack break offerings including, appropriate for Utah, a
honeycomb of native sweetness to be applied to a
"Utah scone"—a chunk of fried dough!


B-C representative Don Sprague enjoyed meeting Katie James of the Vanguard College Preparatory School of Waco, TX, who received the Kraft Award for Excellence in Secondary School Teaching. Smith is a second-generation Latin teacher! Her father, Alden Smith, is a classics professor at Baylor University. Smith fondly remembered when her mom, Mary Smith, assisted B-C's founder Lou Bolchazy with his book exhibit at an AIA-APA meeting a couple decades or so ago! The CAMWS Award for Outstanding Teaching at the College/University Level was presented to Professor Robert Holschuh Simmons of Monmouth College (Monmouth, IL). Congratulations to two so very deserving classics educators! Kudos to Professor Thomas Keelan of Washington University of St. Louis who, from memory, delivered in splendid Latin ovationes to Lorenzo Garcia Jr. of the University of New Mexico and to David White of Baylor University.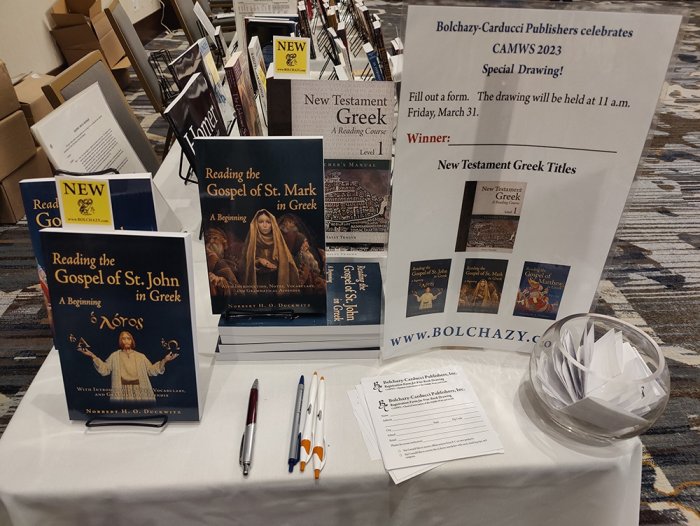 The B-C book drawing featured the new New Testament Greek text as well as
the Reading the Gospel texts for Matthew, Mark, and the new one for John.
The choice of these latter three titles honor their author, Brigham Young
University Professor Emeritus Norman H. O. Duckwitz.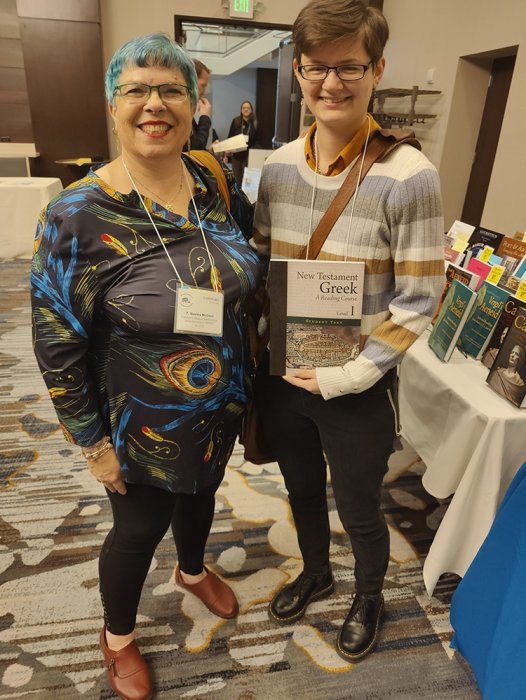 CAMWS Executive Secretary T. Davina McClain, who drew
the winning entry, poses with winner Rebecca Faletti
of Randolph-Macon College.


Many thanks to CAMWS Executive Secretary T. Davina McClain for all her work organizing and overseeing all aspects of the conference. She was surely a busy bee all conference long! Special thanks to Davina for her solicitous attention to the exhibitors.

March Madness 2023 Winners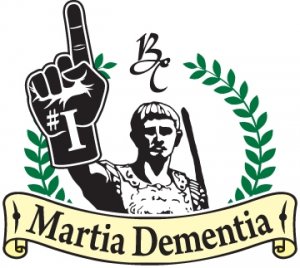 Martia Dementia 2023 brought back some popular players—mythical monsters—to face off against an array of ancient deities. Medusa, Medea's dragons, and many more steeled themselves to fight the likes of Sterquilinus (Roman god of dung!), triple-bodied Hecate, and esoteric Etruscan god of the underworld, Lur. Among the divine challengers, a few emerged as early fan favorites. Sol Invictus, said to be "unconquered," trounced the competitive field until succumbing to the goddess of victory herself, Nike. Hypnos and Thanatos, working as a pair, put in a good showing as well. Meanwhile, monsters dominated from the beginning: from the giant automaton Talos to the hundred-handed Hecatoncheires, these creatures proved their mettle.


In the end, the literal underdog of the competition—Cerberus, three-headed canine resident of the underworld—reigned victorious. Beating out several gods (Flora, Veiovis, Asclepius), Cerberus defeated mother of monsters Echidna before handily dispensing with Nike, a true upset. In the finals, Cerberus finished off Talos to run away with the championship win.


Thank you to all who participated this year in Martia Dementia. In 2023, we received a record number of bracket submissions, 740 entries, which means that competition was quite strong! First place resulted in a tie: congratulations to Magistra Farkas's Latin 2 class at Belmont High School (Belmont, MA) and Derek Sanders, teacher at Great Bridge High School (Chesapeake, VA). Krystal Kubichek's combined Latin 1 classes at Walnut Hills High School (Cincinnati, OH) took home third prize. Notably, this entry was one of the few top-scoring brackets that correctly selected Cerberus as the overall champion! Finally, laurels for achieving the most abysmal bracket go to a student participant at Piedmont Classical High School (Browns Summit, NC).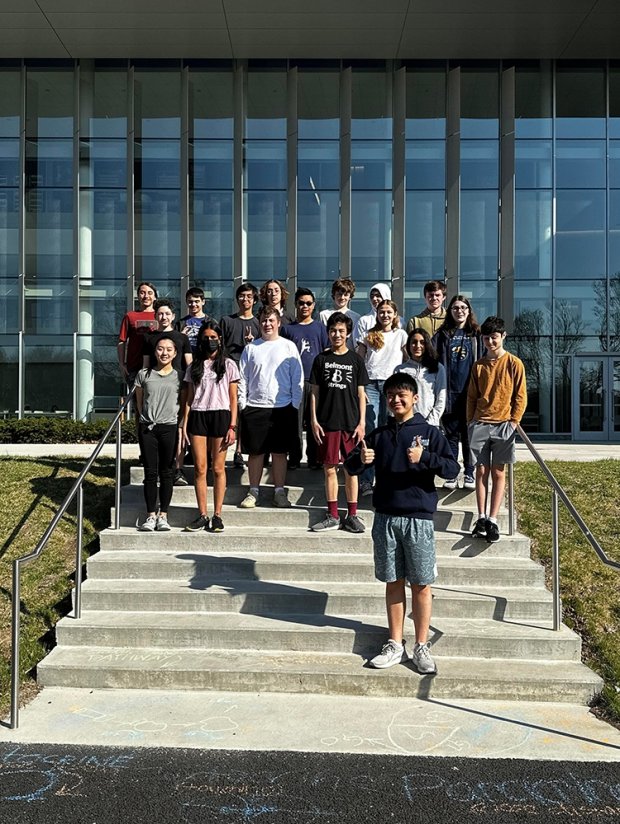 Magistra Farkas's Latin 2 students, who tied for first place, assemble
on the steps of Belmont High School (Belmont, MA).

Once again, thank you to all participants, who helped make this year's contest a resounding success. Have strong feelings about this year's winners? Hope to see a particular ancient figure featured in next year's contest? Tweet @BCPublishers what and who you would like to see and include the hashtag #MartiaDementia or give feedback via our
blog
. We would love to hear from you!
Instructors and students praise LUMINA: Caesar and Vergil Selections

Available to accompany AP Latin Caesar and Vergil Selections—a splendid tool for AP* Exam review!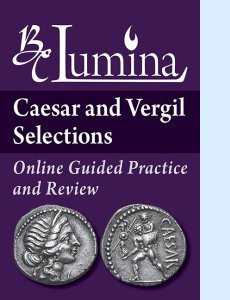 Bolchazy-Carducci Publishers is thrilled with the very positive response from students and instructors alike about this

Lumina

content: online exercises to accompany the Caesar and Vergil selections on the AP Latin syllabus! With its comprehensive, completely original content,

Lumina: Caesar and Vergil Selections

is a perfect complement to Bolchazy-Carducci's print and eBook resources for AP Latin. Better yet,

Lumina: Caesar and Vergil Selections

works on any internet-enabled device!

Features

• Hundreds of automatically-graded multiple choice questions promote close reading of all syllabus selections and provide students with immediate feedback



• Veteran AP Latin teacher Patrick Yaggy has carefully constructed Lumina to model the formatting, terminology, and question-type frequency of the AP Latin exam.



• Multiple choice questions cover every single line of Caesar and Vergil in the AP Latin syllabus.



• Copious AP-style free response questions ensure that students develop the necessary skills to thoroughly analyze and respond to all passages on the syllabus



• Thorough practice exams prepare students for the format of the AP Latin exam



• Vocabulary and figures of speech flashcards allow for additional review.


The current version reflects additions and revisions, as well as some corrections, made in response to student and teacher feedback.

An ideal learning tool, for online or in person classes, that provides exceptional AP Exam prep!

To learn more, visit the

Lumina: Caesar and Vergil Selections

product page and watch the

overview video

.




Contact lumina@bolchazy.com to schedule an online demonstration.

NB: B-C has also developed Lumina for Latin for the New Millennium, Level 1 and Level 2 and for the online self-learning program Artes Latinae, Level 1 and Level 2.

Teaching Tips & Resources

► Res Romanae
• High-speed train from Rome to Pompeii.

• Supermarket construction uncovers "vibrant" Roman mosaic.

• Roman villa reveals Medusa mosaics.

• Roman altar at Leicester Cathedral corroborates folktale.

• Splendid trove of Roman cookware found in Pompeii.

• "Dead Nails" reveal Roman occult practice.

• Win a million bucks—decipher Roman scrolls from Herculaneum.

• Lavish winery found at Roman villa.

► Res Aegypticae
• 2,000 mummified ram heads found at Abydos.

• Zodiac murals uncovered.

► Res Hellenicae
• Proposals for a new National Archaeological Museum in Athens include a spiral of galleries and a sensory journey.

• Medieval abbey reveals a lost manuscript of Ptolemy.

• Video about an ancient "computer."

• New museum planned on site of Plato's Academy.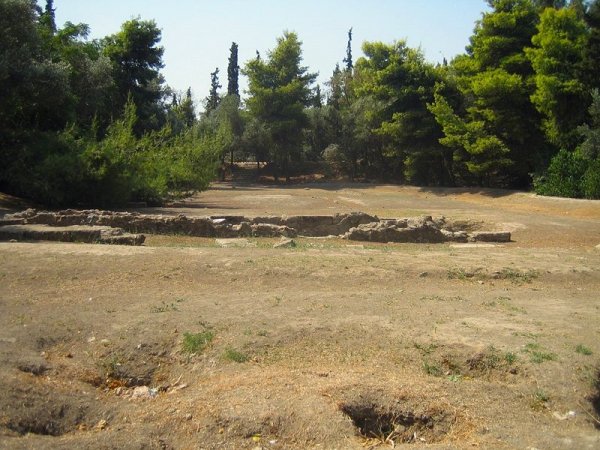 View of the archaeological site of Plato's Academy in Athens.
Wikimedia Commons, Creative Commons 3.0.



• Berlin's Pergamon Museum closes for long-term renovation.

► Res Aliae Antiquae
• Comb gives clues to beginning of written word.

• What Etruscan sounded like.

• Intact Etruscan tomb with last supper found at Vulci.

• Experts race to rescue 2,000-year-old Buddhist city.

• Cave in Thailand hints at ancient rituals.

• 7,000-year-old structure in Saudi Arabia reveals Neolithic rituals.

• Oldest pearl-fishing city discovered in the Arabian Gulf

• 9,000-year-old shrine found in Jordanian desert.

► Res Post-Antiquae
• Medieval Christian murals found in Sudan.

• Why is Michelangelo's David important?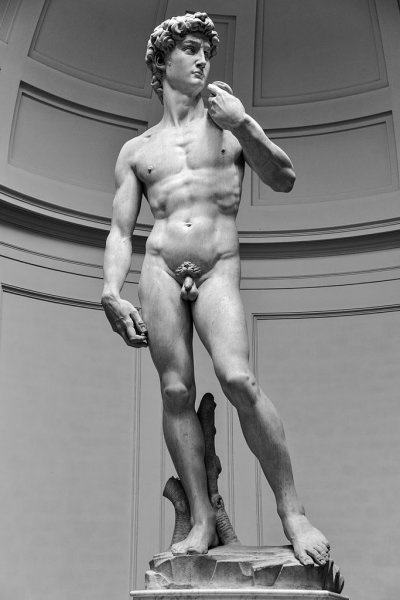 Michelangelo's masterpiece.
Wikimedia Commons, Creative Commons 4.0



• The world's most beautiful calendar.

► Res Pre-Columbianae
• Mayan scoreboard found at Chichén Itzá.

• New museum planned for Chichén Itzá.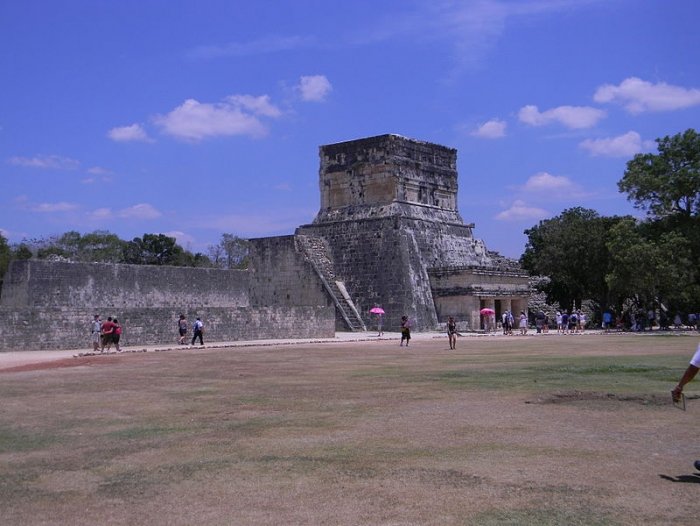 Ball court at Chichén Itzá. Wikimedia Commons, Creative Commons 3.0.


• Fabulous Mayan site discovered.

• Codex Mendoza reveals Aztec world.

eLitterae Subscribers Special Discount

for eLitterae Subscribers
Great title for the mythology class
or for the classroom free reading bookshelf!

ISBN: 978-0-86516-174-0 •

$19.00

$9.50
Enter coupon code eLit0423 on the payment page.
The special offer pricing will be charged at checkout.
This offer is valid for up to (5) copies of each title, prepaid, no returns.
Discount is not available to distributors.
This offer expires May 21, 2023.


(Please note that there will be no adjustments on previous purchases.
Offer is nontransferable and subject to change without notice. Only valid on products published by Bolchazy-Carducci Publishers, Inc.)