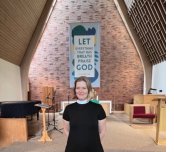 Dear Alki UCC,
I was grateful to have the opportunity to participate remotely in last weekend's Annual Meeting of the Pacific Northwest Conference of the United Church of Christ.
Here were some of my highlights:
Our keynote speaker, Rev. Traci Blackmon, Associate General Minister of Justice and Local Church Ministries of the United Church of Christ. Following are a few quotes I noted:
"The news of the dying church is greatly exaggerated."
"The stories we don't tell still exist."
"Always introduce yourself to the people you are seated by."
"Silence won't save us. . . our tables need to have room for dissent."
"For what do we need to repent, so that we can move to repair?"
"Widen the table so that all are hosts and all are guests."
Hearing our very own Cinda S and Shannon P advocate for meeting accessibility to accommodate folks who could not attend in person — Cinda speaking from the meeting floor and Shannon P expressing herself through a written statement that Cinda read aloud.
Hearing from the Dismantling Racism Task Force, and the importance of "Staying with the conversation."
Meeting our new Acting Conference Minister, Rev. Jonna Jensen, who was also attending remotely as she lives in Iowa. She will be our ACM for several months while a Search Committee discerns and calls an Intentional Interim Conference Minister. Her experience is in both ministry and comedy. She said, "I appreciate the opportunity to cheer people on."
I was installed, virtually, as a new member of the PNCUCC's Church Development Committee. The CDC's primary duties are to consult, assist, and provide funding in partnership with those involved in church formation or transformation. I look forward to digging into the work of this committee following my surgery recovery.
UCC folks sometimes refer to the Conference as something other than themselves. I do this too! But the Conference office at 325 N. 125th Street in Seattle does not contain the Conference. It's all of us. Each one of us has a voice in our collective body of churches. Learn more about our Conference at pncucc.org.
In hope,
Pastor Emily
"Original Blessing" Spring Book Study Begins Tuesday, May 9 .... Register today!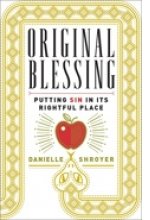 "Original Blessing" Book Study

Noon to 1:30 pm on Zoom

Tuesdays: May 9 through June 13

Zoom Registration here"Every object in the universe

has a center of gravity.
Ours is original blessing."



Yes, the Tuesday Study Group is Back!! Our discussions will be guided by Danielle Shroyer's provocative book Original Blessing: Putting Sin in its Rightful Place.



Of the world's major religions, only Christianity holds to a doctrine of original sin. In Original Blessing, the author shows not only how we got this doctrine wrong, but how we can put sin back in its rightful place: in a broader context of redemption and the blessing of humanity's creation in the image of God.





Study topics include: Awakening to Blessing, Revisiting the Garden and Living into Blessing.



Attached is the Original Blessing study guide for you to download or print out. Additional copies will also be at worship this Sunday.

Note: If you are not able to join us live, you will have an option to request recordings. Questions? Contact Julia P

Zoom Registration Link Here

# # #

Here are some options for securing your book NOW ... the study begins on Tuesday
Amazon
Goodreads
Paper Boat Book Sellers
Support our local bookshop! The folks at Paper Boat tell me that the book isn't in stock but they can special order Original Blessing @ $18.99; delivery within 3 to 5 business days. 206-743-8283
contact

Please contact the church office if you need assistance securing a book.

KHN invites Alki UCC to Installation Service and Concert for Rabbi Sabine Meyer

Friday, May 19 at 7:00 pm
Rabbi Sabine Service of Installation
in the Sanctuary
followed by a festive oneg (gathering)
RSVP here


Saturday, May 20
Chava Mirel in Concert
Doors open at 7pm with wine & schmoozing | Concert at 8pm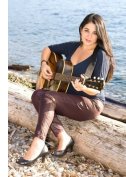 You are invited to join us for an evening of celebration and soulful music with Chava Mirel, one of the leading voices in contemporary Jewish music. Chava is acclaimed for her unique blend of Jewish folk, jazz, and world music for this special concert at KHN celebrating the Rabbinic Installation. Check out her website here!

Concert Tickets are $36 and available here.

Tim M, son of long-time Alki UCC member Verona R, shares a link to Verona's obituary. What a lovely tribute! We continue to hold the family and all who knew Verona in our hearts.

Continued prayers of Healing, Comfort and Support for our own Pastor Emily and her family as she recovers from a medical challenge.

For those grieving the recent death of a loved one:
The Alki UCC community, family and friends of Verona R, Diane J and family on the death of her father Thomas G, family and friends of longtime Alki UCC member Jan C, family and friends of UCC minister Rev. Bobbi Virta, family and friends of longtime Alki UCC member Anne S, Liese F and family, Jeff D and family, friends/family of Dayle B, the Alki UCC community and friends/family of Nick Tobler-Wolff, Charlie H and family, Todd S

and family, Patty M



Recent hospitalization, illness and other concerns:
Rev. Joan Carter, Dan K, Alki UCC's Peruvian Families Seeking Asylum, Shannon P, former Alki UCC member Dawn N, former members Davney and Bob S and Davney's mom Suzanne H, Shannon P's Florida family: Bill, Gail, Mary Ann & Bob; Julia C's friend Chelsea W, Denis B, Don & Imy P and family, Patty M, Jane C and her family, Sue B's brother Tom and his wife Carla, Julia C's friend Jessie T & family, Amy Y's mother Corlene, Jeff D's brother Andy, former Alki UCC member Mark H, Sue B's friends Mary and Louise, Cindy, Jeff and Kirstin's sister-in-law Sue, Kirstin D, Shannon P's father Rev. Dr. Bill, Claire F, Kirstin D's father



For homebound members/friends of Alki UCC: Doris C


Wider World: Prayers for all those affected by the coronavirus outbreak; all those suffering from PTSD in the military and around the world; for all those affected by misguided immigration policies; prayers for fewer guns, for all victims and those affected by gun violence; victims and survivors of extremist violence around the world; migrants seeking refuge around the world, and for those who are trying to help them. The rest of the missing schoolgirls kidnapped by Boko Haram, who remain in our hearts as long as they remain missing. The hungry and homeless, the ill and the addicted, the lost and the lonely; the unemployed.

Sunday Worship Videos Posted on YouTube

S
unday Worship recordings now online!
Check out Alki UCC's very own
YouTube channel.
Church news/calendar updates
at alkiucc.org.
Worship this Sunday,

May 7

at 10:00 am

Fifth Sunday

of Easter

with Communion

Rev. Emily

Tanis-Likkel





Sermon:
"Hammock Chats"



Liturgist:


Julia P

Scripture Readings:
Psalm 31:1-5, 15-16
Re-imagined by Rev. Emily Tanis-Likkel
John 14:1-14 NRSV

Interim Music Director:
DJ Wilson

Music Highlights:
#475, His Eye is on the Sparrow
Breathe on Me
Stephen M. Austin
Come to the Table of Grace
Barbara Hamm
Like A Healing Stream Bruce Harding

The Online Order of Worship, including scripture and music, is linked here.

Join us either in-person (masks required) or virtually via Zoom.

If you're already registered for Sunday worship on Zoom, use your personal link. If not, welcome! Register here.

A Celebration

of Life

for Verona Ryan

Saturday, June 10

at 1:00 pm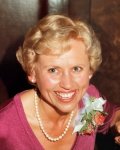 Alki United


Church of Christ
Reception to follow



We welcome donations of flowers to create an abundant remembrance of Verona and her love of nature and beauty.

Save the date! More details to come.

Third Annual March/Gathering for Missing and Murdered Indigenous Women and Girls (MMIWP) this Saturday, May 6
The first weekend of May is the annual time of raising awareness about and collectively honoring Missing and Murdered Indigenous Women and Girls across North America.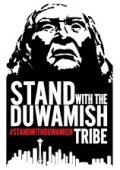 Please join us for a march and sharing event at Seattle Center. All are welcome.

10:00 am
Meet at Westlake Park
11:00 am
March to Seattle Center
Noon to 4:00 pm
Speakers program

Red is the color of MMIWP. Wear your regalia. Please bring your drums, rattles, songs and prayers. Light meal provided. Contact here.

Building Elevator Out of Service
We regret that Alki UCC's elevator is out of service until further notice. Our building team is working on a solution. We'll keep you posted.


For secure, online giving through Give Lively, click the button,

OR, send your check,

made out to "Alki

UCC," to:

6115 SW Hinds,

Seattle, WA 98116



Sunday Worship Registration

If you've already registered on Zoom, just use your personal link. If not, welcome! You can register here.
When you register, please use your first/last name plus your email.