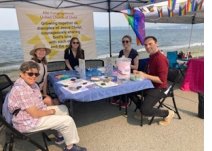 Dear Alki UCC,
What fun we had last Sunday at Alki Beach Pride!
Our bracelet-making booth was a big hit. It was an open-ended invitation: bracelets could be pride flag colors or any color combination they liked, some picked up a bracelet to bring

home that we had pre-made, some made several bracelets, others picked out some beads for making one at home.
A group of three women were enjoying themselves so much that they stayed at our booth for hours! We had bead colors representing every pride flag across the spectrum.
I found it quite moving to witness young people selecting the colors of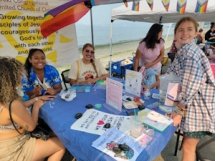 their identity and creating something meaningful for themselves in our patch of sacred space. We were the only faith community present at the festival, and our presence mattered.
We offered stickers and had promotional materials available that communicated the uniqueness of our building being an "Under One Roof" multi-faith community.
Our learning for next year? Six chairs and two small tables were not quite enough to accommodate all of the people who wanted to hang out at the Alki UCC booth. We could not have had a more fantastic problem!
In hope,
Pastor Emily
Sending Love to Families Unraveled by Grief

One of the hardest things a parent can go through is losing a child. I hear time and time again from parents that this isn't something that gets easier with time, they just learn how to get through it and move forward.
Parents often feel neglected after a child passes. Programs that once supported them no longer apply and they worry their child's story will be forgotten. While some parents' faith remains, some parents lose hope that God even exists. We all know that God works through us.
There are so many times where I've felt lost and have prayed and then something or someone came into my life at just the right moment that helped give me hope. I'd love it if we can send these families some cards to let them know we read their story, their child won't be forgotten, that God sees them and they are loved.
Come to the "Sending Love" table in the lobby at coffee hour for the next two Sundays to choose a family story. We'll have poems, stickers and other supplies available for card-making, or take one home to read and respond to during the week. Let's shower these precious families with an abundance of love!
See you soon at the table!
Sara Jane W
PNCUCC Women's Retreat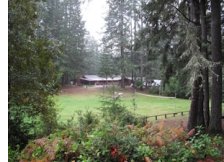 October 6 - 8, 2023

Gather with us at Pilgrim Firs in Port Orchard for a cozy, nourishing weekend including crafts, small group conversation, board games and comforting meals. We will practice bringing the intention of comfort and contentment into the present moment.

Our weekend begins at 5:00 pm on Friday and closes at 10:00 am on Sunday. This gathering is inclusive to all women, trans and cis, as well as gender non-conforming and non-binary people comfortable in a space that centers the experience of women.

The weekend is $175, which includes 5 meals and lodging.
Saturday only is $100, which includes 3 meals.

Pastor Emily and Eva are on the planning team and will be happy to tell you more! Registration will be live soon — we'll keep you posted.

This Week's Menu: "Rico Perú"
Order Delicious Homemade Meals to Support our Peruvian Families Seeking Asylum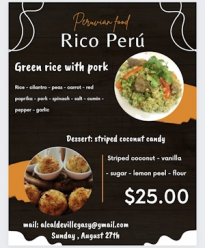 Entrée and Dessert $25


Green Rice with Pork
rice, cilantro, peas, carrots, rek paprika, pork, spinach, salt, cumin, pepper, garlic

Striped Coconut Candy
striped coconut, vanilla, sugar, lemon peel, flour

How to order:
Email alcaldevillegasy@gmail.com
to place your order by Friday at 4:00 pm. Subject line: ALKI CHURCH DELIVERY





Order should include how many entrées/desserts @ $25.00


and TOTAL AMOUNT DUE.





Payment is cash only;


taxes included in the price.





Pick up your order at church on Sunday by 11:30 am.





Yudith is the solo chef offering homemade Peruvian dinners every Sunday to Alki and Fauntleroy church members. She is still preparing the meals in her Alki home for delivery to both churches for pickup after worship.

Yudith has obtained her Washington State food worker card.

Prayers of Comfort and Love for the family and many friends of longtime Alki UCC member Wanda Dray. A memorial service at Alki UCC is planned for Thursday, September 21 at 4:00 pm. Please mark your calendar and stay tuned for details. Contact the church office for daughter Diane's address to send cards and remembrances.

For those grieving the recent death of a loved one:
The family and friends of Julia C's mother Molly, the Alki UCC community, family and friends of Verona R, Diane J and family on the death of her father Thomas G, family and friends of longtime Alki UCC member Jan C, family and friends of UCC minister Rev. Bobbi Virta, family and friends of longtime Alki UCC member Anne S, Liese F and family, Jeff D and family, friends/family of Dayle B, the Alki UCC community and friends/family of Nick Tobler-Wolff, Charlie H and family, Todd S

and family, Patty M



Recent hospitalization, illness and other concerns:
Vicky S' friend Janelle, Rev. Joan Carter, Dan K, Alki UCC's Peruvian Families Seeking Asylum, Shannon P, former Alki UCC member Dawn N, former members Davney and Bob S and Davney's mom Suzanne H, Shannon P's Florida family: Bill, Gail, Mary Ann & Bob; Julia C's friend Chelsea W, Denis B, Don & Imy P and family, Patty M, Jane C and her family, Sue B's brother Tom and his wife Carla, Julia C's friend Jessie T & family, Amy Y's mother Corlene, Jeff D's brother Andy, former Alki UCC member Mark H, Sue B's friends Mary and Louise, Cindy, Jeff and Kirstin's sister-in-law Sue, Kirstin D, Shannon P's father Rev. Dr. Bill, Claire F, Kirstin D's father



For homebound members/friends of Alki UCC: Doris C


Wider World: Prayers for all those affected by the coronavirus outbreak; all those suffering from PTSD in the military and around the world; for all those affected by misguided immigration policies; prayers for fewer guns, for all victims and those affected by gun violence; victims and survivors of extremist violence around the world; migrants seeking refuge around the world, and for those who are trying to help them. The rest of the missing schoolgirls kidnapped by Boko Haram, who remain in our hearts as long as they remain missing. The hungry and homeless, the ill and the addicted, the lost and the lonely; the unemployed.

Sunday Worship Videos Posted on YouTube

S
unday Worship recordings now online!
Check out Alki UCC's very own
YouTube channel.


For secure, online giving through Give Lively, click the button,

OR, send your check,

made out to "Alki

UCC," to:

6115 SW Hinds,

Seattle, WA 98116



Church news/calendar updates
at alkiucc.org.
Worship this Sunday,

August 27

at 10:00 am

Thirteenth Sunday

after Pentecost

Rev. Emily Tanis-Likkel




The Spiritual Travelers





"Encounter


at the Well"


based on


John 4:1-29


Script:


Reverend Joan Carter


Music:


DJ Wilson





Please join us for a special presentation exploring the story


of Jesus encountering


The Samaritan Woman


at the Well.





Liturgist: Joe M

Interim Music Director:
DJ Wilson

Music Highlights:
Come to the Water
Ray Makeever
We Are Women at the Well
Cathy Tisel Nelson
Go Now in Peace
Traditional

Cover art: "You Ask of Me?" by Hannah Garrity


The Online Order of Worship, including music, is linked here.

Join us either in-person (masks recommended) or virtually via Zoom.

If you're already registered for Sunday worship on Zoom, use your personal link. If not, welcome! Register here.

Save the Date:
Sunday, Sept 10
Thank you DJ!
Stay after service for a special hospitality hour on Sunday, September 10 to share our gratitude to DJ for her music leadership these last several months!

Crafting for Community
Stay after our special hospitality hour on September 10 for Crafting for Community!




Bring your crafting tools of choice or borrow from our communal supplies.

Would you like to learn to crochet or knit? We'd love to teach you! Come work on a current project or make items to share with those in need.

We'll gather 11:30 am to 12:30 pm in the parlor.

Elevator Back in Service!!

Russ T, who has been managing the extensive elevator restoration project, reports that Olympic Elevator completed the last phase of their work yesterday and the elevator is once more operational!



There will be a bit of additional work to replace one of the lift lights, but other than that, it's good to go. Thank you, Russ!

Online Video of Jan Cochran Memorial Service
Ned Cochran, long-time Alki UCC member and husband of Jan, invites you to share in his wife's memorial service, held recently in Snowmass Village, CO. Watch the video here.

He writes: "Over 200 people came to honor Jan. Some in your congregation will remember her, as she grew up with Alki UCC being a big part of her life until she moved to Aspen, CO to teach. She taught elementary school for almost 40 years, and touched many lives.

I hope to get back up to Seattle soon and look forward to attending church. Thank You!

Continuing ... Prayer for Maui
Sunday Worship Registration

If you've already registered on Zoom, just use your personal link. If not, welcome! You can register here.
When you register, please use your first/last name plus your email.