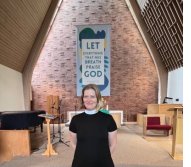 Dear Alki UCC,
This Sunday we give thanks to our Interim Music Director, DJ Wilson. DJ served as music director at Alki UCC for a number of years, and most recently returned for several months in an interim capacity.
We have been so blessed by her extensive experience and musical skills, her genuine warmth, her playfulness and creativity. I'm happy to say that this is not good-bye,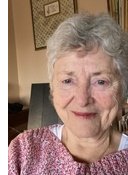 as DJ and her wife Jill continue to be part of our church family.
I especially appreciated DJ's leadership throughout our Unraveled series. It was a joy to co-create and collaborate with her. I'll be happily humming her original song, "Unraveling Toon," for some time to come!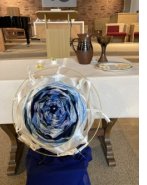 All are invited, whether in choir or not, to join the choir anthem, We Still Have Joy.
Please arrive by 9:15 am on Sunday to rehearse.
Come and join the celebration this Sunday! Stay for treats at a special hospitality hour following the service.
In hope,
Pastor Emily
Pictured above:

The finished weaving from the Unraveled prayers of the congregation. Photo, Julia C

Tuesday Bible Study
Begins Next Week on September 12
Registration Open Now!
Noon to 1:30 pm on Zoom
Tuesdays through June, 2024
Zoom Registration here
Join us beginning next week via Zoom for the return of the Tuesday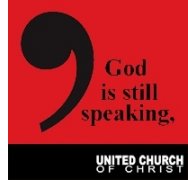 study group!
You can look forward to multiple options throughout the year for Bible study, book/video discussions and classes. Our first series, co-led by Pastor Emily and Rev. Penny M, offers a deeper exploration of each Sunday's lectionary readings.
You have the option to attend every Tuesday or whenever your schedule permits!
Stay tuned for announcements of future topics and dates.
It just so happens that this coming Sunday, September 10, is Faith Formation Sunday. Faith formation is what happens when we set aside our own agendas, individually and collectively, and show up for God. Our faith is formed when we listen to our own inner longing in response to God's call in our hearts. Join us for the journey!
Questions: please contact Penny M.
Note: If you are not able to join us Tuesdays at noon, you will have an option to request recordings.
Zoom Registration Link here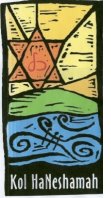 On September 15-16, 2023, Jewish communities around the world will welcome the Jewish New Year 5784.
The observance of Rosh Hashanah ("Head of the Year") begins Friday night (September 15) as the sun sets. The 10-day period between Rosh Hashanah and Yom Kippur ("Day of Atonement") is a time for reflection, introspection and teshuvah – a period to seek and grant forgiveness and atone for transgressions during the year that has ended.
In observance of the holiest day in the Jewish calendar, many Jews fast on Yom Kippur (September 24-25), wear white and refrain from wearing leather or other luxuries. The Ten Days of Awe (or High Holy Days) are a time for spiritual accounting and renewal, and an opportunity to reflect on and repair relationships, both human relationships and the human-divine relationship.
A few days after Yom Kippur, the joyous holiday of Sukkot marks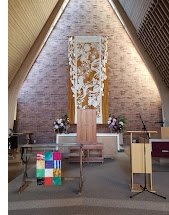 the end of the harvest season. During this seven-day biblical festival, Jews eat (and sometimes) sleep in temporary huts (sukkot). It's a time to rejoice in the bounty of life by sharing meals with friends and neighbors in the sukkah. At the same time, the flimsy outdoor structures are a reminder of the fragility of life.
Immediately following Sukkot, congregations celebrate Simchat Torah ("Rejoicing with the Torah") by marking the completion of the annual Torah reading cycle. The last portion of the Book of Deuteronomy is read, and then the scroll is rolled back to the beginning. The new Torah reading cycle starts with the first chapter in the Book of Genesis. — Rabbi Sabine Meyer, PhD
Note: The beautiful "paper cut" banner at the front of the Sanctuary, which will be in place through the High Holy days, depicts honey comb, pomegranate, apples and other bounty to celebrate the sweet promise of a new year.
This Week's Menu: "Rico Perú"
Order Delicious Homemade Meals to Support our Peruvian Families Seeking Asylum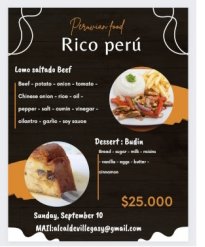 Entrée and Dessert $25
Lomo Saltado Beef
beef, potato, onion, tomato, Chinese onion, rice, oil, pepper, salt, cumin, vinegar, cilantro, garlic, soy sauce
Budin
bread, sugar, milk, raisins, vanilla, eggs, butter, cinnamon

How to order: Email alcaldevillegasy@gmail.com
to place your order by Friday at 4:00 pm. Subject line: ALKI CHURCH DELIVERY

Order should include how many entrées/desserts @ $25.00
and TOTAL AMOUNT DUE.

Payment is cash only; taxes included in the price. Pick up your order at church on Sunday by 11:30 am.

Yudith is the solo chef offering homemade Peruvian dinners every Sunday to Alki and Fauntleroy church members. She is still preparing the meals in her Alki home for delivery to both churches for pickup after worship. Yudith has obtained her Washington State food worker card.

PNCUCC Women's Retreat
October 6 - 8, 2023


Gather with us at Pilgrim Firs in Port Orchard for a cozy, nourishing weekend including crafts, small group conversation, board games and comforting meals. We will practice bringing the intention of comfort and contentment into the present moment.

Our weekend begins at 5:00 pm on Friday and closes at 10:00 am on Sunday. This gathering is inclusive to all women, trans and cis, as well as gender non-conforming and non-binary people comfortable in a space that centers the experience of women.

The "Cultivating Cozy" weekend is $175, which includes 5 meals and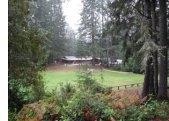 lodging. Saturday only is $100, which includes 3 meals.

Online registration is live here — or scan the QR code on the flier posted in the narthex.

Pastor Emily and Eva are on the planning team and will be happy to tell you more!

For those grieving the recent death of a loved one:
The Alki UCC community, family and friends of Wanda D, family and friends of Julia C's mother Molly, the Alki UCC community, family and friends of Verona R, Diane J and family on the death of her father Thomas G, family and friends of longtime Alki UCC member Jan C, family and friends of UCC minister Rev. Bobbi Virta, family and friends of longtime Alki UCC member Anne S, Liese F and family, Jeff D and family, friends/family of Dayle B, the Alki UCC community and friends/family of Nick Tobler-Wolff, Todd S

and family, Patty M



Recent hospitalization, illness and other concerns:
Vicky S' friend Janelle, Rev. Joan Carter, Dan K, Alki UCC's Peruvian Families Seeking Asylum, Shannon P, former Alki UCC member Dawn N, former members Davney and Bob S and Davney's mom Suzanne H, Shannon P's Florida family: Bill, Gail, Mary Ann & Bob; Julia C's friend Chelsea W, Denis B, Don & Imy P and family, Patty M, Jane C and her family, Sue B's brother Tom and his wife Carla, Julia C's friend Jessie T & family, Amy Y's mother Corlene, Jeff D's brother Andy, former Alki UCC member Mark H, Sue B's friends Mary and Louise, Cindy, Jeff and Kirstin's sister-in-law Sue, Kirstin D, Shannon P's father Rev. Dr. Bill, Claire F, Kirstin D's father



For homebound members/friends of Alki UCC: Doris C


Wider World: Prayers for all those affected by the coronavirus outbreak; all those suffering from PTSD in the military and around the world; for all those affected by misguided immigration policies; prayers for fewer guns, for all victims and those affected by gun violence; victims and survivors of extremist violence around the world; migrants seeking refuge around the world, and for those who are trying to help them. The rest of the missing schoolgirls kidnapped by Boko Haram, who remain in our hearts as long as they remain missing. The hungry and homeless, the ill and the addicted, the lost and the lonely; the unemployed.

Sunday Worship Videos Posted on YouTube

S
unday Worship recordings now online!
Check out Alki UCC's very own
YouTube channel.


For secure, online giving through Give Lively, click the button,

OR, send your check,

made out to "Alki

UCC," to:

6115 SW Hinds,

Seattle, WA 98116



Worship this Sunday,

Sept 10

at 10:00 am

Fifteenth Sunday

after Pentecost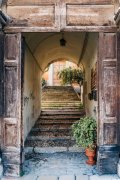 Rev. Emily Tanis-Likkel





Sermon:
"Mark the Day"

Liturgist:
Gary G

Scripture:
Exodus 12:1-14

Interim Music Director:
DJ Wilson

Music Highlights:
Mahalo, A Song Chant
DJ Wilson
#475, God's Eye is on the Sparrow
I Still Have Joy
Traditional

Image: Gabriella Clare Marino, Unsplash

The Online Order of Worship, including scripture text and music, is linked here.

Join us either in-person (masks recommended) or virtually via Zoom.

If you're already registered for Sunday worship on Zoom, use your personal link. If not, welcome! Register here.

Join us this
Sunday, Sept 10
Thank you DJ!
Stay after service for a special hospitality hour this Sunday, September 10 to share our gratitude to DJ for her music leadership these last several months!

Crafting for Community
Stay after our special hospitality hour on September 10 for Crafting for Community!




Bring your crafting tools of choice or borrow from our communal supplies.

Would you like to learn to crochet or knit? We'd love to teach you! Come work on a current project or make items to share with those in need.

We'll gather 11:30 am to 12:30 pm in the parlor.

Food/Clothing/
Outdoor Gear Donations Drive
Sunday, September 17
11:00 am to 3:00 pm
Front Courtyard



Bring your donations


to Sunday worship!



Wanda Dray
Celebration of Life
Thursday, September 21
4:00 pm service;
a reception follows.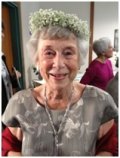 Prayers of Comfort and Love for the family and many friends of longtime Alki UCC member Wanda Dray. Contact the church office for daughter Diane's address to send cards and remembrances.

CDC Recommendations for Covid-19 as of August 23

BA.2.86 is a new variant, but it's quite different. The sequencing of over 30 amino acids is still being tracked which is essential for understanding its transmissibility. Currently, it is found in wastewater samples around the country.




CDC recommends the following:
• Get your COVID-19 vaccines, as recommended
• Stay home if you are sick
• Get tested for COVID-19 if needed
• Seek treatment if you have COVID-19 and are at high risk of getting very sick
• If you choose to wear a mask, wear a high-quality one that fits well over your nose and mouth
• Improve ventilation• Wash your hands

Emily H, Health Minister, Caring Community and Fellowship Ministry Team

Church news/calendar updates
at alkiucc.org.
Elevator Back in Service!!

Russ T, who has been managing the extensive elevator restoration project, reports that Olympic Elevator completed the last phase of their work recently and the elevator is once more operational! Huzzah!
Sunday Worship Registration

If you've already registered on Zoom, just use your personal link. If not, welcome! You can register here.
When you register, please use your first/last name plus your email.