Dear Alki UCC,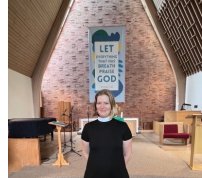 This coming Sunday we welcome and commission Stephen Anthony Rawson as our new Music Director!
The commissioning is a covenant-making of mutual support, an intentional blessing and affirmation of Stephen and his many gifts.
I'll ask the congregation these questions:
Will you receive Stephen as your sibling in Christ?
Will you encourage him as he accepts this responsibility of music leadership in our common life together?
Will you support Stephen, honor his leadership, and partner with him, that he might serve with joy?
Following the affirmation of these statements, you will be invited to stretch out your hand as we bless Stephen and his leadership among us.
Truly, God is still speaking in this new chapter of music ministry at Alki UCC!
In hope,
Pastor Emily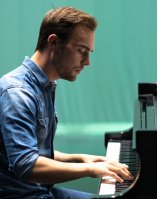 Stephen is a Seattle-based pianist, composer, and music teacher. He started taking lessons at age 5, and grew up playing in the praise band at his hometown church, Zion Lutheran. He studied music composition at the University of Wisconsin – Eau Claire and at the University of Oregon. Stephen enjoys being involved in many different musical styles and settings, from classical and jazz to gospel and contemporary music.

Stephen joined the worship team at Friendship United Methodist Church in Bolingbrook, IL in 2021. As music director and accompanist, he led the chancel choir, men's and women's ensembles, and praise band in weekly rehearsals. In the community, he helped plan and perform music for holiday concerts and public picnics, and worked to introduce the "Spirituals" project; an ongoing special offering that provides financial assistance for music education to African American children in Bolingbrook, which is collected each time a spiritual is sung.

In 2019, he began working with Jennifer Hudson as her piano coach and music assistant. He helped prepare her for the role of Aretha Franklin in the MGM biopic Respect (2021), and for televised performances at the BET Awards and The Late Show. Stephen was also the music director of the Musical Theater Ensemble at the Old Town School of Folk Music in Chicago.

Here in Seattle, he teaches piano and co-hosts the music podcast Relevant Tones. Check out his website here!

Food/Clothing/Donations Drive
this Sunday, Sept 17
Cool-weather Clothing and Outdoor Gear a Priority
11:00 am to 3:00 pm/Front Courtyard



Bring your donations to Sunday worship!



As the weather begins to cool and the inevitable rain returns, we're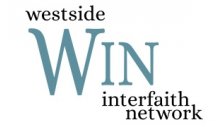 thinking about our unsheltered neighbors living in the greenbelts or wherever they can find safety.

Please bring in cooler weather clothes: long sleeved shirts, hoodies, long pants, sweatshirts, socks. Also camping gear: tarps, clean usable sleeping bags, tents, backpacks, cooking gear, etc.

Note that we accept dry and canned goods within a year after their "expiration" date. Erroneous "expiration" dates contribute to food waste, so we accept food that is up to a year after its stamp date, which can be a manufacturer's "freshness recommendation" and not an indication that the food has gone bad.

The Westside Interfaith Network (WIN), our donations drive partner, distributes your donations through WIN's "Welcome Table," a weekly Saturday meal for low income and unsheltered folks hosted in White Center. This distribution serves as a stop-gap for many people relying on weekly visits to the food bank.

Needed hygiene items include toilet paper, deodorant, toothbrush and paste, shampoo and conditioner, razors and shaving cream, baby wipes, adult pull ups and baby diapers. Basic food staples are a priority, as well as peanut butter, canned proteins, canned fruits and vegetables (pop-tops preferred).

Many thanks to our generous community for supporting our neighbors in need! — Cinda S

Organizing Meeting for Alki UCC "Immigrant Welcoming Congregation" Discernment
Sunday, October 1 after Worship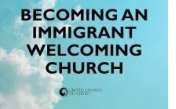 Are you interested in being part of the Core Team in our discernment of becoming an Immigrant Welcoming Congregation (IWC)?

The group's goal is to learn together, and to begin to envision what the IWC designation might look like for Alki UCC.

Come and explore with us at the meeting after worship on Sunday, October 1.

Tuesday Bible Study Ongoing through June
Registration Open Now!
Noon to 1:30 pm on Zoom
Tuesdays through June
Zoom Registration here
Join us via Zoom for the return of the Tuesday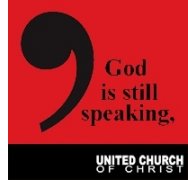 study group!
This week's Study Guide is linked here.
You can look forward to multiple offerings throughout the year for Bible study, book/video discussions and classes. Our first series, co-led by Pastor Emily and Rev. Penny M, offers a deeper exploration of each Sunday's lectionary readings.
You have the option to attend every Tuesday or whenever your schedule permits!
Stay tuned for announcements of future topics and dates.
Faith formation is what happens when we set aside our own agendas, individually and collectively, and show up for God. Our faith is formed when we listen to our own inner longing in response to God's call in our hearts. Join us for the journey!
Questions: please contact Penny M.
Note: If you are not able to join us Tuesdays at noon, you will have an option to request recordings.
Zoom Registration Link here
Parents Post Thank-You Messages
to Alki UCC "Here's Hope" Letter-Writers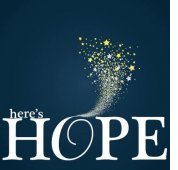 My thanks to everyone who came to the card making table recently to send letters to families who have lost children due to chronic illness.
Your cards and thoughts meant the world to them and they felt the love. Some parents have messaged me to thank you for the cards. They even posted pictures of the cards on Facebook and Instagram with a thank you. Here is one example from Brianna's mom. Brianna was 13 yrs old and passed away from Alexander's disease last year.
"Got off work today and checked my mail and I had two letters from people who I have never met but have read about Bri! Was absolutely amazing to receive these today! God is really working every day and He makes sure to show me every day!!! Thank you for the love sending these cards!"
These precious families have been blessed by our simple act of sending a message that they are seen and loved and that their children will not be forgotten. If you didn't get a chance to participate, it's not too late! This opportunity is ongoing. Find me after church sometime or contact the church office and we will connect you with a family's story. — Sara Jane W
The Here's Hope Project website is linked here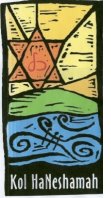 On September 15-16, 2023 , Jewish communities around the world will welcome the Jewish New Year 5784.
The observance of Rosh Hashanah ("Head of the Year") begins tomorrow (September 15) as the sun sets. The 10-day period between Rosh Hashanah and Yom Kippur ("Day of Atonement") is a time for reflection, introspection and teshuvah – a period to seek and grant forgiveness and atone for transgressions during the year that has ended.
In observance of the holiest day in the Jewish calendar, many Jews fast on Yom Kippur (September 24-25), wear white and refrain from wearing leather or other luxuries. The Ten Days of Awe (or High Holy Days) are a time for spiritual accounting and renewal, and an opportunity to reflect on and repair relationships, both human relationships and the human-divine relationship.
A few days after Yom Kippur, the joyous holiday of Sukkot marks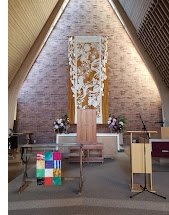 the end of the harvest season.
Immediately following Sukkot, congregations celebrate Simchat Torah ("Rejoicing with the Torah") by marking the completion of the annual Torah reading cycle. The last portion of the Book of Deuteronomy is read, and then the scroll is rolled back to the beginning. The new Torah reading cycle starts with the first chapter in the Book of Genesis. — Rabbi Sabine Meyer, PhD
Note: The beautiful "paper cut" banner at the front of the Sanctuary, which will be in place through the High Holy days, depicts honey comb, pomegranate, apples and other bounty to celebrate the sweet promise of a new year.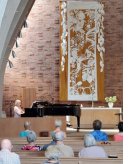 We gathered on Sunday to celebrate DJ Wilson, our Interim Music Director, and give thanks for the many gifts she has brought to worship and to our larger church community.

Photos: Dave S & Pastor Emily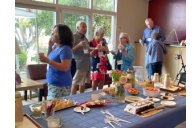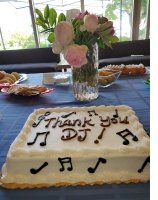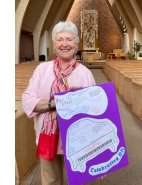 For those grieving the recent death of a loved one:
The Alki UCC community, family and friends of Wanda D, family and friends of Julia C's mother Molly, the Alki UCC community, family and friends of Verona R, Diane J and family on the death of her father Thomas G, family and friends of longtime Alki UCC member Jan C, family and friends of UCC minister Rev. Bobbi Virta, family and friends of longtime Alki UCC member Anne S, Liese F and family, Jeff D and family, the Alki UCC community and friends/family of Nick Tobler-Wolff, Todd S

and family, Patty M



Recent hospitalization, illness and other concerns:
Rev. Joan Carter, Dan K, Alki UCC's Peruvian Families Seeking Asylum, Shannon P, former Alki UCC member Dawn N, former members Davney and Bob S and Davney's mom Suzanne H, Shannon P's Florida family: Bill, Gail, Mary Ann & Bob; Julia C's friend Chelsea W, Denis B, Don & Imy P and family, Patty M, Jane C and her family, Sue B's brother Tom and his wife Carla, Julia C's friend Jessie T & family, Amy Y's mother Corlene, Jeff D's brother Andy, former Alki UCC member Mark H, Sue B's friends Mary and Louise, Cindy, Jeff and Kirstin's sister-in-law Sue, Kirstin D, Shannon P's father Rev. Dr. Bill, Claire F, Kirstin D's father



For homebound members/friends of Alki UCC: Doris C


Wider World: Prayers for all those affected by the coronavirus outbreak; all those suffering from PTSD in the military and around the world; for all those affected by misguided immigration policies; prayers for fewer guns, for all victims and those affected by gun violence; victims and survivors of extremist violence around the world; migrants seeking refuge around the world, and for those who are trying to help them. The rest of the missing schoolgirls kidnapped by Boko Haram, who remain in our hearts as long as they remain missing. The hungry and homeless, the ill and the addicted, the lost and the lonely; the unemployed.

Worship this Sunday,

Sept 17

at 10:00 am

Sixteenth Sunday

after Pentecost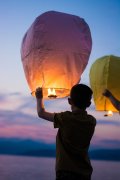 Rev. Emily Tanis-Likkel





Sermon:
"The Beginning

of




Letting Go"



Liturgist:
Brett T-L

Scripture:
Psalm 103: 8-13
Re-imagined by Nan C. Merrill in
"Psalms for Praying: An Invitation to Wholeness"
Matthew 18:21-35

Music Director:
Stephen Anthony Rawson

Music Highlights:
Enter My Heart
James F.D. Martin
#569, Touch the Earth Lightly
Let It Shine
Barbara Hamm

Photo by Gianandrea Villa on Unsplash

The Online Order of Worship, including scripture text and music, is linked here.

Join us either in-person (masks recommended) or virtually via Zoom.

If you're already registered for Sunday worship on Zoom, use your personal link. If not, welcome! Register here.

Wanda Dray
Celebration of Life
Thursday, September 21
4:00 pm service;
a reception follows.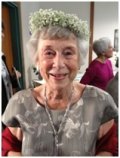 Prayers of Comfort and Love for the family and many friends of longtime Alki UCC member Wanda Dray. Contact the church office for daughter Diane's address to send cards and remembrances.

Grant Supporting Our Peruvian Families Seeking Asylum Awarded to Alki UCC

Alki UCC has been awarded a United Church of Christ Global H.O.P.E. Refugee Resettlement Booster Grant!.

This will be a boost to our coffers as our Peruvian Support Team continues to fill gaps in rent/utilities and to fund legal expenses. It is also a boost to morale to be able to focus more on the needs of our Peruvian friends and less on the financial realities. — Vicky S

PNCUCC Women's Retreat
October 6 - 8

Gather with us at Pilgrim Firs in Port Orchard for a cozy, nourishing weekend including crafts, small group conversation, board games and comforting meals. We will practice bringing the intention of comfort and contentment into the present moment.

Our weekend begins at 5:00 pm on Friday and closes at 10:00 am on Sunday. This gathering is inclusive to all women, trans and cis, as well as gender non-conforming and non-binary people comfortable in a space that centers the experience of women.

The "Cultivating Cozy" weekend is $175 (5 meals and lodging) Saturday only is $100 (3 meals). Online registration is live here — or scan the QR code on the flier posted in the narthex. Pastor Emily and Eva are on the planning team and are happy to tell you more!

Invitation to "Real Renter Honor Gathering"
Saturday, September 23
2:00 to 4:00 pm
Duwamish Longhouse
4705 W Marginal Way SW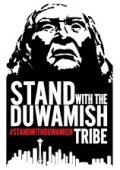 Join us to honor our supporters and celebrate the generosity and solidarity of our community. RSVP Here.

Note: Alki UCC is a proud "Real Renter!"

Fauntleroy Church Fall Recycle Roundup
Sunday Worship Registration

If you've already registered on Zoom, just use your personal link. If not, welcome! You can register here.
When you register, please use your first/last name plus your email.
Sunday Worship Videos Posted on YouTube

S
unday Worship recordings now online!
Check out Alki UCC's very own
YouTube channel.


For secure, online giving through Give Lively, click the button,

OR, send your check,

made out to "Alki

UCC," to:

6115 SW Hinds,

Seattle, WA 98116



Church news/calendar updates
at alkiucc.org.