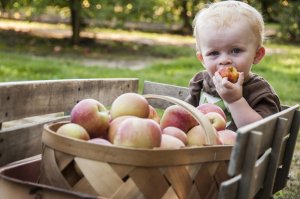 With fall comes harvest and celebration—starting with National Farm to School Month!! This season provides opportunities to joyfully engage with families and start or continue building your relationship with them. Hispanic Heritage Month runs from September 15 to October 15, and of course Halloween and Dia de los Muertos come at the transition into November. This may be a great month to start thinking about or deepen conversations about important food traditions in the lives of families and staff.

We all bring our cultures with us everywhere we go, with our language, customs, attitudes, beliefs, and in other ways. Families are children's first and most important teachers. When we work with families from this knowledge and perspective, it can help us build stronger relationships and even better quality care.

One way to think about family engagement is through the 5 R's, from Five Rs for Promoting Positive Family Engagement | NAEYC by Bweikia Foster Steen. The 5 R's are respect, responsiveness and reassurance, relationship, reciprocity, and reflection. Believe it or not, farm to early care and education can support each of these R's! Check out these farm to ECE family engagement resources from Community Groundworks!

It's Time for NC Crunch 2023!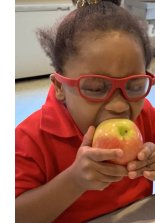 Join the state of North Carolina in celebrating Farm to School and Early Care and Education Month by crunching into a locally grown fruit or vegetable on Wednesday, October 18, 2023, at noon or any time during the month of October that works for you. The NC Crunch is also a great opportunity to thank all those involved in feeding our communities. This event is about uniting together to celebrate North Carolina agriculture, locally grown fruits and vegetables, and healthy eating. Participants of all ages are invited to crunch with their schools, early care and education sites, organizations, families, or communities. Help us reach all 100 counties and 500,000 kids and adults with the NC Crunch! Learn more and register.

Let It Grow!
Collecting Seeds
by Courtney Ramsey-Coleman, MS, RDN, LDN
For ECE providers, the act of collecting seeds in your garden takes on a unique significance. It offers an enriching and educational experience for the children under your care, especially when you choose the right plants for seed collection. Opt for plants that are not only child-friendly but also easy to manage. Flowers like sunflowers, marigolds, and zinnias are excellent choices. Their large, colorful blooms capture children's attention, and the seeds are relatively easy to collect. Vegetables such as tomatoes, beans, and pumpkins are also great options, as they can be both fascinating and edible learning experiences. Check out this list of ideal plants for seed collection. Try this fun activity, Pumpkin Seed Harvest and Roasting.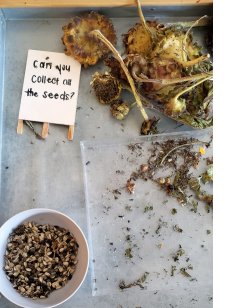 Involving the children in the process of gathering seeds becomes an interactive lesson in the natural world. This hands-on activity not only cultivates a deeper appreciation for nature but also imparts valuable knowledge about the growth and reproduction of plants. By carefully selecting and saving seeds from your healthiest and most vibrant garden specimens, you can create a living classroom where children witness the cycle of life firsthand. Moreover, saving seeds can be a budget-friendly way to enhance your childcare center's outdoor environment, providing a continuous source of wonder and learning for the youngsters you nurture. It's a tangible way to share the joys and wonders of gardening with the children and contribute to the sustainability of your daycare garden for years to come.

Whip It Up!

by Marianne Lindgren and Willow Thomas
NC Child and Adult Care Food Program (CACFP)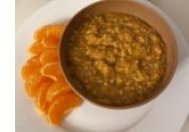 Pumpkins are a true sign of fall! Your local grocery store may have a variety of pumpkins available. However, if you have a pumpkin patch near you, it may be worth a trip to find that perfect pumpkin and possibly meet the farmer!

Not only does a pumpkin's stunning orange color look beautiful as a decoration or as part of a meal, but it also lets you know this winter squash is packed with nutrition, particularly vitamin A, helping to keep your immune system strong.

Pumpkins can be roasted, mashed, and added to soups, breads, or even oatmeal! Try the recipe below for Pumpkin Patch Oatmeal and start your day with the flavors of fall! Enjoy!

Pumpkin Patch Oatmeal
Yield: 7 servings
Serving size for 3-5-year-olds for Breakfast: 2/3 cup oatmeal and ¼ cup additional fruit

Ingredients:
1 cup quick-cooking oats
1 ½ cup water
2 cups applesauce (unsweetened)
1 cup pumpkin puree
1 tsp cinnamon
1 tsp vanilla extract
1 ¾ cup orange slices

Instructions:
1. Add the first six ingredients to a medium saucepan.
2. Cook on medium-high heat to thicken until liquid is almost absorbed by the oats.
3. Serve 2/3 cup of oatmeal along with ¼ cup of orange slices.

CACFP Crediting for 3-5-year-olds for Breakfast: ½ ounce equivalent of grains and ½ cup combined fruit and vegetable.

Recipe adapted from: National CACFP Sponsors Association


The NC Farm to Preschool Network connects, educates, develops and shares resources between community and state partners, farmers, early childhood educators and families to spark the local foods movement in early childhood education environments.
My Food, Your Food, Our Food
by Emma Carlson Berne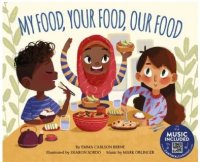 We all like different food, but everybody needs to eat! How Are We Alike and Different? Find out in My Food, Your Food, Our Food. Read aloud on YouTube.

The Empanadas that Abuela Made / Las empanadas que hacía la abuela
by Diane Bertrand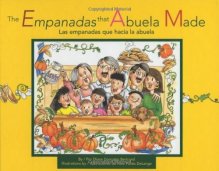 In this rhythmic story, told in both English and Spanish, learn the steps and ingredients to make Abuela's pumpkin empanadas. Don't worry, the recipe is included! Read aloud on YouTube in English and Spanish.

REACH Recognizes Successful NC

Farm to ECE Programs!

Six NC Early Care and Education programs have just been recognized for excellence in Farm to ECE by REACH! Please join us in congratulating Playworks Early Care & Learning Center in Wilkes County, Row's Sweet Tots and Helen's Day Care in Moore County, Robin's Nest Family Childcare Home and Abundantly Love Child Care in Hoke County, and New Life Child Development Center in Durham County.

With the support of local Cooperative Extension, Partnership for Children, Resource & Referral, CACFP staff, and NC CEFS Farm to ECE Initiative staff, these programs are REACHIng above and beyond to connect local families to local farmers, gardening, and fresh healthy foods. Learn more about them at the links above and "like" and "share" their inspiring work on Facebook. Interested in getting a program recognized? Learn more about the REACH Farm to ECE recognition here.

2023 NC Farm to Early Care & Education Institute
Saturday, October 21, 9-4pm
Join us for a day Farm to Early Care and Education Collaborative participants! We will dig deeper in connecting our communities to fresh, local food and to grow healthy young minds. A yummy catered lunch will be provided. View flyer here. View video here. Register here.

Webinar Series from Kids Gardening: Culturally Inclusive Teaching in the Garden

Go NAPSACC is a suite of online tools to help ECE programs do their very best to support children's health. ECE programs can find a self-assessment, action planning tool, helpful materials, and DCD-approved trainings in many areas including Farm to ECE. In the Farm to ECE Tips & Materials library you can find the Family Food Traditions resource with great ideas to help you engage families in your meal planning and gardening. Log into your Go NAPSACC account to view, contact a local Go NAPSACC Consultant to get started or click this link to be matched with a local Go NAPSACC Consultant.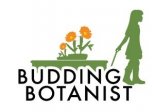 2024 Budding Botanist Grant
Deadline: October 20, 2023
The Klorane Botanical Foundation is committed to supporting programs that teach respect for the environment and protect nature through the preservation of plant species and biodiversity. Designed to further their mission, the Budding Botanist Grant will help our students learn about plants, explore their world, and inspire them to take care of the life they discover in their local ecosystems. In late 2023, twenty high-need schools across the United States will be awarded $500 in grant funding to support their youth garden programs. Learn more and apply.

This Week in the Garden

@ Preschool


See what's happening
preschool edition!